The ZUNGLE Viper V2 is a multi-use product, designed in California, that allows runners to listen to music and wear sunglasses all in one. A key reason why ZUNGLE sunglasses are good for runners is that they use bone conduction audio technology, similar to the rather popular AfterShockz brand, who many runners will already be aware of.
ADVERTISEMENT
ZUNGLE HAS NOW BEEN DISCONTINUED.
Bone conduction technology allows you to listen to music without having earbuds in your ears or speakers over your ears, which means you can be aware of your surroundings while running. Not being able to hear cars, cyclists or other hazards can be a real safety concern, especially for runners in urban environments.
This review covers how they perform while running and also the key features that I enjoy/dislike about the Viper V2 Sunglasses.
What are ZUNGLE Viper V2 sunglasses like for running?
The Viper V2 music sunglasses are very good for running due to their comfort, bone conduction audio technology, good battery life, weather/sweat-resistance, and swappable polarised lenses. Read on for more information on all these aspects of the ZUNGLE Viper V2.
How heavy are the ZUNGLE Viper V2 and does it affect comfort while running?
Weighing in at 50g, the ZUNGLE Viper are not the lightest sunglasses for running, but they have been designed in a way that makes them feel very comfortable when worn. Comfort is important if you intend to go running and have all-day adventures with a pair of sunglasses.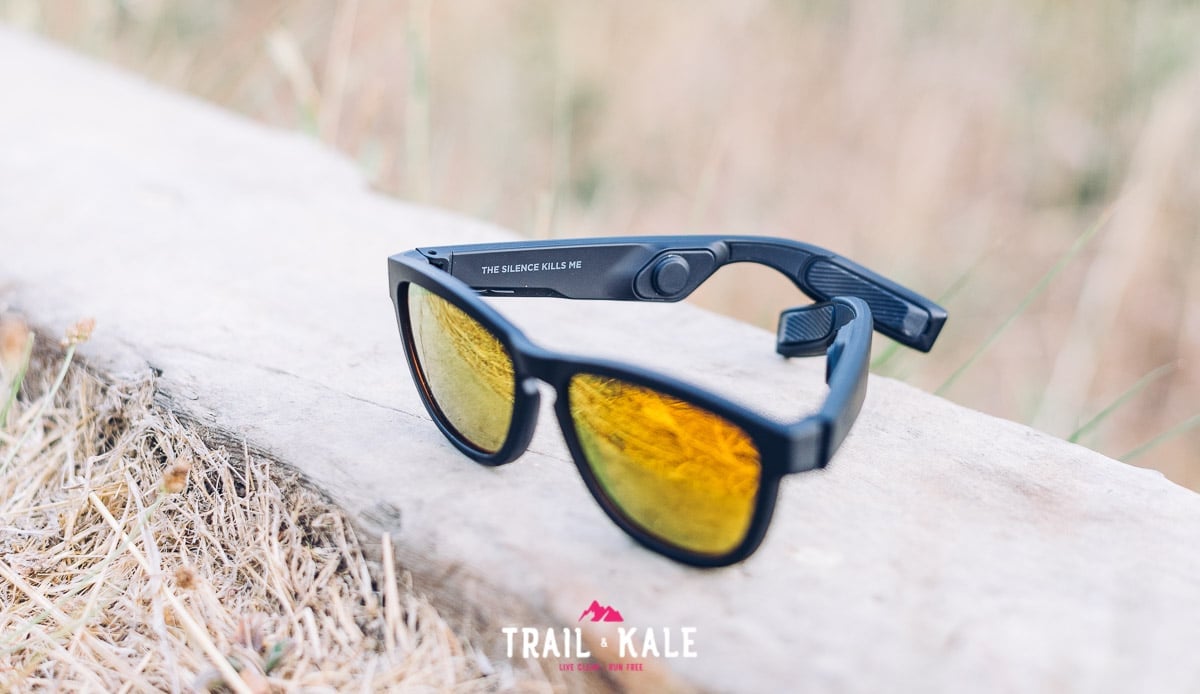 The arms of the sunglasses are a bit bigger than standard glasses because they house all the audio tech and also the battery, this means that they may not fit comfortably with all running hats though.
What's the bone conduction sound like when running?
The ZUNGLE Viper V2 sunglasses use bone-conduction technology with their "Vibra" Speakers. Although the sound quality and output is not an immersive experience, you can't expect it to be as they don't use earbuds. The speakers are inside the arms of the glasses, which sit on top of your ears. So while the sound isn't amazing in quality, they do provide good sounding music while at the same time allowing you to hear your surroundings. Listening to music while running can be a safety concern for many runners, and to those people, I say "try a bone conduction audio wearable device!".
What's the battery life of the ZUNGLE Viper V2?
The Viper V2 sunglasses have a playtime of around 4 hours which is going to be enough for most runners but probably not endurance runners who run for longer than this. They take less than an hour to charge fully via a proprietary charging cable that connects to both ends of the arms, picture below of the connector.
Are they waterproof and sweat-resistant?
The Viper V2 has an IPX4 rating, meaning they are sweat and weather-resistant, so you shouldn't need to worry about a little splash or sweat.
Polarized lenses reduce glare while running
All ZUNGLE Viper V2 sunglasses come equipped with the Bonfire default lens color, (as seen in photos), but you can also swap them for different color lenses if you would prefer another 'look'. The lenses are plastic and are not as durable as glass lenses but that's why ZUNGLE offer replacements on their site. Plastic lenses also keep the weight down a bit.
Zungle Video Review on our YouTube Channel
This shot video review should give you more information on how they look while on and some extra features.
How do the ZUNGLE Viper V2 button controls work?
Both arms have 3 buttons each which give you a lot of control of what you can actually do with them. See below for a full instructional video.
Siri & Google Assistant Access
You can also use a button to initiate Siri or Google Assistant which of course gives you a world of options! You can also make and receive phone calls from them!
ZUNGLE VIPER V2 Music Sunglasses
Pros
Bone Conduction audio is a good way to listen to music and still be aware of your surroundings
Secure and comfortable fit for running
Swappable polarized lenses
4 hour battery life is enough for most runners
sweat and weather resitant
6 buttons for endless controlling of music and apps
can make/receive calls with them
Cons
frame arms are a little large making them a bit uncomfortable to wear with some hats
Don't expect audio to be immersive, that's not the intention of these sunglasses
50g is a little heavy for sunglasses
Lenses are plastic which reduces their durability but helps keep the overall weight down