My customized Leatherman Surge arrived recently and I can't get over what an awesome gift this would make for my Dad (or, for that matter, my Mom, or pretty much any friend or family member that likes to adventure, make and do things). This post includes more details about why a Leatherman makes a great gift and how to customize your own multi-tool to give it that unique, personal touch.
ADVERTISEMENT
A bit about the company behind these iconic multi-tools: Leatherman tools are proudly designed and manufactured in the US! Leatherman is named after its founder, Tim Leatherman, who designed the first Leatherman tool, called the 'pocket survival tool', and launched it first in 1983. The brand was born and still lives, in Portland, Oregon, where its products are manufactured.
---
Customized Leatherman Surge – Table of Contents
---
About the Customized Leatherman Surge
The Surge is one of Leatherman's largest multi-tools, and has 21 tools, including their largest pliers, longest multi-tool blades, and easy-to-use locks. Other stand-out features include a blade exchanger, replaceable premium wire cutters, and four outside-opening blades that provide quick access to the tools that are generally used the most. Closed, it folds down to 4.5-inches long. The multi-tool weighs 12.5 oz (335g) in total and has a knife blade length of 3.1 inches.
The Leatherman Surge (together with a range of other Leatherman models) is available in 420HC stainless steel or black finish, and can be customized with different design styles and text on the main blade and body of the multi-tool, using the rather fun online customizer tool. My customized Leatherman Surge is shown in the pictures and I couldn't be more delighted with how it turned out – Scroll to the bottom for more images of the multi-tool.
Leatherman Sale: Leatherman currently has a sale running where all Multi-Tools are $5, $10, or $15 off! Click Here for the discount.

---
5 reasons why a customized Leatherman Surge is a great Father's Day (or Birthday / Festive) gift
1. Adventure-ready… but so useful for every day
A good quality multi-tool is pretty much an essential for every adventure-loving person. It's so useful for so many purposes while you're out traveling, doing adventure sports and spending time in wild places.
That said, most of our Dads are not necessarily adventuring every day of the year (unfortunately for them). A Leatherman is something that has many uses in everyday home, garage, yard and (depending on the job) work-life, so you know it's going to be a gift that gets used frequently and not sit in a drawer gathering dust. Some people like to have more than one Leatherman so there's always one where you need it.
---
2. A Leatherman is super-useful for emergencies
The uses when it comes to making or fixing things with a Leatherman Surge multi-tool are pretty much only limited to your imagination. As it has a large number of tools compared to other smaller Leatherman multi-tools, it's great to have for emergencies and random situations when you need to fix something, like a shoe, buckle, zip, tent or fishing hook. Or opening a beer bottle. That is very important – you know, when you buy a pack of beers only to find that they're not twist-off caps and you're in the middle of nowhere with no easy way to access your amber nectar? D'oh!
If you think your Dad is more likely to prefer a Leatherman with more camping-focused features, it would also be worth checking out this post Helen wrote on why a Leatherman makes a useful Mother's Day gift (see a theme, here?) as this features details and photos of her Leatherman Signal, which a little smaller (and lighter) than the Surge has slightly fewer, different tools, including an emergency whistle, carabiner and fire-starter, which is pretty cool.
Does anyone else watch the TV show Alone? Contestants are placed alone somewhere remote (like the Canadian Arctic) and have to out-survive one another, for weeks and months. The episode we watched last night had someone skinning a moose with… their Leatherman! Being plant-based ourselves, we weren't too excited to see an animal being skinned, but this was a survival show and we were impressed that the contestant managed to do this all by himself with his trusty multi-tool 🙂
---
3. Handy for creative crafting projects
As the Leatherman Surge features 21 tools it is well geared-up for use in a range of creative projects – the most obvious to me being wood-carving.
The main knife locks in place once opened and if you keep it sharp you can get great results carving stuff with it. There are so many possibilities for getting creative with this in your pack/pocket.
In addition to being creative for creativity's sake, I also like to make 'stuff' (you could say I'm a bit of a MacGyver), so if your Dad is anything like that (or you think he would like to be) then this would be a great gift for him.
---
4. The Leatherman Surge is built to last
We're always looking for gifts we can give and know that they will be loved and used over and over again, for years – it's more sustainable and generally enjoyable to give gifts that will stand the test of time. The only downside of this, of course, is that once you've given a Leatherman as a gift to one person then you're unlikely to every buy one for them again, assuming they don't lose it (or unless they want one in the house, one in the car, one on the boat/van/RV, etc etc).
To stand behind this, all Leatherman Surge multi-tools (as well as other models of Leatherman) that are bought from the company come with a 25-year warranty.
---
5. A customized Leatherman Surge makes the gift unique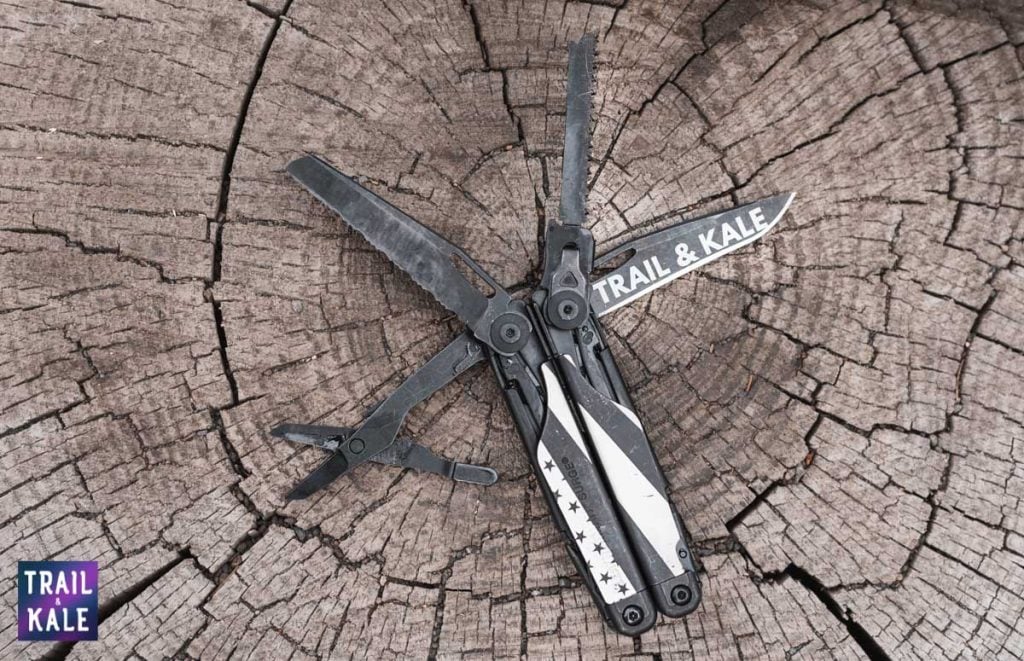 A regular Leatherman is obvious a very cool gift. But a customized Leatherman takes it to the next level!
It was recently my 10-year wedding anniversary – for which the traditional gift 'material' is metal – and I am now the proud owner of a customized Leatherman Surge! It wasn't entirely a surprise as I am quite particular when it comes to design (an occupational hazard for a creative like myself), but that said, I could have been delighted with hundreds of the various customization options, they all look awesome in their own way.
My 'Trail & Kale' customized Leatherman is a Stars & Stripes / Trail & Kale special and looks, in my opinion, amazing! I have been actively seeking things around the house, yard and our new conversion van that I can fix or make just so I have an excuse to use it as often as possible – especially the main blade, which features 'Trail & Kale' engraving.
To customize a Leatherman Surge as a gift click here – or if you also love the look of my custom Leatherman then you can buy the exact design here. A custom Leatherman typically takes 1-2 weeks so if you get an order in quickly then it should arrive in time for Father's Day 🙂
---
Leatherman Surge – List of the 21 tools included on this multi-tool
Needlenose pliers, regular pliers, replaceable wire cutters, replaceable hard-wire cutters, stranded wire cutters, electrical crimper, wire stripper, knife, serrated knife, saw, scissors, awl, 8-inch ruler, can opener, bottle opener, wood/metal file, diamond-coated file, blade exchanger, large bit driver, large screwdriver, a small screwdriver.
Leatherman Sale: Leatherman currently has a sale running where all Multi-Tools are $5, $10, or $15 off – The buttons below will take you to the Leatherman.com site where you can redeem these discounts on a Surge or another Leatherman multi-tool:
Last Amazon price update was: 22nd March 2023 2:00 pm
---
Leatherman Surge Customized Review Summary
Leatherman Surge Customized
PROS
Well-built, US-made
Super versatile with so many tools
Customized option is perfect for gifts
Smooth opening and lockout of blades
CONS
Heavier than other Leatherman tools
A belt loop or carabiner would provide more carrying options
---
Leatherman Surge Customized Image Gallery
---