Winter weather calls for winter clothing, and there's no better way to keep your top half warm than to wear a down jacket. This Jack1t review covers the key features of these British-designed premium down jackets, their pros and cons, and also our thoughts on how well these jackets, for men and women perform in cold weather conditions.
ADVERTISEMENT
For the past month, I have been wearing the men's Diamond Hooded Down Jacket while Helen has been testing the women's Ascender Hooded Down Jacket – this Jack1t review will focus on these two down jackets and our thoughts on their design and performance.
Jack1t was founded and launched in 2020 by the fashion designer and co-founder of Superdry, James Holder.
---
Jack1t Review – Table of Contents
---
What is down, and why is it such a good insulator to keep you warm on cold weather days?
Ok, let's start by talking about the one thing all Jack1ts have in common; they're all filled with down. Down is used in many winter jackets and sleeping bags due to its lightweight, insulating properties. Down insulates your body and keeps you warm by trapping warm air within the loft (puffiness) of the down, which does a great job of retaining the heat. While other types of jackets are also great at keeping you warm, down jackets are generally also very lightweight, so easy to carry and stow when you're not using them.
Like other down jackets, the Jack1ts are compressable, which makes them more easily packable and space-saving compared to other large winter jackets and coats. Depending on the style Jack1t you choose, the hood and neck areas may have different layers of padding and hoods, so Jack1ts with larger hoods and the faux-fleece lining around the neck will naturally take up more space than the more minimal designs without fleece lining.
---
Jack1t look and style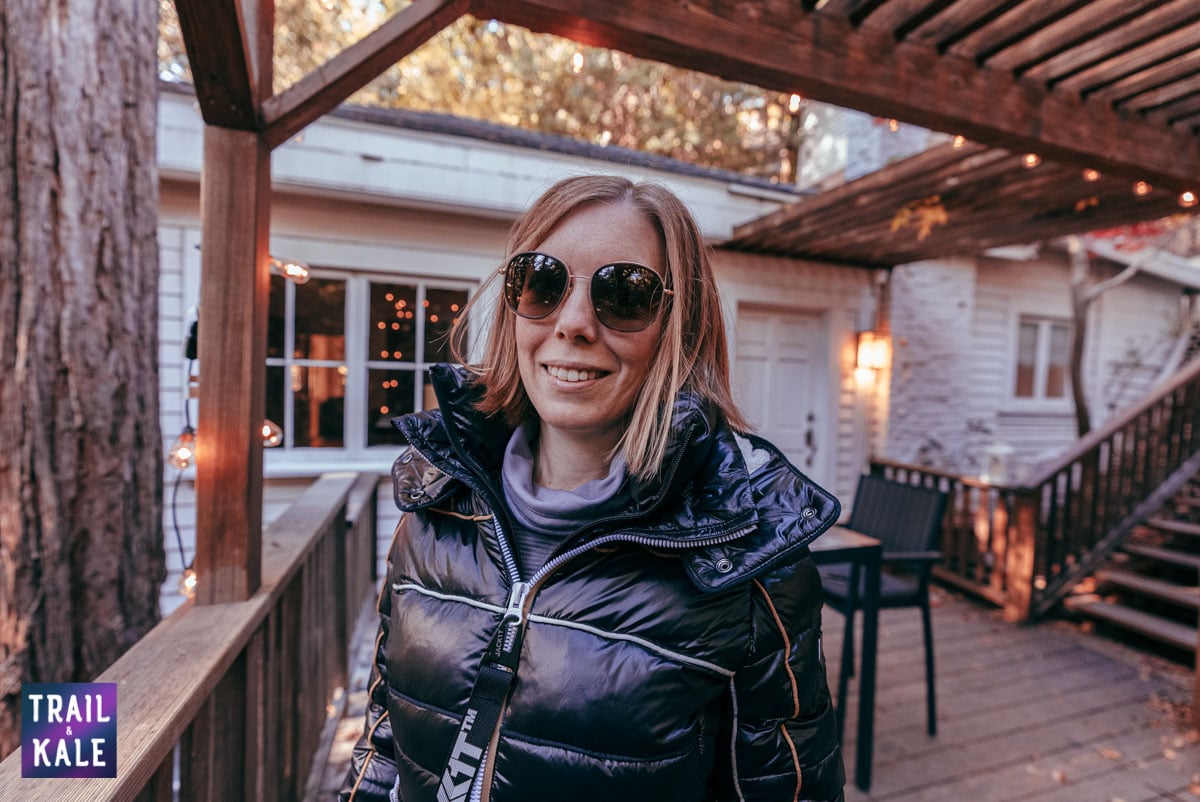 Jack1ts are designed to be warm winter wear, but with a more street style than outdoorsy-adventure style you may find in other brands of puffy down jackets. While they are British-designed, they definitely have a strong Euro-style to them, and many styles look a lot like French and Italian brands (for example, Rossignol) which you may see in high-end European ski resorts – especially those with the red, white and blue styling, which is very popular in France, for obvious reasons.
They also appear similar in quality and style to Canada Goose's lightweight down jackets, although with more of a focus on the wet-look down rather than the matt-style down jackets. You can check out Jack1t's current range at their website.
---
Men's and Women's Jack1t design features
Jack1t offers a range of different men's and women's styles and fits, and the product range is all effectively 'limited edition' as only a certain number of each style is made. The men's and women's Jack1t styles we are wearing are both wet-look hooded down jackets, with different detailing. The key features that stand out for us on our respective jackets are shown in the photos in the gallery below, and include:
Women's Ascender Hooded Down Jack1t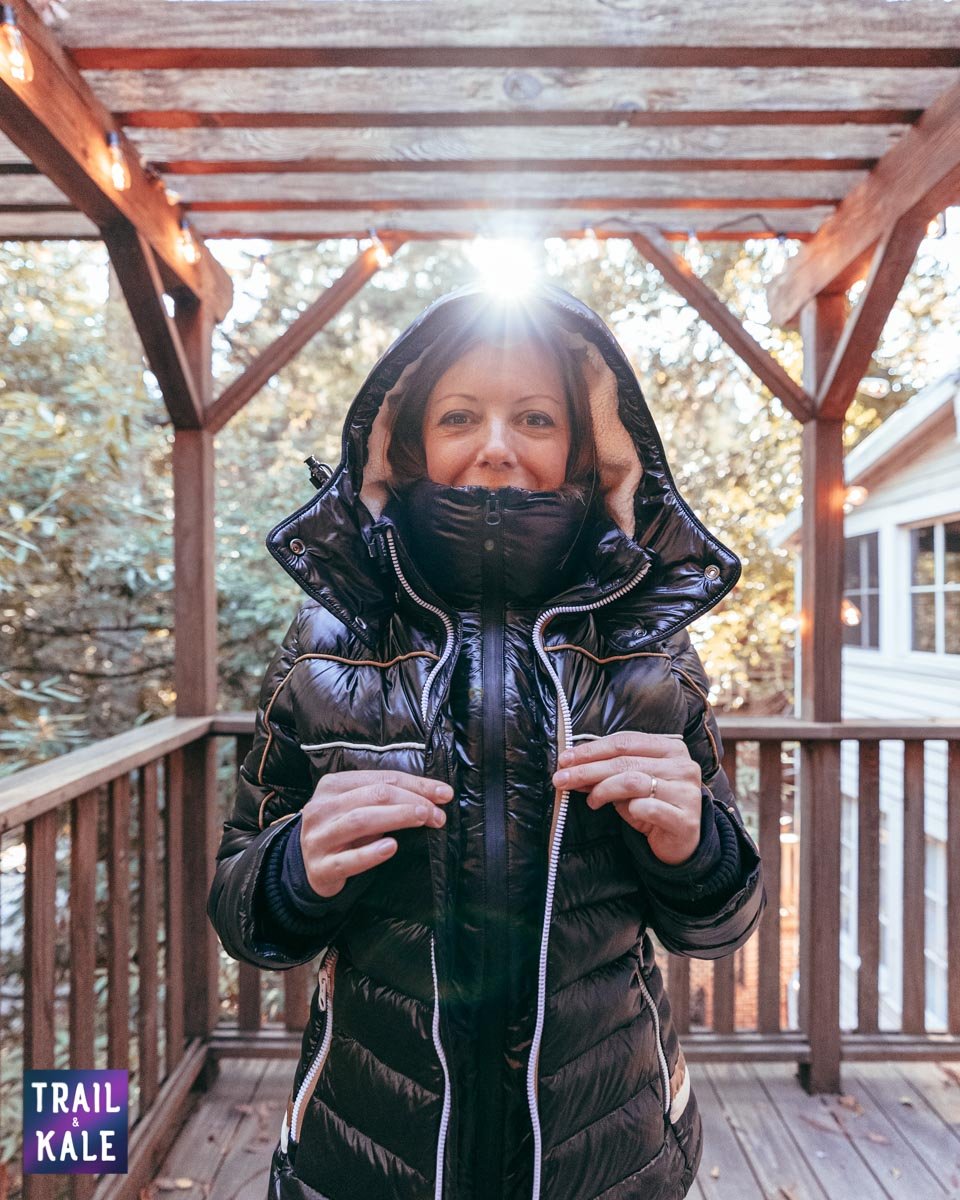 Faux fleece-lined detachable hood
Gold, white and navy striped details
Skinny fit
Double front-zips, and zip-up side pockets
Men's Diamond Hooded Down Jack1t
Slim fit
Bungee storm cords on the hood
Zip-up side pockets
Depending on the style of Jack1t you choose, it will also have other detailing such as different color piping, metal badges on the sleeve or shoulder, and reflective details. For more photos of the details and features on our Jack1ts, head to the photo gallery below.
---
Jack1t sizing and fit
After carefully reading the sizing guides, Helen chose a women's Medium and I chose a men's Small. I'm pleased to say that both fit us perfectly! Our styles are skinny fit (Helen's) and slim fit (mine), and are loose enough to wear a couple of layers underneath.
It is worth spending some time looking at the fit, as well as the dimensions in the size guide when browsing the website, to ensure that the sizing and fit of your chosen style will suit your dimensions and body shape.
Personally, I actively seek out slim fit clothing, as it fits me a lot better than regular-fitting apparel, and Helen was surprised at how good a fit the skinny fit Jack1t was for her in the Medium. As she is normally between a Medium and a Small, her suggestion is to size up if you're between sizes or you expect to wear multiple/thicker layers of clothing underneath.
---
Jack1t performance in cold weather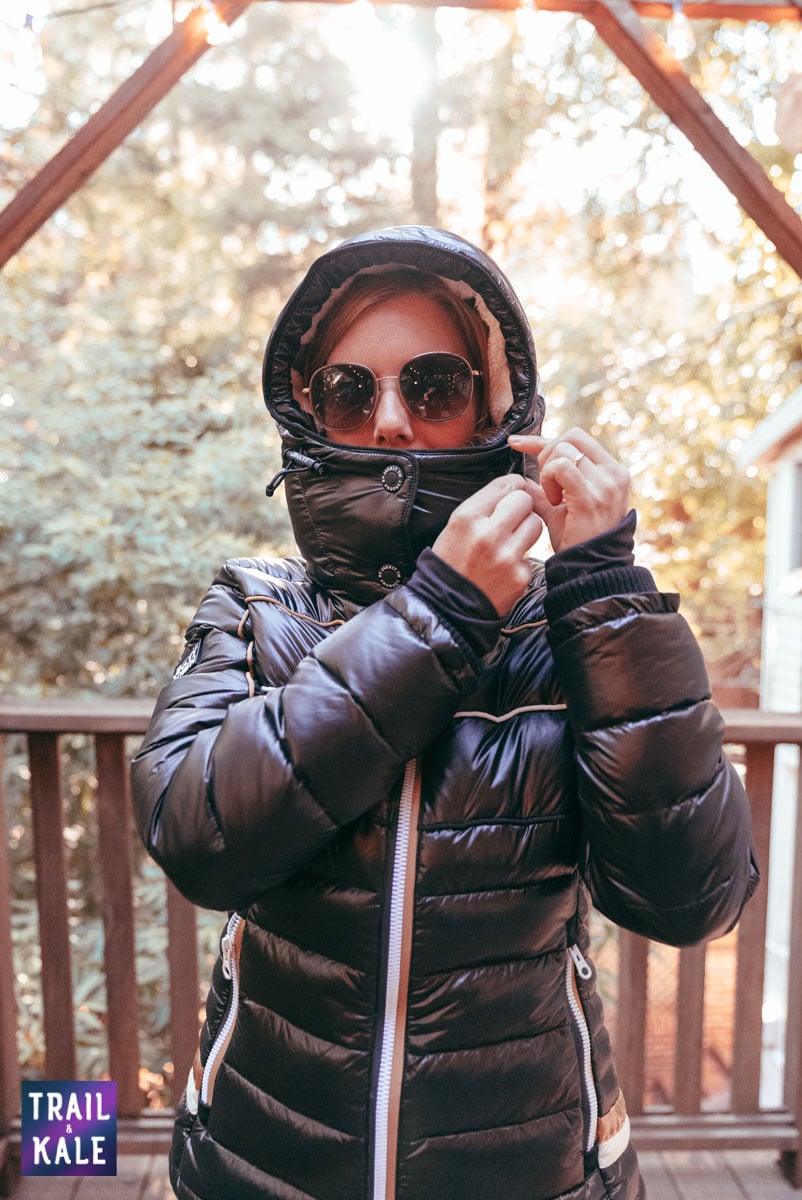 While we are yet to wear them in the snow or extremely cold temperatures, they have been go-to warm jackets for us since we received them.
Down has a unique way of minimizing how much perspiration sits close to your body, so you don't as easily get overheated in a down jacket the way other winter coats make you feel. This means that even if you don't necessarily need to be wearing a down jacket as it's not that cold outside, it is comfortable to do so. When you're investing in a premium jacket, it is worth getting one that you enjoy wearing and feel that you can wear as often as possible!
While not specifically marketed as being windproof jackets (and you can of course get specifically wind-proof jackets), these down jackets do a good job of keeping cold wind off your body. As far as rain goes, I would not recommend wearing them out in heavy rain. While it should stand up to light rain, at some point the fabric, and then the down, will get saturated – which will compromise its ability to keep you warm (who wants to cover themselves in wet down?!) and leave you with the challenge of getting it fully dry again.
---
Jack1t Review Summary
A Jack1t is definitely an investment purchase for when you are looking for a quality, unique winter jacket that you're unlikely to see on many other people. They're currently only sold directly by the company via their website, and the limited-edition nature of the styles is useful given that a good-quality down jacket should last you many winters. Given that, it will be somewhat of an unique piece in future winters, and given that this style of jacket is pretty classic (having been around for years in Europe), it's unlikely to get dated.
Jack1t Review
PROS
Stylish Euro-look
Limited editions with unique detailing
Super warm down construction
Fast international shipping
To check out the current range of styles available, head over to Jack1t's website using the button below. They offer free International shipping and you're also able to pre-order new styles before they become available!
---
Jack1t Review Photo Gallery