Seeing as there were no trail running races taking place during my recent visit to Cape Town, South Africa, I decided to construct my own adventure from the route used by the Ultra Trail Cape Town race. The Ultra Trail Cape Town race takes place in November and winds through and around Table Mountain National Park in the Western Cape, so it offers plenty of opportunity for challenging climbs, diverse landscapes and beautiful views.
ADVERTISEMENT
The hotel my wife and I were staying in was within walking distance of the start line and the GPX tracks were available online, so I decided to make a day of it and chose to go for the 65km route. This post provides a flavor of what it's like to run around Cape Town, including the route description and a link to the Ultra Trail Cape Town map and elevation profile, in case you find yourself traveling to South Africa and would like to follow a similar path.
Planning a running adventure in Cape Town
One of my favorite things to do when traveling to a new place is go for a long adventure run. For the past year and a half, I have been living in Pakistan while actively training for ultramarathons and due to security restrictions I do not have regular access to trails or any kind of significant elevation training as is useful for most races.
So, whenever my wife and I have the chance to travel out of the country I actively search for a race being held or at least a series of trails I can link together for a long day in the mountains. The latter is sometimes known in the US as a "Fat Ass" run – an informal, low- key adventure run.
Planning an unsupported adventure run
When you plan a low-key adventure run, with no race rules, competition or timing involved, the focus is only on having a good time. Although races are great in their own right and there is no way to truly emulate the thrill, support, and environment that an ultramarathon provides, a non-competitive long run that is more focused on enjoyment and the sport of running is an excellent tool for both training and sanity that help make the preparation process less of a slog.
When you're planning a long adventure run, with no support such as emergency teams or aid stations like you would have in a race, it's important to be prepared to be entirely self-sufficient – especially if you're running alone.
I made sure that I had enough supplies (food, water and appropriate clothing) and was passing through areas I could refill my water if needed. I also had a backup plan for heading back to my accommodation if I was to opt to return to our accommodation before completing the full 65km loop in time for sunset.
Running up to Lion's Head, Cape Town
Beginning at daybreak, I started my trek up to Lion's Head – one of the most popular day hikes in Cape Town. At this time of day, however, there was no one else on the trail and I had a wonderful sunrise all to myself.
The Ultra Trail Cape Town route begins on smooth trails made for mountain bikes before transitioning to more technical but manageable terrain. Instead of going to the top of Lion's Head, the route circumnavigates the peak and drops back down to lower elevation to take up a gravel jeep track which wound around the base of the mountain. Because the park is literally within the city, you're never out of sight of apartment buildings, roads, and the ocean. Yet somehow, it still feels remote.
Several miles in, parts of the trail were closed due to recent wildfires. I was able to re-route around the closed areas and noticed that someone's car had been caught in the blaze. The whole area smelled of smoldering rubber and damp wood, but no flames were active.
Running up Table Mountain from Lion's Head, Cape Town
Once I had completely encircled the Signal Hill and Lion's Head areas, it was time to tackle the big dog of Table Mountain. Starting from the very bottom, I needed to climb several thousand feet to reach the apex. Having already covered a half marathon's distance, my legs were beginning to feel the pinch but I tackled it head-on.
At this point, it was mid-morning and lots of locals and tourists alike were taking to these popular trails and it began to feel a bit crowded. During the actual Ultra Trail Cape Town (UTCT) race, the trails along the route would likely be closed to everyone except participants but since I was doing this on my own I had no such luxury. I got many strange looks and questions of "Howzit?" as I power-hiked to the peak of Table Mountain via the Platteklip Gorge trail.
Once at the top of Table Mountain, I breathed a sigh of relief as the often-temperamental weather was decidedly calm. Here I saw just a few other hikers as most had turned around long ago. The views were wonderful and the terrain was flat while I traversed the Table. I stopped for a long break in a sunny spot to take in the atmosphere and rest my weary legs from the climb.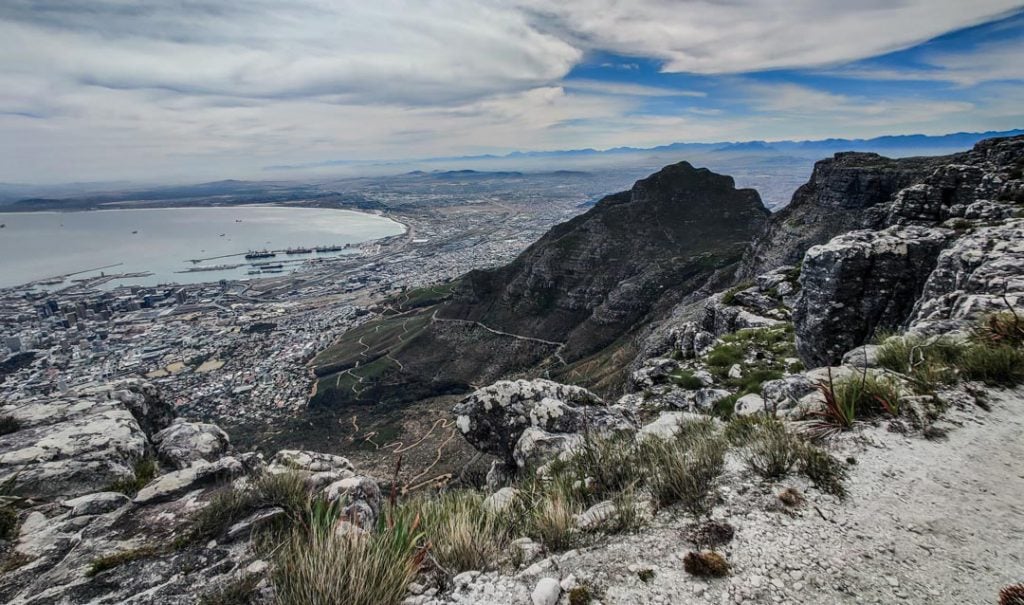 Descending Table Mountain to Constantia Nek
After about three miles on top, the route descends back down into the Valley of Isolation and I was able to refill my water bladder from a leaky pipe extending out of the Woodhead Reservoir and treated it with my Steripen. From there I traversed more of the alpine area until dropping into Constantia Nek, a popular parking place to begin day hikes.
From there I needed to hit the tarmac for a mile or so to go around a section of the route that crosses private property (another aspect which would be different had this been the actual Ultra Trail Cape Town race ) and rejoined the track a bit later on, where it traverses lovely meadows along the Klaasenbosch Greenbelt Trail just outside the park.
Running through Window Gorge to Kirstenbosch
Before long I was back within park limits and making my way through Window Gorge. The trail had flattened out significantly, but I was feeling quite exhausted and my pace had slowed considerably. I was taking breaks often and the hours slipped away. Before I knew it, the sun was beginning to set and my energy was waning.
I was making my way along the Contour Path, just outside the edge of Kirstenbosch, which seemed to be a popular area for day hikers and mountain bikers. I was continually impressed with the amount of people who were out enjoying the trails and the city's natural resources. The terrain was rather technical but I was able to plod along and enjoy the views.
Running through Cape Town until sunset
At about 7pm, I came to a road crossing near the University of Cape Town. I took a break and looked at the map, noticing that I still had about 5 miles to go to the finish and then a 1-2 mile walk back to the hotel. I only had maybe another 30-45 minutes of daylight and although the terrain didn't look to be too steep, I decided to call it a day. I ordered an Uber and within 10 minutes I was headed home.
Had I been running an actual race, this would have been considered a DNF – but to me it was anything but a failure. I had an incredible day out in the mountains and was able to see lots of magnificent terrain all while getting in some of the best training I've had all year. That's the beauty of creating your own adventure run – you get to decide the parameters so there's no way to lose!
Statistics:
Distance: 34 miles
Elevation: 9,406 feet
Duration: 12:04:00
If you have any questions about running the Ultra Trail Cape Town route, or planning an adventure run, drop me a question in the comments and I'll get back to you. Happy Trails!