Perhaps you already live in California and may or may not already be a trail runner… or perhaps you live further afield and have heard that there are loads of great places for trail running in this US state. Either way, it's a big state with diverse climates and geography – and packed full of great trails to explore on foot.
ADVERTISEMENT
In this post we share some of the best places to go trail running in California. All of these places would make great areas to visit for a weekend or longer vacation, and have more to offer than solely trail running… but let's face it, the trails are the number one reason we want to spend time there!
When it came down to picking out the best places for trail running in California we narrowed down this list to share a diverse range of terrains distributed across the state, some are very accessible from major cities and others require more of a road trip, so there should be something for everyone here.
We are based in California and love to explore new trails all over the state. To learn more about some of our favorites, follow our Instagram account!
We couldn't possibly list everywhere (or share too many 'secret' trails!) so if we haven't mentioned your favorite place for trail running in this state and you'd like to share, let us know in the comments 😉
---
The Best Places for Trail Running in California – Table of Contents
---
1. Yosemite National Park
We're starting strong. In fact, this is one of my favorite places to go trail running, because Yosemite National Park is not quite like anywhere else on earth, and is ACHINGLY BEAUTIFUL! So, with all the trails and incredible views, why wouldn't you want to combine a visit to Yosemite with some trail running?
I'm just going to leave this little video of us running up to Union Point in Yosemite to give you a flavor of what trail running in Yosemite National Park can be like.
A few tips if you decide to go to Yosemite to go trail running: It always pays to try and go off-peak, start early in the morning, and pick quieter trails. Given how popular the park is, it is not necessarily feasible (or polite, or safe) to try to run a trail that is busy with other people enjoying a leisurely hike and taking photos, so have this in mind, too.
We generally find that the earlier you go, and the steeper the climb at the start of the trail, the quieter it will be. So be like a true badass trail runner and pick the trails which are less well-known and which have the steeper climbs. Oh, and be careful and run within your limits here – if you trip on a trail like this, then it's not going to end well!
---
2. Mt San Jacinto State Park
We're heading down to Southern California for our next trail running destination. Mt San Jacinto State Park is home to Mt San Jacinto, a prominent peak at 10,834ft, with plenty of trails including the Pacific Crest Trail passing through it. Trust me, the views are epic. Apparently none other than Mr John Muir said of it: "The view from San Jacinto is the most sublime spectacle to be found anywhere on this earth!".
You can access the park from the desert in Palm Springs via a rotating aerial tramway, or via a more traditional road route via Idyllwild on the other side.
For a super tough trail challenge, if you're trained and prepared for this type of endeavor, consider the Cactus to Clouds trail, which involves a net elevation gain of 10,300ft (3,100m) in only 16 miles (26km). There's no water supply en-route and the trail can be difficult to follow if you don't know the way, so it's not for the faint-hearted or underprepared – or for a particularly hot or cold day! The good news is that if you manage the uphill hike you can get the aerial tram back down to the desert floor, so you don't have to run all the way back down after that effort!
---
3. Griffith Park, Los Angeles
If you live in Los Angeles and want a taste of trail running… or perhaps you're visiting and can get on a trail for a couple of hours, then Griffith Park is a popular and easily accessible place to go trail running. It's pretty great that a huge city like LA can still be home to some fun dusty trails and offer great views along the way.
If you can get further out of the city, then also look at visiting Will Rogers and Topanga State Parks to the north along the coast, and if you can get out east towards Angeles National Forest then you're spoilt for choice when it comes to trails and trailheads to start a run from. There's a load of great trails starting from Sierra Madre, for example. If you're a local and have specific trails you recommend for trail runners in this area, do share in the comments!
---
4. Lake Tahoe Area
Another place where you're truly spoilt for choice when it comes to running trails is the Lake Tahoe area. Firstly, it's a huge area with several parks located around the lake. Secondly, it is home to one of the all-time great long distance trails, in the form of the Tahoe Rim Trail.
If you don't want to cover the entire 170-mile circumnavigation of this huge lake then that's fine – shorter runs are still going to promise a great time! There's some great information on running and hiking the Tahoe Rim Trail, including information for day hikes (or runs, in our case), on this site.
Another great and easily accessible area to run is Olympic Valley, which plays host to the Euro-style mountain trail race, Broken Arrow Skyrace.
If you're looking for steep mountain trails and a bit of elevation to get your heart racing, then this could be the place for your summer runcation. I suggest planning your visit for between June and October to ensure there are plenty of runnable trails and the area has warmer weather for your visit.
---
5. Santa Barbara
There are some pretty damn sweet trails in the Santa Barbara area. You can take your pick, from flat, scenic trail runs along the coast, to challenging mountain climbs into the range that overlooks the city.
Running here almost always offers great views, and the year-round running weather means you can come here in January or February and still find some great T-shirt weather to run those trails in. Here's a shot we took on a local trail in late February 🙂
As another bonus, Santa Barbara has a great food and drink scene. It's great being able to go out on a beautiful trail run in the mountains, and be back in the city an hour later to enjoy a cocktail, or perhaps a glass of wine, in one of SB's many bars and restaurants.
A couple of trail recommendations: Hot Springs Trail, Ortega Trail (in Gaviota State Park), and the range of trails that you can access from the Inspiration Point Trailhead, including its namesake, Inspiration Point, a popular trail which offers some beautiful views of the city and coastline below.
---
6. Marin Headlands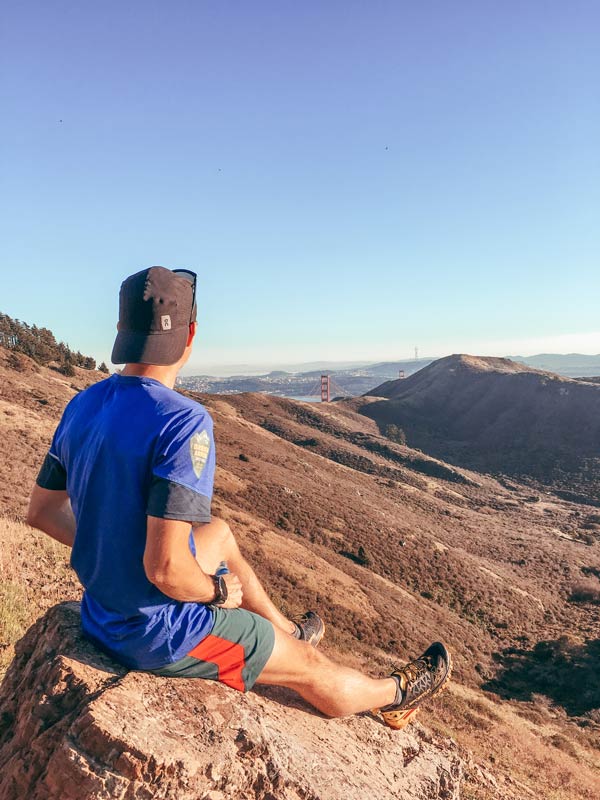 If you love trail running as much as we do then you could actually visit San Francisco and do nothing but leave the city to go and run the surrounding trails!
The Marin Headlands, which is the area just north of San Francisco over the Golden Gate bridge, offers miles and miles of well-marked, spectacular and well-maintained trails – all part of the Golden Gate National Recreation Area. You can even run to them from San Francisco, over the bridge.
A great place to start running trails in the Marin Headlands is to head to Rodeo Beach, where you can park and take your pick. Alternatively, Tennessee Valley Trailhead also offers parking and plenty of trail options, like the one featured in this video, where we head down to the beach and back on a short 5k trail run.
Either way, make sure your route includes the SCA Trail so you can be rewarded with views like this one!
---
7. Auburn
Ah, the home of the Western States 100 finish line!
Auburn is an attractive Gold Country town with several great trails departing from close to town. From here you can run on No Hands Bridge, over the North Fork American River and on and on as far as you wish, along miles of beautiful runnable trails.
Auburn State Recreation Area is a good place to start a trail run from. Another great starting off point is the American River Canyon Overlook Park, where you can jump straight on to the Western States Trail.
---
8. Joshua Tree National Park
Fancy some hot weather training or simply an escape from an urban landscape? Joshua Tree National Park is a great place to visit for some delightful trail running. Easily accessible from Palm Springs, and a few hours' drive from LA and Las Vegas, it's a great place to plan a visit to, whether you're coming from one of those cities for a weekend, or have a whole California road trip lined up.
For a long trail through the park, Joshua Tree features a trail that starts right by the North Entrance and traverses the park, so if you plan an out-and-back run then you can go as far as you like before turning around. If you are looking for a run near the Cottonwood Entrance (to the south), the Lost Palms Oasis Trail is a 7 mile out-and-back delight.
If you are planning some form of road trip in this area, then consider staying in Palm Springs and visiting Joshua Tree National Park as well as Mt San Jacinto, as both are accessible from the city and offer something very different when it comes to landscape and trail running terrain.
---
9. Mt Tamalpais State Park
Ok, so Yosemite is spectacular, but my all-time, hands-down favorite place to go trail running is in and around Mt Tamalpais State Park, which sits in Marin County, just north of the Marin Headlands.
If you're an ultrarunner you can link up trails so you can run all over the Marin Headlands AND Mt Tamalpais in the same day. I'm talking trails for days! If you prefer something shorter, easier and generally more mellow, there's plenty of that too. For more details and maps, here's a link to the state park's site.
For more of a taste of what trail running in Marin (our home for many years) is like, have a read of this post which includes a video where we run the Dipsea Trail. You can find other trail running videos on our YouTube Channel.
---
10. Skyline Boulevard (West of San Jose)
There is a huge swathe of epic forested mountains south of San Francisco, to the West of San Jose along route 35. This road is surrounded by state parks, county parks, nature preserves and open spaces, with hundreds of trails you can link up or loop up as you wish. The easiest way to explain is to show you a screenshot from Google Maps of the area, which shows just how much open space there is to play in.
Some popular parks we have had the pleasure of running in include Sanborn County Park and Castle Rock State Park. These are awesome places to run in the summer, as you can find trails with full or partial tree cover, to keep you a bit cooler in the sometimes brutal summer heat. That said, we've run several awesome trail races here in winter, so it is truly a year-round place to go trail running.
---
Ok, Californian trail runners, where are your favorite places for trail running in California? We couldn't possibly list everywhere that is great for trail running, as there's just so much of it – and there's nothing quite like a local's knowledge and tips. We'd love to hear from you with more recommendations for great trails to run on – let us know in the comments!