Reliefband bracelets offer a remedy for those nauseous bouts that can hit you out of the blue, whether you're prone to motion sickness or morning sickness, or you're dealing with post-surgery or chemotherapy-induced nausea.
You may have heard of people using wrist-based acupressure to help alleviate nausea symptoms. Acupressure is a simple, non-invasive solution that's been around for centuries and can bring relief to a wide range of people, from those prone to motion sickness to those suffering from morning sickness or postoperative nausea.
The Reliefband works in a similar way to acupressure, but in a more advanced manner. The technology behind it uses a nerve stimulation process referred to as transdermal neuromodulation to help control and alleviate symptoms of nausea and vomiting.
It's FDA cleared, and unlike other nausea remedies this option doesn't require any pills or injections, it's just a wristband that works using pulses to your wrist.
In this Reliefband review I explain how Reliefbands work, the pros and cons and whether I think it's worth getting one if you're prone to nausea, whether that's from travel sickness on cruises, flights or in the car, or for other reasons including morning sickness.
About Reliefband
The Reliefband is a wearable device designed to help control and alleviate symptoms of nausea and vomiting.
It's popular among wearers for a wide range of situations, such as travel, pregnancy, post-operative recovery, and even migraines or hangovers.
Apparently cruise ship passengers are a big market for this product – which makes sense, because you won't have much of a vacation if you're spending half the time feeling rough.
The key specifications of the Reliefband Premier
The Reliefband's three popular models are the Premier, Sport, and Flex.
The model you see in the photos throughout this Reliefband review is the Reliefband Premier.
The Premier is the top of the range, offering a sleek design and 10 level settings. Here's a quick look at its key specifications:
Battery rechargeable with around 18 hours of use.
Hypoallergenic.
Available in Charcoal or Slate Blue.
Cost: $280.
Compared to the Sport and Flex models, the Premier offers more level settings and a more sophisticated look.
The Sport model ($250), on the other hand, is waterproof, can be attached to an Apple or Samsung watch, and provides around 30 hours of use on a full charge.
The Reliefband Flex ($180) is a newer, less expensive option, providing similar benefits but with a replaceable battery instead of a rechargeable one. This style of band can also attach to a smartwatch band, and the battery lasts up to 350 hours of use before needing to be changed.
How does Reliefband work?
Reliefband's technology is what sets these wearables apart from other remedies for nausea and vomiting.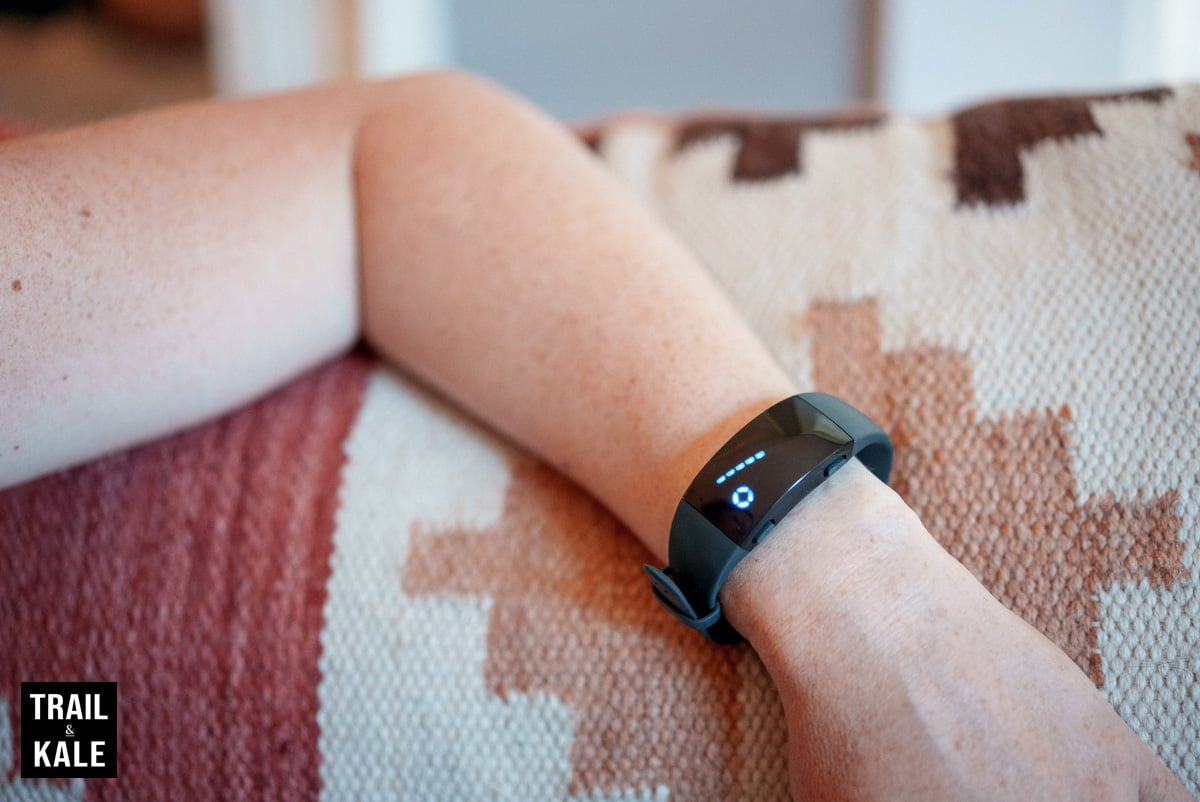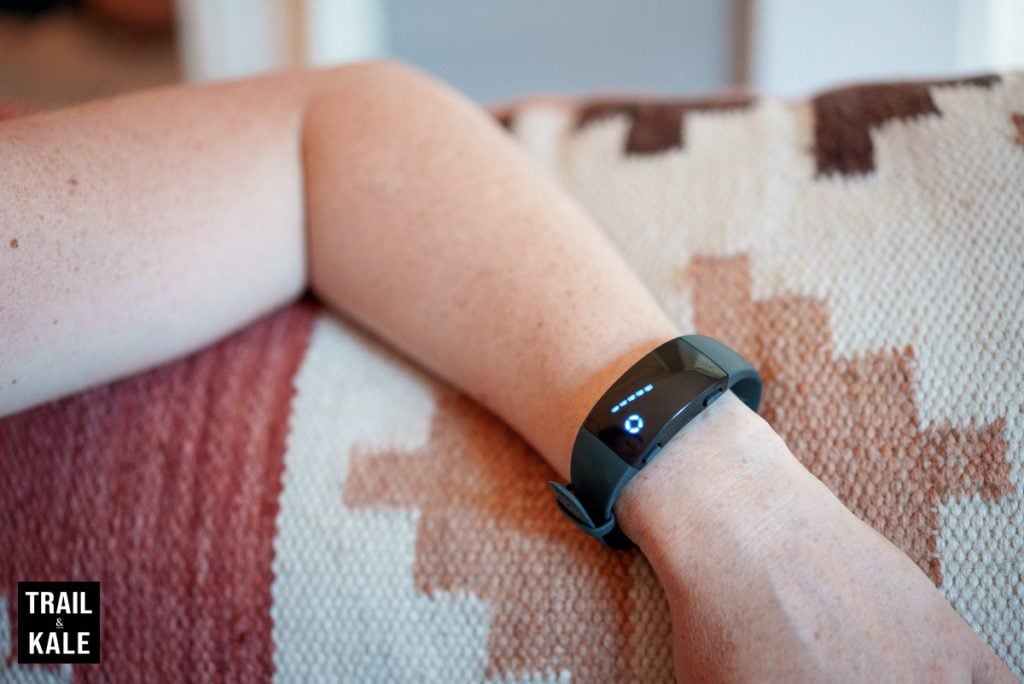 When you put one on and turn it on, it begins by sending gentle, regular pulses to a specific point on the median nerve on the underside of your wrist.
The pulses are subtle enough that you'll only feel a light tingling sensation in your hand and middle fingers. This tingling indicates that the Reliefband is working as intended, effectively disrupting the signals from your brain that cause you to feel nauseous.
They move along your body's natural neural pathways, heading straight to the emetic center in the brain, also known as the "vomiting center." Here, they counteract the signals that your brain sends to your stomach when you're feeling nauseous.
The Reliefband doesn't need to be used as a preventative measure only, it can be used to reverse symptoms that are already present. So, if you're already feeling sick, you can put on the Reliefband, and within 5-15 minutes, you should start to feel better.
Apparently the regular pulse of the Reliefband is key to its effectiveness. The frequency of the pulses keeps your body responding to the therapy, maintaining the nausea-fighting effects even with prolonged use.
How to wear a Reliefband
To use the Reliefband effectively, it's important to apply it correctly.
You wear the band with the device on the underside of your wrist, between the two tendons.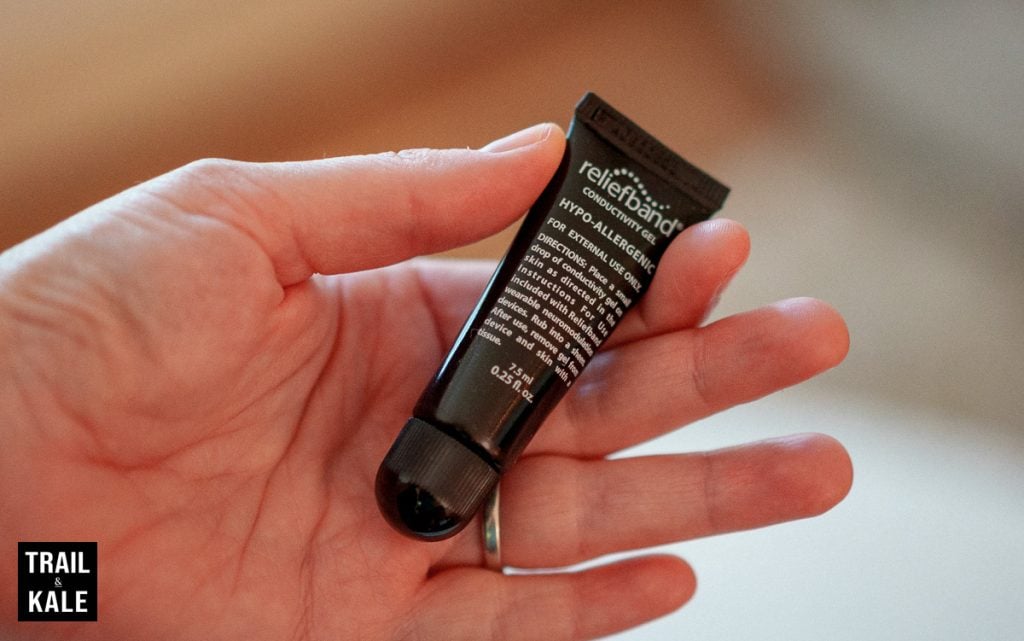 Before securing it, you need to put a small drop of the included gel on to the area and spread it in a circle about the size of a large coin.
Then, put the device over the gelled area and fasten snugly.
Pressing the power button activates the device, and you can then adjust the level of stimulation until the tingling is felt at a comfortable level in your palm and middle finger.
4 noteworthy features of the Reliefband anti-nausea bands
1. FDA-cleared
The Reliefband boasts an FDA-cleared label, lending credibility to its claims of treating nausea and vomiting.
2. Drug-free
If you're concerned about ingesting medicines or chemicals, you'll appreciate that Reliefband works naturally, without drugs, and you should start to feel its effects very quickly after putting it on.
3. Wide range of uses
You can use it to combat morning sickness, chemotherapy-induced nausea, or motion sickness during cruises, flights, and road trips.
4. Tingling sensation rather than constant wrist pressure
Reliefband produces a tingling sensation in your hand, which can be much more tolerable over longer periods of time than alternative, simpler pressure-point based bands you may have come across or even used before.
The features that could be improved
Charging cable length and connection
The charging cable is very short – I'm talking a few inches long.
Plus, it doesn't use a USB connection to attach the cable to the band, instead it has some contacts with a weak magnet that disconnects too easily.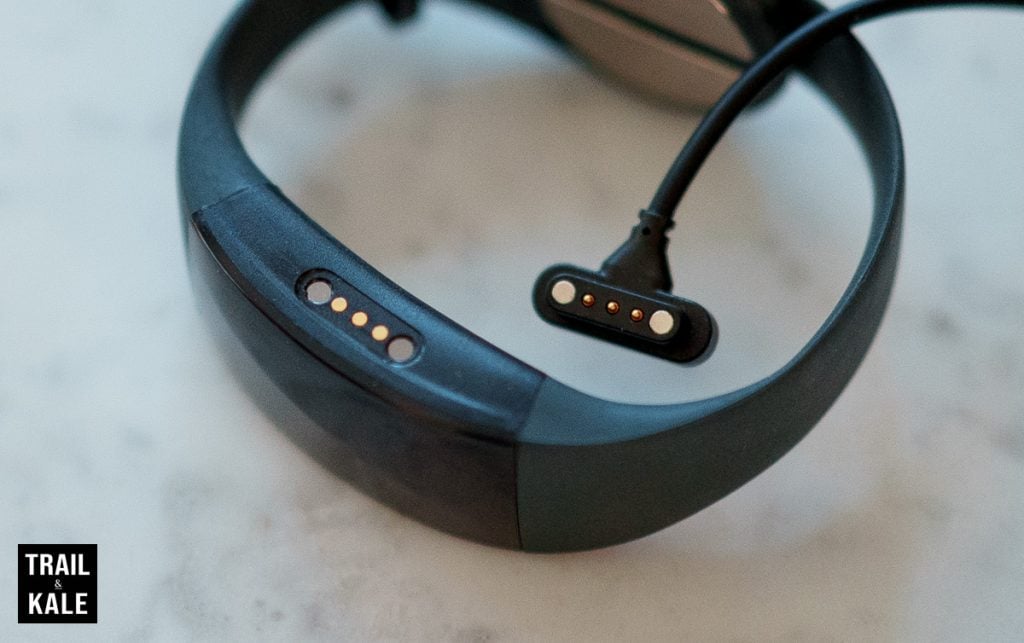 So, you need to make sure it's connected properly for it to charge, and you have a place to charge the band where it can be placed right next to the outlet – you can't hang it by the cable as the connection will come apart and you'll return to use it later only to find it hasn't charged as intended.
Wrist fit
The Reliefband Premier can be tricky to secure snugly on your wrist with just one hand. As someone with smaller wrists, it was hard to get it on my wrist comfortably, with a good connection.
People with larger wrists may have less of an issue here.
It's worth noting that fabric strap on the Reliefband Sport and Flex makes getting a close fit much easier, even when you're adjusting it by yourself – the strap on these bands is a velcro wrap, similar to those many people have on their Apple watch, for example.
Is it worth buying?
If you like the idea of using a wristband with more advanced technology to help you overcome symptoms of travel sickness in particular, it's definitely worth considering.
This is especially true if you expect to have recurring bouts of nausea or may need to wear it for prolonged periods.
However, it's also worth noting that a simpler wrist-worn band like this that works just using acupressure may be a more cost-effective option if you only experience nausea sporadically.
These have been around for many years and are basically elasticated fabric bands with a plastic dome that presses on the underside of your wrist.
They don't look as sleek and can get uncomfortable with prolonged use, but are significantly less costly, don't use batteries and may well do the job for you, especially if you don't need to wear one often or for long stretches of time.
If choosing between the different band models, Reliefband's Sport and Flex models can fit on the strap of Apple and Samsung watches is a great option to save you wearing two wrist wearables at a time, and I expect one of these styles to be significantly easier to put on and get a snug fit vs. the Reliefband Premier, especially if, like me, you have smaller wrists.
Where to buy
Reliefband prices range from $150 to $280 and are available to buy on Amazon:
Reliefband review summary
Reliefband Review
PROS
FDA-approved, drug-free option for helping alleviate nausea
Good-looking wearable
More comfortable for prolonged wear than basic acupressure bands
CONS
Short charging cable with weak magnetic connection is unreliable and frustrating to use
Potential issues securing a snug fit with one hand (Premier model)
Significantly more expensive than alternative nausea remedies
Image gallery