KEEN's Astoria West Sandal is designed to be an active wedge sandal, for wearing everywhere from the trails to town. This is a great concept as it suggests that these sandals would be a great all-rounder for summer, and so I was excited to get hold of a pair of these new sandals to try out for myself. This KEEN Astoria West review covers how these sandals perform in both environments, as well as in wet conditions, for which they are also designed. I'll also summarize the key design features of these women's sandals, sizing, and my review rating.
---
KEEN Astoria West Review: Table of Contents
---
KEEN Astoria West women's sandal design features
ADVERTISEMENT
The women's Astoria West sandals are designed to be lightweight, cushioned, and quick-drying, with slip-resistant grip when used on wet surfaces. These key features make them ideally suited to a range of everyday activities, as well as watersports, hiking, and biking.
Let's start with KEEN's description of these sandals being an 'active wedge sandal'. Putting these sandals on for the first time, I didn't even feel they had a wedge to them, which to me is a good thing, as I like to feel close to the ground for maximum grip and stability.
On appearances, however, you can see that the heel is noticeably taller than the toe area, and this means that the sandals give a bit of heel lift and a more feminine look than sandals with a smaller heel.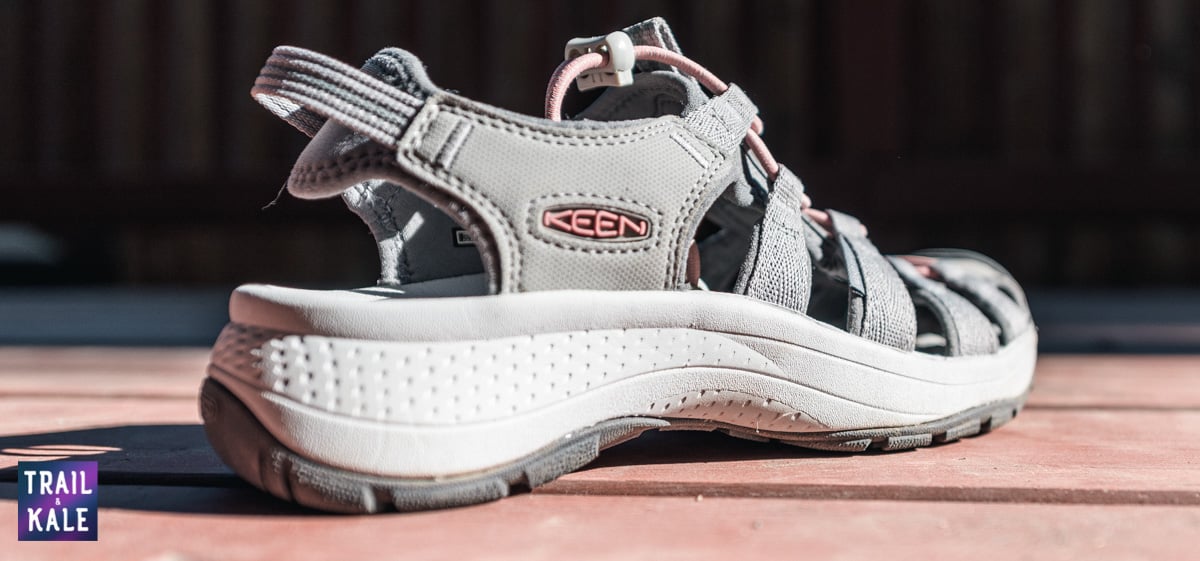 If a pair of adventure-ready sandals can have all the features I want for activities I regularly partake in, as well as be flattering in appearance, then that is good thing.
Lightweight foot protection
As you can see in our photos, the Astoria West sandals are pretty minimal in their construction, with plenty of space to let water out when they get wet, and made from materials that dry quickly once the bulk of the water has escaped. This construction also contributes to the sandals being lightweight and easy to wear for long periods of time. One of my US 7.5 (women's) sandals weighs 9.5oz (269g).
While we're on the subject of design, I appreciate that the Astoria West sandals feature toe protection. For me, this is an important feature of a sports sandal, as I tend to kick rocks (unintentionally), especially when my feet are underwater, so the protection helps prevent stubbing a toe as well as reducing the amount of debris that enters my sandals from the front.
Speaking of debris, as with any sandals with holes in the sides, silt and small stones do enter the sandals – mainly when I'm walking on sandy terrain or places with lots of small stones, as well as when wading in shallow water.
Generally, they also tend to make their way out of their own accord, but sometimes I have to reach under my feet to flick out small stones if they're really digging in.
Recycled materials
KEEN makes a concerted effort to source much of its key sandal materials from recycled sources. The Astoria West sandals feature recycled plastic webbing, and a recycled PET plastic bungee cord and lace-lock system.
The bungee lace system is quick and simple to use, you simply slip the sandals on and draw the bungee tight enough for a snug fit. I have shallow feet so end up with a fair bit of bungee cord left over, which I tuck under the laced cord in the toe area, to keep it out the way. The bungee stays firmly in place even when I've been swimming in them – I went for an impromptu swim with Kepler the last time we went stand up paddle boarding 🙂
Rubber soles
The non-marking rubber used to make the Astoria West's soles provides good traction on wet surfaces, such as stepping over wet rocks on a river crossing, or wading in a lake's shallows. As you can see in the photo, they have a chunky tread that is designed to be non-slip, and from experience walking through rivers and SUP-ing, I have a high degree of confidence in the grip, which doesn't seem to be affected when wet.
---
What activities are the KEEN Astoria West sandals best for?
These sandals are designed to be great all-rounders, so they are not necessarily suited to any one activity. This makes them a great choice if you are looking for some quick-drying and comfortable sandals that you can wear to run errands in or spend time in town and can keep on for other more active pursuits such as hiking, biking and watersports such as SUP and kayaking.
The Astoria West sandals would therefore be a great choice for traveling or an active vacation where you're packing light and need some lightweight, cool, quick-drying footwear that doesn't look so rugged that they'd clash when worn with a dress.
If you're familiar with other KEEN sandals, I view the Astoria West as being similar to the Clearwater CNX but with the raised heel wedge described above. If you're looking for sandals requiring even greater stability and ground contact without the wedge, both of those two options would also be good choices, as two of their most popular women's sandal styles.
---
Comfort and Sizing
As you may know from reading my other reviews, I am very particular when it comes to footwear fitting correctly and being comfortable for extended use – especially when they are designed to be worn without socks and your feet are going to be touching and potentially rubbing up against the shoes themselves.
The Astoria West sandals are very comfortable and fitted straight out of the box. The footbed is soft and cushioned underfoot, with enough support to provide the stability I want but not so firm that it pushes on the arch of my foot. It also has some texture underneath the foot to help with grip within the sandal, and features embedded anti-odor properties.
The upper webbing and wetsuit-like construction and heel pad fit comfortably around the top and back of my feet and stay in place whether I'm walking, cycling or using them in the water.
As with my other KEEN sandals, the Astoria West fits true to size. I'm a US 7.5 and they fit perfectly. My feet are fairly wide yet shallow (top-to-bottom) and while I have enough width, I am able to do them up so they fit snugly without allowing my feet to move around inside.
---
How to clean KEEN sandals
Used properly (i.e. for adventures and watersports!) sandals can get pretty dirty. It's easy to wash these because KEEN water sandals are machine washable. Use a small amount of detergent, wash on gentle cycle, and air dry. You may find you don't need to go to these lengths and they'll clean up nicely with just being hosed off, but it depends how you're using them and how clean you like them.
---
KEEN Astoria West Review Summary
KEEN Astoria West Review: A Versatile Women's Sandal
PROS
Comfortable and supportive
Great grip even when wet
Quick and easy to put on, bungee lace stays in place
Very reasonably priced for such durable and versatile sandals
Toe protection
CONS
As with many open-sided sandals, expect sand and small stones to enter
As regular readers of our other hiking and running footwear reviews will know, we favor lightweight, quality footwear that is built to last and serve its purpose well. These KEEN sandals definitely fall into that category.
For the biggest choice in sizes and colors, you can shop the women's-specific KEEN Astoria West sandals directly from KEEN on their website.
---
KEEN Astoria West Video Review
---
KEEN Astoria West Review Gallery