It was only in the Spring of this year, that I finally got to experience my first pair of Inov-8 trail shoes, the Roclite 290's. If you read my review of the Inov-8 Roclite 290's, you will already know how extremely impressed I was with Inov-8's design and build quality. I've completely run through those trusty Roclites, and Inov-8 have very kindly sent us some of their new trail shoes to review. The first one up for review is the Inov-8 Parkclaw 275.
ADVERTISEMENT
RELATED: Best Trail Running Shoes of 2019
Marketed as a road to trail shoe, Inov-8 claim this is the perfect shoe for runners who are fairly new to trail running but want to step off the roads, and onto the trails more often. I would have to agree with this statement. It's a very comfortable shoe both on and off the trails.
Fit & Design
The Inov-8 Parkclaw 275's instantly felt good when I put them on, the fit style would be classed as standard. The first thing I noticed was the spacious toe box. The extra room for foot splay and toe wiggle certainly helps with comfort and stability. I personally don't have a very wide forefoot so didn't feel the need for the extra space there. But it's better to have more space than feel constricted, especially when your feet begin to swell after a long-running session.
The padding on the tongue is thick enough to feel soft and padded, without feeling bulky. There's also a handly "pull loop" on the tongue for pulling it up into the right place before tightening the laces.
Speaking of the laces, they are perfectly sized with no excess flap when you run. Can you tell, I have a bit of a pet hate when laces are clearly too long for the lace-up system, even for the widest foot in the world. 🙂 The laces are also made of a material that when tied up properly, the laces don't slip undone. Nice 'lacework' Inov-8!
The 'upper' is constructed from a single piece of breathable fabric, which bends freely when you take off on a stride. It's also very bright on this particular colour variant which I like!
Below you can see the nice padded heel support area with another "pull loop" to easily get the shoe on.
There's no re-enforced toe cap on this shoe but that's ok, it's a beginners trail shoe and probably wouldn't be taken on super gnarly trails. I'm talking about the ones with sneaky sharp rocks, looking for toes to punch.

The lugs are ok on this shoe, but again I wouldn't take them on much more than a buff trail. Only because I don't think they are aggressive enough. The lugs stand at 4mm deep and have a phenomenal grip on the tarmac and buff trails, but I can see them getting clogged quite quickly on very wet and muddy trails.
The last thing to mention on the design is that this shoe only weighs 275g. That's pretty damn light for a shoe that has so much cushioning and support. Kudos!
Running in the Inov-8 Parkclaw 275's
The Parkclaw 275's are fun to run in. They feel comfortable and airy in the toe box and soft on the heel, which has an 8mm drop. That's a bit more of a drop than I am used to, but actually quite welcomed when running on the roads and buff trails.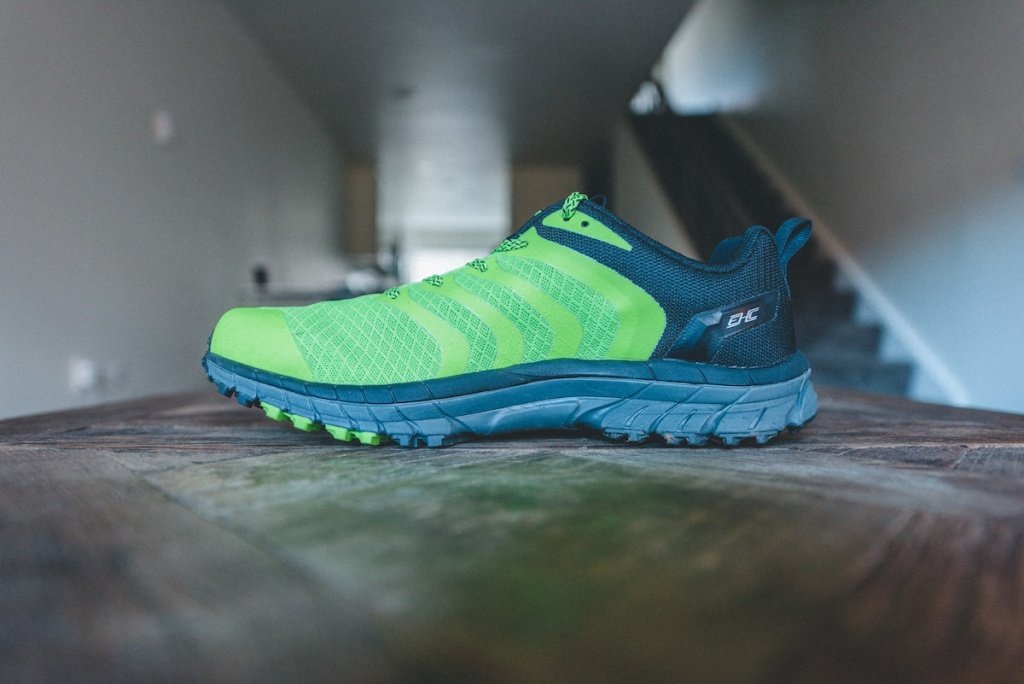 It's nice having a shoe that can deal with tarmac and light trails, especially when it takes you most of your run to actually reach the trails. As I said before, the grip formation on this shoes is excellent when running on the road and light trails, I felt like a formula one racing car when running around corners. Brilliant stability!
I really felt the power of the solid footplate on the Parkclaw 275's too. Some say that a solid plate takes away the cushioning of a shoe, which is true. But the benefits I see, are that the strong plate will help propel you forward faster, and in the long run, teach you to run with a much lighter footfall. Which is a good thing!
Inov-8 Parkclaw 275
Find the best price for Inov-8 Parkclaw 275
Last Amazon price update was: 7th December 2022 3:02 am
In Summary
If you're a new/intermediate trail runner, looking to step away from the roads more, then I really recommend you try the Parkclaw 275's. They have excellent stability, are very light and also comfortable. This is a winning combination for a trail shoe.
They come in a GTX Waterproof version too.
The Inov-8 Brand
Founded in 2003, Inov-8 is one of the World's leading all-terrain footwear, apparel and equipment brands.
Operating in over 60 countries, Inov-8 pride themselves in designing high quality, innovative products in both the running and performance training sectors. Their origins and footprints remain firmly etched into the muddy British fells but over the years they have optimized their products to meet the needs of the many terrains they have travelled.
If you fancy learning more about their products, be sure to browse their online store.
If you have any questions about the shoes or anything relating to them then please leave a comment below and I will reply as soon as possible. Happy Trails!!