The Apollo Neuro band is one of a host of new wearables designed to help the wearer improve sleep, focus, and heart rate variability, as well as staying calm in stressful situations, whether that's work, commuting, socializing, or any other reason as you go through your day.
The concept behind the Apollo wearable device is that it uses non-invasive touch therapy to send silent, soothing vibrations to the body, developed by physicians and neuroscientists.
It's currently sold by the company on Apollo's website, costs $349 (with no subscription required), and, if it works for you, is something that has the potential to help a lot of people experiencing stressful times or in need of the calming and soothing benefits it offers.
I've been using mine for the last few months, and my Apollo Neuro review covers the key benefits and features of this wristband (which you can also wear on your ankle), including how the company explains that touch therapy can work as a stress relief tool.
---
How does the Apollo Neuro device work?
Let's start by looking at the device itself.
It's essentially a small wristband, a little larger than an Apple watch. It comes with a hook-and-loop strap and is charged using the included USB cable.
You could call it a fancy 'stress bracelet'. And at $349, it has a fancy price tag.
At the time of writing this review, the wearable is available with black, grey or white straps, and several different metallic cases.
To accompany the device, you need to download the Apollo Neuro app, which is how you control its functions, and review the results and tracking information provided by the wearable.
The science behind Apollo Neuro
Touch Therapy is a concept that has been around since the 1970s and used in different forms by practitioners over the years.
At a high level, the concept behind Apollo Neuro's stress relief devices is that touch and emotion are connected, and certain frequencies of touch can help reduce stress in your body.
These wearables send vibrations to your body, through your wrist and ankle, that provide comforting soundwaves that can help rebalance your nervous system.
It helps to understand the device by watching this two-minute video on Apollo Neuroscience's website: How does Apollo Neuro Work?
To summarize my take-aways from the video, it's basically saying that as a result of these vibration frequencies, your body starts to feel calmer, and your heart rate variability improves over time and use.
As a result, you start to feel better, more balanced, and less prone to feeling quite as stressed and unfocused.
In case you're wondering, heart rate variability is apparently a key biometric sign of stress resilience.
These improvements are also stated to help you improve your sleep, which in turn helps you spend more time in a relaxed state.
I think you'll agree, fascinating stuff, but does the device actually work?
I've read critics' reviews that will inform you the device isn't FDA-approved (yet) and there are insufficient studies and journals proving its benefits.
To me, that doesn't matter all that much – given it's non-invasive then I don't see the harm in trying something new.
If like me, you want to try it out, you can buy one and see for yourself, then if it doesn't work for you the company offers a 60-day money-back guarantee so you can return it for any reason.
This makes it a low-risk way to try out some new tech that may be something that helps you deal with stress, focus better, and sleep more restfully – so pretty much a no-brainer if that sounds like something you'd benefit from.
The device currently costs $349 and is available directly from Apollo Neuro on their website.
---
Controlling the Apollo touch therapy device
The Apollo app which you use to control the wearable is simple and easy to use.
When you go into the app, you can choose from a range of modes, that last anywhere from 15 to 60 minutes.
You can also set the intensity level (the company recommends starting with low intensity at first).
I find I need a higher intensity when I wear the Apollo wristband on my ankle, compared to when I wear it as a bracelet.
Once you've familiarized yourself with the different modes and settings, you can personalize a schedule to zone in on how you want the device to work for you as you go through stress peaks and situations throughout your day.
To give you a few examples, here are some settings you may want to use at different times of day and night, ranging from the energizing setting to settings designed to help you overcome stress, encourage calmness, and more easily access a meditative state:
Energy and wake up
Meditation and mindfulness
Clear and focused
Rebuild and recover
Social and open
Relax and unwind
Sleep and renew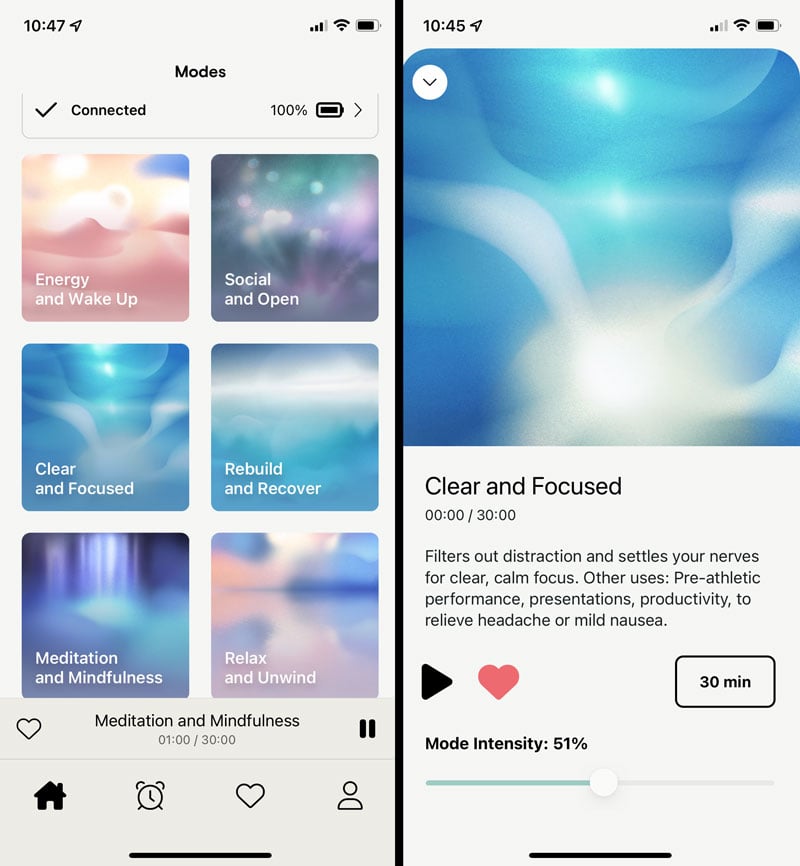 It's worth noting that the company states that to gain the benefits out of it, you need to be wearing your Apollo Neuro device a lot – it's recommended you wear it at least three hours a day, in a few sessions across the day and night, for at least five days a week.
You can also connect the device to work with other health trackers such as the Oura Ring, and Apple Health.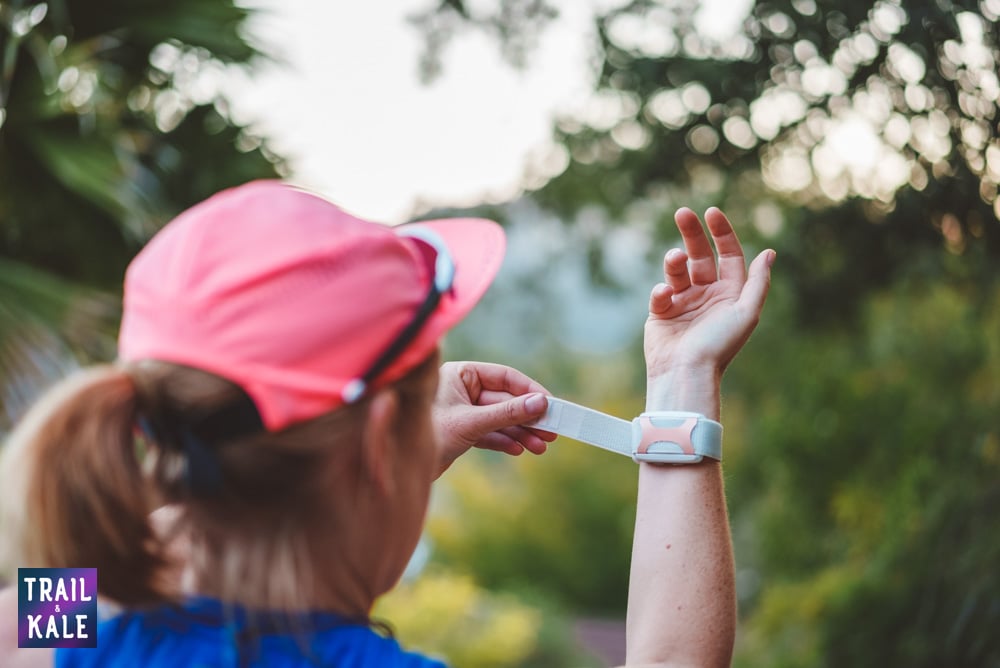 Wearing the Apollo stress relief wearable
In testing, I have varied where I wear it – on the inside of both wrists, and my ankles, and make sure it's snug, but comfortable – definitely not restricting blood flow.
If your legs or ankles are going to be exposed, then you'll probably want to wear it mostly on your wrist if you want to avoid that awkward conversation that involves you explaining that no, you're not obligated by law to wear this device.
On the other hand (so to speak), it's nice to have it out of the way if you work with your hands or even if you're spending time at a computer, so another wrist-worn device doesn't get in the way, especially as the device sits on the inside of your wrist.
Wherever you wear it on your body, it's worth noting that the battery lasts around 6 to 8 hours between charges, so that's a couple of days' use, if you're wearing it the recommended minimum of three hours a day.
The exact length of time the battery lasts varies depending on the combinations of settings and intensities you're using.
To charge it you just plug it into a USB port or outlet – it uses a regular USB cable to charge. A cable is included when you buy the device.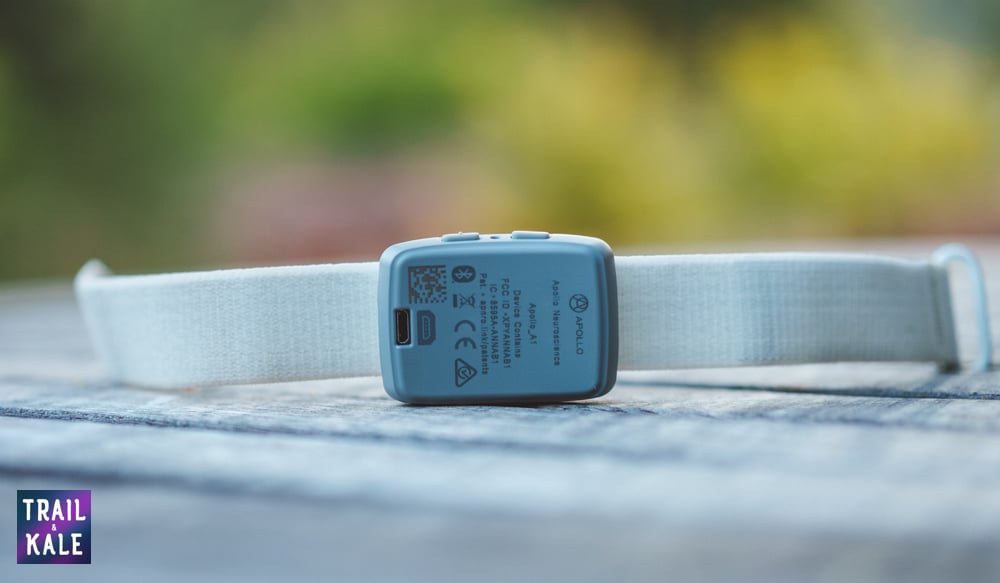 My experience using the Apollo Neuro wristband
I love the concept of touch therapy as a non-invasive, non-medicinal method for encouraging calmness and helping to reduce stress and increase relaxation.
Whatever it is you're doing, whether that's dealing with a potentially stressful situation like an event or uncomfortable social setting, or simply trying to wind down at the end of a day non-invasive natural healing is a good medium to explore.
The mode I have found myself using the most is the 'clear and focused' setting, which I turn on when starting the work-day, or getting back to my desk after time away.
The clear and focused setting is also stated to help with issues such as headaches – which can, of course, be a reason you may be struggling to achieve good focus in the first place.
I've also tried 'rebuild and recover' by wearing the Apollo after long runs and workouts.
As with all recovery devices (such as foam rollers, massage therapy guns, and protein shakes), it's hard to know whether it has specifically made a difference without using it as the one and only recovery device on consistent occasions, but hopefully, it helps!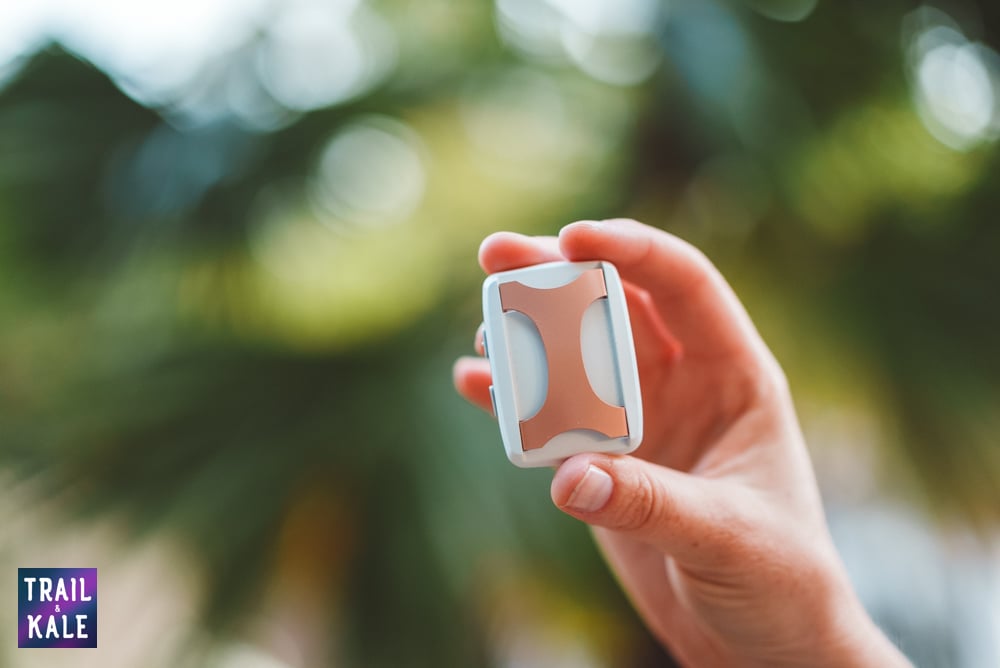 I tend to use the other settings interchangeably depending on my mood, with the exception of the 'sleep and renew', which isn't for me because I don't generally have difficulty falling asleep and prefer not to wear devices when I sleep.
That said, if you are seeking a new, non-medicinal way to improve your sleep and relaxation, then it's worth trying out and seeing if this stress wearable wristband works for you.
I generally prefer to wear the device on my ankle where it's more out of the way than when it's on my wrist, where it feels bulky.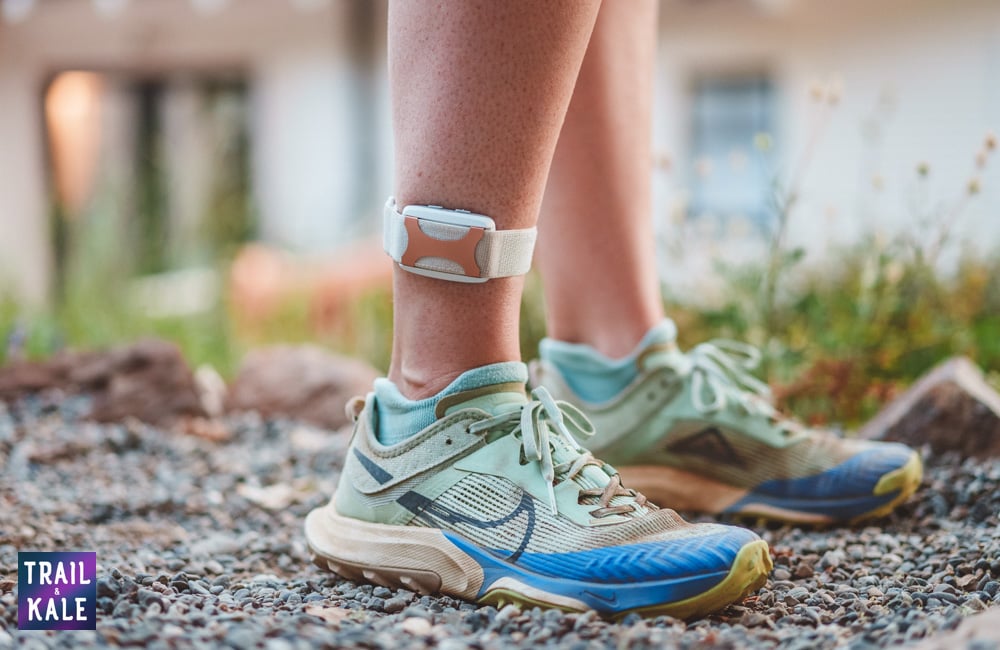 This is especially true if I'm working at a computer as if it's on the wrist then it gets in the way when I'm typing and using a mouse.
As with other wearables, there are also times when I just don't want to have anything attached to my body, whether it's the Apollo or my Apple Watch, for example.
This isn't a big concern, though, given that you're not supposed to wear it all the time (although I guess you could if you wanted to, in-between charges).
On another note – if you're wondering about side effects, I have not experienced any Apollo Neuro side effects whatsoever, and I'm not really sure how anyone would to be honest as it's simply vibration therapy.
Cleaning the Apollo wearable
I clean the Apollo device itself with alcohol wipes, and periodically wash the band..
The device is water-resistant, so not waterproof, so don't submerge it or wear it in the shower.
The band has a hook and loop on it so best to wash it separately from your clothes so it doesn't attach itself to your favorite socks or sweater.
As you can see in the photos throughout this review, I have one with a white strap, which does tend to get dirty quite easily – so maybe go for a darker strap if you're considering buying one.
The black or grey versions would probably look cleaner and nicer for longer. That said, I like the rose gold finish on mine, and washing the strap to clean it isn't a big deal.
---
Cost and where to buy Apollo Neuro
This stress wearable currently costs $349 when you buy it directly from Apollo Neuroscience on their website.
Because they offer a 60-day money-back guarantee, if you get one and determine that you're not feeling enough benefits from this stress bracelet, then you can return it during that time.
This de-risks the purchase and means it's definitely worth trying out and seeing if it works for you.
---
Apollo Neuro review summary
Apollo Neuro Review
PROS
Non-invasive, non-medicinal stress and sleep aid
Easy to use with a user-friendly app and no subscription
CONS
Costly up front to buy
Bulky to wear compared to other wearables
Image Gallery