The Matterhorn Ultraks 46k Skyrace has been in the diary for nearly a year and so it was always going to be the main event of the year for me. The race that all previous races and training would be in preparation for. It's a running challenge that exceeded anything I had attempted before for two main reasons.
The large amount of vertical ascent (3700m)
and running at Altitude (3100m at times).
Previous to this the most elevation gain I had accumulated during a single race was around 1800m over a distance of 54km for Keswick Mountain Festival Ultra 50k.
This was going to be an epic adventure full of uncertainties! My kind of fun!
Here is the official Event video which was just released (25/08/2016). It will help you paint your own picture of the event as I describe the day from my point of view 🙂
Profile
Route
Terrain
The route on whole is actually quite runnable with only a few very technical areas. The main thing that makes this race challenging is the amount of steep climbs and the high altitude which requires more work from the cardio vascular system.
The human body is actually amazing at adapting to new environments and conditions, so as long as you start off slower than you normally would; then you should gradually get used to the affects of altitude as you progress through the climbs.
The stand out "technical" section that gave the most technical challenges was at around 23km. It had been raining for a couple of hours making the rocks quite slippery, but I found as long as I initiated a controlled slide over them then you can actually pass through the section quite quickly. I did however cross paths with Helen who was running the 30k race at this point so that was awesome! 🙂 I think we lifted each others spirits during a tough part of the race.
Check Point Nutrition
There were 5 checkpoints during the race which worked out very well on the day. Had the weather been hotter then I would probably be saying that one more checkpoint would have been good. There were times when they were 2 hours apart at the pace I was running. The checkpoints were:
Zermatt Start
Sunnegga (CP1)
Gornergrat (CP2)
Riffelalp (CP3)
Schwarzsee (CP4)
Trift (CP5)
Zermatt Finish
Race Village
The atmosphere in Zermatt was so alive with supporters, runners and tourists. I had no idea how beautiful the place was either. I could only describe Zermatt as being in a little bubble of pristine chalets with beautifully kept grounds and flora. It felt so disconnected from anywhere else, in a really good way! Driving petrol/diesel cars has been banned in the town which keeps the air clean and fresh and the only transport you will see are specifically designed electric vehicles and the occasional horse & carriage. I really respect them for doing this, and the decision to do so has made Zermatt a wonderful place to enjoy.
The Race
After having just completed The Buff Epic Trail 21k a few weeks beforehand, I was feeling quite confident going into this race. Yes Ultraks is certainly more of a challenge, which is clear to see from the stats, but I knew that at the heart of it all, it was a Skyrace. And I was no longer a stranger to that.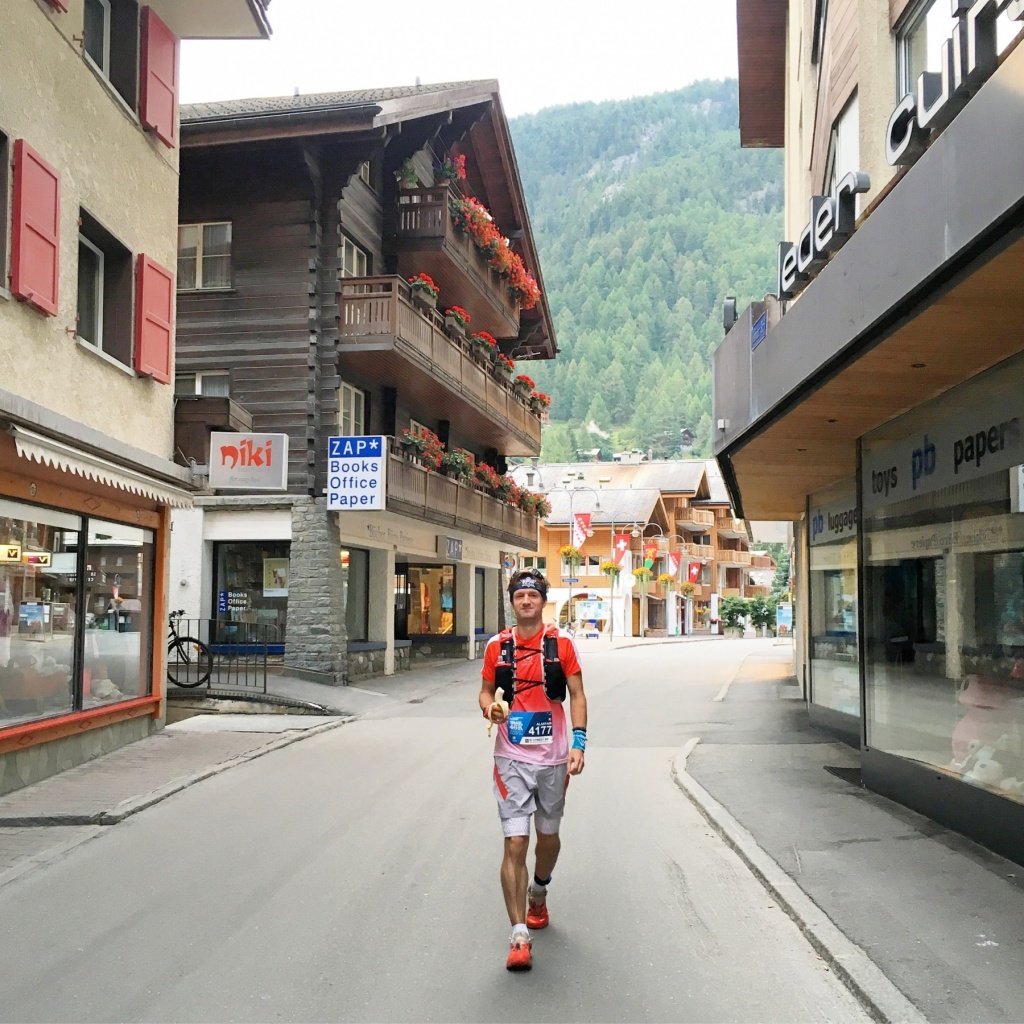 Race Start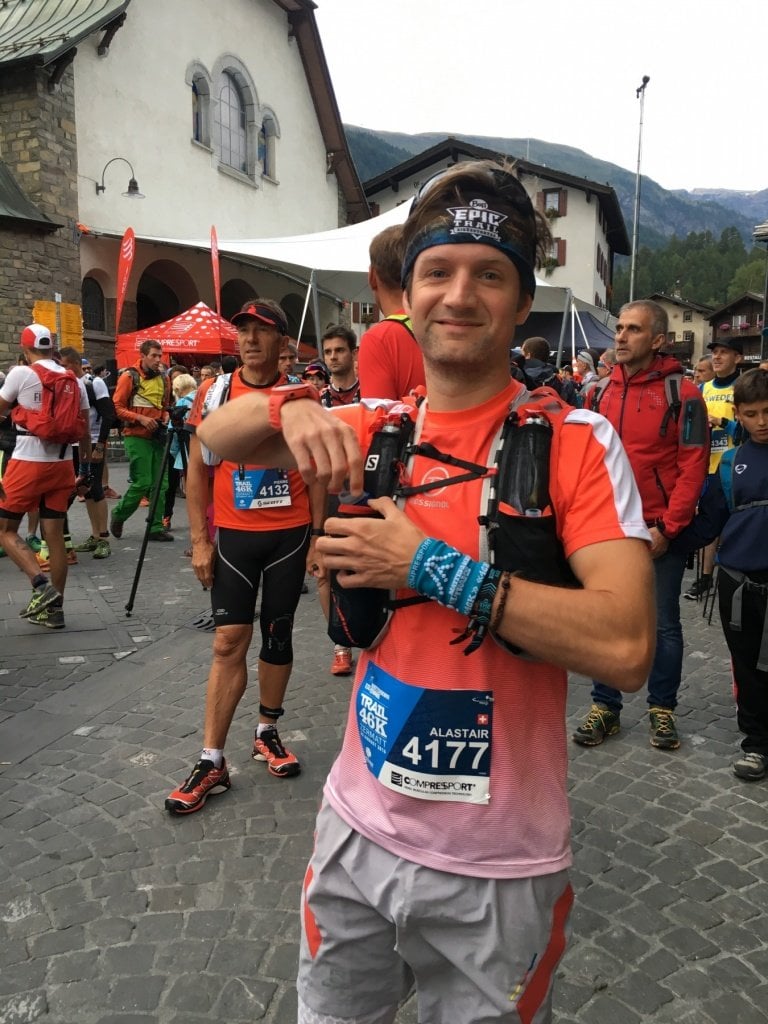 The first 2k
The race started very quickly for the first 2km, especially seeing as it was at an incline. I remember looking at my watch and seeing an average pace of 5km/min. I'm glad I kept up with the pace as there is a bottle neck as soon as you reach the start of the first big climb at 2km. It goes through single track forest with very few places to overtake.
You are also forced to stay back from some runners that have hiking poles. Some runners were very careless; waving them about in peoples faces. I saw one person constantly planting his poles on the back of someones heels. What a Tonto!
Being forced to hang back from the "poles people" made it harder for me to pass them which was also annoying. The best way to tackle these situations is to just get the heck past them as quickly as possible. In a polite British way of course 🙂
The climb to Gornergrat
Most of the climb to Gornergrat was speed hiked as the gradient was too steep to run. I seem to be quite good at pushing hard on the climbs, I'm not sure why… Maybe its something to do with letting my mind drift away as I get into a routine. Its 50% a mental challenge after all isn't it!?
Gornergrat Summit (3100m)
I had seen videos of runners along this ridge before the race so knew what to expect from it. It looked so epic, and I couldn't wait to be the person running along it. I was so pleased when I noticed a photographer up there. He was using the Monte Rosa Massif as a backdrop for the images. And it looked so cool! Check it out below: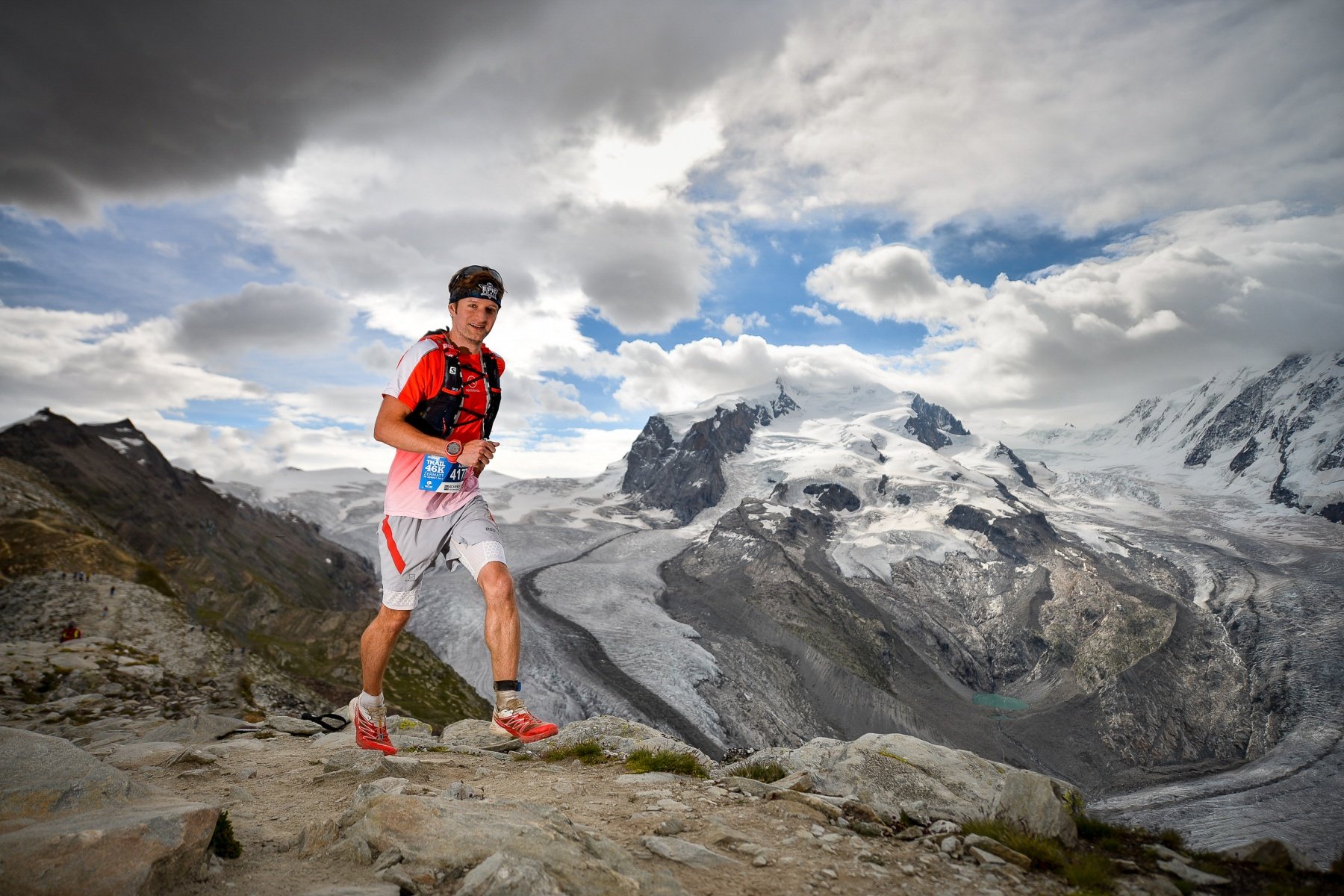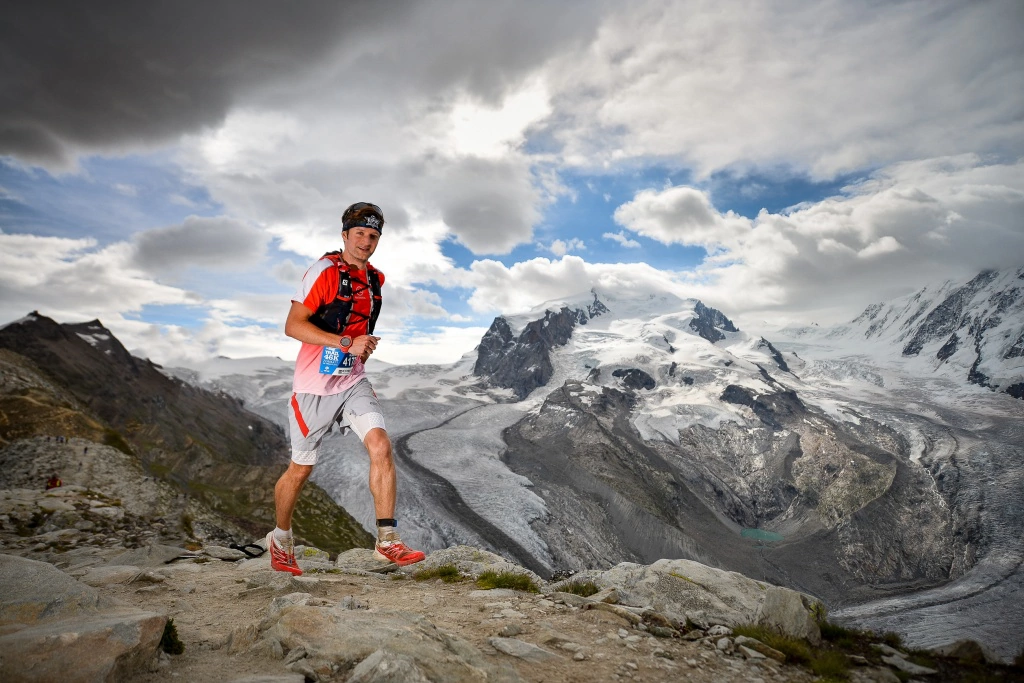 Once you reach the Gornergrat checkpoint, there were lots of people there supporting due to the great train that goes up there every 30mins.
The checkpoint had warm electrolyte drinks which was something new to me. The air temperature was much cooler at the top so this was a really good idea from Ultraks.
We made it up there the day before for a mini recce. I had my proper camera with me and will display the pics in another post. Here's a fun pic I took with my phone:
The main descent
After the first 10 minutes of the descent you a gifted with this stunning view of the Matterhorn. Take it in!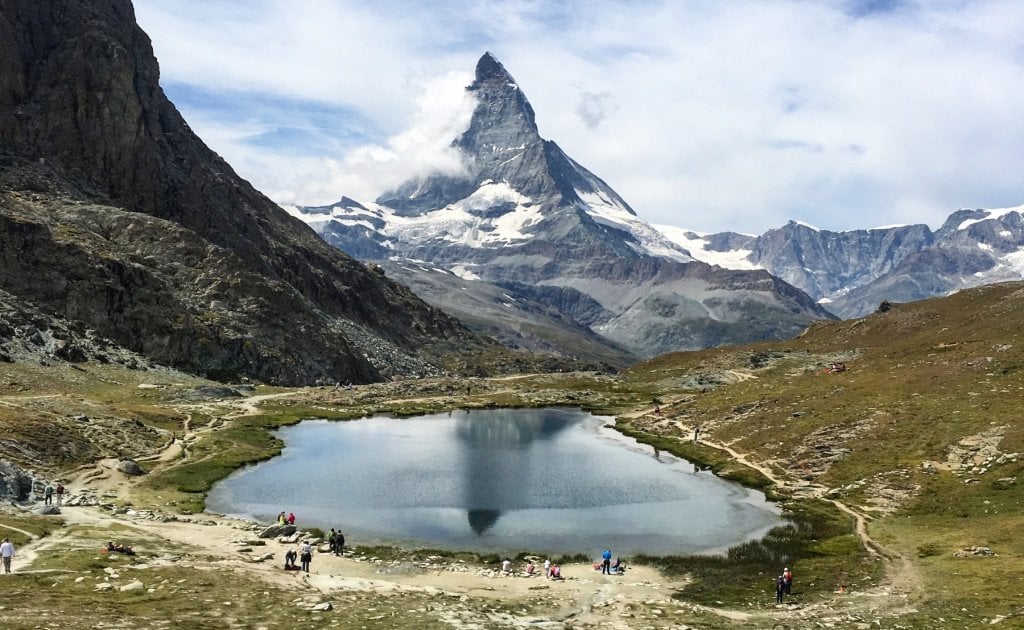 If you manage to stay cramp free then there are quite a few chances to get some speed up on this descent. It drops 1200m over about 10km distance. Your quads will certainly get a work out but its so fun to be bounding down the mountain after spending nearly 3 hours speed hiking up to Gornergrat. It was on the descent that it started to rain. It did make for a few precarious moments when I nearly slipped over but overall I was very happy the refreshing rain coming when it did.
The cold
It was when I eventually reached Schwarzsee Summit (2500m) on the second climb that the temperature really seemed to drop. It was probably a combination of the rain, wind and open ski fields that made it feel exceptionally cold. It was the only time I needed to put my rain jacket on to as protection from the cold. I only needed it for about half an hour but Im so glad I took it with me all the same.
Final aid station
I was so glad to reach Trift, the final checkpoint. I knew that it meant there was one last climb of around 300m and then a 5k descent back into Zermatt. I didn't realise at the time quite how hard that final ascent would feel on my ever tiring legs. I didn't waste any time at the Checkpoint, grabbing 3 cups. One water, one electrolyte drink and a coke. It was a challenge speed hiking with 3 cups in my hands, but it seemed like a good idea at the time. It was a race after all 🙂
I sometimes find it hard not to get out of breath whilst taking on nutrition. If anyone has tips on that please let me know in the comments below!
I kept finding myself thinking throughout the race how amazed I was that I hadn't got any cramp. I always fall seem victim to it at some point during a race with a lot of climbing. I can only put it down to one of these factors (i'm still experimenting so will let you  know if I find a consistent link as to why):
Using Saltstick salt and electrolyte tablets when I felt any muscle tightness
having a cup of electrolyte drink at every check point
having recently become a vegetarian
putting in the solid hill training
cooler weather
The 5k finish
After reaching the final summit, it was time to unleash the last of my energy stores and bring it home.
There were so many switch backs on this last stretch that it made it tricky to maintain a high speed all the way. I did my best though, and nearly overshot some of the switch backs over the edge. I must have flown past at least 20 people on the final 5k. I have no idea where my energy came from but I was just so amazed that I didn't have cramp that I just put everything I had into it.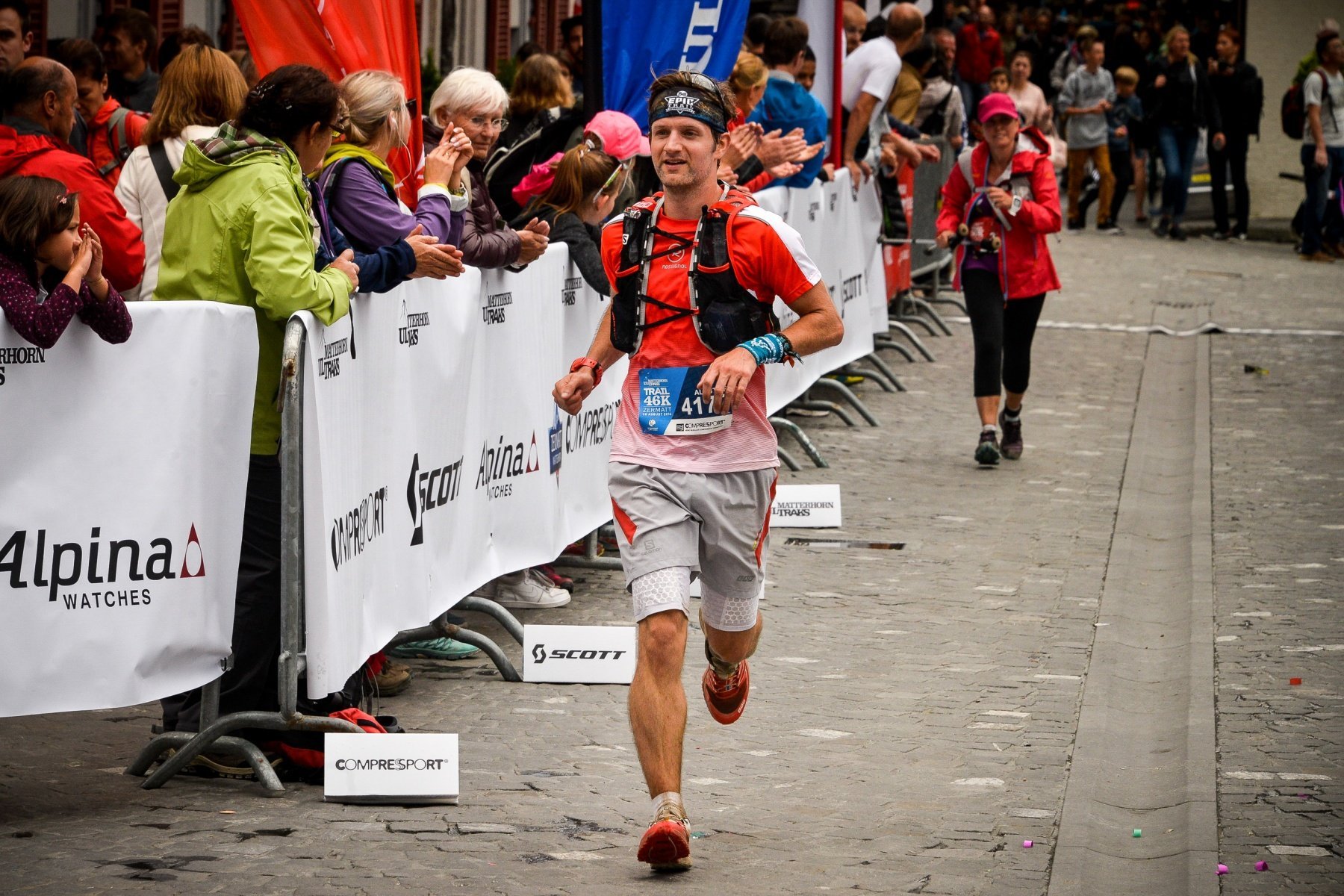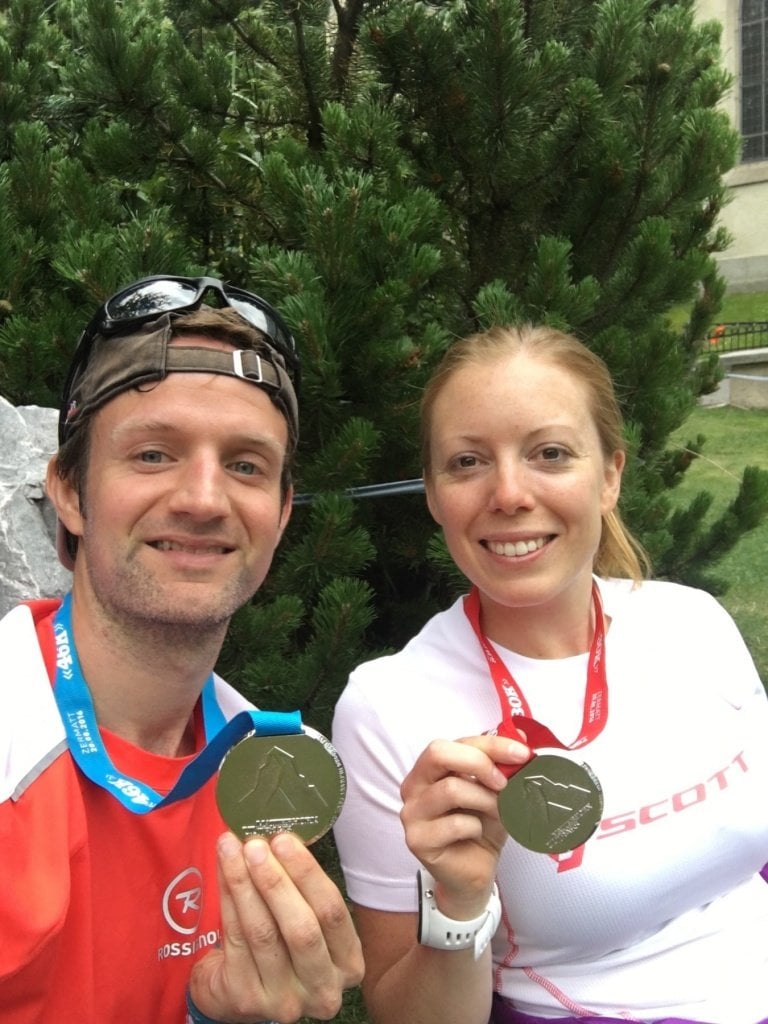 Race stats:
Position – (CP1 = 334, CP2 = 299, CP3 = 279, CP4 = 247, CP5 = 223, Finish = 204, ) – 

Climbed the ranks really well 🙂

Distance – 48.1km
Elevation Gain – 3700m
Time – 08:07:09
Average Pace – 10:07 min/km
Trail Bag
As you can see, most of the kit I took with me for Ultraks was Salomon. I am a huge fan of their brand, design and quality which is why I have stuck with them for so long.
A BIG Thank You to Ultraks, Scott and Compressport for putting on an amazing race that was really well organised and had an amazing spirit to it. Hopefully see you all again next year!
Thanks for reading!
We love to hear from you, so if you have any comments or questions (or just really liked this post ;-)) please leave them in the comments section below…