I've been running in the Women's On Cloudswift running shoes for quite some time now, so it's about time I share my thoughts on these innovative running shoes for you, our lovely blog readers, to give another perspective and some additional observations from wearing the On Cloudswifts. If after reading my On Cloudswift Women's review you have a question for me, please leave it in the comments section below.
ADVERTISEMENT
If you're a regular reader of our blog, you may have already read Alastair's detailed On Cloudswift Men's review, where he covers how they perform while running and also how the shoes stack up against other On running shoes available at the time of the review. If you haven't, have a read to get up to speed on some of the more technical features of this shoe.
---
RELATED:
---
Fit & Design
This is the first time I've worn road running shoes which are designed with a full wrap-around sock, which On calls their 'engineered-mesh sock' which is designed to hug your foot for a precise and breathable fit. I was initially concerned that if the 'sock' in the Cloudswifts was looser than my foot, that it would not fit snugly enough, however once I slip the shoes on, they fit like a glove, not too loose, and importantly, not too tight, just right.
Really important for me for running in summer is that my running shoes are breathable. These are certainly so. I took them out for a super-hot and sweaty one-hour run in Florida, and my feet were happy and dry throughout the run. I can't say the same for the rest of me, haha, man is it humid in Florida!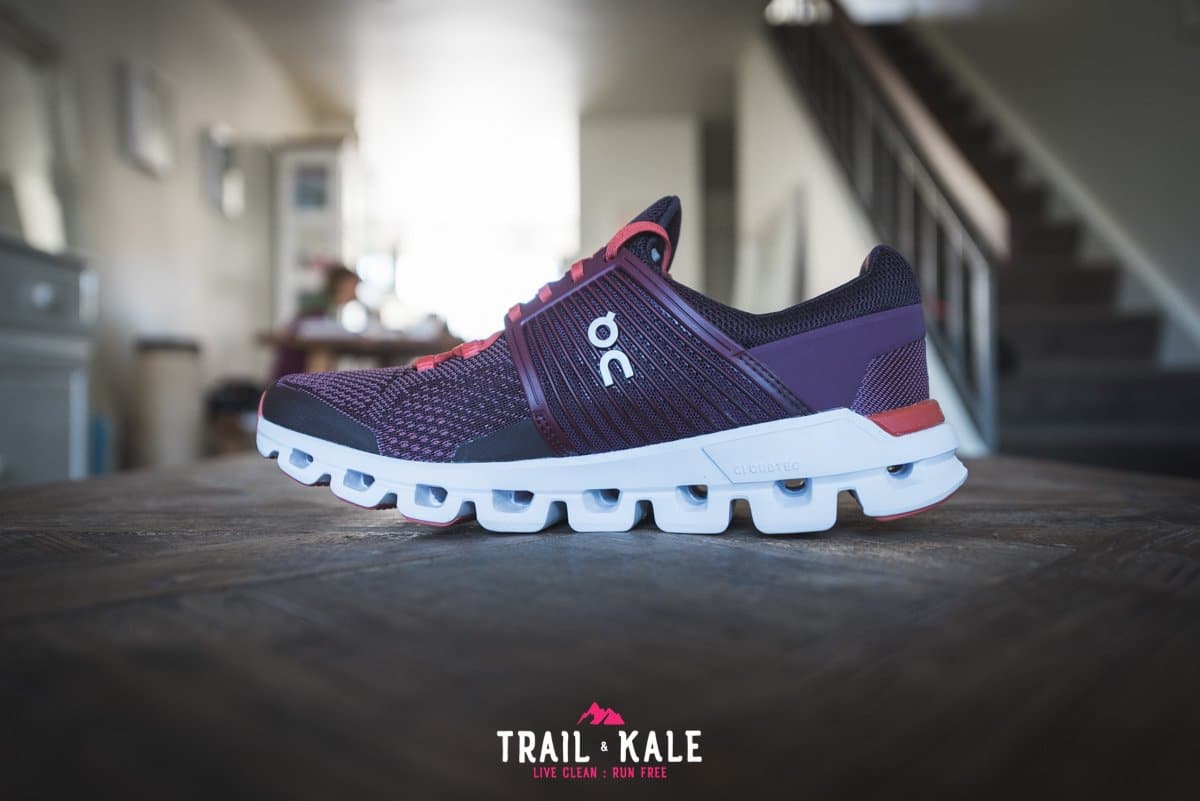 The laces and the 'side-band', shown above with the On logo on top, provide nice adjustable lace tightening, and unlike some laces on other On running shoes, the On Cloudswift has flat laces that are less prone to coming undone.
For a video first-look of the On Cloudswift, have a watch of Alastair's video, below (and don't forget to subscribe for more review videos and short running films!).
Sizing Consistency
On running shoe sizing is generally consistent across all styles I have run in, and the Womens On Cloudswift is no different. The Cloudswift fit is consistent with other On running shoes, which is also consistent with other popular brands including Salomon, Inov-8, and Merrell as noted by Alastair for the men's version, too.
Comfort
The Womens On Cloudswift have a good amount of cushioning, and have been comfortable straight out of the box. The first day I wore them I took them out for an hour and they were very comfortable to run in, with no niggles or issues. The lack of seams inside is a nice feature, and there is enough room for my feet without them moving around, which helps when running in the heat, when they tend to swell.
Compared to the On Cloudsurfers, which are my other current go-to road running shoes, the Cloudswifts feel less cushioned, but that would not stop me from going out and running marathons in them.
Drop & Weight
Alastair's review discusses the new Helion foam construction and rocker-profile sole. I really noticed the rocker constructions. It makes the On Cloudswifts feel like a zero-drop shoe, because it encourages you to run towards the mid and forefoot, even though it actually has a 7mm heel-to-toe drop, so is not a zero-drop shoe at all.
These are among the lightest road running shoes I have used that still offer a good amount of cushioning from concrete and tarmac.
The combination of the rocker and light weight means that the first time I wore them I swear the Cloudswifts wanted to go faster than I could move my legs. This is exciting, and has given me increased motivation to work on my speed during road runs, compared to, say, how I feel when I wear very cushioned and more traditional road running shoes, in which I find myself tending towards a plodding pace rather than trying to run faster.
Because of the points noted above, I believe that my running form has improved as a result of wearing the On Cloudswifts, specifically, better posture, forward-lean, midfoot landing and core held tight.
On Cloudswift Women's Review Summary
Womens On Cloudswift Review Summary
Pros
Helion outsole provides great cushioning and response
Very breathable upper
The one-piece upper construction wraps nicely around your feet
lightweight
Good color options
Nice hidden pocket to stash laces
Last Amazon price update was: 7th December 2022 8:00 pm
I will tell you the same thing I tell everyone who stops (or tries to stop) me when I'm out running to ask about the Womens On Cloudswifts (yes, they do attract a fair bit of attention and curiousity!): Yes, they are as fun to run in as they look. The innovative design, from the Helion foam sole, to the rocker shape and sock-like construction combine to make a lightweight and out-the-box comfortable pair of road running shoes. The Cloudswifts are as great for running outside in hot and humid weather as they are in milder weather and on treadmills, and come with me in my suitcase wherever I travel for work, from Calgary to Florida and beyond.
The On Cloudswift has been ranked No.1 on Alastair's comprehensive list of 'Best On Shoes Ranked and Reviewed' post, and while I have not run in all of On's running shoes, I have done so in many styles and would rank it top jointly with the classic On Cloudsurfer, which is also highly rated on account of it being my On road running shoe of choice for longer distances, as it offers a little more cushioning.
Last Amazon price update was: 7th December 2022 8:00 pm
Still not sure which On Running Shoes to buy?
Visit our Best On-Running Shoes Guide for an ordered list of the top On shoes for road and trail running, each with links to our respective On Shoe reviews. Designed to make your buying decisions simpler.