Western Rise's mission is to elevate people's lives through their technical clothing range which errs on the side of clothing you may see in an affluent city rather than in a mountain resort. And this is the line that Western Rise appears to be blurring. The name 'Western Rise' is inspired by the rise of the mountains of the western United States and the early explorers and entrepreneurs who ventured westward toward them.
Western Rise strives to create products allowing the modern, active man to own less, carry less, and experience more while traveling, spending time outdoors, or in the day-to-day. That's my kind of life! This Western Rise review shares my experiences and opinions on three key garments from Western Rise; the AirLoft Quilted Jacket, the AT Slim Pant, and the TechWool Flannel Shirt. These items when put together create a stylish and versatile outfit that can be worn in the city, on the trails, or whilst traveling.
---
Western Rise AirLoft Quilted Jacket Review
What I like about the Western Rise AirLoft Quilted jacket is its incredible versatility. Not only does this jacket look fashionable when worn in a city office environment but it also looks great on trail hikes with its classic quilted design combined with sophisticated thread colors, Olive (the one I have), or Black. It also offers enough technical functionality to be effective in a range of different weather conditions and activities too.
The Quilted Jacket comes with double chest pockets to keep contents in place and a hidden interior media pocket that fits your a mobile phone very well. The two hand pockets are good for keeping your hands warm but also act as a packable stuff sack.
The AirLoft Quilted Jacket is insulated and has 4-way stretch
The Western Rise AirLoft Quilted Jacket contains a quick-dry and packable synthetic insulation that will keep you warm in cold conditions but because it's a button-up jacket that looks great undone too, you can also look good wearing it open in warmer weather. The insulation used is called AirLoft, an entirely new type of breathable insulation that sandwiches 3DeFX+® active insulation between an ultra-lightweight, durable, 4-way stretch fabric and an inner light 4-way stretch, sweat-wicking, breathable Polyester that is soft and light against the skin. This combination of fabrics is designed to move with the body, dry quickly, and keep you warm even in wet conditions. While I wouldn't call this jacket slim-fit, it does have a flattering fit for anyone with an athletic build.
It's highly water-resistant too!
The AirLoft Quilted Jacket also has a new self-cleaning, 4-way stretch, Primeflex exterior fabric with a C6 DWR (durable water repellant) for dirt, stain, and weather resistance optimized for cool-weather activity. This is the same water repellant used on the AT Slim Western Rise Pants that I am also wearing in these Western Rise review photos. There's a video below that demonstrates how astonishingly well C6 DWR repels fluids!
---
AT Slim Western Rise Pants Review
The AT Slim Pant trousers are durable yet comfortable for those who lead an active lifestyle, always on the go. As with the AirLoft Quilted Jacket, these too are very versatile for all the same reasons; comfort, stretch, durability, water-resistance, and style. You can wear these no matter the weather, occasion or environment, whether that's being in the city or the mountains for a hike. These trousers are cut with a slim fit design which is a must-have feature for me personally when buying pants.
---
NEW: Western Rise's Diversion Pant is here! (Learn More Below)
These four-way stretch pants provide extra comfort (Western Rise's pants including the AT Slim Pant are only 2-way), by being soft on your legs and providing the flexibility to move with you. With their highly durable canvas exterior, paired with a sweatpant-like interior, you can feel indoor comfort with everyday style. The Diversion Pant is also water and stain resistant and offer other highly functional design elements, like a phone pocket and a zippered back pocket.
---
Being made from stretch nylon makes them lighter and more durable than cotton denim, although they may feel a bit thicker/stiffer than jeans until worn-in fully. Stretch and durability make these pants useable for sports like cycling, mountain biking, running for the bus (that should totally be a sport), or anything thing else you can think of where trousers may be acceptable apparel while playing a sport.
I just love how the AT Slim Pant sheds water. See below for the water repelling demonstration video I promised earlier on in this Western Rise review.
The fabric used in the AT Slim Pant is Blue Sign approved and a portion of the proceeds go to 1% For the Planet which means Western Rise is helping to shape a more sustainable future for our planet. Bluesign represents the vision and mindset of responsible and sustainable manufacturing of textile consumer products. It's a system that provides safer and more sustainable environments for people to work in and everyone to live in.
---
Western Rise TechWool Flannel Shirt Review
Cut and sewn in Portugal, the TechWool Flannel Shirt is another classic item of clothing that can be worn in a variety of different environments and situations from the city office during the week to trail hiking on the weekend. It's super soft to the touch, offers 2-way stretch for freedom of movement, and is sweat-wicking to help keep you stay cool in the summer months. What's great about TechWool is that it will also keep you warm in cooler weather too. The TechWool Flannel shirt is Western Rise's modern take of the classic Flannel Shirt, and they've done a wonderful job of creating this versatile garment.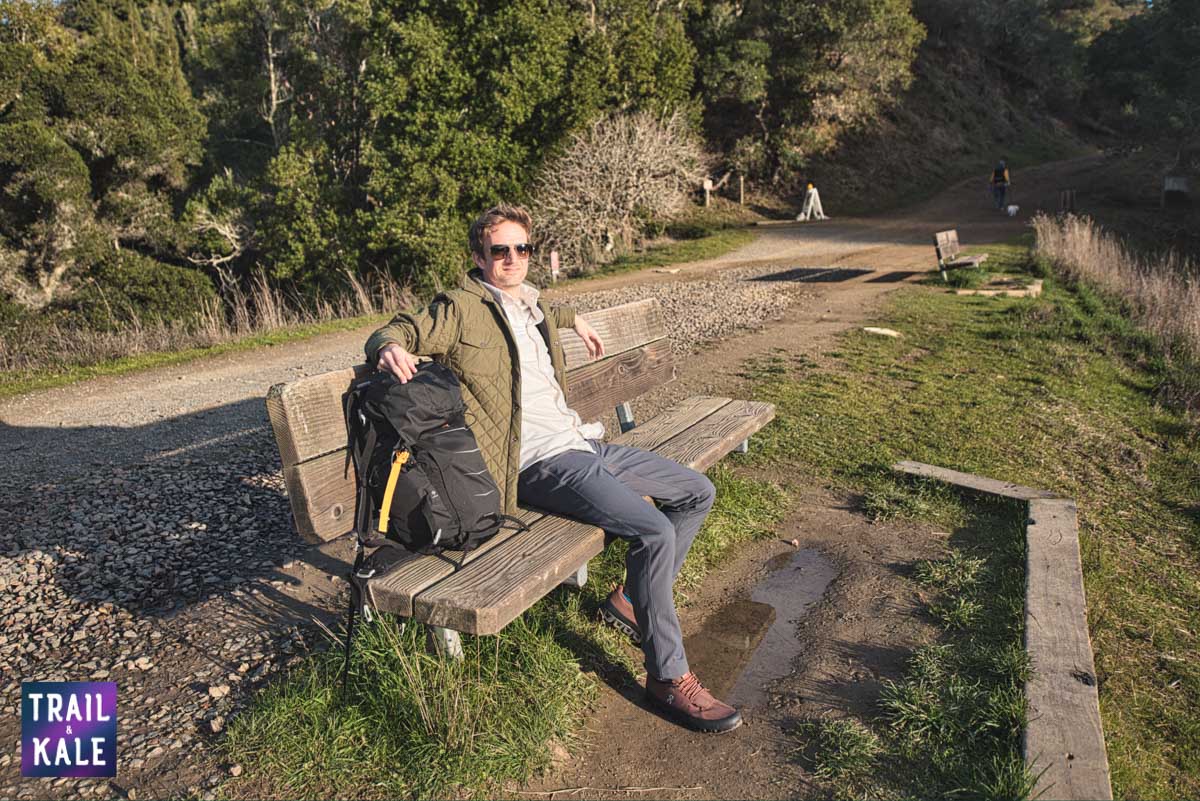 It's pretty much wrinkle-resistant and has odor-resistance technology in its fabric, making it a great wardrobe choice for those who travel a lot and don't want to look scruffy or smell whiffy by the time they reach their destination. Like the Quilted Jacket and AT Slim Pant reviewed above, the Flannel Shirt is also made with Blue Sign approved fabrics.
Western Rise has also added unbreakable rubber-coated buttons to this shirt adding to its durability. With regards to fit, it has a lean, tailored cut that will fall nicely on those with an average build.
---
Western Rise Apparel
---
FAQ
---
I hope you enjoyed this in-depth Western Rise review, If you have a question about any of these products or Western Rise in general, please leave it in the comments below.