Running with the Garmin Fenix 5X – The Pros and Cons
Garmin has packed so much into the Garmin Fenix 5X GPS Watch and it is one of their flagship devices that can easily rival the competition from other manufacturers like Suunto and Polar. I wonder though, what's it like running with the Garmin Fenix 5X?
---
Interested to know which GPS watches we think are best for trail and ultra running?
---
ADVERTISEMENT
I have been a long time user of Suunto for trail running, so I was very excited when Garmin offered to send me the Garmin Fenix 5X "Sapphire Edition" to try out and review.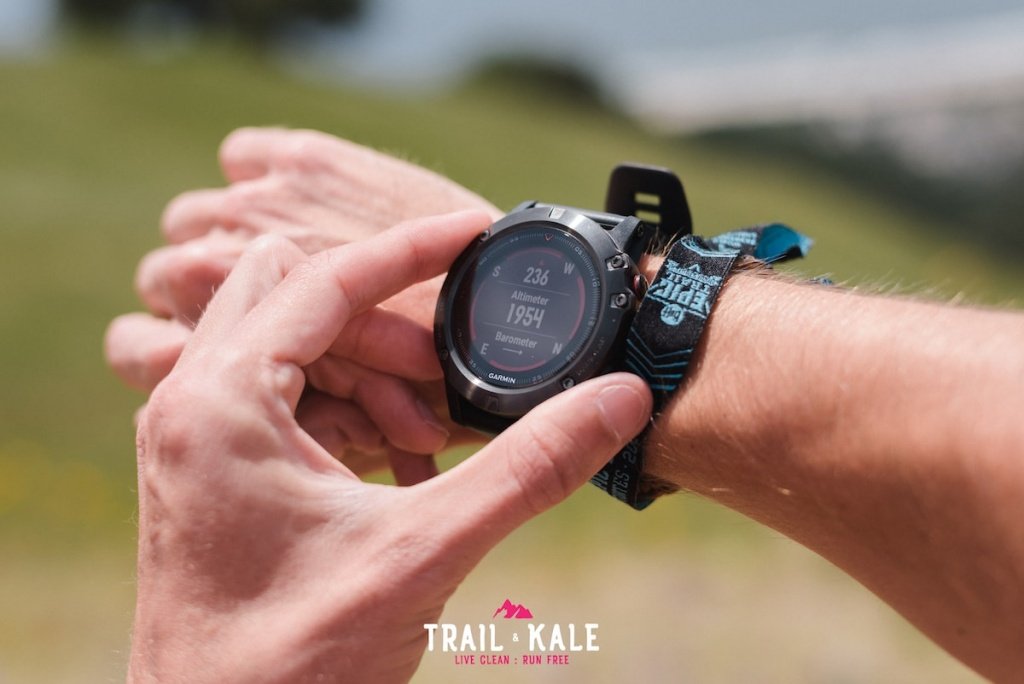 Some key features of the Garmin Fenix 5X that really stand out to me and how I use them:
1. Advanced mapping and navigation features that Garmin is so famous for
I was really excited to try out these features. Being a trail runner I enjoy discovering new trails but it can be hard to know where to start.
Sure, you can look up a route online before you head out the door, but it's so much more convenient being able to then plot the route into your GPS watch and have it direct you along that route as you're running. This means you don't have to keep taking a map out of your pack, every time you think you may be heading in the wrong direction.
How to use these functions:
There are many ways to use navigation but here are my favourite and the ones I feel are most worth mentioning.
Creating and Following a Course on Your Device
From the watch face, select > Navigate > Courses > Create New.
Enter a name for the course, and select "tick".
Select Add Location.
Select an option.
If necessary, repeat steps 3 and 4.
Select Done > Do Course. Navigation information appears.
Select "up arrow" to begin navigation.
Creating a round-trip course:
This feature is great if you want Garmin to create a route for you based on the distance that you specify. Such a fun way to discover new routes!
From the watch face, select "up arrow".
Select Run or Bike.
Hold MENU.
Select Navigation > Round-Trip Course.
Enter the total distance for the course.
Select a direction heading. The device creates up to three courses. You can select DOWN to view the courses.
Select "up arrow" to select a course.
Select an option:

To begin navigation, select Go.
To view the course on the map and pan or zoom the map, select Map.
To view a list of turns in the course, select Turn By Turn.
To view an elevation plot of the course, select Elevation Plot.
2. On-wrist heart rate monitor
Having a heart rate monitor on the wrist is the new standard for measuring heart rate when running. It's more comfortable and convenient than using a chest strap. The heart rate monitor also takes readings throughout the day, even when you're not in an 'activity' mode. Allowing Garmin to collect this data means that the software can more accurately see how you're recovering from your runs or fitness activities. The watch even tracks your sleep patterns if you leave it on overnight. So many other watches lack this feature, including the Apple Watch Series 3, unbelievably!
In order to guarantee an accurate measurement, the band must be tight enough so there's no movement while running with the Garmin Fenix 5X. Also, try to avoid wearing any lotions underneath the device.
Running based on your heart rate is a very effective way to train. Your heart is the best indicator of current fitness levels and Garmin will help you analyse training progress using this data. Many people train solely on heart rate and time, without ever looking at speed.
3. 20hr Battery life (GPS & HR) / 35hr without HR / 12 Days in smart mode
If you're into ultra running, Ironman triathlons, sailing or even hiking, then you already know how important having a long battery life on your GPS device can be. There's nothing worse than having your watch die on you when you're in the middle of one of the biggest challenges of your life. Especially when you're relying on its data to help your through it!
35 hours is fantastic for ultra running. The cut off time for one of the most challenging ultra running events, the Lavaredo Ultra Trail 120km is 30hrs. That should give you an idea of whether or not it will last for events you may have planned for yourself.
On the even higher end of that scale, you have the legendary UTMB in Chamonix which is 170km and has a cut off time of 45 hours. If you need a watch that can last long enough for something like UTMB then check out the Suunto 9 GPS Watch.
4. Rugged design and 100m Waterproof
The Garmin Fenix 5X is very hardy, and appears to be built to withstand most accidental drops, scrapes and falls, should you ever wipe out by accident, which I hope you never will! It's also 100m waterproof which means you can swim with it, and there are plenty of swimming functions to help you reach your swimming goals! Oh, and the screen is made from sapphire crystal so it will take a lot of effort to put a scratch on it!
5. Screen resolution, colours and smart functions
These capabilities drew many similarities to the Apple Watch for me. The Suunto devices can feel a little basic as far as on-screen displays go so it's really nice to see such a high resolution screen on the Fenix 5X. It definitely feels like a hybrid of a traditional sports GPS watch and an Apple Watch.
It has the ruggedness of a high-end device like a Suunto/Garmin and the "everyday" smart lifestyle and fitness tracking functions of the Apple Watch. This is a big plus for me as I am continuously searching for the perfect device that can track my vital stats throughout the day/night and also be rugged enough to take with me on some of the toughest mountain races in the world (which the Apple Watch can't do). To complete a good activity monitoring service, you need good software to be able to visualise and analyse all that data whenever you want to. Garmin Connect appears to do this very well.
6. The software that monitors your performance, training and recovery
This is a big selling point Garmin and I think it gives them the edge over Suunto. Garmin Connect is what Garmin call their online community platform where your (and your friends') activities are stored. You can compete with friends or yourself, visualise and analyse all your sports activities from here with a plethora of beautiful charts.
It shows you a timeline which includes your activities, steps, sleep, heart rate, calories, floors climbed, intensity minutes and so on… Suunto Movescount which is Suunto's equivalent, lacks in this department and seems to encounter more connectivity issues.
I also noticed that wireless activity syncing between the Fenix 5X and Garmin Connect on my phone is MUCH faster than syncing my Suunto watch to the Movescount app.
7. Quickfit swappable bands/straps
In theme with Apple Watch, the Fenix 5X has the ability to easily swap out bands/straps for different coloured ones. This is a fun way to mix up your 'look' and also a nice way to smarten up should you want to wear the watch to work. The down side is that the QuickFit bands are not cheap, coming in at around $70.
There are alternative brand QuickFit bands on amazon for a lot less money (around $15) but I can't tell you how good they are. Follow the link above to check them out. I love customising my fitness gear so this feature is another reason to be running with the Garmin Fenix 5X.
8. Multisport capable
If you're a triathlete then this is a must have for you. Many high-end GPS sports watches offer this feature now. Essentially what it allows you to do is consecutively log different sports all within the same "Activity", without having to stop your watch, search for the next activity and start it up again. When time is of the essence, you can't be faffing around with too many options and risk making a mistake.
9. Custom Apps
Connect IQ is a free App marketplace that allows you to download apps that will allow you to customise your watch even more, right down to a custom watch face. If you like customisation, you can really have some fun with these apps!
Some questions that I had before trying out the Garmin Fenix 5X GPS Watch:
1. Will the watch look/feel too big on my wrist?
Although this watch is quite big, it's similar in size to its competitors but it does feel a bit heavier than my Suunto Spartan HR Baro, which I gather comes from the high quality materials it's built with. This may be something I would be conscious of if I was going to be running for more than 12 hours with it. The strap is very flexible and makes wearing the watch feel very comfortable.
2. Will all those features be more overwhelming than useful?
Although there are a ton of features available on this watch, they are very easy to find and control because of the intuitive software that Garmin has built. It is also possible to strip the features back as much or as little as you would like but I think if you're going to be paying $600 for one of the best GPS watches on the market then you'll probably be wanting to make use of all its features.
3. Will I feel comfortable wearing the watch all and everyday as a fitness tracker as well as during my runs/workouts?
I think this will be a big deciding point as to whether or not some people buy this watch. My wrists are quite small so for me, this watch is still too large to be using as an all day (and night) fitness tracker. Having said that, I don't think any GPS sports watch would be small and comfortable to wear to bed at night. This is probably why the more simplistic fitness trackers (without GPS), like the Fitbit are so successful for all-day fitness and vitals tracking.
4. How well will it integrate with Strava as that's where I prefer all my runs to be stored and analysed?
It was very easy to link my Strava account to Garmin Connect, so now whenever I do a run, swim or cycle with the Fenix 5X my aactivity will automatically sync to Garmin Connect and also to Strava.
This is how you link your Garmin device to Strava to automatically sync your activities:
On the Strava website, visit www.strava.com/upload/device and find the Garmin option to authorize a link to Strava. Once you've established this connection, any new activities uploaded to Garmin Connect™ will automatically sync to Strava. After your first upload, Garmin will also sync your past 90 days of activity to Strava.
5. Following on from this point, could Garmin Connect be a good alternative to Strava, or at least compliment it?
Garmin Connect is a feature packed community platform but in all honesty, it will never replace Strava for me because I have so many friends on there already. Strava has built a world class community/competition platform that keeps its users motivated due to the fact that it's device-independent. This means anyone that has at least a smart phone with GPS can start using it.
I do really like the look of Garmin Connect though and it has many more analysis tools for me to look over than Strava. It definitely has its uses, especially for the all day fitness tracking data, which cant be synced with Strava.
6. Is it worth the high price tag?
Well, this depends whether or not you need all of the functions. I personally think it's worth it because I like to mix up my running with swimming and cycling. I also need wrist heart rate monitoring, for the training benefits and comfort that it provides over a chest strap. If your passion is endurance sports, marathons or triathlons then its a worthwhile investment to know you have the best device on offer, that has the capacity to allow you to train to your highest ability.
Compare Prices for Garmin Fenix 5X
Last Amazon price update was: 12th August 2022 8:00 pm
Garmin Fenix 5X
Pros
Best in class navigation features
Accurate wrist based HR monitor
Long battery life (35hrs) - Great for endurance sports
100m waterproof
Garmin Connect Activity tracking software is very good
Multisport enabled
Interchangeable bands
Cons
Watch will seem big if you have small wrists
A touch on the heavy side
Find the best price for Garmin Fenix 5X
Last Amazon price update was: 12th August 2022 8:00 pm
Summary
I'm having a lot of fun running with the Garmin Fenix 5X and have especially enjoyed analysing all the relevant data gathered by its many sensors, within Garmin Connect. It's refreshing to be using a device other than Suunto and so far I am preferring my experience with the Garmin. The hardware's sensors are very accurate and I feel I can trust Garmin Connect more than Suunto Movescount.
The diameter of the Fenix 5X is 51mm so for anyone with small wrists, you may want to go for the Garmin Fenix 5S instead which has a watch face diameter of 42mm, much smaller in comparison and more suited for everyday fitness and sleep tracking.