When it comes to batteries, most of us are used to the routine: use, drain, throw away, repeat. But what if we could break that cycle and instead use, recharge, and reuse instead?
Well you can, and that's where Pale Blue USB rechargeable batteries come into play. In this Pale Blue batteries review, I'm going to share my experience with these fast-charging, eco-friendly AA and AAA batteries.
These Lithium AA and AAA batteries are a far cry from the old style of rechargeable or non-rechargeable batteries, offering a multitude of benefits including their eco-friendliness and rapid recharge time.
About the Pale Blue brand
Nestled in the captivating landscape of Park City, Utah, Pale Blue has an interesting story.
Surrounded by breathtaking aspen-clad mountains and icy rivers, the team is inspired daily by their environment, fueling their drive to protect and conserve our natural world.
Recognizing a significant issue in the battery market, predominantly populated by single-use options, Pale Blue saw an opportunity for change. They set out on a mission to create a better, more sustainable solution, and they've done just that.
Harnessing the technological advancements of the past 20 years, Pale Blue developed a battery that addresses consumer needs without contributing to excessive waste. Their creation signifies an important step towards a more sustainable future in household power solutions. You can learn more about the brand here.
The key specifications of AA Pale Blue batteries
Let's delve into the key specs of the AA batteries, which highlight their performance:
Chemistry: Lithium Ion
Power: 2550 mWh
Voltage: 1.5V
Capacity: 1700 mAh
Charge Time: 1 Hour
Cycle Rating: 1000+ Cycles
Charging Cable: 1 USB-A to 4 USB-C
Charge State Indicator: Green LED
4 Noteworthy features of Pale Blue batteries
1. Fast charging time
One of the most impressive aspects of Pale Blue's rechargeable batteries is their lightning-fast charging time. Utilizing advanced lithium rechargeable technology, Pale Blue batteries charge up to 10 times faster than conventional rechargeable batteries.
This means that they can be fully charged in just one hour.
As you can see from my image above, when charging from one a portable power station, I'm able to see how much power is being drawn to charge the batteries, which is a total of around 13 Watts for 4x AA and 4x AAA batteries (8 batteries in total).
To give you some perspective on the charge speed, traditional Ni-Mh rechargeable batteries can take up to 6 to 8 hours to fully charge. That's an entire workday or a whole night's sleep!
In the time it takes to watch an episode of your favorite TV show, a Pale Blue battery is fully charged and ready to power your device.
2. Convenient USB-C charge port
Pale Blue batteries are equipped with a modern USB-C charging port, and in case you're unfamiliar, USB-C is the latest standard in the USB family and is recognized for its high-speed data transfer and charging capabilities.
Each Pale Blue battery pack comes with a cable that can charge four batteries at once which is a significant upgrade from traditional rechargeable batteries that require a dedicated battery charger, which not only takes up space but often only charges one or two batteries at a time.
This feature makes charging these batteries just as easy as charging your smartphone, and for some manufacturers, they will even use the same USB C connection.
You can plug them into a wall adapter, a power bank (like I have been doing), or even your laptop.
This convenience means you can charge your batteries virtually anywhere, whether you're at home, in the office, or even out camping.
3. Built-In LED charging indicator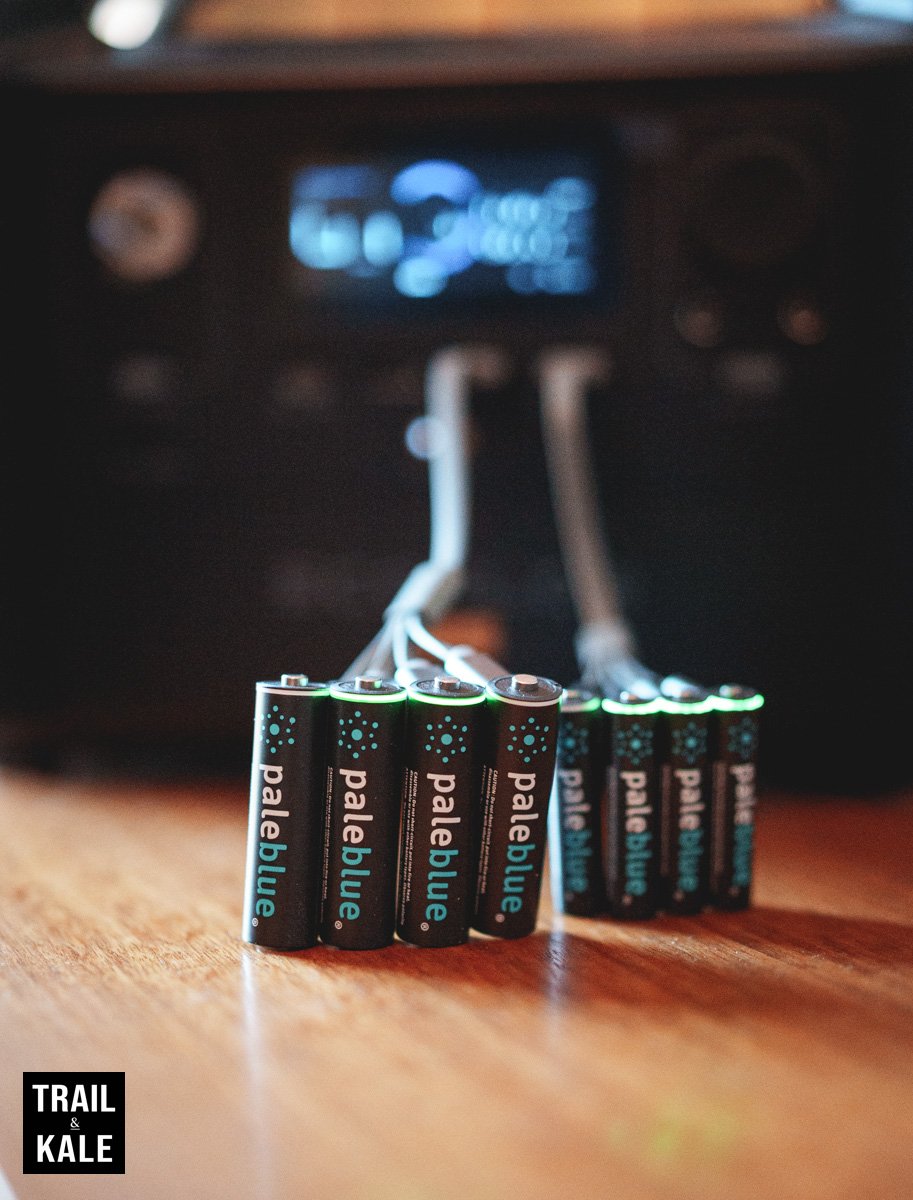 Another user-friendly feature that I genuinely appreciate is the built-in LED charging indicator. This small, but extremely useful feature saves you from the guessing game that comes with traditional rechargeable batteries.
The LED indicator on Pale Blue batteries turns solid green when they are fully charged (the green light blinks while charging), providing a clear, visible sign that they are ready to use.
This indicator also helps prevent overcharging, which can harm the longevity and performance of rechargeable batteries over time. By providing a clear sign when charging is complete, you can unplug your batteries at the right time.
4. On-board smart technology for safe charging
Pale Blue batteries are equipped with onboard smart technology for safe charging.
This feature ensures that your batteries – and more importantly, your devices – are protected at all times.
These batteries have an integrated safety circuit that protects both the battery and your device from common electrical issues such as overload, leakage, short circuit, over-voltage, and high temperature.
This is a major advancement from traditional rechargeable batteries, which are notorious for leaking when they're drained or overcharged. These leaks can cause severe damage to electronic devices, sometimes beyond repair.
Pale Blue's modern lithium-ion chemistry, however, allows you to get the same level of safety that's expected from the batteries in your phone or laptop.
The features that could be improved
While the short USB-C charging cable that comes with the batteries can be quite useful and the batteries do stay connected even when dangling in space (thanks to gravity), I think it would be nice to have the option of a more convenient, longer charging cable.
Pale Blue is also unfortunately unable to ship to Alaska, Hawaii, or internationally due to changes in shipping regulations which is a shame because the world really needs to have more eco-friendly battery options like this.
Are they worth buying?
YES! While they are more expensive than traditional batteries (starting at $24.99 at paleblueearth.com), Pale Blue batteries are a great choice for anyone seeking sustainability and performance in their batteries.
I have found their charge and usage performance to be excellent compared to standard AA and AAA rechargeable batteries and I will be a long-time user of Pale Blue Earth batteries.
I have also awarded them a Trail & Kale Editor's Choice Award for their excellent design and performance.
They serve as a planet-friendly alternative to single-use batteries, directly addressing the call for more environmentally conscious choices out there and they deliver high performance, consistent power output, with a lengthy lifespan of over 1000 charge cycles.
Their advanced safety features also ensure worry-free usage whereas traditional batteries could leak battery acid on your devices, rendering them unusable.
While the initial cost may be higher, the long-term savings are substantial, and adding to their appeal, for me, is the convenience of USB-C charging and fast charge time.
Last Amazon price update was: 3rd June 2023 4:30 am
---
Pale Blue Batteries Review Summary
Pale Blue batteries review
PROS
Pale Blue's rechargeable batteries reduce waste by providing an alternative to single-use batteries.
Thanks to lithium-ion technology, these batteries can be fully charged in just one hour.
They provide a consistent 1.5V and a capacity of 1700mAh.
Rated for 1000+ charge cycles, these batteries offer a long lifespan.
Advanced safety features prevent issues like overload, leakage, and short circuits.
USB-C port allows easy charging similar to modern smartphones.
CONS
While long-term savings are considerable, the upfront cost is higher than traditional disposable batteries BUT being an eco-conscious person, I would never recommend going disposable if you can avoid it.
The charge cable could be longer.
Currently, Pale Blue does not ship to certain locations like Alaska, Hawaii, and internationally.
Photos of my Pale Blue Batteries (AA and AAA)