The Cloud Dip is On's latest addition to the Cloud collection, only this time it's more durable than ever. Designed to be tough and ready for all-day adventures, the On Cloud Dip brings a new military-inspired ballistic weave canvas upper, a hand-applied (dipped) 360° rubber mudguard, and some new aesthetic tweaks to the much loved On Cloud. This On Cloud Dip Review review takes a look at the key features of the Cloud Dip, how well they perform as an all-day lifestyle shoe and as a running shoe, plus how well they rank against other On running shoes reviewed here on trailandkale.com.
ADVERTISEMENT
If you're pressed for time CLICK HERE to jump down to my Cloud Dip review summary, including Pro's and Con's.
The new Cloud Dip upper construction
The most noticeable updates to the latest On Cloud are definitely the ballistic weave canvas upper and the hand-dipped 360° rubber mudguard.
Firstly let's talk about the canvas upper, it's a pretty firm material that will give much more protection than flex which is ok because this is a lifestyle way before it's an actual running shoe. It's not a very breathable material either, which means it won't regulate internal temperature very well but the upside to this is that your feet will stay warm during the colder Fall/Winter weather. The canvas material on the Cloud Dip isn't waterproof though, so if you're looking for lifestyle trainers that are waterproof, then the Cloud Waterproof is going to be the shoe for you, it's what I use for rainy days.
There is some level of waterproofing, however, thanks to the hand-dipped 360° rubber mudguard which protects the bottom half of the upper from water penetration. It's an interesting look which I wasn't particularly fond of at first but it has certainly grown on me and I like that it's totally unique in style and practicality.
The Cloud Dip is very comfortable to wear and as a comparison feels similar to the Cloud. As with the rest of the Cloud collection, the On Cloud Dip has an inner sock that connects the tongue to the sidewalls of the upper. This keeps the tongue in place and stops chafe from happening within the shoe. The durability of the upper has been excellent so far, due in part to On's high-quality construction and ballistic canvas material.
The Cloud Dip has a finger loop at the rear which, when combined with the classic Cloud elasticated laces, makes slipping them on and off very quick and easy.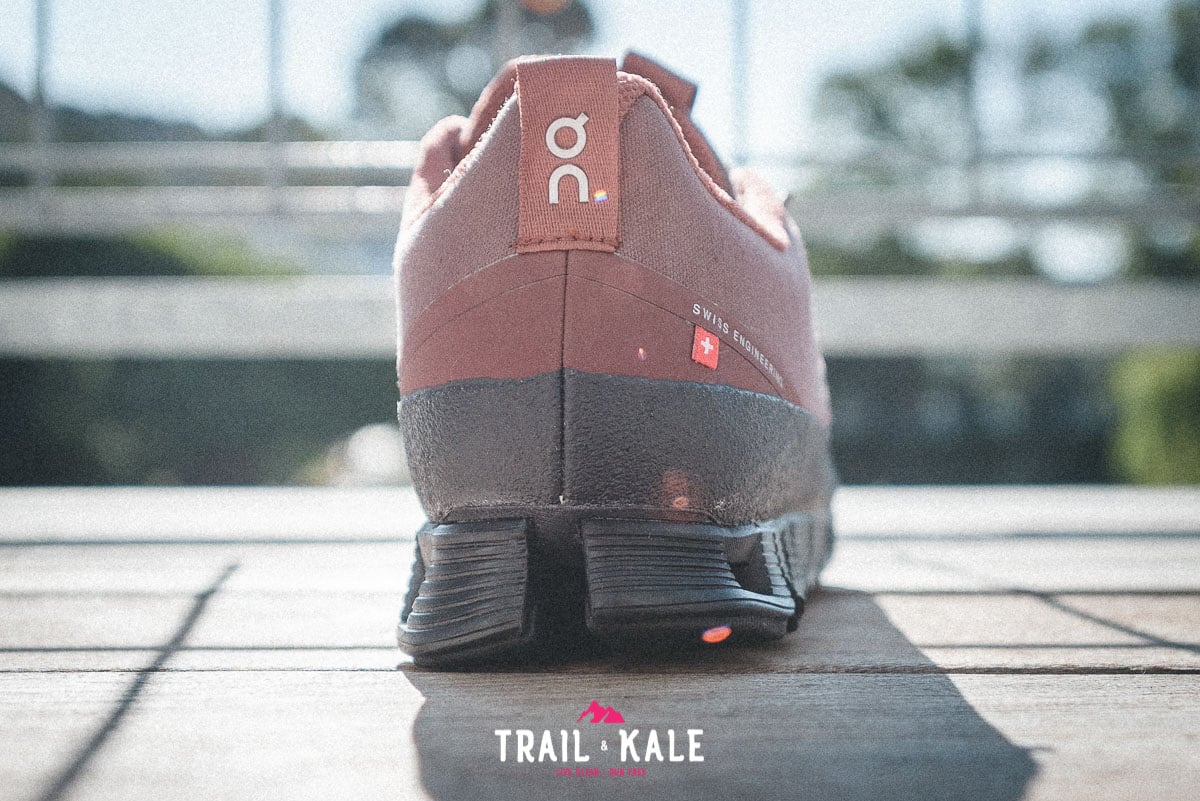 Padding around the heel area is fairly soft but definitely comfortable. The sidewalls don't rise too high either, which allows for more flexibility in the ankle areas without unwanted rubbing. It's generally a really comfortable fit that feels great right out the box, with no 'breaking-in' necessary.
Cloud Dip sizing advice
The On Cloud Dip fit is consistent with other On running shoes, which is also consistent with other popular brands including Nike, Salomon, Inov-8, and Merrell.
Due to the elasticated laces, however, if you have slim feet then they may feel loose on you, even though the length is good. To fix this issue, you will need to adjust the length of the laces by pulling one end (or both) through until the shoes are fastened comfortably, then you can tie a new knot in the end(s). This is something I usually end up doing with this style of lacing.
The Cloud Dip support type
The Cloud Dip has neutral arch support, one of the many things I love about On running shoes. This neutral support is consistent with all other neutral On shoes I have worn previously. I really like the lack of seams inside too as there's nothing inside to rub on your feet or cause discomfort.
How much cushioning is there in the Cloud Dip?
There's not all that much cushioning in the midsole, but it's enough for all-day movement or standing up, whether at work, the gym, brief runs, or all of the above.
What's the Cloud Dip outsole like?
If you haven't tried "Running On Clouds" (or walking on clouds) before, then you must! They'll make you want to run faster, I don't know why, they just do. I always notice this, especially when putting on a new pair. The CloudTec pods give you that feeling of a cushioned landing, as they compress under your weight and forward force but then provide the feeling of a barefoot take off as the compressed pods spring back when your feet leave the ground.
The CloudTec outsole and Zero-Gravity foam offer outstanding impact protection and energy return.
See above for a closer look at the outsole tread. It's simple yet effective, especially for everyday active lifestyle usage and road running.
How big is the Cloud Dip drop?
There's a drop of 6mm from heel to toe which is standard across the Cloud collection of sneakers. 6mm, in my opinion, is a great amount for road running and everyday wear.
How much does the Cloud Dip weigh?
The Cloud Dip weighs 254g (8.96oz) which makes it a tiny bit heavier than the Cloud (230g (8.11oz)) but the Cloud Dip offers more protection from the elements and a slightly more cushioned ride so it's to be expected. The heavier upper canvas materiel also adds to its overall weight.
How Wide is the Cloud Dip toe box?
The toe box is a medium width.
On Cloud Dip Review Summary
On Cloud Dip Review
PROS
Comfortable
Versatile lifestyle/running/training Shoes
Lightweight
Bottom half of upper (dipped section) is water proof
Keep your feet warm
Love the unique style
Elasticated laces make them easy to slip on and off
CONS
Canvas upper looks good but is stiff and not very breathable
elasticated laces may need adjusting if you have slim feet like me
For an active lifestyle shoe, the On Cloud Dip performs very well, and I rank it number #4 in the Lifestyle category of my Best On Running Shoes list! Just because it doesn't sit in #1 does not mean this shoe is bad, on the contrary, it's an excellent shoe that I for one am going to be wearing all Fall!
The Cloud Dip is most definitely a lifestyle shoe and not designed for performance running, but you can effortlessly break into a run when required to in the city. The shoe is comfortable enough to run with but the lack of breathability in the canvas upper, reduced midsole cushioning would make extended runs uncomfortable. If you're looking for a much better performing running shoe from On, then Click here to jump to the best On Shoes for Road Running list.
The On Cloud Dip is a very versatile active lifestyle shoe, so whatever you decide to do in them during your day, you should be covered.
In answer to my question in this post title, this lightweight, super durable daily-wear lifestyle shoe IS in my opinion On's most durable Cloud ever built. These are my 'go-to' shoulder season lifestyle shoes for urban adventures.
---
Still not sure which On Running Shoes to buy?
Visit our Best On-Running Shoes Guide for an ordered list of the top ON shoes for road and trail running, each with links to our respective On Shoe reviews. Designed to make your buying decisions simpler.