As more people take to the trails, demand has grown for products that allow you to carry a few essentials without stuffing your pockets or necessarily needing a larger backpack, which is likely to be overkill unless you're going out running for many hours somewhere remote. For runs and races where you're spending a few hours out on the trails and need to carry water and some key items, Nathan have designed the Speed 2L (men's version) and Nathan Speedster 2L (women's version) 2 litre race vests.
First impressions
ADVERTISEMENT
The first thing you notice about the Nathan Speedster is its weight. It hardly weighs anything when empty. The vest itself is made of thin mesh fabric, and the pockets are made from stretchy lightweight material.
The specifically female-fitting women's Speedster comes in 'Silver Lake Blue' with red trim. I love the light blue colour (it seems popular for women's race vests, with both Salomon Advanced Skin 5L and Ultimate Direction also offering them in similar shades).
When on, it looks tidy, with no dangling add-ons or straps and loops – definitely a good thing, the fewer distractions the better!
---
RELATED:
---
Fit & design
While it isn't obvious from looking at them on the hangar, the women's version is definitely a different fit to the mens. Alastair has been running in the Men's Speed Race Vest, and we both have size 'Small', but the fit when on is very different, with the Men's version much wider at the top of the chest, whereas the Womens' fits me snugly from the top to bottom.

Running in the Nathan Speedster
The Speedster fit snugly and was easily adjustable across my front, with two clips at different heights, so you can move them to fit around you comfortably. I've worn it for several long 2+ hour runs (including a trail half marathon race) and hardly knew I had it on. The clips are easy to open and close, even with gloves on or cold hands, but not overly bulky.
Conversely, Alastair found that the vest moved around when he ran – I suppose that's where having curves is an advantage for me.
A couple of running films with us wearing the Nathan Speedster & Speed 2l packs.
Features
This vest comes with one water bottle (12oz / 350ml capacity), which includes a long nozzle, meaning you can have the bottle in its designated front pocket, and not even have to remove it to take a sip.
The Nathan Speedster vest has several pockets:
Four at the front (two large – one for the bottle, one for your phone/other essentials, and two small – used for snacks, lip balm, etc)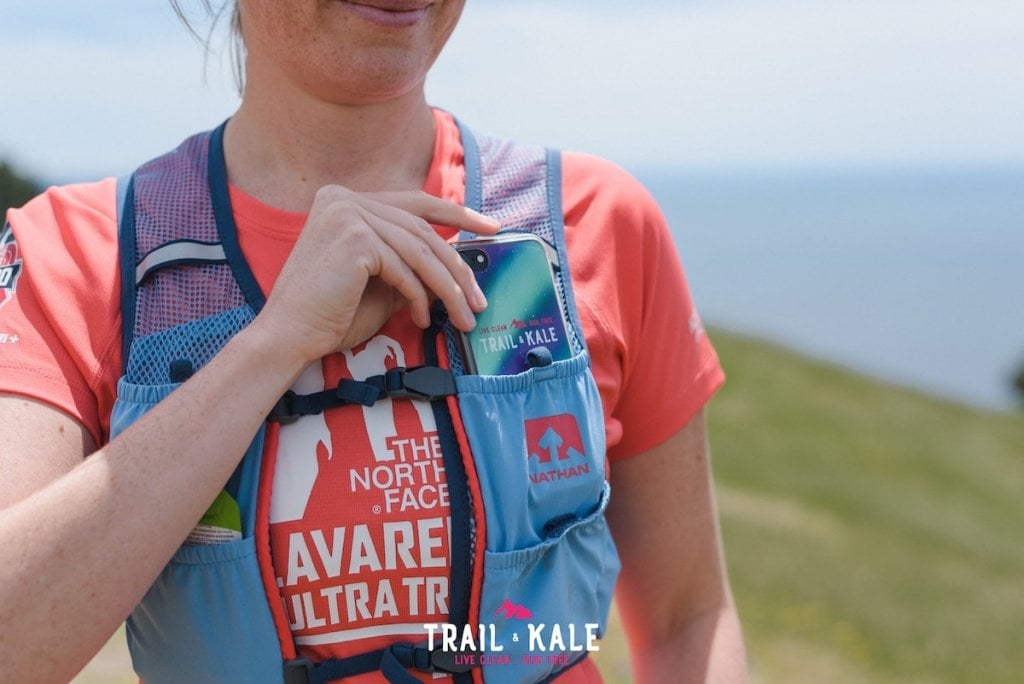 One at each side, under the arms (which I use for carrying Shot Bloks and a Clif Bar/other snacks) and
One larger pocket at the back (for other items such as tissues, plasters, spare socks or a small rain jacket).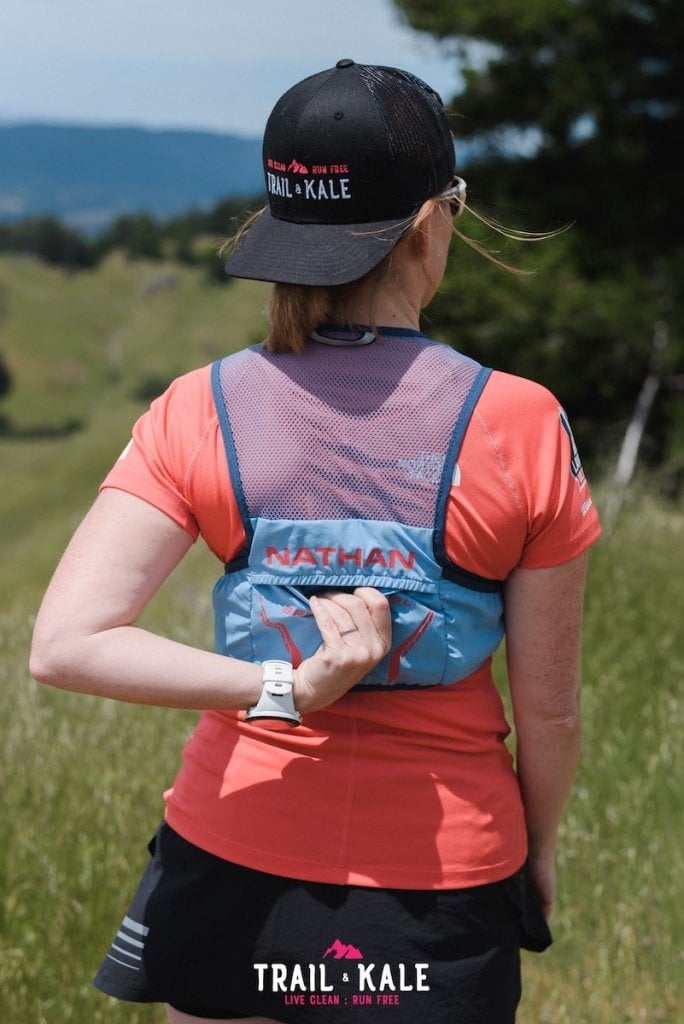 The back pocket has a clip for attaching a key to, and I can reach into it while the vest is on, which is a big plus when I'm running in a race or need to get something out and don't want to stop and take it off to have a rummage.
Aside from the small pieces of velcro on the front pockets, the pockets rely on their elasticity to stay closed. I see why this is the case – it keep the weight down – but I would have preferred at least one pocket (such as the one on the back) to close using a zip or heavy-duty velcro, so you don't worry about small items falling out.
Verdict
The Nathan Speedster is perfect if you're looking for a low-volume, lightweight race vest to carry essentials in for trail distances up to around 30k / half marathon, and training runs. I wear this for runs between 2-5 hours. Anything over this and, depending on where I'm running and the terrain/conditions, I may opt for a larger vest that can carry more food/water/clothes.
Where to buy
The Nathan Speedster is available at Amazon below:
Last Amazon price update was: 22nd March 2023 1:01 pm