Running CTS Gower Trail Marathon
It's Friday evening, the night before race day; the wind is picking up to 50mph at times and the rain hasn't stopped all day. Its time to turn off my work computer, pick up my wife Helen and drive to the Gower in South Wales.
ADVERTISEMENT
I heard a great quote once, which goes something like this:
"There's no such thing as Winning and Losing; only Winning and Learning." –Unknown wise person.
So before getting into the race report I'd like to say I was originally signed up to race the 55km Ultra Marathon, but things went south early on in my race, so I ended up finished at the Marathon distance instead, and in the process learned A LOT. I've added the 55km Ultra race profile at the end of this post with all the relevant elevation data for anyone wishing to run this next year.
Gower Trail Marathon Profile / Terrain / Distance / GPS Data.
It's worth bearing in mind that GPS Data doesn't always tell the whole story when it comes to a race. Its important to also look at the terrain and weather conditions on the day. I knew this was going to be a hard race from the moment I left work. The weather was somewhat apocalyptic in Bristol, and experience told me it could only be worse on the Coastline of the Gower. I was right.
The terrain was so varied throughout the race including fields, marshlands, rocky trails, sandy beaches, pebbly beaches, forests, steps, and even a few streams to jump across.
---
Travel & Logistics – Getting to the Gower
During the drive, Helen had been checking the race status through various web sources due to the potentially dangerous weather conditions. We were told in an earlier web post to keep checking the Endurance Life website and that a weather report would be available online at 9:00 pm that night letting us know if the race was on or off. This for us and many others was a very important detail as we were driving over 3 hours in horrible weather to make it down for the race. Knowing this information meant we could plan accordingly. When this information never came, all we could do was assume things were ON. This is one of only a couple of gripes I had with the organisation of the race.
We eventually made it to the lovely King Arthur Hotel, which we chose initially due to its great location in relation to the start of the race; 10 minutes drive away! Convenience is King! It also happened to be a really nice hotel with very accommodating staff, who allowed us to check in late and delay our check out time a bit. I highly recommend it to anyone coming from afar and racing next year!
10:30 pm and my weather app tells me the winds are now hitting 60mph; still no word on the race status from Endurance Life. I check the Social media sites too, nothing. Time for bed, because if the race is on, and the weather is the same, then i'm going to need all the help I can get, including as much sleep as possible.
Race Experience
8:00 am and we are standing in the briefing tent. We now know that the race is ON and the weather hasn't changed, as predicted. 60 mph gusts and rain all day. Yay.
Time to get our race numbers, timing chips and goodies bag which includes a nice Endurance Life running T-shirt and Protein bar for after the run.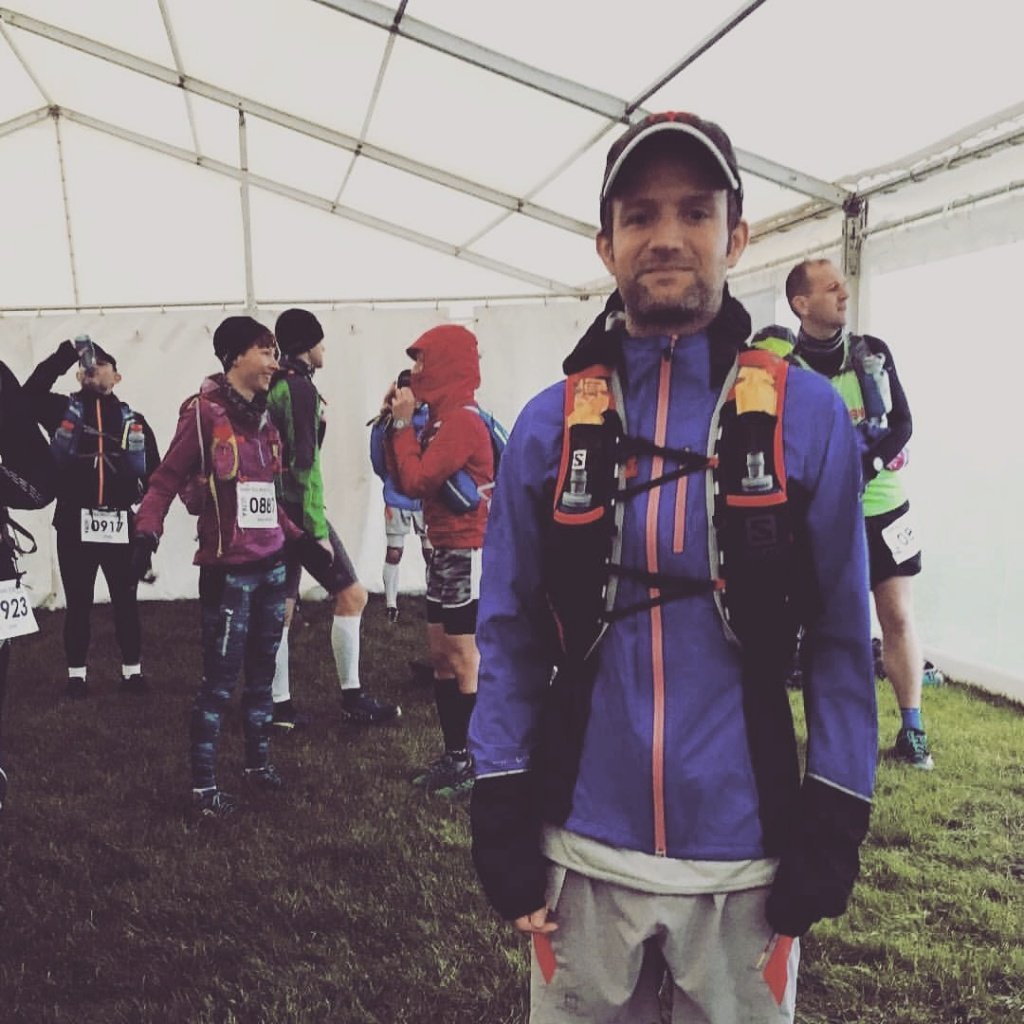 8:50 am (20 mins after the scheduled race start time) and we are finally asked to make our way outside into the rain and over to the race start archway which is in skeleton mode, just in-case the structure blows away and hurts someone.
POW! We are off! The race starts with a cruel 120m climb up to the cliff tops, we really feel the wind and rain at this exposed point of the course but still manage to somehow acknowledge the only photographer brave enough to take pictures that day. Thank you for the memories kind Sir!
10 minutes later came the first big descent of the race. The ground had a mossy type grass covering it with rocks peeking out in areas and there was a coating of running water rushing down it, effectively creating a very gnarly water slide. Most people were treading carefully, and slowly trying not to slip. Everyone around me managed to fall though and just as I was thinking how lucky I was not to slip. I slipped, twisting my ankle in the process and sliding down on my side right to the bottom, over some rocks, much faster than I could have run it, which is a plus! So the take home from this was that when things get tough on slippy descents and it feels unnatural in the manner that you're trying to run down, (which can lead to other strains and twists) then its worth learning a forced butt sliding technique that will get you down in a more controlled manner. This is something I still need to go out and practice.
I wasn't going to quit 20 minutes into an Ultra Marathon so pushed on.
25 minutes in and I make it to Rhossili Bay which is a really beautiful beach. Of course it's still raining but thankfully that makes the sand more solid to run on. I aim for the harder sections nearer the ocean to take advantage of this. Time to make the most of this flat section and push forward as quickly as I can.
40 minutes in and 6km run; the beach ends. And a small hill climb begins. PERFECT! I planned to take an Energy Gel every 40mins. So this small climb gave me a chance to walk and eat comfortably for my first "meal".
1 hour has passed and I find myself beginning a 150m climb. Its all good though, I'm power hiking and able to take a salt capsule with some water. I'd planned to take one of these for every hour of running. So the nutrition Gods were really smiling down on me; that hasn't happened very often before.
The next 1.5 hours would take me up and down more steep, wet and slippy climbs and descents. The terrain was mostly marsh lands, rocks and grass, with mud, flooding and LOTS of spiky plants (one of which I fell on and as a result would be spending the next week or so pulling tiny thorns out of my palms).
2 hours 40 minutes gone and 23km traveled, I reach Oxwich Beach. The adrenaline has worn off and my ankle/heel is starting to feel the effect of my fall from the start of the race. I'm feeling low and my foot isn't helping. I do what all long distance runners do when they find themselves in this situation, and begin to find things to take my mind off the current situation.
The wind and rain is horizontal now and lashing against my face on the exposed beach. If I look up too much I catch a wind blown drop of rain in my eye which feels like a bullet hitting me. I put my head down again and watch my feet work like metronomes. The head-wind leads me to develop a very unorthodox running technique where I would run with one arm in front and one behind in order to make myself more aerodynamic and reduce wasted energy from battling with the wind.
I must have been really focused on moving forward and tweaking my new side style running because i only noticed Helen shouting over when she was a few meters away from me. She had managed to track my location using the GPS on our phones and had come to lift my spirits. This really helped me in a time when I needed it the most, thanks Helen!!
She ran with me for a kilometer or so until It was time to leave the beach and check into the next aid station. I had the usual slice of banana, jelly beans and topped up my water flasks. I didn't know it at the time, probably because I was so exhausted and maybe because the girls at the checkpoint were busy with something else but I missed having my timing chip registered at this checkpoint. If I was to finish the Ultra distance and didn't have this checkpoint registered then I could have easily been disqualified. I urge runners and checkpoint marshals to be tighter on this aspect of the race, or suggest that Endurance life add automatic chip registering at the checkpoints.
I push on with an 80m climb up through muddy woods with steps and tree roots to look out for.
After 3 hours 50 minutes and 32 km traveled I make it to the final beach section, Slade Bay. I can barely remember this section now which meant I must have been in the zone and doing ok.
The final 10km would end up taking me close to 1 hour 30 minutes, which is a long time for me. This gives you an idea of how slippy, hilly and gnarly the end section became. Everyone around me was slipping over and hurting themselves. Even people with fresher legs from the shorter races which were for the most part on different routes but shared the final section of the Marathon.
My watch says 45km and I can see the Marathon finish line in sight! I knew trying to complete the Ultra would put me out for weeks from over injuring my heel/ankle, So I chose to end my race here.
The race finishes with a medal and some water followed by a bag check to make sure that you had all the mandatory equipment with you throughout the race. If you forget one thing then you risk disqualification in the CTS series. So read up before hand and make sure you have everything you need!
I Really felt like I used what I had learned from my previous trail marathons during this race. And for me that's what its all about. Getting faster and more efficient at going further. The stand out personal achievements for me here was smart pacing throughout the race and using salt capsules which meant no cramping and feeling strong at the end 🙂
A HUGE respect to everyone who turned up on the day and raced. Those conditions were the worst I have experienced but that makes it all the more rewarding when you push your limits to complete a challenge.
Every race I compete in gives me new definitions of what pain is, and hence a bigger sense of achievement when I overcome it.
Position & Time.
Position – Unknown due to dropping down to Marathon Distance, but middle of the pack.
Distance – 44.7km
Time – 5:45:26
Average Pace – 7:43 min/km
Trail Bag
Shoes – Salomon S-Lab Sense Ultra 3 – I've loved these shoes from the moment I first ran in them, which happened to be Trail Marathon Wales. I know I know, running a trail marathon in a pair of shoes I've never worn before, crazy silly mad person!! Well my feet felt amazing afterwards and had no rubbing or blistering. That's a sign of a great running shoe!
Short – Salomon S-Lab Exo Twinskin Short – Love these shorts and I wear them all the time. They are so comfortable, and have brilliant elasticated pockets for gels. And they look great.
Socks – Icebreaker Merino Multisport – I Bought these recently on a trip to New York. Now I'm obsessed with Merino wool! They kept my feel so dry in such wet conditions!
Tee – Lulu Lemon Silver Scent Long Sleeve Top –  I've been wearing these tops for a few years now and they haven't aged a day, brilliant build quality and the silver scent technology means they never get smelly. Love them.
Bag – Salomon Advanced Skin3 5 set – This bag is amazing, it fits so well and you never feel like you're wearing a pack. The storage is perfect for a day race and build quality is everything you would expect from Salomon S-Lab.
Jacket – North Face AK Stormy – The jacket I brought didn't have full water proofing and as Helen decided not to run, I opted for her Jacket. It actually fit! And I have to say this jacket was a life saver out there in the stormiest weather conditions you could NEVER expect in the UK. I may have to buy a mens version of it now! 🙂
Hydration Bottles – Salomon Soft Flask 500ml x2 – I love the way these flasks pack down as you drink the liquid inside. I would recommend using some flavoured substance in them as there is a subtle plastic taste if you just use water. Not a major problem, but it could be better.
Nutrition.
Electrolytes – High5 Zero Electrolyte Tablets
Salts – Saltstick caps – If you suffer from leg cramping due to sweating, I highly recommend these capsules!
Water
High5 Energy Gels
---
Unfortunately, Helen hadn't been feeling too well in the week leading up to race day so chose not to race in the end.
I totally understand that the day must have been a very difficult one to organize with the uncertainty of the weather conditions and ever changing circumstances, so I would just like to say a BIG thank you to the organizers for doing such a great job.
---
Useful Links.
---
55km Ultra Marathon Race profile.
A BIG Thank You to the Endurance Life and the Volunteers of CTS Gower for making the day run so smoothly.