When I first heard about Snibbs shoes and how they have been innovating on the classic work shoes, I had to get hold of a pair to try out for myself.
Workwear is such a huge industry and so non-slip, waterproof, and protective shoes that actually look fashionable and protect the wearer as described would certainly be a game changer for so many people out there.
They clearly look great, and they're also extremely comfortable to wear when you first put them on but how do they perform throughout an entire day of wearing them, and do all their purported features actually work? Well, you'll just have to keep reading to find out! 🙂
In this Snibbs Spacecloud review I'm going to be taking a look at the Snibbs Spacecloud work sneaker, Snibbs also make another work shoe called the Orbit but those work shoes have a very different target market which I'll go into later.
In this review, I'll also share some advice on sizing and fit, talk about the key features worth mentioning, give my performance review, if they're worth the money, and finally, my rating out of 10 with some pros and cons.
Snibbs Spacecloud sizing and fit
The sizing advice given on the Snibbs website suggests that the Spacecloud shoes fit a little on the small side but are still true to size. In my experience, I'd say they fit spot on.
If you're used to wearing On Clouds, Nike, or HOKA then I'd say the fit is consistent with those brands so just go with your usual sizing and you should be happy.
I really like the slip-on design of the Spacecloud, and how easy it makes putting them on and taking them off each day.
The Spacecloud shoes also have waxy water-resistant laces, which contribute to a nice snug fit but if you do them up just right with a snug fit, then you'll be able to still slip the shoes on and off when you need to.
The toe box is slightly wider than average (or medium) and it has been designed that way to ensure your feet don't feel cramped when they expand and contract throughout the day based on the level of movement and heat you experience due to your workplace environment/temperature.
The Snibbs Spacecloud work shoes are very comfortable right out of the box with no breaking-in necessary and that awesome custom-formulated Ortholite insole provides a really nice and plush footbed to sink into, much like you would expect the feeling of standing on a cartoon cloud! 🙂
I'm assuming that's why Snibbs came up with the name 'Spacecloud', because they feel so cozy underfoot, and that's a rare feeling when it comes to work shoes.
Snibbs Spacecloud key features worth knowing about
1. Non slip sole
The Snibbs Spacecloud's slip-resistant outsole is so important for people who work in environments prone to getting water or other liquids on the floor, like in hospitals, coffee shops, bars, restaurants, and hairdresser salons, you name it, anywhere with slick floors where liquid spillage is a possibility, these shoes have got you!
Outsoles are not all made equal and you'll really appreciate this feature the next time you see someone slip at work.
Of course, I hope no one slips, but it will be a reminder that non-slip soles are important in many workplace environments.
2. Water-resistant upper
Not to be confused with waterproof shoes. Snibbs Spacecloud work sneakers are water resistant which means they protect from splashes but are not designed to be submerged, so as long as you don't plan to go scuba diving or cross rivers in them, you should be ok! 🙂
Again if you work in any of the environments listed above then you may have had an experience when some liquid has been spilled on your shoes, leaving your feet wet for the rest of the day, or leaving your shoes stained.
The water-resistant upper on the Spacecloud will repel liquids and anything that sticks is easy to clean off!
3. Ortholite Insole
This insole is incredibly cushioned and plush to step onto; your feet really do sink into the foam. I'd liken this feeling to stepping on a firm memory foam material.
The insole is definitely firm with not much arch support as that support is created when you sink into the Ortholite footbed. So there's support as well as a little bit of responsiveness – this is the perfect combination for people working on their feet all day.
4. Solid toe cap
Something that the Snibbs website doesn't seem to mention is that the Spacecloud also has a solid toe cap, or more specifically a solid bumper, which means that if you stub your toe on anything, your toes will be well protected.
This protection, however, doesn't extend to the top of your toes so it, unfortunately, won't protect your little tootsies if you drop something on them.
5. They slip on and off easily but are still snug
One of the great features is how easily you can get them on and off. Because of their sock-like design, you can slip them on even if the laces are done up.
The finger loop and the rear and soft stretchy heel wall lining make the Spacecloud a breeze to put on and take off quickly.
6. They're sustainable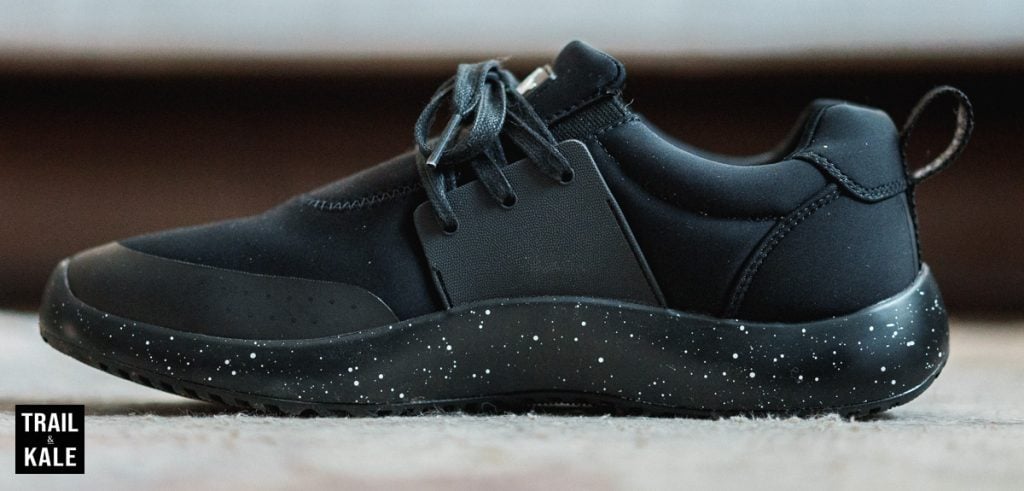 Some footwear foams can take 300 to 1,000 years to biodegrade, which is insane when you think about it.
The materials used in Snibbs shoes, however, biodegrade in years compared to centuries with Midori-Bio's organic additive. They're also made from nearly 100% recycled materials which we love to hear!
Snibbs Spacecloud performance review
I have been wearing my Snibbs Spacecloud work shoes for a number of weeks now, so I've had the pleasure of being able to test them in a very wide variety of environments and use cases.
It has been raining a lot here in Northern California during the last few weeks (January/February), so I really got to test the nonslip outsole to see how well it holds up – and they did very well thanks to the rubber compound, and tread pattern used on the outsole.
It has also been fairly cold which is good because it has allowed me to see how well insulated the upper is, and consequently how well they keep my feet insulated.
The upper is made with a mixture of materials; the main one being a durable, water-resistant neoprene which really does keep the warmth of my feet trapped inside the shoes – a good thing when working in cold conditions, or outdoors during the winter months.
On the flip side, this will mean that anyone who tends to have very hot feet a lot of the time will most likely feel like their feet are overheating in these particular Snibbs shoes during the Summer if they work in warm environments.
If that's you, then I'd recommend going for the Snibbs Orbit work shoes instead which are also $10 cheaper!
I have overall been very pleased with how the Snibbs Spacecloud shoes have performed and how crazy comfortable they feel underfoot due to the cushioned Ortholite insole and midsole foam.
I also really like how they look, and although I don't work in an industry where I need such specific work shoes to help ensure my feet are protected (my work day tends to consist of testing new gear out on the trails and then spending time at my computer writing up my experiences and thoughts on them), I do really appreciate that these work shoes look stylish and give people plenty of colorway options to be able to match to their workwear outfits, uniforms or fashion choices.
Who are Snibbs Spacecloud shoes for?
The Snibbs Spacecloud is for you if you spend most of your work day on your feet and you're looking for a work shoe that is stylish with many color options to match your workwear but also very practical in terms of its non-slip and water-resistant features.
If you've landed on this review you're probably also interested in buying some Snibbs shoes for their custom-formulated Ortholite insole which is designed to help relieve foot pain for those standing for much of the day in their working environments.
The Snibbs Spacecloud is also very convenient for those who need shoes that can easily slip on and off when needed in order to take a nap at work during a long shift for example.
So with that said, people in the following professions will definitely benefit from wearing Snibbs over regular footwear:
Nurses
Doctors
Barbers/Hairdressers
Chefs
Teachers
Retail workers
Dentists and Dental Hygienists
Bartenders, Baristas, Restaurant workers
Security Guards
Film Production crew
So as you can imagine the Snibbs work shoe is great for people who prefer firm support underfoot and are standing in place or moving short distances during work hours, and also for those who need a non slip outsole in wet areas and need to keep their feet dry.
The Snibbs Spacecloud probably isn't for you if you do a lot of walking at work in warmer environments where a very breathable work shoe is important – they're not the lightest shoe either, weighing in at 14.7oz – the Snibbs Orbit is a lighter option.
If that sounds like you, then I'd recommend looking at the Snibbs Orbit, the On Cloud, or Allbirds Tree Runners – all three of those shoes are lightweight, breathable, flexible, can be slipped on, and provide excellent support and comfort when worn all day.
Who will enjoy wearing the Snibbs Orbit then?
Snibbs also make another workwear shoe called the Orbit, and it's a very different shoe with a few key differences.
Firstly it's a lighter more flexible shoe with a knitted upper that is much more breathable than the upper design on the Spacecloud – they're also a better choice if you do a lot of moving or walking at work because of that flexibility and breathability.
I'd say they're also a better choice for you if you want to use them off-shift in your own time too as they're better suited to daily movements thanks to their flexibility, lightness, and breathability.
Some things in common are that they have a similar slip-on design with laces and a similar non-slip outsole (same rubber, different tread pattern) which many will love.
However, these advantages also pose some disadvantages to people in certain workplace environments, when compared to the Spacecloud.
For example, they're not water-resistant (because of that knitted upper) and they're not as durable due to the materials used in the upper.
Are these work shoes worth your hard-earned money?
ABSOLUTELY, they are! I mean if you work in any of the environments I mentioned throughout this review, you owe it to yourself to try a pair of these $149 work shoes to protect your feet throughout your hard working day!
Not only do they protect your feet from hot spillages (or any liquid spills), but they also protect you from accidental slips and from the toll that countless hours of standing a day can bring to your feet.
I also love how great they look and that they provide people with plenty of choices when it comes to colors – because we don't all want black shoes for work!
Lots of people, rightly so, want to be able to color-match their scrubs or uniforms to be able to show their creative style even while at work.
---
Snibbs Spacecloud review summary (rating with pros and cons)
Snibbs Spacecloud review
PROS
Stylish, functional work shoes! At last!
Very reasonably priced for the durability function and style that you get
Love the non slip outsole
The Ortholite insole is very well cushioned but also firm enough to be supportive when worn standing up all day.
Water-resistant upper material is great for people working around liquids (bartenders, restaurant workers, baristas etc)
Made with sustainable materials
They slip on and off very easily for convenience
CONS
Not the most breathable upper - so you feet will likely get hot if you work in particularly warm environments. On the flip side they will keep your feet warm if you work somewhere air conditioned or cold.
Not very flexible shoes as they're designed more for workers who don't walk long distances through the day. The Snibbs Orbit are a better option if you plan to move around lots.
---
Snibbs Spacecloud Image Gallery
---
FAQ
How long do they take to get delivered?
Snibbs says delivery times vary based on what shipping service you choose, as well as where you are located (how far from their warehouse in California) but on average can take anywhere from 2-7 days to reach you.
For my order, my Snibbs shoes took about 4 days to arrive with the free ground shipping service which is pretty good in my opinion.
What warranty does Snibbs provide?
The Snibbs Spacecloud work shoes that I have been testing for this review have been manufactured to a very high standard, and they are certainly very durable because of the materials used.
If quality control was ever to slip up at Snibbs, however, you can contact them immediately to fix the issue!
What if the shoes don't fit properly?
Snibbs shoes do fit true to size based on my experience but if for whatever reason they don't fit you properly then you can contact their customer support and they say they will be able to sort out a replacement pair.
What is Snibbs' return policy?
They offer a 30-day return/exchange policy – this allows you to try your product(s) on at home on a clean surface, with the option of sending them back to Snibbs within 30 days (from the day that you received them).
You will be issued a full refund if the shoes are in their original, brand-new condition.