For night runs around our local trails and village green, our basic head torches serve their purpose well – they'll last for a few hours, and will light enough of the way ahead so we can just about dodge any mating toads, tree roots or dog poo that we happen to come across. However, for last month's Lavaredo Ultra Trail, which required us to run through a full night (11pm onwards) and potentially another night the following day, we needed something more comfortable and substantial. The good folks at Petzl heard our call, and kindly sent us a couple of Reactik Plus head torches to train and race in.
RELATED: 5 Best Headlamps for Trail Running & Ultrarunning in 2019 (So Far)
Choosing a running headtorch
Like with hiking poles, when researching the best head torches for trail running, my googling came up with a load of 'the best head torches for running' articles – all of which had very little substance or rationale.
I had more success when polling my trail running friends and network. Petzl came up often, as well as a few other brands such as Led Lenser and Silva.
Why Petzl Reactik + (Plus) and not the Petzl Reactik?
What's the difference between the Reactik and Reactik + ?
The + model comes with a rechargeable battery rather than needing to use 3x AAA batteries. I like the rechargeable version because it is aligned with our goal to reduce the amount of waste we throw away (which includes disposable batteries).

The Reactik is 220 lumens whereas the Reactik+ is 300
The Reactik is single beam, whereas the Reactik+ is multi-beam (it has an extra lens).
And only the Reactik+ has bluetooth connectivity so you can control via the app. That explains the price difference; Reactik is £65.00 and Reactik+ is £85.00
Both the Reactik and Reactik+ are rechargeable, and both can use AAA batteries with an adapter.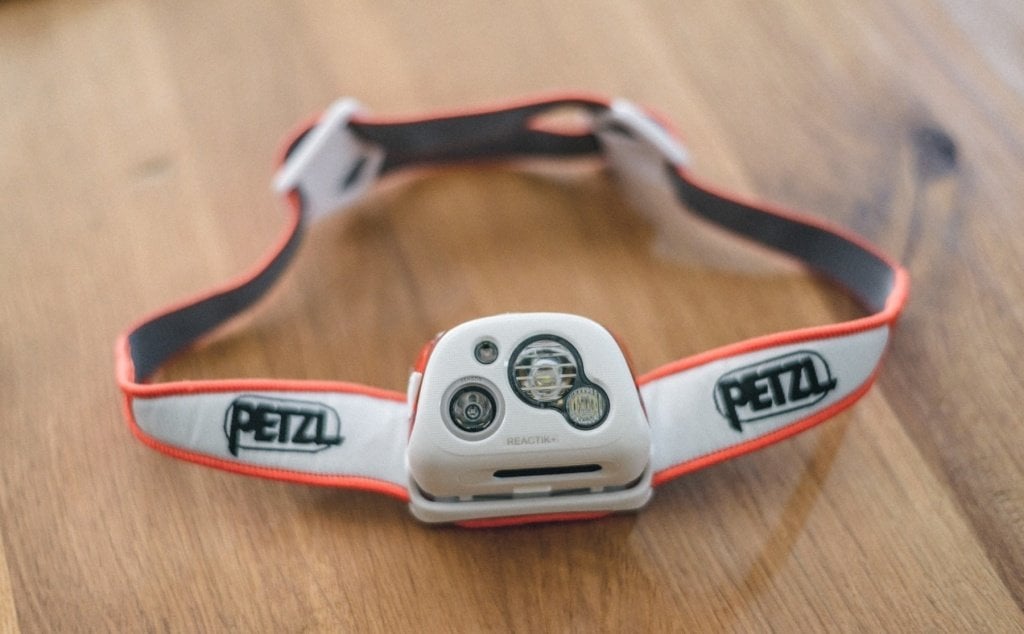 Petzl Reactik + features
The following are the key reasons why I enjoy training and racing with this trail running head torch:
Comfort when running
To be able to comfortably run with the other two cheaper head torches I've owned, I've had to wear the torch on top of a rolled-up Buff, or a Tough Mudder headband (nice and chunky). Otherwise I end up with a sore forehead and occasional headache – no fun.
The Petzl Reactik + is really comfortable to wear. Both Alastair and I choose to wear it on top of a Buff headband (which is just one layer of fabric) for a little additional cushioning. Also, for me, because I run in a headband at night and often during the day anyway it keeps the fringe off my forehead and my ears warm at the same time (win win win).
I wore this head torch for more than 6 hours straight during the Lavaredo race when running overnight. No problems or headaches whatsoever.
Fit
Related to comfort, I can wear this headtorch snugly on my head, without it hurting, and importantly, without it moving at all when I run. Even when bounding downhill, it stayed secure! The strap around the back of the head is really easy to adjust, with sliding plastic adjustors that you can move once it's on your head.
It also handily splits into two straps, and I wear one above and one below my ponytail.
Settings and App
I'll admit, I was a bit overwhelmed when I found that the torch has three white-light settings for each of its two buttons – too much choice! You can see and change your settings (and estimated battery life remaining) by using the accompanying app.
Of course you can change the settings on the torch itself, but it helps to know the estimated battery life and check what setting you're using if you're not sure. So much technology for a headtorch! But actually, now I know how it works, it's great to be able to check what setting it's on and how much battery I have left.
Controls
Button on the top: activates reactive lighting; press again to cycle through power output options x 3
Button on side: switches to constant lighting; press again to cycle through beam combinations x 3
Battery life and charging
As I said above, I love that the Reactik + has a rechargeable battery. The potential disadvantage is that if you want to go somewhere where you may run out of battery, you would need to bring a charged replacement with you to switch it out.
Alternatively, you can buy a battery converter that is the same size as the rechargeable battery but which takes 3x AAAs. I haven't tried this, but it may be needed for such a situation, or, if you are doing a race which requires you to carry spare torch batteries. I got around this on Lavaredo by taking another, small torch, plus some AAA if my kit was to be checked – but it wasn't ideal.
Lockable off!
One thing that I wish I'd known before buying my previous head torch was that it is very inconvenient not to be able to lock it 'off', so it doesn't accidentally get switched on when in my bag (resulting in a dead or low battery when I actually need to use it). Not a problem with the Petzl Reaktik +. When the light is off, press and hold both buttons, it flashes red twice and – voila! The head torch is locked and won't turn on by accident. Press and hold the buttons together to unlock it again.
In summary
I wouldn't hesitate to recommend this head torch to anyone (trail runner or otherwise) who wants a reliable, comfortable and high quality torch for their nocturnal adventures.
Find the best price for Petzl Reactik + Headlamp
Last Amazon price update was: 29th September 2023 7:31 am
Find the best price for Petzl Reactik Headlamp
Last Amazon price update was: 29th September 2023 7:31 am
When you're running along a rocky ridge in the dead of night, with only yourself for company, you want to know you can reliably see where you're going, your torch isn't going to move and you're not going to have a sore head from wearing it. This is the torch for the job.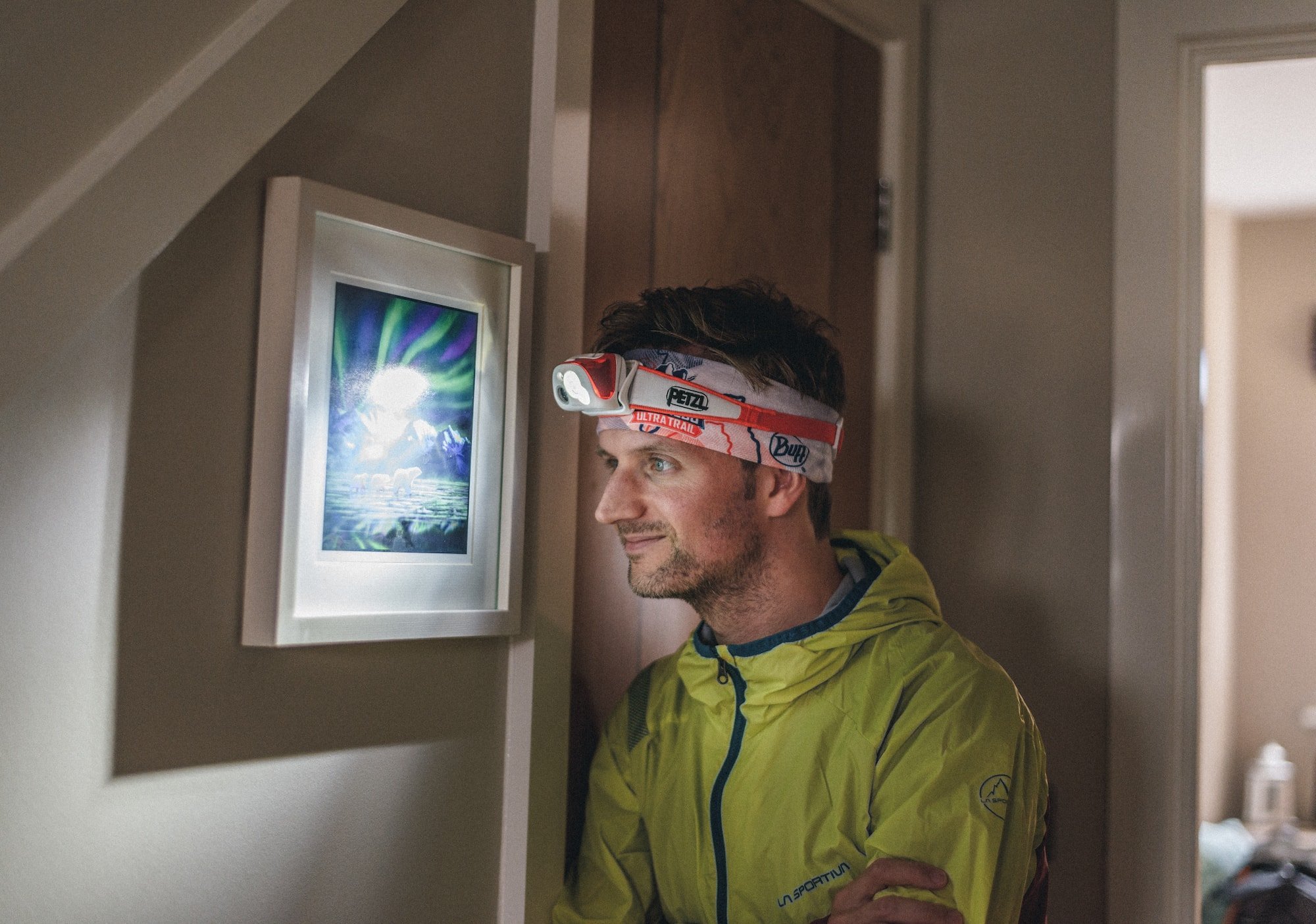 If you have any questions about the Petzl Reactik + headtorch then please leave a comment below and I will reply as soon as possible. Happy Trails!!
LIVE CLEAN : RUN FREE