Lifeproof FRE – dirt, drop, snow and waterproof protection
If you've forked out a load of cash for a smartphone then the last thing you need is for it to get wet, dirty or dropped and potentially broken. Cue, Lifeproof Fre, which has been designed for protecting your phone while out on the snow/trails/water, while allowing you to still use all the phone's functions with it still completely sealed in the case.
Taking a phone on the trails
ADVERTISEMENT
Some people may choose not to take a phone with them at all when out on the trails. Personally, I always take a phone, even if it is on airplane mode, in case of emergency (such as needing to take a selfie with a mountain lion… or a sprained ankle… or worse 😉 ). Plus, if you run trail races, most serious mountain races will require you to have a phone with you as part of your mandatory kit. So if you're taking a phone with you, how do you protect it?
Water, Sweat & Dirt
I've previously written and talked about (in some of our YouTube videos) how I protect my phone from water, dirt, sweat etc while out running and hiking. My default recommendation to anyone looking to protect their phone from the elements is simple: a plastic sandwich bag!
A plastic baggie costs next to nothing and provides some basic protection from elements. This is a great option if you're new to trail running, don't do it often, don't care much about taking photos while out, and/or on a budget and holding out on buying a purpose-made case.
However, a plastic sandwich bag is not particularly robust, certainly does not protect your phone from being dropped or submerged (unless it is completely sealed and has no holes), and it doesn't allow you to quickly whip your phone out for a photo when you have the urge.
Light on weight and size
There are a number of phone case options on the market that offer similar protective properties to Lifeproof's Fre range, but the most significant differentiator for me is the size and weight of the Lifeproof Fre. It weighs very little (my iPhone 7 case weighs 35g) and adds only a minimal amount of bulk around the edge of the phone.
This means that the Fre:
Doesn't add too much weight to my pockets when carried
Still fits in my race vest's phone-specific pockets.
The case size and therefore weight will vary depending on your phone model. The Fre is designed to fit specific models, and Lifeproof offer it for recent models of Apple and Samsung phones.
Functionality while in the case
While in the Lifeproof Fre, my phone still allows me to use all of its functions, including volume and the charging/headphone socket, which is sealed by a trapdoor when not in use. I can take photos, make and receive calls and use the touch screen – although to use the screen I find I need to tap harder than normal. I can also charge the phone and use headphones while in the case.
Use underwater
I haven't been swimming with my iPhone in its Lifeproof Fre case. However Lifeproof state it is waterproof for up to 2 meters for an hour. So if I do drop it in a stream, it stands a good chance of surviving long enough for me to fish it out.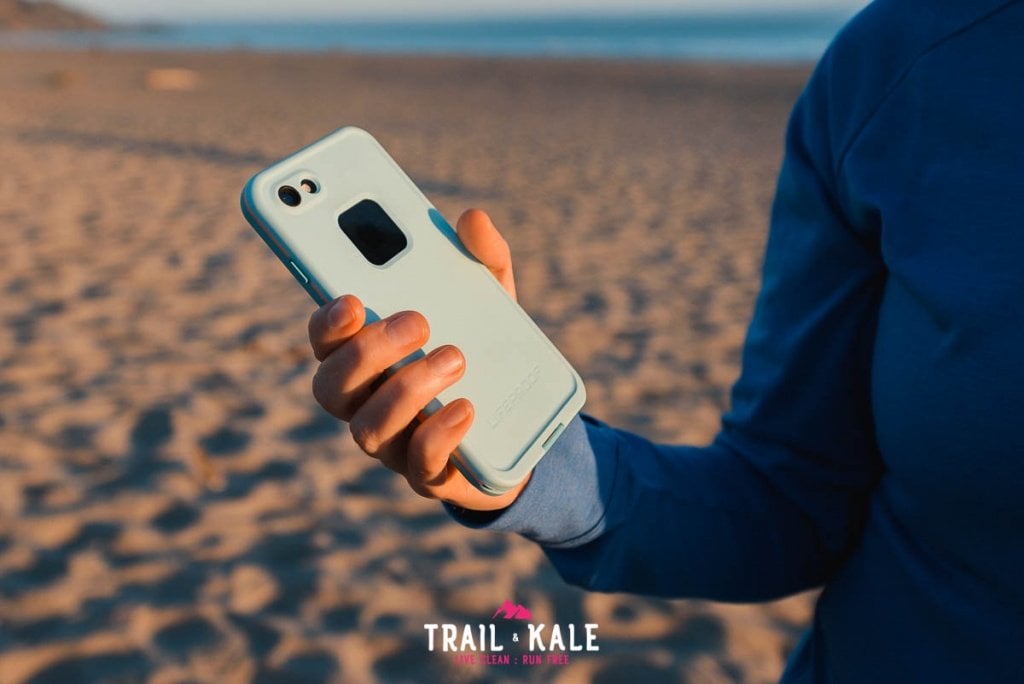 Getting the phone in and out of the case
It's easy to get the phone into the Lifeproof Fre. The front and back snap together neatly and this is quick to do. Getting the phone out was trickier the first couple of times I did it. The instructions show how this is done, with the easiest starting point being to separate the two halves at the bottom, near the socket trapdoor.
Pricing
The cost of the Lifeproof Fre varies depending on the model of your phone. There are other more budget-friendly options available, but I have not come across any phone cases offering this level of functionality without sacrificing on weight and/or size.
Lifeproof also occasionally discounts and offers sale prices on particular colors. Check out their website for current prices.
See Deal at lifeproof.com
Using a Lifeproof Fre case every day
While the phone is slim and light enough in the Lifeproof Fre to use for everyday, I find the full screen cover and the need to tap harder than normal means that writing messages and emails is too time-consuming while in the case. It is also harder to see the finer details of images, so Instagram users will probably want to edit and post images once the phone is out of the case.
If you don't write that many long emails or edit photos at length on your phone then you could probably just keep it in the case full time.
Lifeproof Fre
Pros
Slim
Lightweight
Allows full functionality
Water and dirt-proof
Drop protection
Cons
Screen cover sacrifices tap sensitivity
being fully waterproof means there is plastic in front of the lens, so be prepared to sacrifice on photo quality when the case is on.
In summary
I don't believe there is another phone case on the market at the moment that offers the same level of functionality while not sacrificing on weight and size. This makes the Lifeproof Fre an ideal option for trail runners looking for a protective phone case for running and other adventures, and worth the investment (assuming you are not planning on changing your phone model in the forseeable future).
See Deal at lifeproof.com