Here's our ever-evolving list of best gifts for trail runners. Keep checking back as we regularly update this page.
Jump to a category
---
Accessories
LARQ Bottle + Bottle Movement
The LARQ bottle, and newly launched sports bottle, the LARQ Bottle Movement, will purify water and neutralize any stinky bottle-odors, completely autonomously. LARQ Bottles are for those who want something a little different from the other lifestyle water bottles on the market. Although not designed for running with, it's an awesome water bottle to keep with you at work, the gym, hiking or while traveling. The LARQ self-cleaning bottle can fill up from almost anywhere, even on the trails, and will purify your water at the tap of a button. The high-quality bottles themselves have all been designed beautifully and make for fantastic holiday season gifts.
If you want to take this bottle on a hiking trip with you, I recommend getting the new LARQ Bottle Movement as it's a much lighter option. Please note that the LARQ Bottle Movement doesn't have insulated walls like the Original LARQ Bottle, but it is lightweight and more robust due to the colorful, and removable silicone sleeve.
---
LARQ BOTTLE REVIEWS: LARQ Bottle Review / LARQ Bottle Movement Review
---
Rokform Crystal Case – Phone Protector
We are absolutely loving the Rokform Crystal Case, and I think you will too. First off, if you're an active person, you probably already know it's important to have a protective case on your phone. I for one am always on the move and pulling out my phone to take pictures or make/receive calls, it only takes one accidental drop and you've got a hefty expense for repair or replacement on your hands.
While this case is super protective, it also has a very slim and lightweight design, which means it fits easily into most pockets. If you like to run then you'll want a slim case so it fits in most pockets and won't weigh you down.
In addition to effortlessly slipping into and out of your pocket, the Crystal Case will grip any magnetic surface! Until I got this case I didn't realize how many uses a magnetic phone case could have. For example, use your phone as a non-obtrusive GPS navigation device in your car with the Super grip phone vent mount, or stick your device to the fridge and use it as a recipe book in the kitchen.
Use our exclusive ROKFORM coupon code 'TRAILANDKALE25' for 25% off your entire order!
---
Randolph USA
Randolph was founded in 1973 and is now the only remaining metal eyewear company in the USA. It's so nice to see these premium high-quality sunglasses still being made in the USA, when so many other brands have chosen to take the work overseas.
I love that you can fully customize these handcrafted sunglasses, down to the materials, lenses, and arms used. The scratch-resistant lenses are made from mineral glass (for the clearest vision), are UVA and UVB protected. They have anti-reflective backside coating too, which means you don't get any distracting reflections from behind while driving or hiking on the trails.
Our current favorite frames are the lightweight fusion collection that we reviewed here.
RANDOLPH REVIEWS:
---
Trail & Kale Trucker Hat
Trucker hats are all the rage on the trails nowadays which is why we have 2 designs availabl at our online store.
Our Classic Trucker is available in 4 colour combinations but if you're after a more stealthy trucker hat then check out our Stealth Edition Trucker.
We designed our subtle yet distinctive "Stealth Edition" Trucker hat for those who like to fly a bit more under the radar. You can buy it in any colour, as long as it's black (and very stealthy). It features the Trail & Kale Mountain logo embroidered in a grey/silver colour on the front. Trucker hats are great for keeping rain, sun and sweat out of your eyes and face and also look damn cool. If you're after a more technical running hat, see our technical running cap gear guide.
All products in our Online Store ship worldwide!
FULL REVIEW: Trail & Kale Classic Trail Running Trucker Hat Review
---
BUFF Pack Run Cap
The BUFF Pack Run Cap is a really innovative and versatile trail running hat. BUFF is already famous for their multifunctional headwear and headbands but it won't be long before these hats are seen all over the trails.
One of the clever features is that you can flip the bill up when running/hiking uphill allowing you to see further towards the horizon at the top of your climb, you can then flip it back down when running on the flat or downhill. It's definitely a stylish hat with that much-loved European flair! I wore my UTMB special edition BUFF Pack Run Cap for my OCC race this year and it performed excellently for the entire 10.5 hours of mountain running!
There's a built-in sweatband that provides moisture control without the added bulk, and the polyester UPF protective materials wick away any perspiration. The adjustable elastic cord at the rear is a nice touch to the overall minimalism, and it provides a secure fit that's easy to adjust on the fly.
Adding to its minimalism, this hat is highly compressible too, which means it can be stashed in even the smallest of your hydration pack pockets, and then when you're ready to wear it again the crushable polyurethane brim snaps back to shape. See video above for a scrunch test.
The BUFF Pack Run Cap is a very comfortable hat due to the 4-way stretch fabric it's built with; this fabric makes it super lightweight too (1 oz.). I wore my UTMB limited edition BUFF Pack Run Cap for UTMB OCC in 2019, it performed excellently.
AS FEATURED IN: Best Running Hats: Top 5 Technical Caps for Trail & Ultrarunners
---
Jaybird VISTA True Wireless Headphones
There's a reason you won't see many true wireless headphones on this list because up until now most would come with drawbacks including connectivity issues, excessive weight, and short battery life. This has all changed with the release of the Jaybird VISTA true wireless headphones, which I have had the pleasure of early release testing. Jaybird VISTA wireless headphones have an extended battery life of 32 hours, are IPX7 waterproof, sweat-proof, crush-proof, and are the lightest, most comfortable true wireless headphones we have ever tested.
Jaybird VISTA has other unique design features that improve their usability far beyond the RUN XT, (their last true wireless earbuds) which I talk in detail about in my full Jaybird VISTA review.
The Jaybird VISTA now sits in the number 1 spot of our best wireless headphones for running, and ultrarunning list. I have also given them an Editor's Choice Award.
FULL REVIEW: Jaybird VISTA Review: Editor's Choice Award Winner
---
Salomon Soft Flask 500ml
Running with a soft flask is so great because as you drink the fluid, the flask collapses unlike a solid bottle that stays the same size. This is good for two reasons, 1.) the flask gets more portable and stashable the more you drink, and 2.) you wont get that annoying water sloshing sound that you get with solid bottles when they not 100% full. They fit in most race vests but can also just be taken on their own as a hydration solution during a run.
Soft Flasks For Running: Why I choose Soft Flasks to carry water on long runs
---
Trail Running Shoes (Best All-rounders)
Nike Air Zoom Pegasus 36 Trail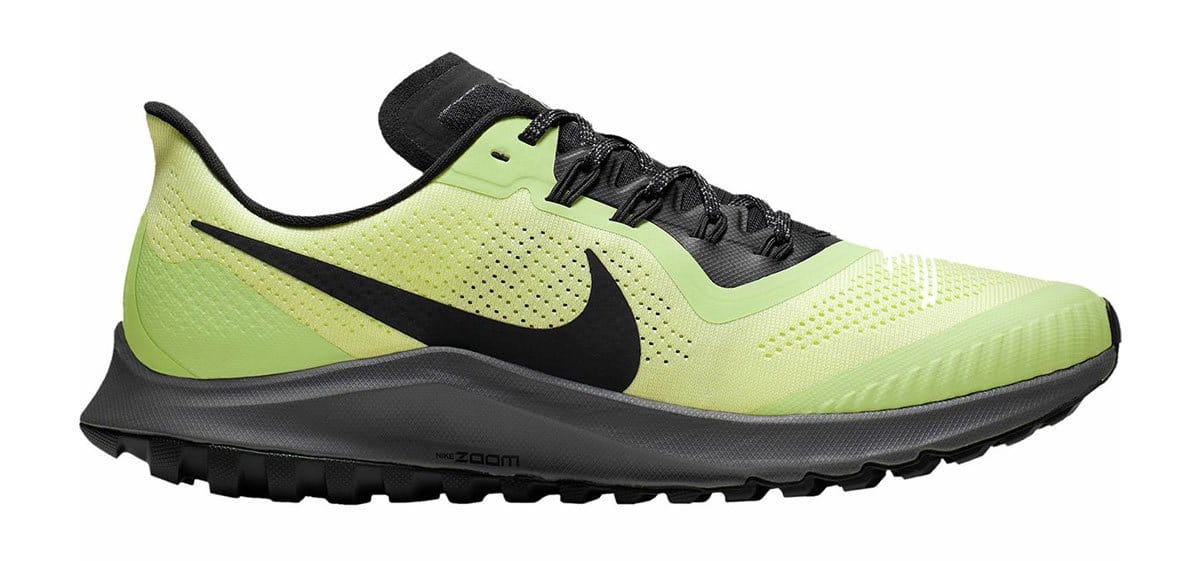 My current favorite all-round trail shoe, the Nike Pegasus 36 Trail is a high-performance trail running shoe that's so comfortable it feels like a road runnincg shoe. The Pegasus 36 Trail could actually be labeled as a road/trail hybrid, or a door-to-trail running shoe because quite honestly it performs very well on both surfaces. Contributing to the comfort is the Nike Air Zoom cushioned midsole that provides plenty of protection from sharp rocks too. The Pegasus 36 Trail is also very lightweight at 9.17oz (260g) for size US (M) 9, breathable, responsive, and grippy.
There are two other trail running shoes in the Nike Trail collection, both of which I have compared to the Pegasus 36 Trail in this post here: Nike Trail Running Shoes Compared: Which Are Best?
Drop: 10mm / Weight: 9.17oz (260g) / Support Type: Neutral.
FULL REVIEW: Nike Pegasus 36 Trail Review
Find the Best Price for Nike Pegasus 36 Trail (Tracked Daily)
---
ON Cloudventure Peak – (2ND EDITION)
The On Cloudventure Peak is a trail running shoe, designed for moving fast in the Mountains whether you're racing or just love running up hills. The Cloudventure Peak is also our favorite On trail running shoe. On has added some significant new design features to their 2nd Generation Cloudventure Peak! The new Missiongrip outsole has been improved in terms of 'trail-feel', cushioning, grip and durability, all the while maintaining the same lightweight of 260g. The breathable ripstop upper mesh is still there, albeit redesigned but still weighing next to nothing.
FULL REVIEW: On Cloudventure Peak Review (2nd Edition)
Interested in learning more about the ON Running brand? We have the largest collection of in-depth and professional On running shoe reviews on the web.
SUGGESTED READING: Best Trail Running Shoes: The ultimate Buyer's Guide – (regularly updated!)
---
Trail Running Shoes (Best Waterproof protection)
Nike Air Zoom Pegasus 36 Trail GORE-TEX
The Nike Pegasus 36 Trail GORE-TEX is our most highly recommended waterproof trail running shoe for winter running, and much like the non-waterproof version mentioned above, it ranked #1 in one another one of our shoe buying guides: 6 Best Waterproof Trail Running Shoes.
The Pegasus 36 Trail GORE-TEX is an excellent waterproof trail shoe for winter running, period. It's a high-performance trail running shoe that feels just as comfortable on the road as it does on the trails, making it a great door-to-trail hybrid running shoe. The Nike Air Zoom midsole provides plenty of cushioning and protection from sharp rocks. It's also super lightweight, has lots of reflective hits for the safety-conscious, responsive, and very grippy.
I love the curved achilles heel support like with the standard Nike Pegasus 36 Trail listed above. It adds so much additional comfort over long-distance training runs and ultramarathons.
These are unisex shoes so don't go searching for the women's version on the Nike site; instead, you will see both men's/women's sizes listed like M 9 / W 10.5, for example.
The Nike Pegasus 36 Trail GORE-TEX won an Editor's Choice Award for their outstanding performance on the winter trails.
Find the Best Price for Nike Pegasus 36 Trail GORE-TEX (prices tracked daily)
FULL REVIEW: Nike Pegasus 36 Trail GORE-TEX Review
---
ON Cloudventure Waterproof (New Edition)
The new On Cloudventure Waterproof trail shoes look so badass and offer excellent cushioning while thrashing the trails. When wearing these I was able to storm down the hills much faster than usual on harder terrain. Don't let winter stop you running.
FULL REVIEW: On Cloudventure Waterproof Review
SUGGESTED READING: Best Waterproof Trail Running Shoes: Buyer's Guide – (regularly updated!)
---
GPS Running Watches
COROS APEX Premium GPS Multisport Watch
Coros is a lesser-known brand that is making serious waves in the trail running and Ultrarunning scene with the Coros Apex GPS Watch in particular [FULL REVIEW HERE]. The list of Coros pro athletes is impressive to say the least, including runners such as: Dom Grossman, Sally McRae, Timothy Olson, Cody Reed, Hayden Hawks, Camille Herron, Tim Tollefson, Adam Campbell, Paula Findlay, Magda Boulet, Jordi Gamito and Hillary Allen.
| | | |
| --- | --- | --- |
| Weight: 50.8g/55.3g | Full GPS: 25/35hours | Price: $300/$350 |
The APEX is the only Coros watch to offer two different watch sizes, 42mm and 46mm. This is great news for those who want plenty of features but don't want to wear a bulky watch due to small wrists.
The APEX tracks course, speed, time, pace – all the usuals, as well as elevation gain / loss, weather (via the built-in barometer) cadence, calories and heart rate. From this data the watch also calculates estimated fitness levels including VO2Max and lactate threshold, and the efficiency of your aerobic and anaerobic training activity.
I really like the simple clean look of the APEX because it means you can wear it to work without it standing out too much. It's also great knowing that you have the power on your wrist to do those impromptu long runs when you need to though. There's also a sapphire glass screen for everyday and extreme protection.
| | |
| --- | --- |
| Watch Size: 42mm/46mm | Waterproof: 100m |
Routes can be uploaded and displayed on a grid as a bread crumb trail with real-time information on heading and elevation. It also gives you alerts to help you get back on course, should you go off track.
In UltraMax mode, the battery will last up to 100 hours using GPS. While using normal mode will yield up to 35 hours. This is easily enough for most ultramarathons.
Having an extremely competitive price-point, the choice of two lightweight watch sizes, a very impressive battery life, on-wrist HR, and many other features makes the Coros APEX our top pick for trail and ultrarunning.
---
SUGGESTED READING:
Best Prices for the COROS APEX (Updated Daily)
---
Garmin Forerunner 945
The Garmin Forerunner® 945 features an incredible battery life of up to 60 hours in UltraTrac™ mode which any ultrarunner will find impressive. Garmin also includes new incident detection (during select activities) and assistance which sends your real-time location to emergency contacts if necessary, this safety feature will be a huge selling point for many runners who worry about safety while out running.
The Forerunner 945 has an on-wrist heart rate monitor and more performance monitoring features including VO2 max and training status with adjustments for heat, altitude acclimation status, training load focus, recovery time, and aerobic and anaerobic training effects.
The navigation features are excellent, featuring high resolution, color TOPO maps featuring trend line popularity routing to help you find and follow the best paths. Garmin clearly dominates when it comes to navigation features. It's so easy to set up a course/route and then send it to the watch, ready for following during your run. Then when the route is displayed back to you on the watch, the detail is incredible. I love to explore new routes/trails, so being able to see the trails lines on the watch map that you shouldn't take, makes it so much easier to see the ones you should, hence reducing the chances of getting lost.
Other features include:
Barometric Altimeter for accurate altitude/elevation tracking and weather tracking.
Water resistant to 50m (5 ATM)
Swim, Bike, Triathlon Features
Music
Garmin Connect software is very informative when displaying back your data, and it's easy to use.
Best price for the Garmin Forerunner® 945 (Updated Daily)
---
Clothing
On Waterproof Anorak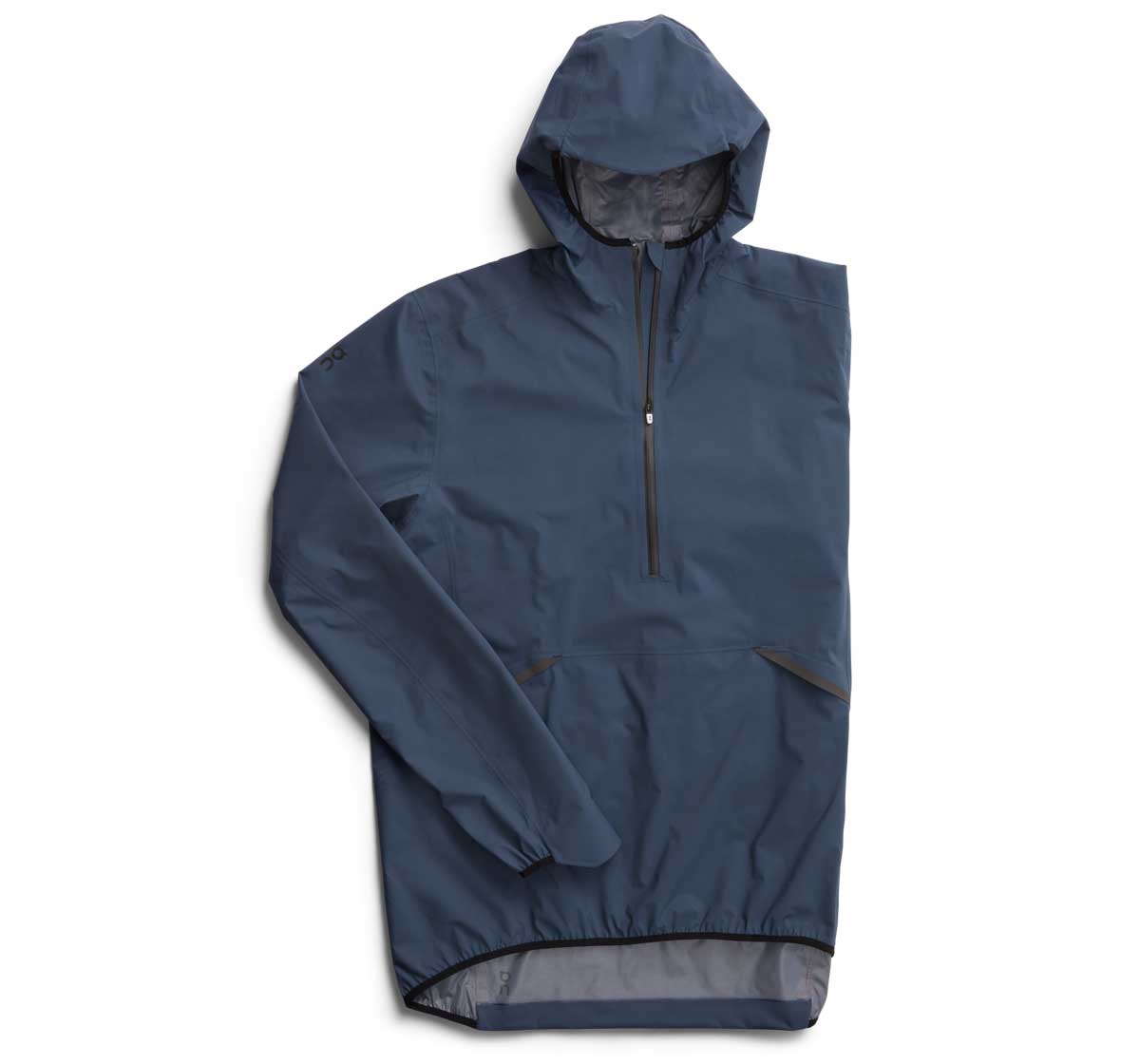 The On Waterproof Anorak has many practical features that will keep bad weather out while still allowing for airflow and breathability. The hidden vents on the front and rear will help increase airflow through the jacket while still making sure the rain stays out. The On Waterproof Anorak is a great mixed-weather running jacket too because it packs down into its own inner pocket ready to be stashed into your hydration pack at a moments notice, with ease.
The jacket is made with a premium three-layer membrane which is how it's completely waterproof and windproof while still allowing for that dynamic breathability. Elements in the lining are also able to transport moisture from the body and expand as they do so which according to On means the more you sweat the more breathable the jacket becomes.
We like that the materials have been responsibly chosen. The advanced waterproof membrane is not only breathable, stretchable and durable, but it's also entirely PTFE-free.
The fit is a bit looser than the slim fit styles, which is good if you prefer a looser fit, or if 'slim-fit' apparel doesn't suit your body shape.
AS FEATURED IN: 5 Best Waterproof Running Jackets for Trail Running & Ultrarunning
---
Janji Running Clothing
Janji manages to maintain reasonable prices while delivering very high-quality threadwork in their apparel. I love that Janji running and active lifestyle clothing makes you stand out from the crowd just by virtue of fun and unusual design work. I'm usually wearing at least one item from Janji, whether it's a running cap or hoodie.
It's nice knowing that you'll also be buying from a boutique brand that donates a portion of their sales towards funding clean water projects in countries around the World.
See the collections at runjanji.com
JANJI CLOTHING REVIEWS: Janji Bolivia Men's Apparel Review / Janji Women's Apparel Review / Janji Uganda Men's Apparel Review
Running Socks
On Running Socks
Each of the 3 different length On Running socks serves a purpose and I think your final decision should be down to personal choice. My favorite out of all of them was the Mid Sock for its versatility, color options and heel padding that sat in just the right place to protect my achilles from blisters while running.
It's fair to say that based on my experience, On have nailed the art of producing an excellent running sock. Price starts at $17.99.
On Running Low Mid High Sock Reviews
---
Stance
If you want to give a traditional gift, but with a twist – we suggest a pair of trail running socks! Good running socks are never cheap, so it's nice to receive a fresh new pair that you'll get to wear and love over miles and miles. Socks are one of the best gifts for trail runners because we 'run' through them so quickly, what with all the dirt and grit we endure.
We love Stance running socks because they have SO many fun designs to choose from and they are super comfy for wearing on trail or road runs. We particularly like the tab style which just show a nice little reflective tab at the back.
Learn more about Stance Running socks
---
Darn Tough
Darn Tough make excellent quality socks, my favorite for running are their Vertex Ultra-Light socks. Have a read of my review to discover the 3 standout features that make them one of my favorite socks to run with.
See the Collection at darntough.com
---
Running Poles
Black Diamond Distance Carbon Z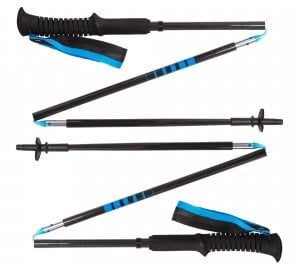 If you or someone you know is about to run a mountain marathon then you need to seriously consider getting some lightweight trail running poles to take with you. The poles we love are Black Diamond Distance Carbon Z Trekking Poles – Being built with Carbon, they are very lightweight and they are also designed to fold up nice and small, important if you need to place them back in your race vest while not in use. I won't bother listing any other poles in this gift list as these come out top every time.
---
RELATED: 5 Best Trail Running Poles in 2020 (So Far): For Ultrarunning & Hiking too!
---
If you need a little advice on using poles while trail running, including advantages and disadvantages, have a read of this informative article: Trail Running With Poles: Benefits, Disadvantages And Advice.
Best Price for Black Diamond Distance Carbon Z Running Poles (tracked daily)
Race Vests
Ultimate Direction Ultra Vesta 4.0
For Women: Helen loves running in her Ultimate Direction Ultra Vesta 4 and for good reason, this race vest packs in so much! There are many storage compartments located in easy to grab areas, it fits the female form very well, is super lightweight and looks beautiful!
Best Price for Ultimate Direction Ultra Vesta 4.0
FULL REVIEW: Ultimate Direction Ultra Vesta 4.0 Review
---
RELATED:
---
Salomon S-Lab Sense Ultra 5 Set Pack
For men: We highly rate the Salomon S-Lab Sense Ultra 5 Set Pack – I choose to wear this pack for racing with! The fit and function is absolutely brilliant!
Best Price for Salomon S/Lab Sense Ultra 5 Set Pack (tracked daily)
---
Headlamps
BioLite Headlamp 330 – [EDITOR'S CHOICE]
The BioLite Headlamp 330 has a really slim fit construction with 9mm front profile and is hyper-lightweight at 2.43 oz., providing a bounce-free fit and experience while running or hiking. This is the most comfortable headlamp I have ever used.
The Headlamp 330 really is excellent value for money with a 4-hour battery life on the highest setting which uses two beams, wide and focused, firing out 330 lumens of light.
The BioLite Headlamp 330 has multiple light modes too including dimmable spot, flood, spot+flood, red night vision, and strobe. Because each beam can be dimmed, you can actually run the headlamp for much longer than 4 hours but not at its brightest level. It also uses a rechargeable battery that can be charged via micro USB for convenience.
Weight with batteries: 2.43 oz.
Battery Life: High=4 hrs / low=40 hrs
Max Light Output: 330 lumens
Beam distance: High=75 meters / low=16 meters
Beam Type: Flood / Spot
Water-Resistance Rating: IPX4 (Is resistant to water splashes from any direction)
Learn more at bioliteenergy.com
Find the best price for the BioLite Headlamp 330 Headlamp
FULL REVIEW: Biolite HeadLamp 330 Review: The Best Value Headlamp
FEATURED IN: 5 Best Headlamps for Trail Running & Ultrarunning
---
Sunglasses for Running
Sunski Sunglasses
All Sunski lenses are polarised, the frames are made from recycled plastic, they're lightweight, look great and have a price tag that definitely won't break the bank!
Sunski also donates 1% of all sales to environmental non-profits, so their company ethos is very well aligned with our own. We love that!
FULL REVIEW: Sunski Sunglasses for Running
Recovery Tools
Compex Fixx 1.0 Massager & Mini Wireless
Our two favorite Compex products are both heavily discounted for Black Friday, making this the best time of year to get yourself one of these fantastic recovery and muscle building tools.
The Mini Wireless Muscle Stimulator with TENS is Compex's latest device, it's so small that it can very easily be taken with you on the go. Very handy if you want to give yourself a recovery massage straight after a race (more on that in the Recovery section below). The Compex Mini has 6 programs to help athletes improve their running performance. The programs are 'Prewarm Up', 'Endurance', 'Resistance', 'Training Recovery/Active Recovery', 'Muscle Relaxation', and 'Pain Management'.
Using a Compex muscle stimulator is a highly effective way for me to build strength into my muscles, especially when I don't have easy access to big mountains, where climbing would do a similar job for my quads.
I also use the TENS (transcutaneous electrical nerve stimulation) function of my Compex on my Achilles heel when I feel like it may be flaring up, usually after a high-intensity road run. TENS calms it down, reduces the pain and helps it heal faster.
---
The Compex Fixx 1.0 Massager, on the other hand, is a portable battery-operated massage device that has been fantastic at working out deep muscle knots.
Using this device makes massaging out localized tense muscles so much faster, and easier. The noise output is very low on the slowest setting but gets a bit louder the faster you make it go.
It has three speeds that you can use to help relieve different levels of soreness and you can also change the tips and rotate the gun head to reach areas that may be awkward otherwise.
AS FEATURED IN: 20 Hacks That helped Improve My Trail Running Performance (Nutrition, Recovery, Gear + MORE)
---
Trigger Point Grid Foam Roller
Who wouldn't want an instrument of pain as a gift?! But in all seriousness, foam rollers are an excellent way to speed up recovery times after a run. The GRID foam roller is for anybody who wants to move better. Use the GRID for a self-massage and roll through the tight muscles, knots and kinks that prevent feeling good and moving well. The three dimensional surface has a variety of widths to replicate the feeling of a massage therapist's hands.
Then there are massage balls… The great thing about the massage ball is its tiny size, which means you can take it with you on those longer hiking and running adventures. Massage Balls can target all sorts of isolated muscle areas due to their small size.
Best Price for Trigger Point Grid Foam Roller
---
Venga CBD Recovery Balm applied to sore muscles
I have been having so much success with Venga CBD's Recovery Balm product. I first noticed its power when I was in Europe for Matterhorn Ultraks 30k and the UTMB OCC 56km 5 days later. I wouldn't normally stack races so close to one another, but when I was offered the opportunity to run both, I couldn't refuse. I used the Recovery Balm on my leg muscles after Matterhorn Ultraks and felt repaired and ready to run UTMB OCC 5 days later.
That impressed me but what really blew me away was just how good my legs felt the day after UTMB OCC which saw me running 57km, with 3200 meters of positive gain for 10.5 hours. That's a long time for me to be running on such steep mountain terrain. I can only attribute it to the Venga CBD Recovery Balm I smothered over my legs the night of the race. Kudos to Venga CBD with this Recovery Balm, it's a pretty amazing product.
GET 10% OFF YOUR VENGA CBD ORDER WITH CODE: TRAILKALE10
FULL REVIEW: Venga CBD Review: THC-Free CBD Products For Endurance Athletes
Running Nutrition
Plantworks Protein Powder with Super Herbs.
I'd say this plant-based protein powder is my favorite in terms of taste and purity. We first discovered it at the Hood to Coast Pacific City relay event in Oregon when we were given a sample pack at the finish line. By the way, if you haven't done a Hood to Coast event before, DO IT! ?
Each serving of Plantworks protein has 20 grams of plant-based protein from Pea, Mushroom, Pumpkin, and Rice proteins. It contains 0g of sugar and 7g of fiber, and there's No Dairy, Soy, or Gluten. It is also mixed with Adaptogens and Super Herbs to help you speed-up/improve recovery times, Plant Power baby!
Available at Amazon.com below.
---
Tailwind Nutrition Recovery Drinks
Repairing muscles after an intense workout is something that many runners overlook. If you can recover faster then you'll be able to get back out there putting in smart miles that actually count, rather than running on tired 'always recovering' legs. We don't use this after every run, just the really intense ones like 'speedwork', 'hill repeats' or 'long runs'. Rebuild recovery powder comes in 'single serve' stick packs or in 32 oz packs for $38.99 which provide 15 servings, a great way to reduce packaging waste. The 'single serve' sticks are a convenient way of taking your recovery drink to work or the gym, and at $3 a stick isn't too expensive.
We especially like the taste of the Vanilla flavor but I wouldn't say no to chocolate! 🙂
Compare Prices for 12 Pack of Recovery Drinks
---
Tailwind Nutrition Endurance Fuel
I recently had a lot of success using Tailwind Nutrition as an all-in-one food solution while running. Tailwind is a powder that you mix with water, and it will keep you going without the need for solid foods. To anyone having stomach issues, this is the product I recommend trying first, if this doesn't work then .Hammer Nutrition Perpetuem should be your next port of call.
Price Comparison for a 50 Serving Bag (Most cost effective)
---
Read more Trail & Kale articles about food for running.
---
Organifi Green Juice
Organifi Green Juice
is a gently dried 11-superfood green powder dietary supplement that is certified USDA organic, gluten-free, soy-free, dairy-free, and Vegan. With ingredients like spirulina, moringa, chlorella, ashwagandha, mint, lemon (and more), this product has been designed to help people feel energized and detoxify their cells. Green Juice is a great first step to helping people re-train their taste buds and start replacing the sugary processed foods in their diet with real, revitalizing nutrients. This is the gift of a new journey to a super healthy lifestyle and diet. We mix a scoop of it in a glass of water every morning.
Our exclusive Organifi coupon code 'TK15′ will get you 15% OFF your total order when purchased via the links in this post: organifishop.com.
Explore Organifi Superfood Products
FULL REVIEW: Organifi Green Juice Review: The Organic Vegan Superfood Supplement
---
Venga CBD Ultra Gels for daily life and intense training blocks.
For my daily routine during a training cycle, I have been taking 1 Venga CBD Ultra Gel capsule each morning. This has been a really convenient way to get the general benefits from CBD when I need it most, during heavy training blocks. Ultra Gels are formulated to:
help alleviate any pain during long training sessions & competition.
speed up recovery to help me get back out there more regularly.
enhance sleep; the most important time for your body to heal and recharge.
fight inflammation to allow me to train more consistently.
reduce stress and anxiety which helps me stay focused, calm and moving forward.
GET 10% OFF YOUR VENGA CBD ORDER WITH OUR COUPON: TRAILKALE10
FULL REVIEW: Venga CBD Review: THC-Free CBD Products For Endurance Athletes
---
Strength Training Equipment
Dumbbells
These rubber hex dumbbells are great quality, and won't roll. I like the 3kg and 4kg weights for upper body strength and conditioning workouts, or mixed in with fuller body movements such as squats, lunges etc. They also make great doorstops when not in use 🙂
---
Bosu Balance Trainer
The use of a balance trainer is something that I feel is largely overlooked when it comes to cross-training for runners. I'm sure you have heard it before but let me say it again, strength training is so important when it comes to becoming a stronger runner.
So what happens when you make it fun by adding the added challenge of being required to engage your brain to focus on keeping your balance. Well, suddenly you're motivated to increase your strength to improve your balance and reduce that "wobble".
The Bosu NexGen Pro Balance Trainer: Become A Stronger Runner
---
Photography + Video
If you're familiar with our Instagram Feed then you already know that trail running takes us to some of the most beautiful places in the world. Being a photographer myself and a creative person at heart, I can't help but stop and takes pictures during a run in the mountains or on the trails. This outstanding natural beauty deserves to be captured with camera gear that will do it justice.
Here's my list of top photography and video equipment that's small enough to take running with you; if you want your Instagram photos to go viral, this is a great place to start. #trailandkale
GoPro Hero8 Black
The GoPro HERO8 Black is easily my favorite running camera of 2020 (so far). Soon after testing the built-in camera stabilization I sold my GoPro Karma stabilizer grip because the footage coming out of the new GoPro was just as good. It's also a lightweight, fully waterproof solution for epic stabilized footage whereas before my Karma grip was heavy and not waterproof. I'm now using it all the time for Instagram stories and our running films hosted on YouTube.
It's very small which means you can take it everywhere with you and it's rugged and waterproof so you won't need to worry about breaking it while out running. It shoots in 4K at 60fps, nice for getting those high-quality slow-motion running videos and I love that you can send video live to your Facebook page too, how cool is that!! There's also that built-in stabilizer with Hypersmooth 2.0 that I mentioned earlier, which does a fantastic job of creating smooth (non-jerky) footage while running. Check out the full list of features at gopro.com.
Compare Prices for GoPro HERO8 Black
Trail & Kale running videos filmed with GoPro Hero Black and Karma Grip
---
Sony Alpha a7iii
For photography that will blow away your followers, the SonyAlpha a7iii is currently the best in class because it's small in size, lightweight, excellent resolution and full feature-set. It's easy to see why when you look at the shots coming from the photographers using it: @jsaragossa / @jess.wandering / @sonyalpha / @chrisburkard and many more…
I'm not denying you need a certain level of creative talent too but if you don't have your camera while out on your adventure, then you won't get any photo at all. Size and weight are the biggest reasons that people don't take their professional grade cameras on adventures or runs with them. It's just not practical to be lugging a bulky camera with you if you want to enjoy the run too. Enter the Sony Alpha a7iii, small and light enough to put in your backpack while running, and high enough quality for professional grade photography.
---
Books
If you love books like we do, you should definitely check out our personal list of what we consider to be The Best Running Books for Adventure Lovers too… OK, so let's finish this gift list with these running books that are packed full of adventure, inspiration and motivation.