Welcome to our Best Waterproof Running Jackets guide which features the top 5 lightweight waterproof running jackets for all types of running, including trail runners, ultrarunners, fastpackers and hikers. Although more popular in colder months during Fall and Winter, a good quality running jacket will look after you year round and is one of the essential items of running clothes for most men and women runners who want to run all year whether it's raining or not.
Because waterproof running jackets are usually quite expensive, it's important to invest in a durable and breathable running jacket that will last long enough to give you good value for money and of course, perform as expected without letting rain in – and keeping you warm in the process. There are few things worse than running when you're soaking wet with a core temperature that's declining by the minute. Don't let wet weather ruin your running motivation, buy the right waterproof running jacket and the wet weather will seem insignificant.
When buying your next waterproof running jacket there are a few essential features that you'll want to look out for, and these features are my ranking criteria for this 'best-of' list. For a waterproof running jacket to be great, it must:
be fully waterproof. If the product marketing says water-resistant or water-repellant then it may not actually be fully waterproof. Some running jackets will say that they're made with gore-tex and most waterproof running jackets will be made waterproof by the application of a DWR (durable water repellant) coating, like a lot of other outdoor clothes and gear designed to perform in wet conditions
be lightweight. Avoid being weighed down by a running jacket that absorbs water, even if it keeps you dry underneath.
have some level of breathability. At some point, you're going to be running in the rain while the temperature isn't crazy cold, like in the Fall or Spring for example. A breathable running jacket will ensure you don't overheat while running by helping moisture (i.e. sweat) pass away from your body. This is a really important feature for running jackets given you'll most likely be wearing them in wet weather but also generating your own moisture that the running jacket needs to be able to help evacuate.
be form-fitting. Extra wind resistance from loose-fitting running jackets and pants while running is a real 'drag', especially on a wet and windy day. Make sure your jacket fits your body's frame closely, if that means you need to drop down a size, consider it.
All of the waterproof running jackets in this list have the important features listed above, so whichever one you choose, you'll make a good buying decision. All these jackets are impressive so your final decision may actually come down to price, or how stylish you feel the jacket looks. This post specifically focuses on the best waterproof running jackets for men, although many of these waterproof jackets also come in women's versions. We also have a separate post specifically for women's waterproof running jackets if you've arrived looking for a women-specific fit:
RELATED: 5 Best Women's Waterproof Running Jackets for Trail Running
With these features in mind, I'm here to help you find a waterproof running jacket that you're going to love and use for years to come. This list of the 'best waterproof running jackets' is continually updated, so make sure you check back before buying your next winter running jacket.
---
1. Arc'teryx Waterproof Running Jacket: Arc'teryx Norvan SL Hoody
Designed for high-intensity trail running in wet conditions the Arc'teryx Norvan SL Hoody is an ultralight (125g/4.4oz), breathable yet waterproof GORE-TEX running jacket and has made it to the top of our best waterproof running jackets buyer's guide.
The Norvan SL Hoody jacket's lightweight, minimal design makes it an excellent addition to any mountain lover's hydration pack/vest, especially if moving fast and light is your jam (like it is mine), I'm looking at you trail runners, ultrarunners, and fastpackers – and you ultralight backpackers looking for a highly technical yet lightweight waterproof jacket to hike in.
The jacket uses GORE-TEX with SHAKEDRY™ watershed technology which eliminates the need for a face fabric, significantly reducing weight and increasing breathability while delivering durably waterproof and windproof protection.
This men's waterproof running jacket is also compressible and packable which is important when you have other trail running essentials that you may need to carry with you on your run. The running jacket's design is trim, slim fit which helps reduce drag and weight, it also optimizes its breathability during intense workouts.
The jacket's hood has an elasticated brim which ensures good visibility while the brim keeps the rain off your face. I like how it can also be rolled up and secured when not in use which keeps it from flapping behind you as you run. Did I mention this is the most lightweight running jacket in this list – so it's definitely a great pick if you're looking for the best ultralight rain jacket for wet weather running.
There are reflective elements on the cuffs for extra visibility at night too. If you are planning to run at night need a running headlamp for those runs, check out our 5 Best Headlamps for Trail Running & Ultrarunning in Gear Guide.
Last Amazon price update was: 22nd July 2021 10:00 pm
---
RELATED: 5 Best Waterproof Trail Running Shoes for wet weather running
---
2. Salomon Waterproof Running Jacket: Salomon S/Lab MOTIONFIT 360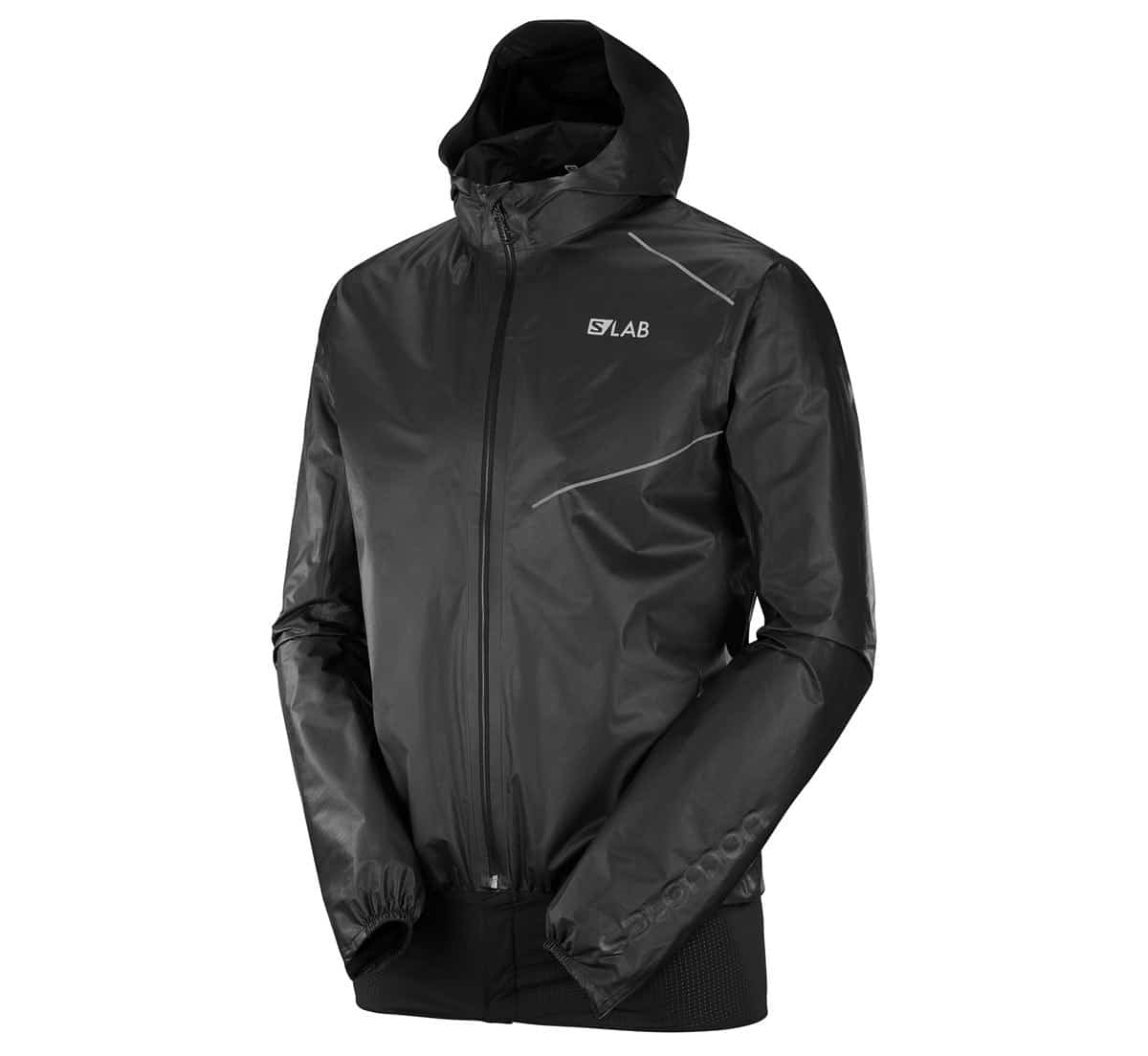 The Salomon S/LAB MotionFit 360° Jacket is probably the most innovative men's waterproof running jacket on this list for a couple of reasons. Firstly it has a membrane that is waterproof and windproof but also manages breathability and moisture very well.
I think the biggest innovation with this Salomon running jacket, however, is how easily you can take it off while running. This rain jacket has a stretch waistband that lets you store it around your waist without taking it off. This means you can also pull it up over your running pack when you need to put it back on. It's probably the ultimate waterproof running jacket for trail racing because of this.
Like the Norvan Sl Hoody jacket listed above, this jacket is a GORE-TEX running jacket (uses GORE-TEX's 'SHAKEDRY' fabric) which allows it to breathe better than any other waterproof fabric, it's also what keeps the weight down.
If you're wondering what MotionFit 360° is, it's a patterning that's engineered to allow the jacket to move fluidly with your body to allow maximum freedom of movement. Jackets like this that are engineered with GORE-TEX fabrics are built for extreme breathability and are ideal for highly aerobic activities for this reason.
Every seam on the Salomon S/Lab MOTIONFIT 360 running rain Jacket is sealed from the elements and it comes with a hood that has a minimalist construction which fits without the need for drawcords. The fit of this Salomon running jacket is what the brand calls 'Active fit' which means it is close fitting and lets you move.
Last Amazon price update was: 22nd July 2021 10:00 pm
---
3. On Running Waterproof Jacket: On Waterproof Anorak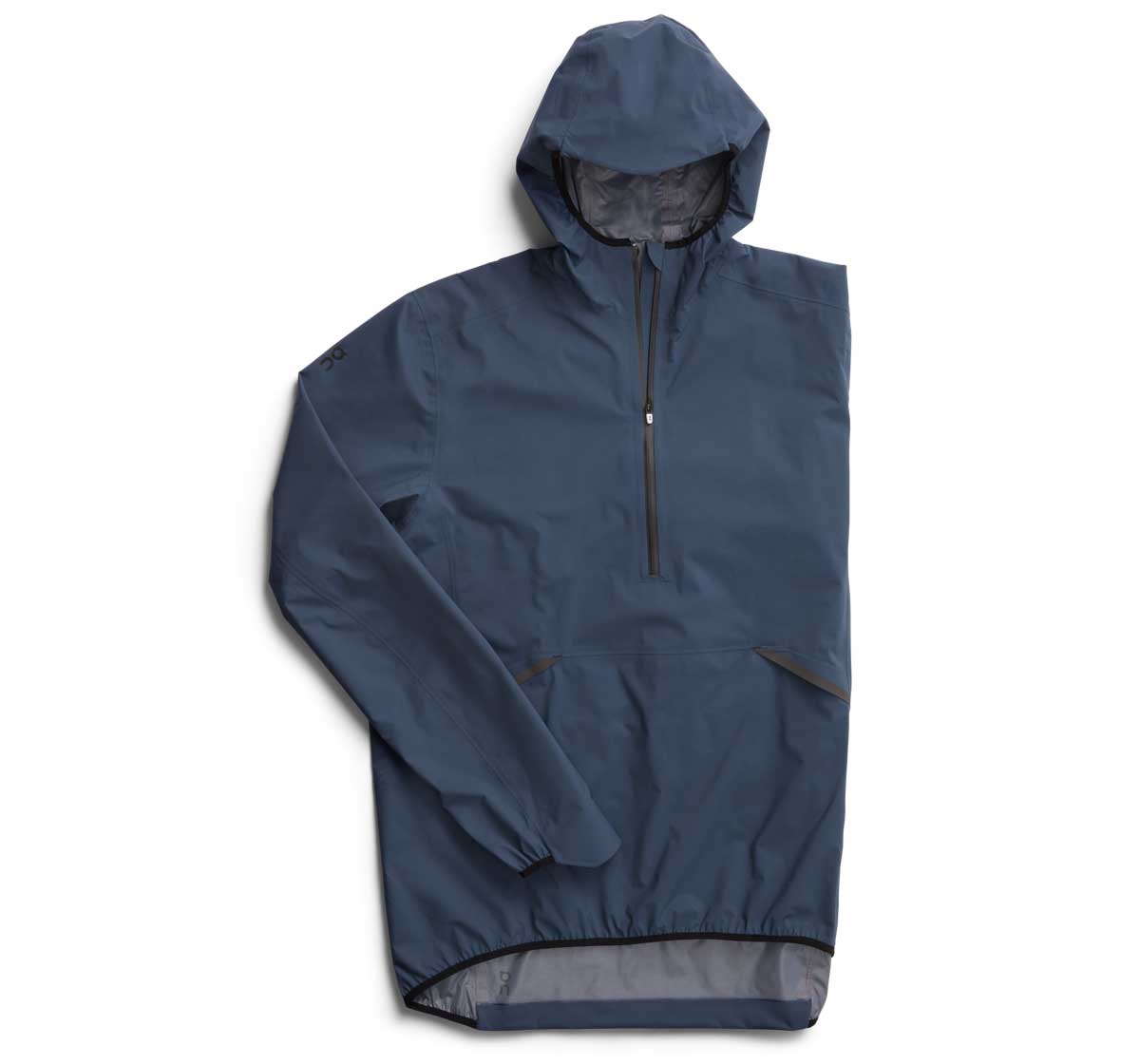 The On Waterproof Anorak running jacket has many practical features that will keep bad weather out while still allowing for airflow and breathability. The hidden vents on the front and rear of this rain jacket will help increase airflow through the jacket while still making sure the rain stays out. The On Waterproof Anorak is a great mixed-weather running jacket too because it packs down into its own inner pocket ready to be stashed into your running hydration pack at a moment's notice, with ease.
The jacket is made with a premium three-layer membrane which is how it's completely waterproof and windproof while still allowing for that dynamic breathability. Elements in this waterproof running jacket's lining are also able to transport moisture from the body and expand as they do so which according to On Running means the more you sweat the more breathable the jacket becomes.
We like that the materials have been responsibly chosen. The advanced waterproof membrane is not only breathable, stretchable and durable, but it's also entirely PTFE-free.
The fit of this On waterproof jacket is a bit looser than the slim fit styles of the Arcteryx and Salomon running jackets described in this list, which is good if you prefer a looser fit, or if 'slim-fit' apparel doesn't suit your body shape.
RELATED LINKS: ON Running Reviews: On Shoes & Apparel Reviewed
---
---
4. Salomon Waterproof Running Jacket: Salomon Bonatti Pro WP Jacket (Editor's Choice)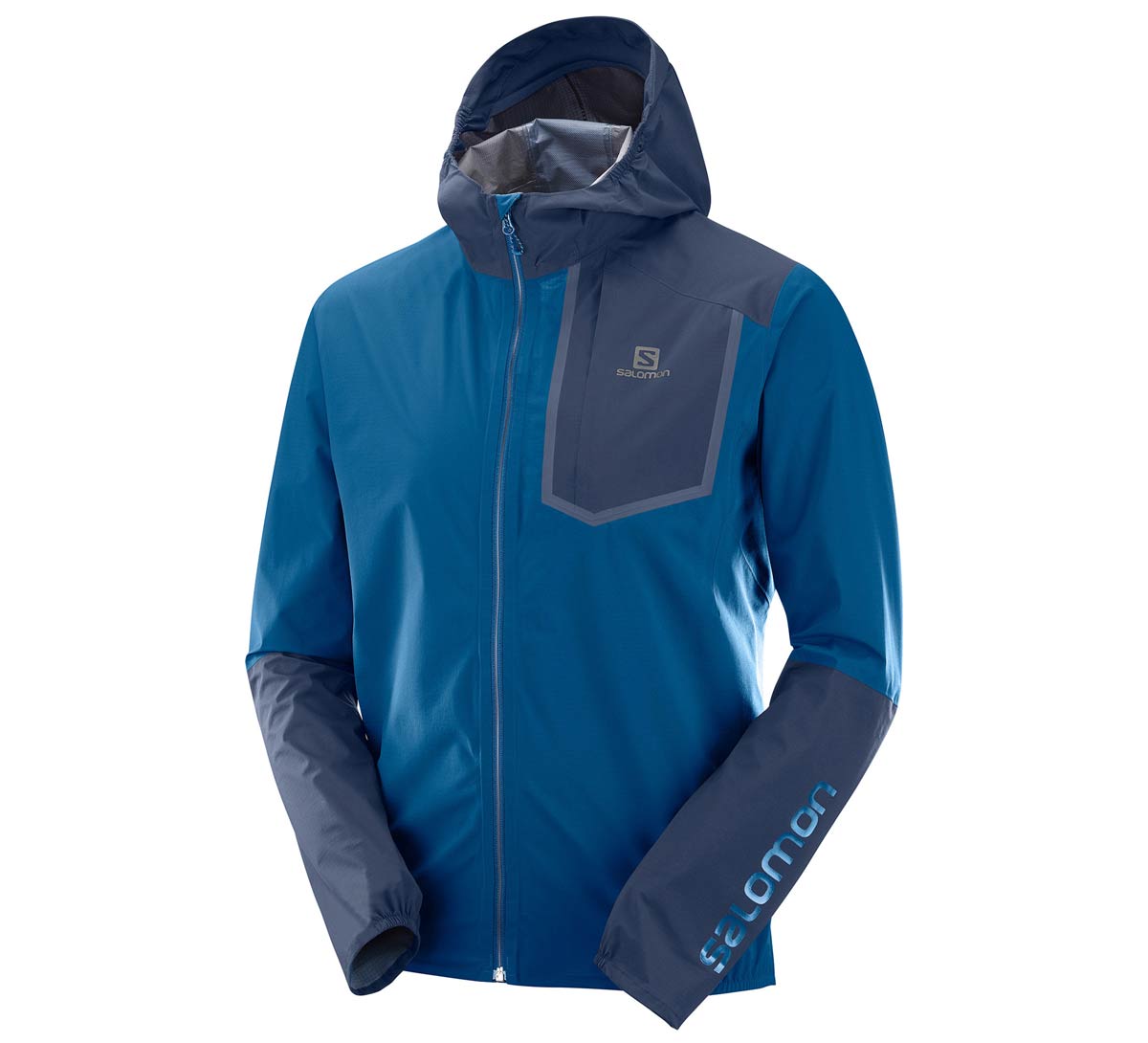 The Salomon Bonatti Pro WP Jacket is a minimalist waterproof running jacket that ticks all the boxes for technical trails: stay dry, stay fresh, and run light.
It's built with technical fabric engineered to deliver weather protection with less weight. This running jacket also has a fitted hood to protect you from harsh conditions like driving rain.
Like some of the other men's waterproof running jackets on this list, the Bonatti Pro WP jacket packs down into its own chest pocket for compact storage when you need to stash it in your running hydration pack. Similar to the Salomon S/Lab MOTIONFIT 360 Jacket above, this one also has MotionFit for unrestricted freedom of movement while being active.
I like how Salomon has started to introduce extra volume on the back of their running jackets to allow for enough room for your hydration vest to be worn underneath, which is smart. Salomon has also added waist adjustment functionality and reflective details for safety at night. Everything about this men's waterproof running jacket has been thoughtfully designed, and this style has protected me personally from the elements over many wet long runs and mountain ultra marathon races.
Last Amazon price update was: 22nd July 2021 10:00 pm
---
5. Mammut Kento Light HS Hooded Jacket
This minimalist lightweight waterproof jacket from Mammut has an athletic fit (making it low-volume) and packs down tiny to stash in your hydration pack when not needed.
This lightweight Kento hardshell jacket also features a quick-to-adjust hood, with a built-in visor, giving it structure and helping the hood stay up even in blustery conditions. Other features include a concealed zip-up chest pocket, a water-repellant zipper and elasticated cuffs and hem.
This jacket does make some noise when you move, but for the sheer convenience and packability of this minimal jacket, it's a great choice for fast-and-light mountain endeavors.
Rei.com
$152.73
See Deal
Amazon.com
$219.00

1 new from $219.00

See Deal
Backcountry.com
$219.00
See Deal
Last Amazon price update was: 22nd July 2021 10:00 pm