The On Running Cloud has been built with everyday active people in mind, targeting those who love being on the move while in urban environments.
ADVERTISEMENT
I hope this On Cloud review answers your pre-purchase questions but if you want to ask me another question, please leave it in the comments below.
On Cloud Shoes Fit & Design
The On Clouds, in my opinion, are beautiful shoes that shows off some of that design flair that the Swiss are so famous for. I really like the little details from the reflective decals right down to a tiny Swiss flag on the back. The upper uses mixed fabrics with varying textures and a color palette that uses a classy range of green tones (in this particular color variant).
I have been wearing the On Cloud shoes as my 'go to' lifestyle shoe since the very first release. Every year sees a new version with design tweaks and fresh new color options, and every year I'm drawn into buying a new pair for reasons explained below.
On Cloud Shoes Outer Engineered Mesh
The engineered mesh material used for the On Cloud upper is very breathable, has a little bit of stretch and offers some protection with a plastic-coated toe cap. The coated toe cap will stop any front-on water splashes from entering the shoe and also prevent any cold wind from hitting your toes.
There are areas in the upper that have been protected with strips of 'no-sew foil' which will firmly hold fabrics together without the possibility of fraying edges.
On Clouds Inner Sock
There's also an inner sock that attaches the tongue to the forefoot area, similar to the On Cloudflow, On Cloud X and On Cloudace running shoes. This keeps the forefoot snug and stops the tongue from slipping out of place. The sock should also reduce any chaffing as there are fewer seams inside.
Also worth noting is that inside the shoe there are soft rubbery strips that run either side of the insole which helps keep your foot in place while walking or running.
On Clouds tongue
The tongue is slim, soft and very comfortable to the touch, so you could even wear these shoes without socks if you like doing that sort of thing. This tongue really adds to the minimal and super lightweight feel of the On Cloud shoes.
On Cloud Shoes Elasticated Speed Laces
On uses a speed lace system for the On Cloud which means you can slip them on and off really quickly if you need to, thanks to the elasticity in the laces. This is one of the reasons that in its early days, the On Cloud was marketed as a triathlon shoe.
Being able to quickly get these Swiss running shoes on, and to wear them without socks makes it a winner for triathletes of all distances, including Ironman too.
On Cloud Shoes Outsole (CloudTec Sole)
The outsole used for the On Cloud shoes is identical to that of the On Cloud X; my current favorite shoe for speed training on the roads! If you haven't tried to "Run On Clouds" before, I recommend you give it a try! The CloudTec sole is an innovation that always helps me to run faster, especially when putting on a new pair. The CloudTec cushioning comes in part from the cloud pods that provide a cushioned/soft landing, as they compress under your weight and then provide a barefoot take off as your foot leaves the ground and the pods spring back.
Taking a closer look at the CloudTec outsole reveals that the 'clouds' have had their inside edges sliced off, angling outward. This much-needed design tweak stops any small stones or debris getting caught in the pods, which used to be a problem shared amongst many.
On Cloud Shoes Drop and Support Type
The On Cloud has a heel to toe drop of 6mm, great for all-day comfort if you spend much of your day on foot. The Cloud has a neutral support type which means there's not much additional arch support in the removable insole insert – this will suite most people who have average feet. If you do feel you need extra arch support then I would recommend reading our Tread Labs insoles review next, which explains how their running insoles can help improve comfort and form for those who need the extra support underfoot.
On Cloud Toe Box
The toe box is medium width and feels very airy which is important if you lead an active everyday lifestyle. You'll likely to be wearing these shoes every day, to work, the gym and even impromptu runs. A shoe that gets this much use could start to smell if it wasn't as breathable as it is.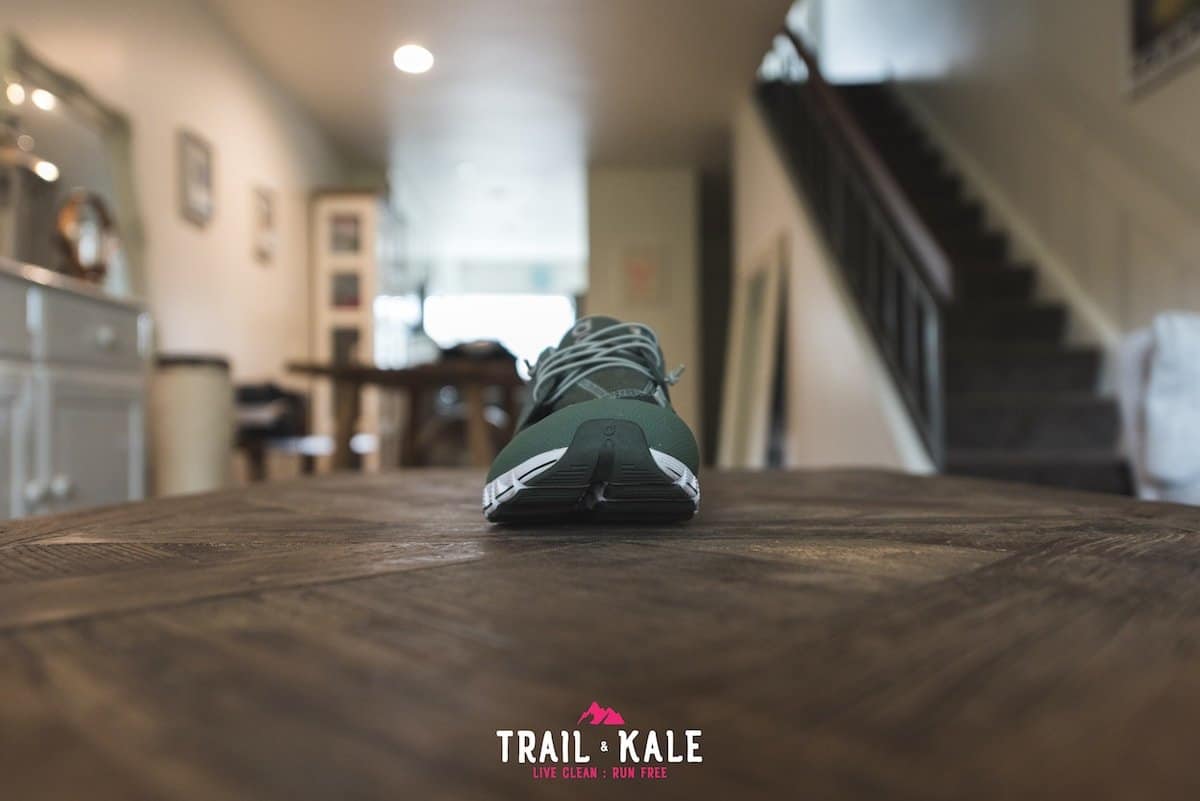 On Cloud Weight
The On Cloud weighs in at 230g (US M 8.5) which is super lightweight. This is probably what you'll notice first if you haven't held a pair before. It does sacrifice a touch of cushioning because of the minimal style but for an everyday lifestyle shoe, this isn't an issue.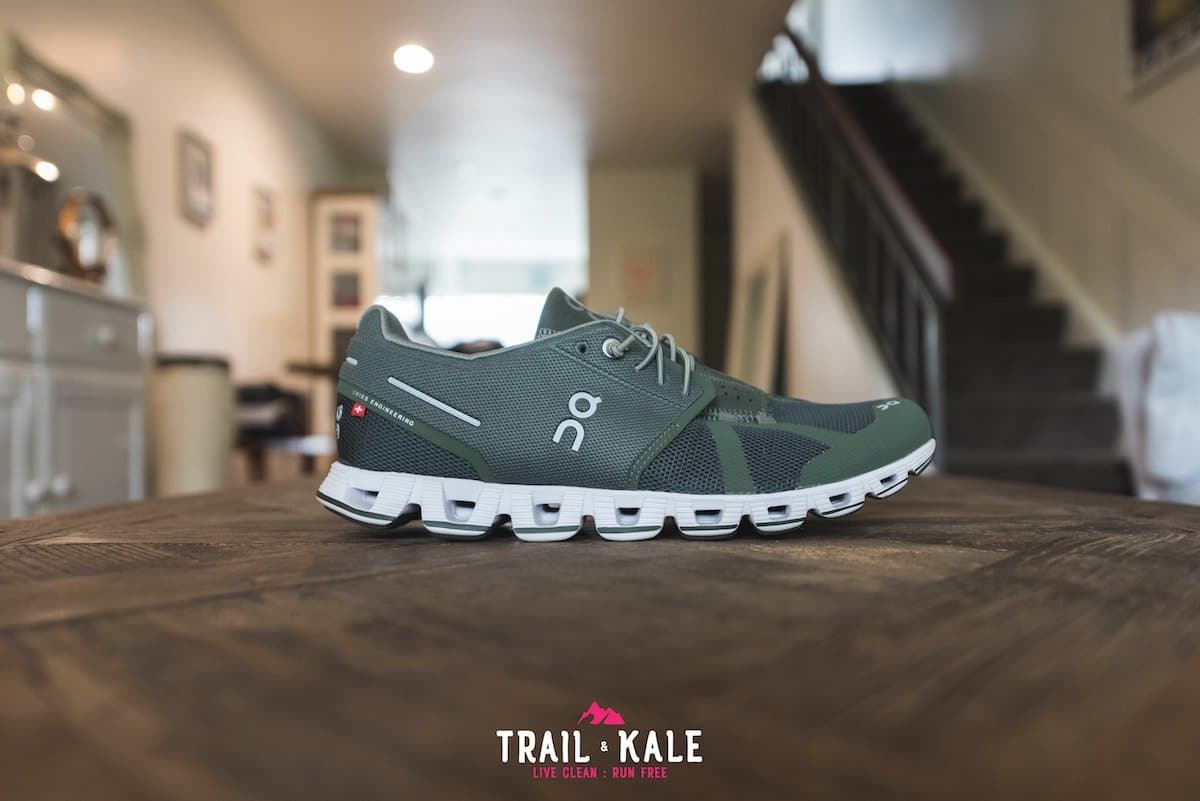 The On Cloud shoes come in many different colors for the men's and for the women's too, which is fantastic so be sure to check them all out.. On is constantly updating the colorways so I won't list them all here in case they change next week. The color scheme of the shoes in my review is called "Forest & Jungle" (creative naming as ever!) and the color of the Cloud Womens shoes, pictured to the left (above on mobile) is called "Denim & White". I love the sailing style of this one, very stylish!
Moving in the On Cloud
The On Cloud is a very comfortable shoe that I wear all day long. I feel free knowing I can break into a run whenever I happen to feel like it or if I'm running late. And the stylish design keeps me looking fashionable, important for me as a creative. It's incredible how many people comment on them when I'm out. Some even come up to me asking what brand they are and where they can buy them.
Where to buy On Cloud Shoes
Last Amazon price update was: 25th January 2022 10:01 pm
---
On Cloud Review Summary
The On Cloud is my 'go-to' lifestyle shoe. Many other training shoes just don't look stylish enough for me to want to wear them all day long, while I'm at work or heading to the city. I love being able to break into a run, have the comfort of a running shoe without sacrificing style. This is why I keep choosing On Cloud shoes for my everyday lifestyle.
On Cloud 2.0
Pros
Very Lightweight
Beautiful design
7 color options for men and women
Mixed use shoe for lifestyle, running, gym...
They slip on and off - great if you're a triathlete or just getting ready in a rush
Breathable
Reasonably priced
Cons
Midsole is too minimal for running long distances
---
It's also a very good shoe for running and triathlons due to their easy 'slip on' design and comfort while running sock-less. They are a bit more minimal than say the On Cloud X for running, but if you enjoy running in a minimal shoe and want to look great while doing so, then these shoes are for you!
On Cloud Review Image Gallery
---
Still not sure which On Running Shoes to buy?
I hope you enjoyed this On Shoes review, if you're still not sure which On Running shoes to buy, visit our Best On Running Shoes Buyer's Guide for an ordered list of the top ON Clouds for road and trail running. It has been designed to make your buying decisions easier.