This Part 6 video update on our DIY Sprinter van build includes showing you our van's HUGE bed, explaining the system we have to stop mold and condensation under the mattress (which is a big problem for campervans, boats and RVs), how we installed a dog crate in our campervan (where our Border Collie dog Kepler sleeps and travels) and how we've integrated dimmable LED lighting into the build.
ADVERTISEMENT
When installing a bed in your DIY van build you have a few choices, including where the bed should be in your van, how big should your campervan's bed be, and should it be convertible or a fixed platform bed? In this video we show you what our bed looks like and explain why we chose a large platform bed, that is the same size as the bed we have in our house.
See, I told you we didn't want to compromise on life's little luxuries, even when traveling in our campervan! That's why we have features in our van that you won't see in many campers, such as the huge bed, a barista espresso machine, a toilet and more.
---
Watch our DIY Sprinter Van Build Video Update – Part 6
---
How we installed a huge bed in our Sprinter Van
Ok, ok, huge for a 144 wheelbase small Sprinter campervan. Our bed is a short US Queen-Size (a UK King-Size) – which is plenty big enough for the two of us, plus our dog and two cats to hang out on. It's 60 inches wide by 75 inches long at the longest part – that's 5ft wide by just over 6ft long! Regular Queen-sized beds are normally 80 inches long, so it's considered a 'Short Queen' (or 'RV Queen') but plenty long enough for us, at 5ft 8 and 5ft 4 tall respectively.
How did we get such a large bed in our Sprinter campervan?
Having Flarespace Flares installed in our van increased the width of the rear section of the van, allowing us to sleep from side-to-side within the van, and get to a bed length of 75 inches (over 6ft) which is long enough for us to both stretch out fully when lying down in bed, even with pillows. We explain more about why you'd want to get Flarespace Flares in your Sprinter van when converting it in Part 3 of our van build series.
The platform bed we used in our van was actually from Flarespace, too. It is attached to the walls using reinforced galvanized steel sheets and powder-coated steel wall brackets for the bed platform to sit on. In hindsight, given we wanted our bed to be fixed in place, not modular or removable, it would have been more cost-effective to install the platform bed ourselves using a combination of wood and aluminum bars.
We ended up having to modify the Flarespace bed by drilling holes through the frame and wall brackets, to be able to bolt the two bed panels down – without them being fixed down they rattled and made a lot of noise when driving.
Although it took more modification work than we expected to get the bed fixed down and secured, we're really happy with the end result, because our bed platform is very minimal, allowing for maximum use of space in our van's garage area, which is really open and provides plenty of room for our dog crate, adventure toys and other storage in the van. Thinking about maximizing the use of space, especially in the small Sprinter vans like ours, is so important, because you have such a small amount of space every inch counts.
For more pictures of our van's interior, including the bed, dog crate and other features, head over to our Instagram feed!
---
Making a custom mattress for our campervan
It seems that if you want a mattress in your campervan, almost every company that sells RV or campervan mattresses, including Flarespace (where the bed platform came from), sells only memory foam mattresses – and they are VERY expensive (I'm talking in the region of US $900). We have had several well-known brands' memory foam mattresses in the past and hate them with a passion, generally in our experience they are very bad for lower back support if you sleep on your back, and also poor when it comes to temperature regulation.
For these reasons, we opted to create a custom mattress for our campervan that fits the bed's space perfectly and is made from high-quality foam that is comfortable and firm to sleep on and supports our backs for a good night's sleep.
The key features of the foam I used to make our van's custom mattress are that:
it provides much better support than memory foam (in our experience)
breathes well (which helps us sleep comfortably as well as reducing the potential for under-mattress condensation) and
is antimicrobial to help suppress and prevent microorganism growth
On top of the 3 inch 'dry fast' foam, we have a soft topper layer of open-cell foam (polyester fiberfill).
The foam is then covered with an organic cotton mattress cover, which is the blue material you can see in our photos.
If you'd like to know more about how I made the mattress, let me know in the comments and we'll add it to the list of videos we'll be producing on each custom aspect of our van build!
---
How do you stop condensation under your campervan's mattress?
A major issue many people who travel in RVs, boats and campervans can experience is condensation under their bed's mattress and seat cushions! Having spent a lot of time living on a boat, I understand that the condensation is inevitable – because we all produce moisture when we breathe, cook, sleep and wash!
That is especially true when you are traveling with a dog (and two cats) in your campervan, given the dog pants and his hair traps moisture that eventually needs to evaporate into the air. Plus, traveling in places with high levels of humidity can make the condensation challenge greater.
However, there are some simple ways to stop (or at least) reduce condensation in your campervan. We've talked previously about having good ventilation and airflow in your campervan. I also explained above why we chose to use dryfast foam to make our van's custom mattress.
In this video I also explain the material you can put under your campervan's mattress to improve airflow and prevent moisture accumulating under there – which can produce mold and mildew if not addressed.
---
We installed a dog crate in our campervan
When traveling in a campervan (or any vehicle) it is important to keep our pets safe, to stop them moving around and distracting us when driving, as well as so they can be protected in the case of an accident.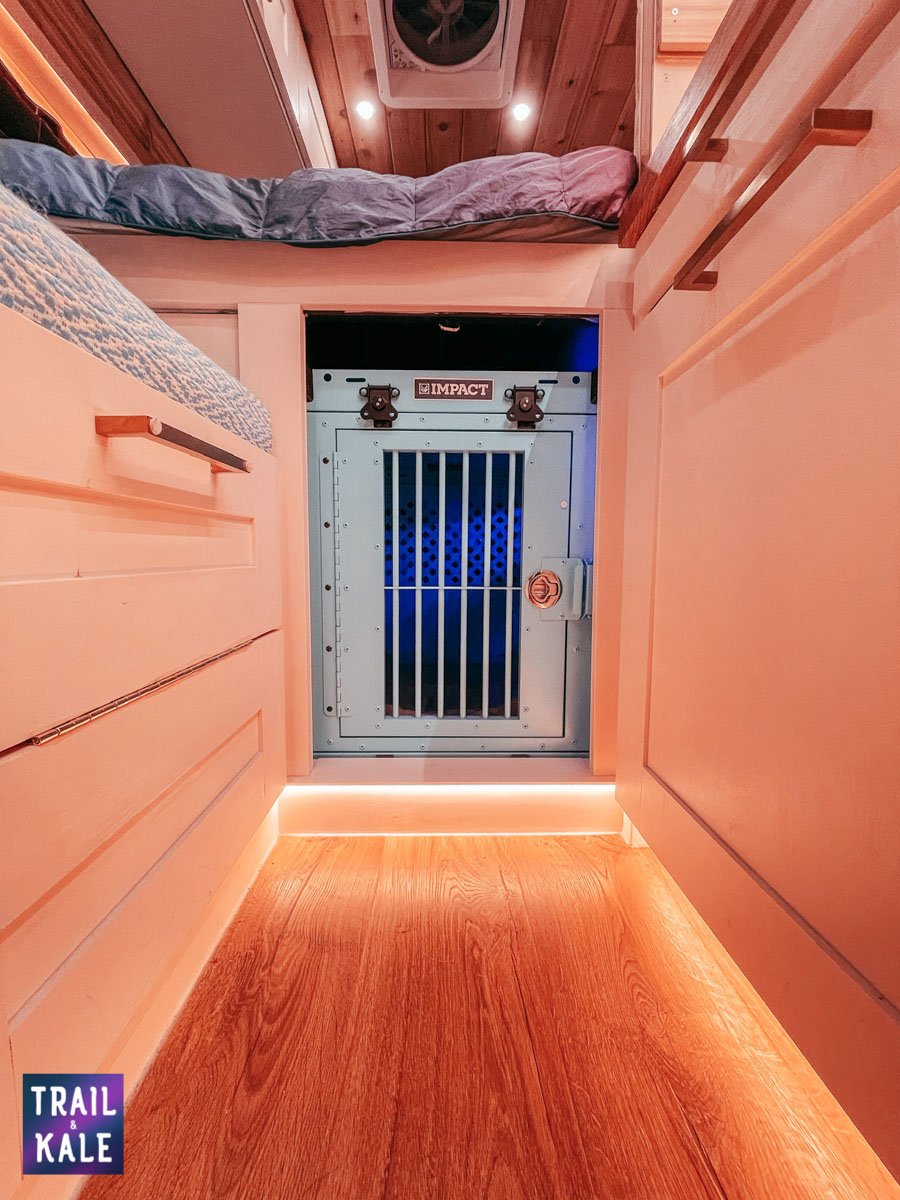 For this reason, we invested in a good-quality dog crate in our campervan, which our dog travels and sleeps in. His crate acts like his den, where he hangs out and sleeps at night and can feel safe in.
As you will know from our van's photos on Instagram as well as previous DIY van build video updates, we have converted our van by making everything custom to our desires and needs.
We originally planned to create a custom dog crate for our campervan, however we learned that Impact Dog Crates make some excellent crates and, importantly, one that would fit perfectly into the space in our campervan that was reserved for Kepler's crate. The Impact crate we chose is their folding crate, which you can collapse to around 1/3rd of the assembled height, which makes it easier to transport (and for us, to get in and out of the van) than a fully-assembled fixed dog crate.
Having the Impact dog crate in our campervan is a great solution as it also means the crate is removable if we need to use the van's garage area to store larger items when he is not traveling with us, and it is lighter-weight than a wood-framed crate that we would have made if building a custom one ourselves – which is good for lifting the crate in and out of the van, and also because throughout our Sprinter van conversion process we have been mindful of the overall build weight, and keeping the buildout as light as possible while not compromising on luxury, safety or quality.
In terms of location, the only logical place for our dog crate in our campervan was in the garage area. If you have a smaller dog then you may be able to get creative in having a crate in the main living space of the van, but as our dog's crate needed to be taller than our seating area it wasn't an option to have it anywhere else. It's great having it under the bed as he seems to naturally like hanging out under the bed (even at home) so the location has worked out really well in the Sprinter van, too.
We were originally planning to install a door in front of the dog crate, so that this area looks like the rest of the galley area – with custom shaker doors and gold/brass door handles. But when we installed the crate, we decided to leave off having a door, at least for now. It looks pretty cool how it is, allows Kepler to see us while we are driving, and the color of the crate actually matches some other elements of our color scheme, which we have not yet completed in the pictures you see in this post.
---
Dimmable LED lighting in our campervan
As Alastair has a professional background in visual effects and lighting design, it was only right that he brought that expertise to our Sprinter van conversion! Lighting is often overlooked in many van conversions but is super important when it comes to the overall ambiance and function of a luxury DIY van build, as well as from a practical perspective.
The reality is that at night, as well as on very hot (and cold) days, we'll have the window shades on and will need good lighting inside the van given the absence of daylight.
As part of our build, shown in this video update, he shows some of the recessed dimmable LED lighting we installed in the van's flares and toe-kick area.
It's not difficult to install dimmer switches, it just takes some planning when doing your 12v LED lights' wiring so that you can connect the extra wires at the dimmer switch. I particularly love the recessed in-flare lighting, it's great for movie nights and when we want some low-level lighting that's not too harsh.
Gallery – The Huge Bed, LED Lighting and Dog Crate In Our Campervan
We'll be adding new videos explaining each aspect of our DIY van build once the build itself is complete. This will include an overview of features such as the electrical system, solar charging, water system, our totally unique garage area design, as well as vanlife videos covering topics such as how we travel and live in the van with our dog and two cats.
If you have any questions about our DIY Sprinter Van build, drop us a comment below and we'll get back to you!