If you are interested in spending time outdoors, whether that's traveling, hiking, running or some other type of sport or activity, you may be curious to learn how you can make your outdoor activities and adventures more sustainable – both for you, and for the environment. In this post we explain some of the best ways to make your outdoor adventures more sustainable.
What is sustainability? It can mean different things to different people, however when we think about making outdoor adventures more sustainable we are talking about how we can make our activities and time spent in nature repeatable and maintainable without adversely impacting the environment and being respectful to the land and other people who use that land – both in terms of the place we are physically, as well as a bigger-picture impact that our activity may have on the local and global ecosystem.
1. Choose Human-Powered Activities and Outdoor Adventures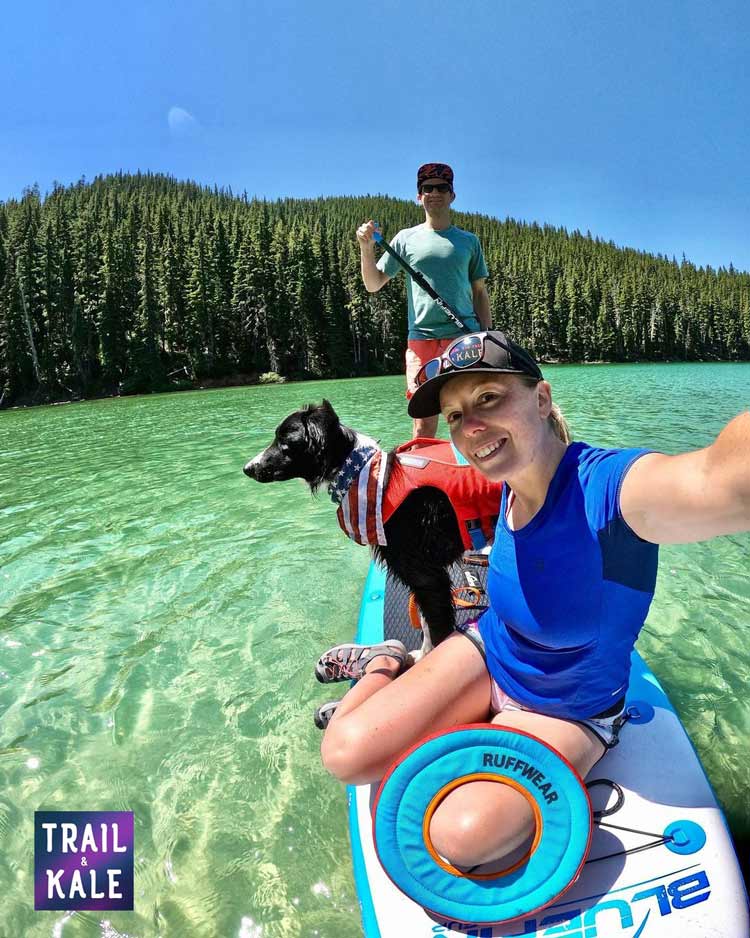 Minimizing your impact on the environment
When it comes to seeking more sustainable outdoor adventures, the first step to consider is how you can make those activities more 'human-powered'.
When we talk about human-powered, we mean movement driven by you – whether you're trail running, hiking, on a bike, on skis, on a paddle board or kayak, you're traveling using your own energy, not generating engine noise or traveling using a heavy vehicle, and not consuming resources such as fossil fuels to drive your movement.
Another way to keep your environmental footprint down is to consider adventures that are closer to home and keep your travel-related carbon footprint to a minimum. This website offers a load of guidance on the steps you can take to minimize your impact on the environment when traveling and on vacation.
Enjoy the health benefits of human-powered activities
The other significant benefit of pursuing human-powered adventures is, of course, the health and fitness benefits you will experience from the cardio and strength workout you'll get from those activities, which can be as massive and intense, or minimal and mellow as you want to make them. Not only does it benefit your physical health but outdoor exercise also helps improve your mental health too – in ways it's often hard to describe.
All the activities and sports we cover at Trail & Kale are human-powered. If you're looking for tips and ideas to get started or try out a new human-powered outdoor activity or adventure, head over to our advice section where you'll find loads of tips and beginners' guides for everything from trail running and hiking to SUP and snowshoeing.
---
2. Be mindful of the outdoor clothing and gear you consume
When many people thing about making outdoor activities more sustainable, their first thought turns to how you can buy and use more sustainable outdoor gear and clothing.
The quality and quantity of outdoor gear we use and buy is a huge area where we have the potential to make a positive impact (or at least, minimize our impact) through being mindful about our consumption of these products .
Anything that gets produced has an impact on the environment, from the sourcing of the materials needed to make it, the manufacturing and distribution process, as well as what happens to it when it reaches the end of its life.
The best way to be more sustainable when it comes to your outdoor clothes and gear is to minimize how much you consume. Here are some ways to minimize your impact on the environment when it comes to your choice of outdoor gear and clothes:
Use existing outdoor gear – either gear you own, or for new-to-you activities, consider renting or borrowing the gear and expensive items of clothing such as waterproof jackets and backpacks, so you can work out if the sport and the type of gear is right for you before you buy your own
Consider used outdoor gear – When buying new (to you) outdoor gear, save money (or get a higher-quality or specification product) and have a positive impact on the environment by seeking out used (and like-new) gear from your local outdoor store or online using REI's Used Gear website, where you can find returned new, and lightly-used outdoor gear at a significant discount from the retail price. To learn more about REI's used gear initiative, read this article.
Repair your older outdoor clothes and gear rather than looking at replacing them entirely. If you have a hole or part missing from your jacket, tent or backpack, for example, consider whether they can be fixed and saved from landfill.
Buy quality gear that is made to last – when you consider sustainable outdoor gear, this includes ensuring any new gear you buy is built to last and will not need replacing often, minimizing the amount of gear you consume and what may end up getting disposed of when it reaches the end of its life. Plus – older, heavily used outdoor gear usually has a great story to tell! We make a huge effort to bring you trustworthy, and informative outdoor gear buying guides to ensure you know about the best gear that's built to perform, and last.
When buying gear, look for sustainability certifications – There are also many great outdoor gear brands out there now who are making great efforts to become carbon neutral, or at least minimize the impact that the creation of their products have on the environment, including using recycled materials and manufacturing techniques that reduce pollution and water consumption, so it pays to seek them out when you're next looking to buy new outdoor clothes and gear.
If you're a regular reader of our articles you probably already know that we are members of the REI Co-Op. One of the reasons we love REI is that it is a values-driven organization that is on a mission to drive improved sustainability in the outdoors industry, and one way they are doing that is by having standards such as the sustainability requirement for brands sold at REI, as well as initiatives such as their used gear website mentioned above.
REI's sustainability standards include requiring brands to measure and reduce their carbon footprint as well as being encouraged to use materials and processes that meet the requirements for certifications like bluesign, Fair Trade and Climate Neutral. You can learn more about what REI stands for and their stewardship policies and practices here.
---
3. Learn more about the natural environments you spend time in
One of the best things about spending time outdoors in nature is that actually, you don't have to be going anywhere, or even being particularly 'active'. With so many people struggling to get enough peace and time to think, reflect and practice mindfulness, it is highly beneficial to spend time outdoors in nature for the purpose of simply being there, rather than doing anything else in particular.
How is simply spending time in nature related to sustainability? There is a lot of evidence out there now about the health benefits of spending time in nature. By spending time amongst nature and in quiet outdoor spaces, this type of sustainability is all about looking after your own 'headspace' and fostering a positive mindset. We've previously written about the link between trail running and mindfulness, and why our favorite outdoor pursuit can be beneficial to mental, as well as physical, health.
If simply doing 'nothing' except 'being' in nature doesn't immediately appeal to you, but you want a more mellow activity than a sweat-generating hike, trail run, or other human-powered sport, then the following learning activities will help increase your knowledge of, and connection to, nature. They're also great things to do with kids if you're looking for outdoor activities to do with them – and none of these require the expense or consumption of large amounts of expensive outdoor gear, either.
Natural navigation – this is a hugely important skill, especially if you spend time in the backcountry and don't want to be reliant on map and compass or GPS devices to help find your way. One of the best starting points we have found is this excellent book on the subject. If you want to learn 'map and compass' navigation, REI also runs dedicated navigation courses that may be of interest
Flora and fauna – learn what birds are making what sounds, the types of reptiles and mammals that live in the area, what plants grow and where, and which are edible species. It is highly rewarding to understand more about what animals are doing what, where, when and why – it really helps provide a greater sense of appreciation for the beauty and complexities of even the smallest things in nature.
Clouds and climate – understanding local micro-climates, as well as bigger-picture regional climates and weather trends, can really help you understand the environment you're in, as well as, from a practical perspective, help you know what to pack for outdoor adventures in the future, as well as when to predict weather events such as thunderstorms where you may need to take cover from a downpour or lightning strikes.
Try stargazing – Stargazing is a highly grounding, interesting pastime to learn, especially if you are traveling or camping somewhere with dark, clear skies. You don't even need a telescope to start stargazing and learning about the night sky. To learn more about stargazing, read our beginner's guide to stargazing.
---
4. Follow Leave no Trace principles
If you consider yourself to be a careful and considerate person then the chances are you already know about the seven 'Leave no Trace' principles of outdoor recreation – or if you don't know about them specifically, you are already following those principles in how you spend time on your outdoor adventures and travels.
Many of these principles relate to literally leaving no trace – no trash, not stepping off the trail and causing damage and erosion to delicate parts of the local ecosystem, only camping in existing campsites, and ensuring you are appropriately burying your own human waste and packing out toilet paper.
It's worth reading through the list and advice, however, because some of the suggestions for improving others' experience of the outdoors and reducing your own impact may not be those you've thought of. You can read the full list by visiting the Leave No Trace website, and it's worth spending more time on there and exploring the work they do and problems they solve when it comes to sustainable outdoor recreation and enjoyment.
We've also highlighted below some of the ways you can follow the principles that you may not have previously considered – because these are the ones we often find aren't as well-applied as they could be:
Avoid loud voices and noises – this is one that many people don't consider. Voices carry a long way in natural, open spaces (especially canyons) and it can be disruptive for other trail users who are trying to enjoy peace and the sound of nature if all they can hear is someone else's conversation from half a mile away!
Avoid using trails when they are wet or snow-covered – if there is a significant risk that your use will make the trail wider or more rutted. This can really help reduce trail damage that ends up needing to be repaired by volunteers or park staff and can result in trail closures.
Leave rocks, plants and other natural objects as you find them – pretty rocks and leaves should stay where they are and not become souvenirs or paperweights, or even rock cairns.
Be courteous, and yield to other users on the trail – if someone is hiking (or running) uphill and you are headed downhill, it's respectful to let them pass!
When it comes to reducing the amount of waste and trash you produce when out in nature, a reusable water bottle is a must-have for any type of outdoor adventure if we are to reduce our use of disposable plastic water bottles.
These popular Nalgene bottles are themselves made from recycled plastic, so if you need to invest in a quality re-usable water bottle then they make a great choice and fit in most good hiking daypacks' / backpacking packs' side pockets for easy access.
---
5. Get involved in community-focused outdoor activities
To make your outdoor adventures even more sustainable than simply leaving no trace of your own and being mindful or learning about the natural environment as described above, consider getting involved in local sustainability-focused outdoor activities that benefit not only you but the local community of trail users as well as the environments you are supporting. It's also a great way to connect with and meet new people and be active outdoors with purpose.
Examples of these activities include volunteering with local groups to help with trail building and repairs, trail and beach clean-up and litter collecting initiatives, and data collection for local wildlife surveys which are used to monitor the native and invasive species in the area. The Leave No Trace Center provides some great resources for getting involved, and their website is a great starting point.
---
Thanks to REI for continuing to support us so that we're able to share these suggestions for making your outdoor adventures, travels and gear choices more sustainable. For more information about REI membership and why we're such big fans of the REI Co-Op, click here.