Here's what we swear by for our race day breakfast, which is also an important meal to have before a long run in the morning.
The food you choose to eat is important from a nutritional perspective – and you also may be limited on choice, depending on where you are staying, the night before a long trail run or race, for example.
What does a good race day breakfast need to deliver?
Slow-release energy
Not too heavy on the stomach (and not sloshing around)
Keep it simple (and fairly bland)
Practicalities…What breakfast options and facilities will you have access to on race morning?
Many races start early in the morning, or require an early start in order to travel to the start line on time.
Personally, I want to eat my race day breakfast at least two hours before the race start, so this needs planning into my race-morning routine.
You need to consider whether your accommodation the night before will enable you to have breakfast at the time you need to in the morning.
Are you at home or in a self-catering accommodation the night before the race, or are you in a hotel or B&B with limited/no breakfast options at the time you need to eat?
Reduce race morning stress – limit scope for decision-making by working out before race day, what you are going to have for your race day breakfast
I find a great way to focus myself on what is important, is to reduce the number of decisions I need to make. This applies to the morning of a race day – I avoid giving myself choices, which expose me to the need to make decisions – which I may stress over, no matter how insignificant! Therefore, by keeping breakfast choices really simple and limited, it's one less thing to think about – and I can focus on remembering to take the right kit with me, and working out how to get to the start line on time.
---
DEALS ON OUR FAVORITE GEAR
---
With all that in mind…. depending on the time I need to eat, and where I can easily access kitchen facilities / a breakfast in a hotel, I'll eat one of the following options…
Coffee (ideally French press) + porridge

OR

Coffee (ideally French press) + wholewheat or sourdough toast, with nut butter (eg almond butter).

PLUS

A whole or half banana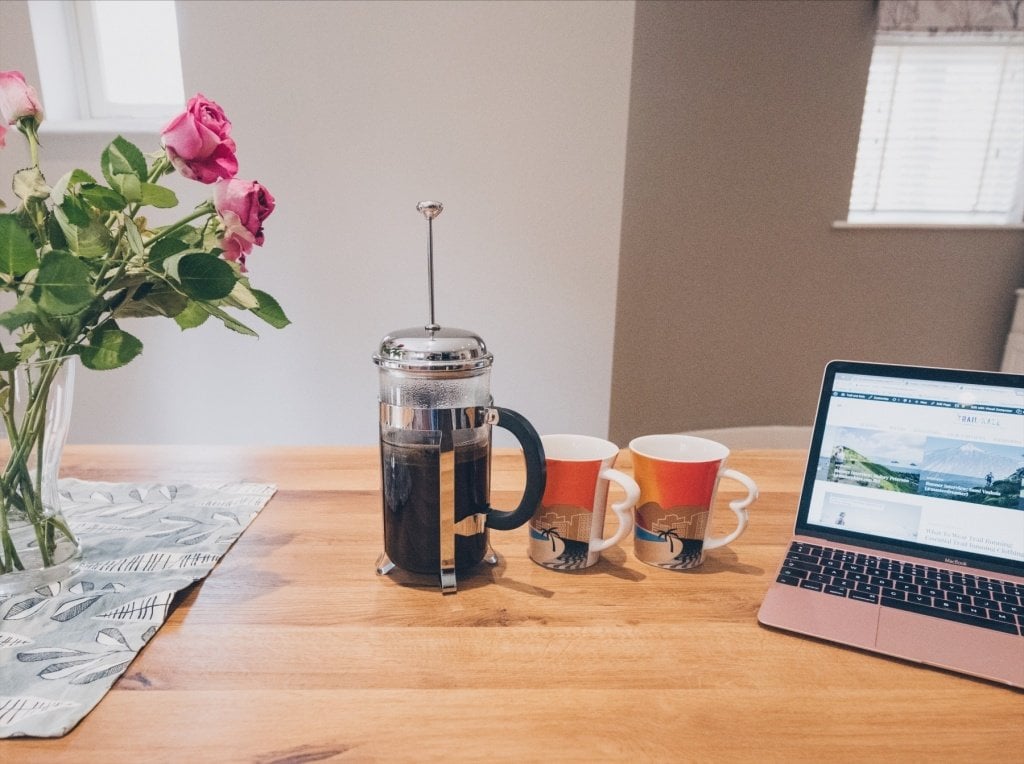 Coffee
Coffee is always involved. Why? Because I like it, and it's probably early in the morning! Also because a nice cup of French press coffee is enough liquid to wake your body up – you really ought to go to the toilet before getting to the start line and facing hours without a proper loo.
Porridge
I'm not the biggest fan of porridge. It can be a bit heavy if you eat too much… but then it is very filling, and top class slow-release energy food, which you need for a long day of endurance activity. So if I eat the right amount, I know I'll have plenty of energy that day. If you want, you can also throw in some nice fruit, like banana slices and/or raisins, which will give an extra energy and nutritional boost.
Another great advantage of porridge is that you can make it using a kettle and a spoon.
If you're in a hotel or B&B with nothing but a kettle, mug and spoon, then the hands-down best option for breakfast is a coffee and a pot of porridge.
I'm still working my way around trying the various brands of instant porridge-in-a-pots, but one that I know works for me is MOMA's golden syrup porridge. You don't need a bowl, just top up with hot water, like a Pot Noodle, and – voila – a wholesome breakfast to go with your coffee.
Toast and nut butter
While not quite as long-lasting on the energy side as porridge, I know two or three slices of good quality bread, toasted, with almond butter (and maybe a splash of honey) will make a good breakfast. However you need to have access to a toaster and fridge in order to be able to make it.
An added bonus… a banana
If you end up having breakfast a long time before your run actually starts, you can also do worse than have a whole or half banana around 20 minutes before the start time.
Call for comments!
We'd love to hear your simple race-morning breakfast tips – are you a porridge fan, or do you have another great go-to option?
This post is part of our new "Trail Running Food" series! If you like this post, why not check out some of our other posts and subscribe by going to trailandkale.com/signup to receive future post updates via email, including our future posts in the Trail Running Food series!
Other Trail Running Food posts: