What do you need to pack for trail running?
When we wanted to start trail running we found there were not many comprehensive sources of information out there on what to take with you. Using years of trail running experience, we have put together the essential guide on what to pack for trail running.
RELATED: The Ultimate Trail Running Gear Guide: What To Wear Trail Running
While a lot of it is common sense, and what you pack for trail running very much depends on where you are going running, and for how long, this guide will help you if you are:
interested in starting trail running and not wanting to hit the trails under-prepared
already a trail runner but have been focused on running shorter distances to date, and are exploring what to pack for trail running over longer durations or distances.
Location
Where you are running, including the country, climate and terrain or type of trails you are planning to run on will all affect what you should consider taking with you in your pack for trail running.
The terrain, for example, may influence what shoes you take, and the technicality and climbing /descending will affect how long you are out for. If you're running in mountain areas or somewhere particularly hot then you need to be prepared for the weather and temperatures you may get exposed to.
---
TOP DEALS FROM THE BRANDS WE LOVE
---
---
For a guide on which running shoes to use for different types of terrain:
The Best Trail Running Shoes: The Ultimate Buyers Guide!
---
In the mountains
This could mean scorching hot weather and freezing cold rain and thunderstorms, all in the same day, so you need to bring kit for hot weather as well as warm layers and a waterproof jacket.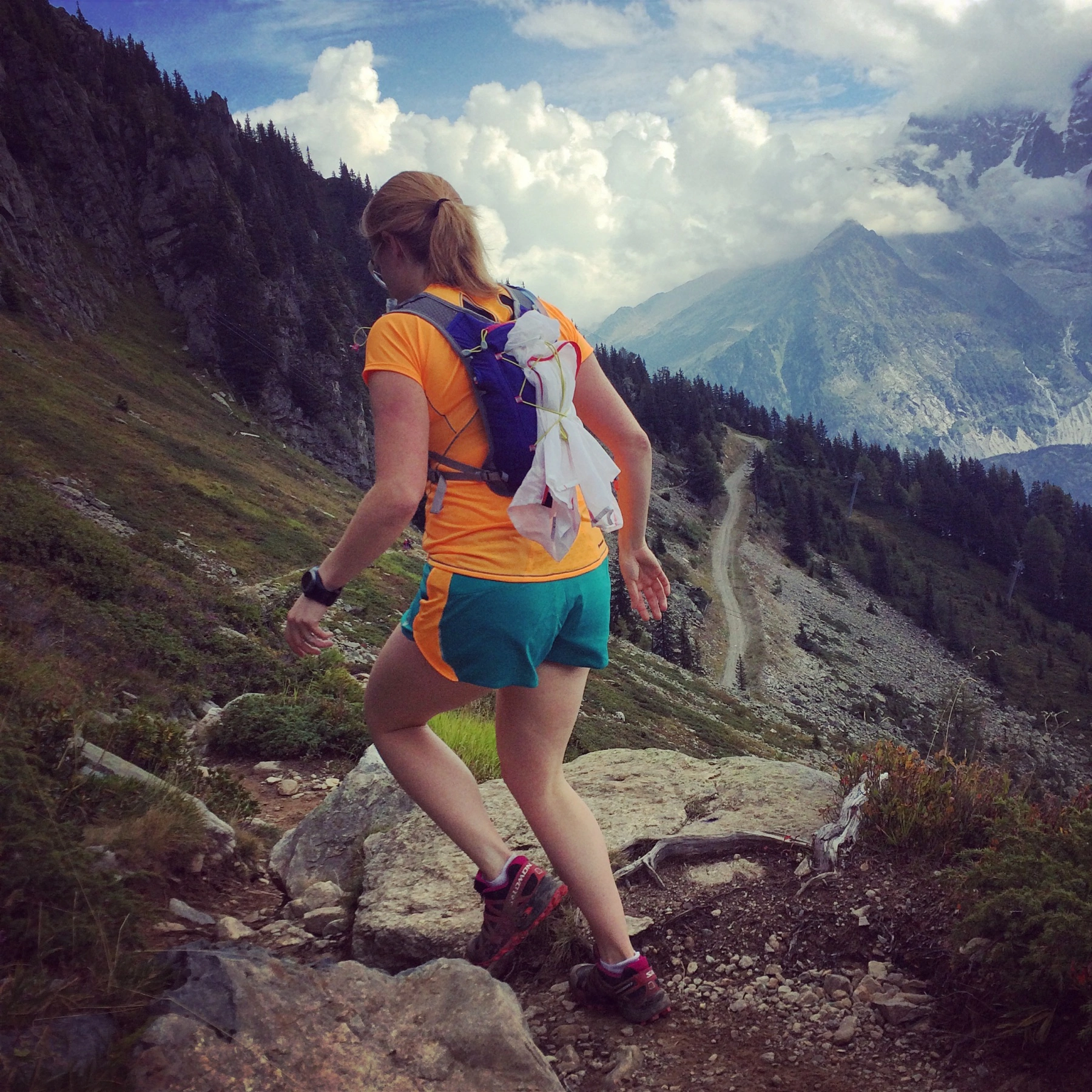 In hot climates
Think about how you will access safe water sources to refill your bottle, if needed – and a cap / visor, sun cream and good sunglasses will be essential.
Planned (or potential) duration of your run
If you're going out for an hour or so then you won't need to carry the same amount of kit that you'd need for four hours or a full day out on the trails.
Having said this, it's not unusual for a run to take longer than planned – prepare for the unexpected!
A run could take longer than planned  because you're having such a lovely time than you choose to stay out longer, or it could be you get lost or end up making slower progress than expected, whether due to the terrain, weather, or an injury meaning you end up being out for longer than you expect.
Essentials to carry on a trail run
On a trail run shorter than 1.5 hours, and assuming no mountains or extreme heat or cold:
If going out longer than 1.5-2 hours (say 3-5 hours) but not all day, I would also take:
RELATED: How Can I Prevent Muscle Cramps While Running?
Other items to consider taking:
To read an in-depth list of what I take in my 'blister repair kit', read this post: Treat Running Blisters: a how-to guide
For all-day adventures I would normally add:
Depending on how many items I am taking, I'll either stuff them in pockets or carry them in a race vest or pack – normally the latter.
A good race vest isn't cheap (typically £70+/$100+) but a good one is worth the investment. You can wear it on every long run, hike or race for years to come!
There are a lot of brands out there offering race vests. We use two of the most popular, Salomon's S-Lab Advanced Skin 5 litre, and Ultimate Direction's Womens Ultra Vesta (c.4 litre capacity).
My new go-to race vest is the Ultimate Direction Ultra Vesta 4.0 (Women's) – the new and improved version of the original Ultra Vesta, which can carry larger soft flasks and has more storage.
---
RELATED: 5 Best Trail Running Poles this year (So Far): For Ultrarunning & Hiking too!
---
Examples of trail running packs & contents
We've put together a video where we run through all the items we considered or chose to pack for the Matterhorn Ultraks 46k/30k:
Also see below some kit pics we have taken before trail running races showing all the pieces of kit we pack for trail running.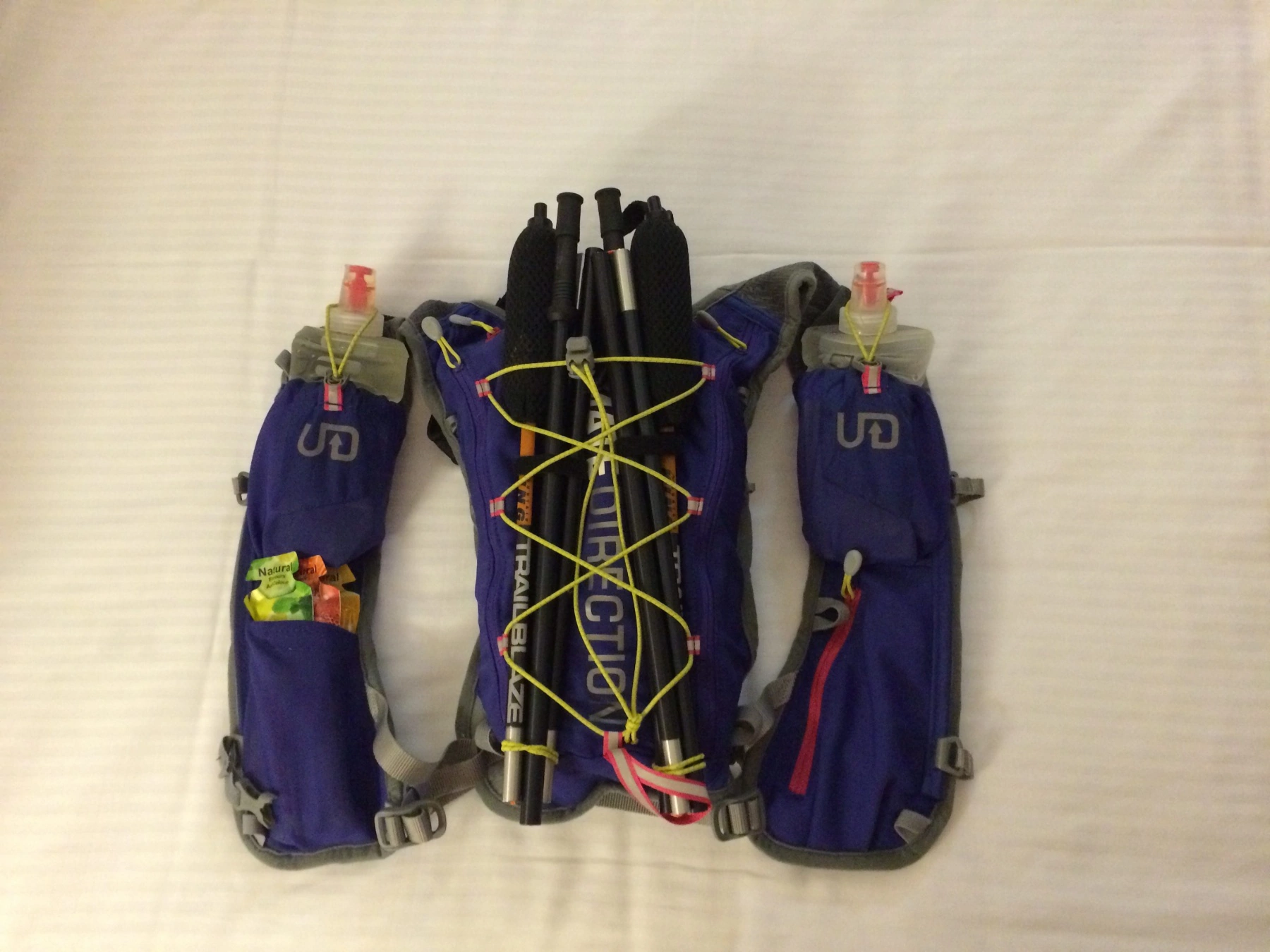 I hope this post helps you pin down what to pack for trail running. If you have any questions just post them in the comments below and we will be happy to help answer them 🙂