If you're thinking about making a health, wellness or fitness-related New Year's resolution this year, and are looking for some New Year's resolution ideas, then this guide is for you.
ADVERTISEMENT
As well as sharing recommendations for your healthy New Year's resolution, we also share our top three tips to help you stick to those intentions well into the new year… and beyond.
Consistency is key when trying to build healthy habits, so whichever resolutions you take on from this list, be sure to focus on doing them regularly, in a manner that allows you to sustain a consistent approach.
---
TABLE OF CONTENTS
10 great healthy New Year's resolution ideas
3 tips for keeping your fitness New Year's resolutions
---
10 Health & fitness New Year's resolution ideas
Read on for our New Year's resolutions recommendations, intended to benefit your mental and/or physical wellbeing, together with the gear that can help you make these healthy habits more enjoyable, and therefore easier to build into your lifestyle long-term.
1. Take up (or try out) a new sport or activity
The possibilities are endless when you start to really think about what new sport you could try out.
Here are a few suggestions, including some of our favorites: trail running (you can also learn to run trails with your dog), hiking, bouldering, rock climbing, pilates, yoga, slacklining, skiing, snowshoeing, roller-skating, stand-up paddleboarding, kayaking, swimming.
Another great way to try a new sport or go on a travel and fitness-inspired trip is to do one with an adventure company like 57hours, which specializes in introducing you to new adventures and experiences all within the space of a day or long weekend.
REI also has excellent outdoor classes, outings, and events to help you learn new skills and experience outdoor bliss with other like-minded outdoor enthusiasts.
2. Spend more time doing a fitness activity you enjoy
Perhaps you already have a sport or activity you enjoy and you'd like to do it more often, differently, or more seriously this coming year?
For example, if you run or lift weights, perhaps you'd like to get stronger, faster or more competitive, or if you enjoy yoga, a great goal could be to make time to do it more often.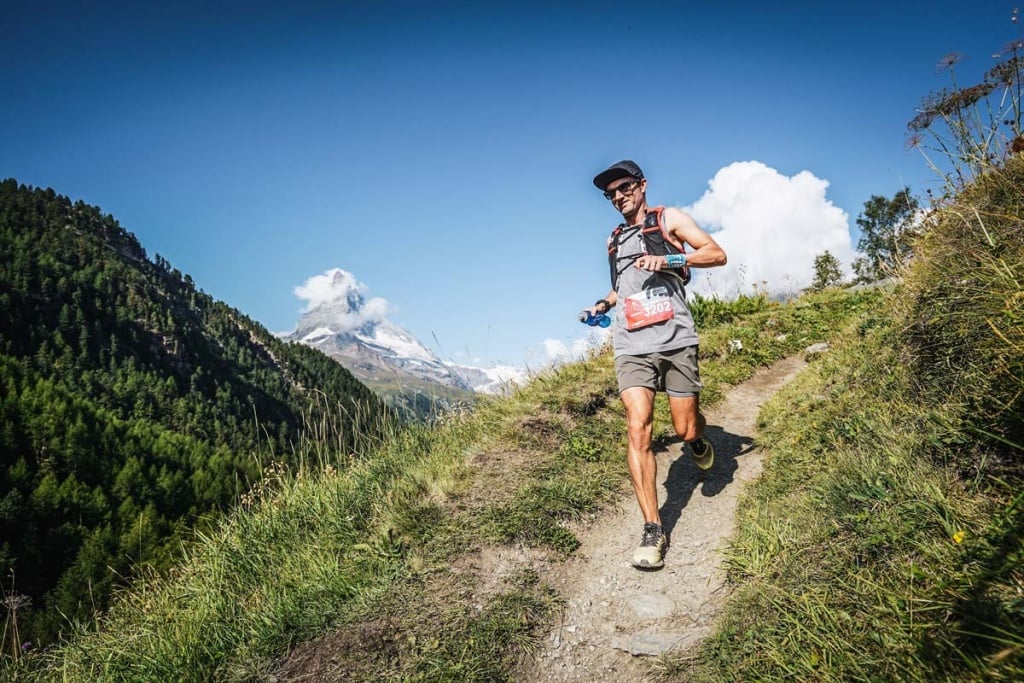 If you want to compete against others, you should consider signing up to an organized event, like a trail running race, for example.
What we love about trail races like Matterhorn Ultraks, or UTMB (here are some amazing UTMB alternatives by the way if that one looks too big of an event) is all the beautiful places around the world that they are held.
Events like these are a great excuse to travel to new places and experience different cultures & landscapes!
Another idea to up your trail running game: If you're already an experienced trail runner but haven't dabbled in the marathon distance, or beyond (ultrarunning), then read my Trail Marathon / 50K Training Plan + ULTRA RACE GUIDE next.
If on the other hand you'd simply like to compete with yourself and improve within your own sphere of influence, you should think about getting an app that can track your progress over time.
Look into Strava for running, hiking, or cycling – if you're already on Strava, join the Trail & Kale Strava club so we can see all your efforts. Seeing positive gains each week within an app will motivate you to continue on that path.
For these fitness-related New Year's resolutions, it helps to set specific goals for how much and how often you intend to do your sport, so you have a clear plan to stick to, and you have more motivation and focus on what you're trying to achieve – this will help you stay strong in the face of distractions.
Another great way to motivate yourself, or a partner is to invest in technical, sweat-wicking gear that will stand up to the paces you intend to put yourself through.
Having the right gear that you feel good wearing while working out will help you follow through on that commitment to yourself as you'll be looking for excuses to put it on, rather than excuses not to workout!
To treat yourself to some New Year-worthy workout gear, lululemon's Swiftly Tech (women's) and Metal Vent Tech Tees (men's) are a great choice when it comes to shirts (we're both wearing them in the images above), and they have an equally great range of technical shorts and tights to go with them, that will stay put and wick sweat, with plenty of stretch for all those moves.
Visit our list of lululemon gifts for runners for some more of our favorite lululemon technical apparel.
3. Improve your sleep to feel fresh and ready for every day
Improving your sleep is a great long-term resolution / healthy habit to help improve your health, wellness and overall lifestyle!
Sleep is also the time when much of our mind & body's recovery happens, whether it's from running, strength workouts, or a stressful day at work.
This post on healthy sleep habits has some great suggestions for some very simple changes you can make to your days and nights to improve your sleep.
4. Go hiking and enjoy that fresh air
Spending time moving around in nature is not only great for your physical fitness, but can also benefit your mental wellbeing, making activities such as hiking a great wellness-focused New Year's resolution.
All that fresh air, flora and fauna is good for your soul, and the peace you gain from hiking (or trail running) in open spaces can make you feel like a whole new person.
You don't need much gear for hiking, although it's important to wear appropriate layers and take a small bag with some essentials. This post covers what to take hiking, and for a warm top layer you can wear technical athletic clothing or consider some versatile outdoor layers such as a sweat-wicking shirt, warm mid-layer and water-resistant (or waterproof) shell.
For the bottom half, avoid cotton and denim and go with loose pants for the guys, and stretchy, durable, and comfortable pants such as these Carhartt leggings which will allow you to move freely as you navigate the trails.
These women's leggings from Carhartt make great hiking companions as well as being useful for working outdoors and in/around the house, especially if you do a lot of activities such as gardening or enjoy DIY projects.
5. Go stargazing and learn to read the night sky
If you've never spent time looking up at the night sky and learning about the constellations you can spot in the night sky, then you're in for a treat!
You don't need much to start stargazing (not even a telescope), and it's a great activity for those dark, crisp, and clear winter evenings.
To learn more about stargazing, read our beginner's guide.
6. Spend more time creating, making and doing
Another great way to boost your mental wellbeing is to spend time getting creative.
Making or doing things with your hands, such as woodwork, fixing up a car, DIY, and gardening, not only helps you learn a new skill, but can provide fitness and co-ordination gains, as well as resulting in you having made something useful such as a piece of furniture or a veggie garden.
We recently took on the task of building a self-converted camper van, which was one heck of a project but ohhhh so worth it in the end, for all the extra adventures it allows us to now have!
With winter sales on right now, it's a good time to get some basic tools, suitable protective gloves, and some warm layers if you're planning on spending time working on the garden or in a garage.
If you've been following us on Instagram or YouTube then you'll have seen that we've been spending a lot of time working outside on our DIY camper van conversion, which has helped us learn plenty of new skills along the way!
7. Stretch more and become more flexible!
Hours spent running, sitting at a desk or driving can take their toll.
Working on your flexibility as a regular habit, either through yoga or simply just some really good stretches can really help maintain your fitness and reduce your risk of injuries as you get older.
Here's one of our favorite yoga routines that gives us a good opportunity to stretch and BREATHE! We also love to roll on one of our Chirp wheels daily to stretch out our backs (and sometimes get some satisfying clicks in the process).
If you haven't heard about Chirp wheels yet, check them out on Chirp's website.
8. Try eating plant-based
If you don't already eat a plant-based diet, but are looking to transition, then this would make a great New Year's resolution.
It may seem overwhelming if you're contemplating changing your entire diet overnight, so to make the goal more achievable, consider whether you want to start out planning to eat plant-based a few days a week, or just on weekdays until you've built up your repertoire of plant-based meals so it becomes an easier habit than aiming for every day.
Or – just go for it!
For tips on getting started with the plant-based diet, go here for meal plans that will take the thinking out of the transition for you as you get started.
You can also read more on the benefits of going plant-based, and also our lists of the best plant-based books and documentaries.
9. Stay hydrated without using disposable plastic bottles
Most of us know that drinking plenty of fresh water each day is essential for your overall health and wellbeing, but it can be hard to drink enough without keeping a topped up bottle with you throughout the day.
If you haven't heard of the Larq UV water bottle yet, then click here to read my full Larq bottle review.
If you'd like to stop buying disposal plastic water bottles but perhaps don't enjoy the experience of drinking tap water, then this bottle is for you, and will help you make that transition.
Larq bottles use a unique patented UV light technology to purify the water within them, removing contaminants and that stinky bottle smell that other re-usable water bottles develop.
This means you can take the bottle with you and fill it up anywhere, knowing that it will sterilize the water, making it safer to drink.
The company also sells a filtering water bottle, and a water pitcher for your home that both filters and purifies water before you drink it.
That's some very cool tech! (pictured to the right on desktop, and above on mobile devices)
For more information on the difference between water bottle 'filters' and 'purifiers', and all the different form-factors out there for hiking and backpacking read this next: The Best Backpacking Water Filters & Purifiers.
10. Teach your dog some tricks
… and if you don't have a dog – teach yourself some!
No, seriously, learning a new skill or language can help develop your mental wellness, including areas such as improving your memory, co-ordination and mental agility.
A new skill could be something as simple as learning to juggle, or as involved as learning a new language – whether that's a spoken language or another way of communicating such as sign language.
We're actually quite taken with this new way to learn solving the Rubik's Cube (that counts as skill!!).
I bought one for my dad at Christmas and he can't put it down, and neither can I when I rarely get my hands on it.
If you do have a dog, we know from first-hand experience with Kepler, that taking the time to teach them some fun new tricks and behaviors is highly rewarding, not to mention, a fun way to spend time with them!
If you're interested, you can find Kepler regularly showing off his latest and greatest tricks and parkour moves on our Instagram feed.
This book (which you can pre-order for a mid-January arrival) is a great resource with clear and simple instructions for teaching popular tricks such as Sit Pretty (beg), wave, and how to teach your dog to jump over or through your arms.
We have lots of dog content right here on Trail & Kale (mostly written by Kepler himself) that you should go check out after reading these posts, if dogs are you thang too!
---
3 tips for keeping your fitness New Year resolutions
The best healthy New Years' resolution ideas are those you will actually keep, and eventually turn into a healthy habit.
To keep yours going for more than a few days or weeks, it pays to remember the following three tips:
1. Make your resolution realistic
Think about where you are in your health and fitness journey, and plan your goals accordingly.
For example, if you just started running, but haven't been doing it that often, then setting a resolution that says something like 'run six days a week' may be significantly less realistic for you this year than setting a resolution you can keep, such as running at least twice a week – which would be even better as you have more potential to stick to, achieve, and then improve upon.
2. Believe in yourself
Self-belief is of course a deep and complex topic, but at the end of the day there is one thing to remember – you can achieve great things simply by believing in yourself!
Get inspired by stories of other people who have gone before you to achieve great and remarkable things!
These people all have one thing in common, and that is they have a high degree of self-belief that helps them pull through huge challenges.
For some great reading inspiration for everyone from ultra runners to pioneering adventurers, head over to our book lists.
3. Indulge in self-respect
Self-respect is what it's going to take to stick to those New Year's intentions.
It's very easy to slip back into old habits before you've had a chance to form those new, healthy habits.
The key is to create an environment for yourself that encourages you to respect yourself, your goals and your intention.
For example, if you set a New Year resolution to get up half an hour early to do yoga or work out before you start your day, don't disrespect yourself and your intentions by staying up late, which impacts your sleep quality and quantity and can make it less likely (or at least, less pleasant) for you to get up at the right time when the alarm goes off in the morning. Stay true to you, your goals and dreams by getting that early night!!
---
For more self-improvement ideas for runners and outdoor enthusiasts, read this post next.