July has not involved much running, but it has been a good time to find some other adventures and learn new things… One good thing that has come out of having a sore foot for a few weeks is that I have started getting involved in (and loving) other sports, and particularly back to my favourite element: water.
As I write this in early August I am delighted to say that my sore foot (tendonitis) has finally recovered and I am back to running, albeit only once a week until this week when I managed three rather slow 5ks. It was unfortunately a bit too late to salvage my attempt at Cheddar Gorge half at the end of June… at about 9km my foot started being incredibly painful so I cut my losses and finished the race at the 10km point, collecting a medal in the process. It didn't feel great finishing my slowest ever 10k, and watching all the people I'd overtaken then run past me as I limped in my 9th and 10th kms, but I am sure that it would not have done me any good to keep going for the sake of it.
The other frustrating thing about not finishing the half is that I can't complete the Cheddar Gorge series, which was a 10k, half and full marathon over the summer. The marathon is next Sunday, 16th August, and I've already decided I won't be running, it's just not worth risking another injury given it would be a massive step up from doing hardly any mileage for the last 6 weeks running up to race day. I'm planning to race the half instead, which will be a different route to the June half so at least it will be a change of scenery!
Swimming technique lesson
I could swim without aid aged three, but for some reason I always swam breaststroke and thought I couldn't swim front crawl. So pretty much the same attitude as I used to have to running – that front crawl swimming was something I wasn't capable of – for the same reason – I would swim (run) for a short distance, get tired and out of breath and then stop.
I booked some swimming lessons at our local pool and found myself loving it: it turns out that I can swim front crawl, and the best thing about swimming compared to cycling and running is that it apparently all comes down to technique, not brute strength/volume of training.
I was given some tips to work on over the next few weeks and I can already feel the difference, it is definitely getting easier and I have regularly been swimming 1000m in the pool in about 28 minutes. Some way to go to get to my target time of 40-45 minutes for a 1900m (half iron distance) swim, but it is early days.
DEALS FROM REI.COM (ENDING SOON)
Surfing – I think I have found a new love.
A couple of weekends ago I went to North Cornwall (Polzeath, to be specific) for the weekend and to do some surfing. I had had one lesson before, a couple of years ago, and not quite managed to stand up. This time around the strength training has clearly paid off, as I could get up on most goes, having to bail out a few times only to avoid running over some children in my path – well, it was a sunny Saturday afternoon in the middle of school holidays after all. It's such an amazing feeling, gliding on the board over the water – more relaxing than snowboarding as I knew the landing would be softer than snow if I came off (at least in those waves and speed I was surfing).
I'm now seriously considering getting a board and finding as many dates as possible when I can get back to the coast for some more surf action. The closest 'decent' surf to me is about a 2h30 drive to North Devon, so it's doable in a day but maybe not something I'll be able to do more than once a month, especially if I am going to start to build up the bike and running training for Spring's half Ironman…
Revisiting an old friend – Hello, Chamonix vertical kilometre!
Ali and I visited Chamonix while in France last week. We had been eyeing up a slightly nutty route which we heard about while visiting last year – the Vertical Kilometre ('kmv' according to the French). A lot of the major mountain trail-running regions have a vertical kilometre race. This is a route that includes 1000m of ascent in less than 5k of distance. Clearly to have such a race, you have to be somewhere where there is a high enough mountain offering a very steep climb to be able to meet these criteria. Chamonix's runs up under the route of the Planpraz Gondola, from the Church in the town centre, and is around 3.5km in distance. Our hotel was facing the mountain so I spent our first afternoon on our balcony staring at the route:
Chamonix running weather
Chamonix can get very warm in the summer. On the day we decided to run, the temperature was in the mid-twenties, and by the time we had sorted ourselves out, bought a gel from a trail running shop in town and made it to the church, it was 1pm – not the coolest time to get going!
The first 100m were up a hill to the gondola base station, followed by around 500m of zig-zagging paths which you can just make out in the photo.
Every 100m someone had marked on the stone how many vertical metres you had climbed at that point, and it was great to see these and then look back down at the town getting smaller and smaller as we climbed, realising how far we had come in a relatively short period of time.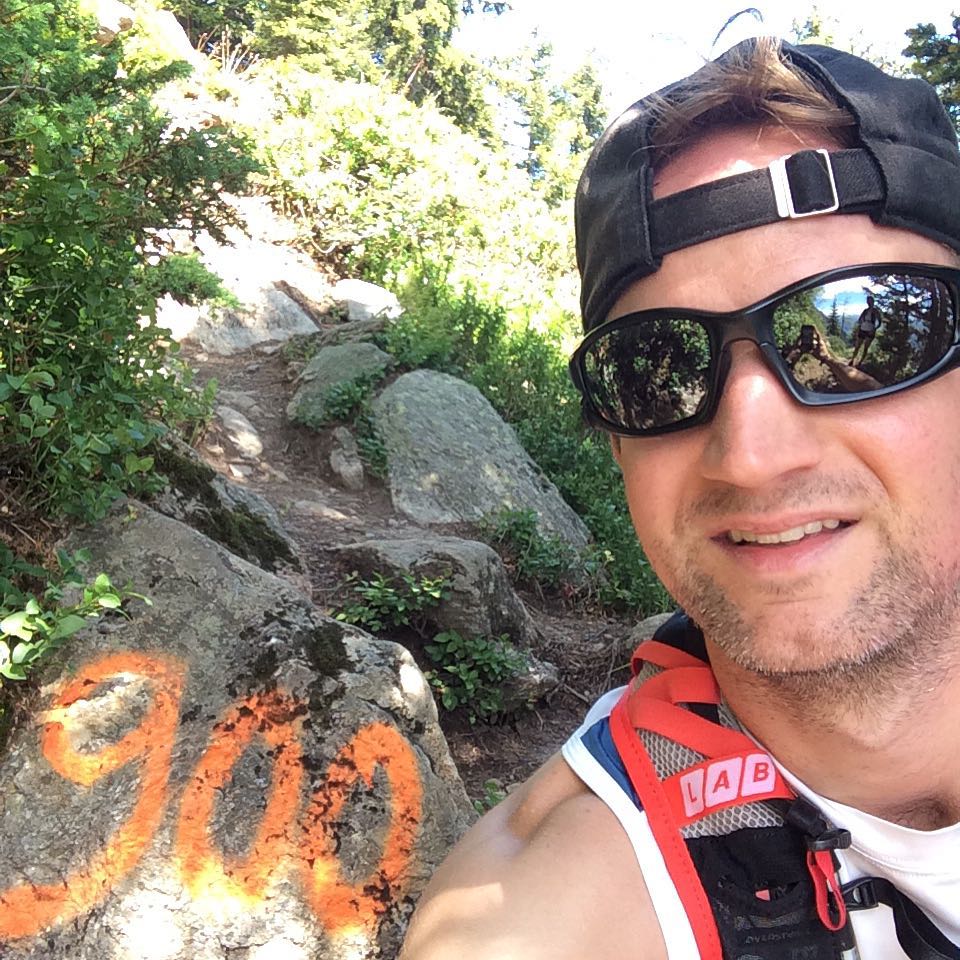 After about 700m was when things started getting really interesting. The path became steeper and more scrambling was required, including climbing up ladders and using cables built into the side of the mountain to hold on while negotiating particularly tricky sections. I'm sure if you do a lot of these Alpine mountain races then this is not that unusual, but these were a bit of a novelty to us and I really enjoyed the challenge of getting myself up them.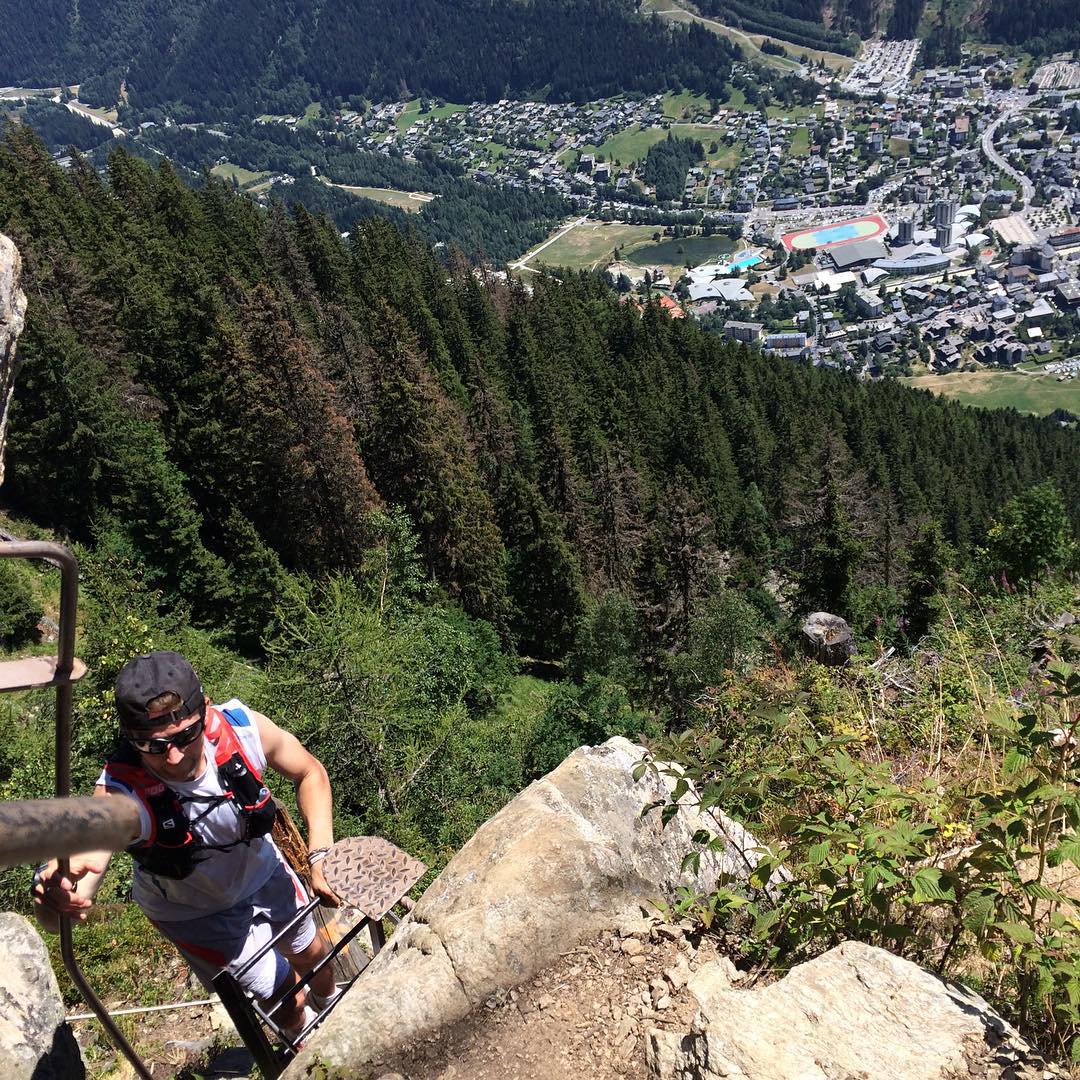 We didn't plan to complete this route in a particular time, as we were just enjoying ourselves and being distracted by the views – and I wasn't feeling too fit after several weeks off. I think if I went back again I would like to go for a 'time' but I was satisfied with doing this as, effectively, an extreme sightseeing trip! The best view of all was from around 800m where there is a plateaued area of rock where you can stand and admire the view over to Mont Blanc, the glacier and of course Chamonix itself, below.
Reaching the top of Chamonix Vertical Kilometer
Once we made it to the top, we ran up to the left up a path (which would be a ski slope in winter) to clock over 1000m and then it was job done! Woo! Such an awesome feeling. We celebrated with Fanta and Twix from one of the mountainside cafes, before doing another couple of hours running, across to Flegere (another gondola station) and then back down to Chamonix (on a more winding, not-so-steep route).
I would highly recommend doing this if you have a day in Chamonix. I would make sure it is a dry day though as I expect some of the more technical sections could be quite slippy, especially where there are metal steps involved – unless you fancy the extra challenge of course…