What Salomon has to say about their flagship shoe for road running:
A precise and compliant running shoe, S-LAB SONIC 2 is our athlete's choice for competing on the road.
Now I don't often compete on the roads, but I do train on them, a lot. This isn't particularly out of choice but rather practicality. For one thing, I don't always have access to the trails, and sometimes, especially during the winter I find myself needing to run during hours of darkness.
ADVERTISEMENT
With that in mind, the best place to run is usually where the streets are illuminated (I know many runners who use this light for personal safety too), and that means tarmac (or asphalt if you're reading this from across the pond). Yes you can hit the trails with a head torch, but maybe you 1) don't own one 2) don't have it with you 3) forgot your spare batteries (It's not much fun being in the middle of a trail, all alone in complete darkness because your torch ran out of batteries, doh!).
There are other benefits to running on the roads too, if you're training for speed and wanting to increase your aerobic capacity, whilst really working on form and technique, then it's much easier to find a long flat route to run on than a flat trail. You don't even need to worry about stumbling due to uneven terrain; instead you can concentrate on finding that perfect cadence and form for the speed that you're attempting to maintain.
With the "I don't always run on trails, but wish I could." disclaimer out the way lets get in to what I think about running in the S-Lab Sonic 2 shoes.
---
Fit
I have owned both predecessors of this shoe; the S-Lab X-Series and the Sonic(1st gen). In fact I'm still running through my pair of "1st generation" Sonics. Both those shoes have worked out really well for me in terms of fit. And the Salomon S-Lab Sonic 2 is no different.
I did however notice that the Sonic 2 has an ever so slightly higher ankle support which I felt rub on my ankle bone when I first put them on but apart from that the fit feels identical to its predecessors, and that's a really good thing. I was initially concerned that the shape around the ankles had changed but after my first run, those worries had gone, and so I can only put it down to the shoe needing to be worn in.
If you have run in other Salomon S-Lab shoes before then you can rest assured that the size fit of the Sonic 2 is 100% consistent with them. If you run in Inov-8, the sizing is also very true to that brand, as tested with the Roclite 290.
I'm a huge fan of Salomon's S-Lab Sense range for trail running, and found the fit to be quite similar to them, including the minimal drop and form fitting "glove-like" feel. This "glove-like" feel can be attributed to what Salomon call Sensifit, a technology which wraps your foot up comfortably, precisely and securely. There is also an internal fit sleeve designed to hug the foot in exactly the right places and improve feedback and foot-wrapping. This is what Salomon call their Endofit system, which I have also found to help prevent dirt and stones from coming into the shoe.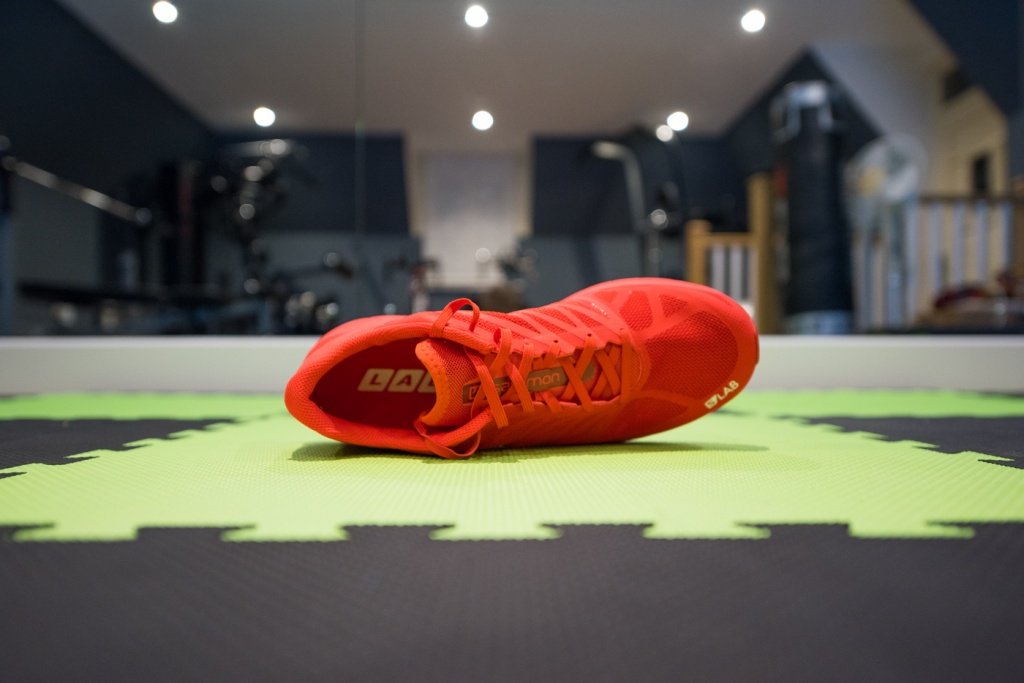 One thing that you will notice if you're not familiar with this line of road running shoe from Salomon is that the laces are of the traditional type. Most Salomon shoes use their patented Quicklace system which is a minimal and strong lace for one-pull tightening. Easy-on, easy-off. I love that system and have often wondered why it hasn't been incorporated in to this shoe. I read somewhere that the reasoning behind this is that most road runners prefer the traditional lace system as it feels more comfortable and its what they're used to. Fair enough. The laces don't really bother me, but I do find myself having to double knot them to ensure they don't come undone during my run.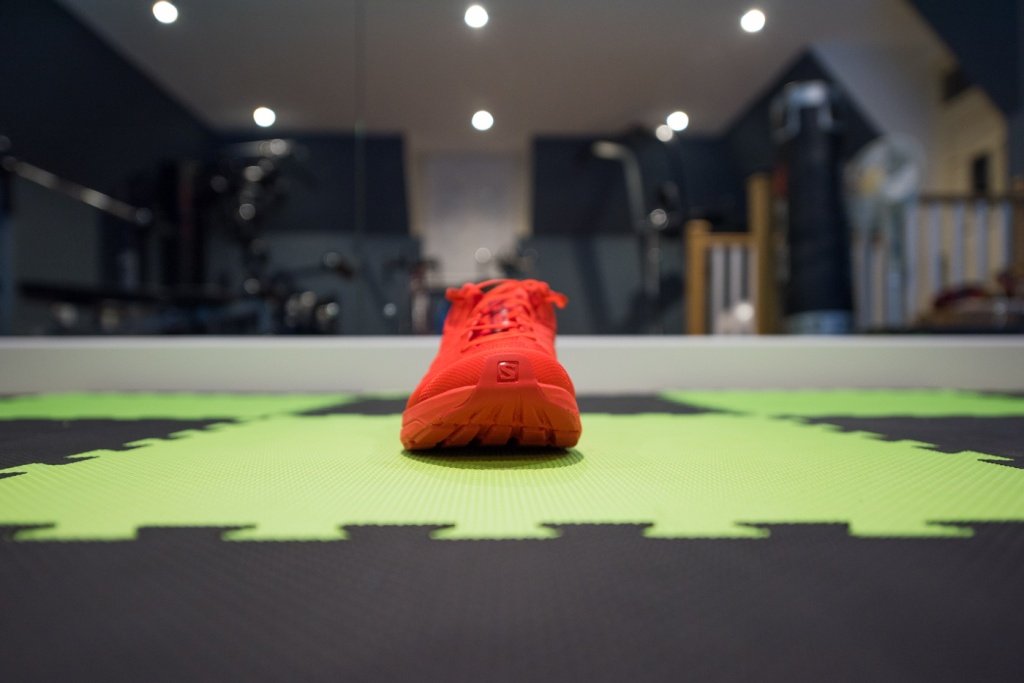 ---
Running in the Salomon S-Lab Sonic 2's
These shoes weigh hardly anything (215g), and that is really important to me. After first running in an S-Lab Trail shoe some years ago,  almost every other alternative now feels too heavy to me. Having a more minimal shoe like this makes me feel I can run for longer without my form and technique declining towards the end of my workout.
Although this is clearly a road running shoe, I have also worn it on many buff trails. It performed extremely well in these situations, giving great response and cushioning when needed. There isn't a protective toe cap like the S-Lab trail line, so be extra cautious for rocks if you do take them on the trails.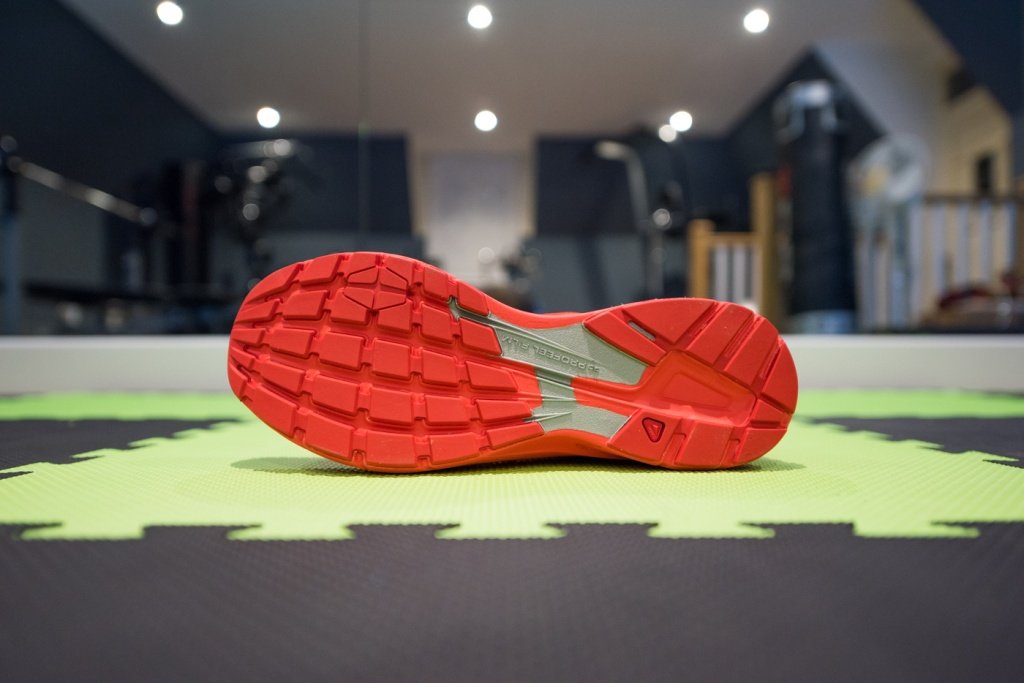 The Sonic 2's have a minimal feel but carry an 8mm drop from heel to toe. If you are moving from a more traditional road running shoe which is less minimal then I would advise you go easy on your first few runs, as you may notice an over stretching of the calves. Once you get used to this more "pure" style of running then I'm sure you will love it. Good running form should come naturally as a result of running in minimal shoes.
---
In Summary
I can't find much to fault about these shoes. I have been a fan of the X-Series/Sonic line since the beginning. There are clear exterior design changes each generation, but that same great feel remains and that's what I originally fell in love with. So kudos to Salomon for keeping true to their original vision for this shoe!
Whether you're a trail runner at heart, who also trains on the roads (like me) or a pure road runner, these shoes are definitely worth giving a try. And if you already run in S-Lab trail shoes but need a similar feel and fit for training on the roads, the Sonic 2's will be the perfect transition, as you'll already be used to the "S-Lab feel" that you probably love.
If you want to see for yourself, here's the link!
If you have any questions about the shoes or anything relating to them then please leave a comment below and I will reply as soon as possible. Happy Trails!!
---
---
Join our fast growing Instagram Community
use #trailandkale for a chance to be featured on the feed
[instagram-feed disablemobile=true num=12 cols=6 showheader=false showbutton=true showfollow=true ]
---
---