This is what Inov-8 has to say about the Inov-8 Roclite 290 trail running shoe:
ADVERTISEMENT
"Run with confidence with our lightest, most flexible trail running shoe. The INOV-8 ROCLITE 290 is designed for running quickly over multi terrains. Delivering a responsive ride and high levels of durability, it's perfect for moving fast over everything from wet mountain rock to muddy grass, hard-packed trails and roads."
RELATED: Best Trail Running Shoes of 2019
Overall Impressions of the Inov-8 Roclite 290
Having now put in quite a few trail miles with this shoe I can confidently share my initial impressions with you. First off, I would like to say that this is the first time I have ever run in an Inov-8 shoe, and I am impressed at how they feel and perform.
The first thing I noticed when putting on the Inov-8 Roclite 290 is how much they felt like slippers. I can only put this down to the soft foot plate and extra cushioned side wall/heal protector. Or maybe it's Inov-8's new ADAPTERWEB met-cradle that is designed to adapt to the natural movement and swelling of the foot in motion, while the Y-LOCK system holds the heel in place and offers support.
After running in them for an hour or so your feet may get quite warm due to the generous mesh above the toe box; some runners may like this more than others. It didn't bother me like it has on some other shoes. Helen's been testing the women's version out and she likes this aspect of the design, as she gets cold feet!
I really like how the back heel support on the Inov-8 Roclite 290 is slightly lower than most other shoes, and because of this, I felt less pressure contacting with my Achilles tendon. You may have read on a previous post that I had some trouble getting out of an achilles tendonitis injury last year, and the only thing that helped was continuing to run in a shoe that didn't add pressure to the injured tendon. That shoe happened to be the On Cloudracer. I believe the Roclite 290s would have helped me in a similar way due to its minimal design.
I really noticed how the solid yet cushioned mid plate helped with propelling me forward with a great response. This could well be me feeling the properties of Inov-8's so-called POWERFLOW Midsole which is said to deliver 10% better shock absorption and 15% better energy return than standard midsoles.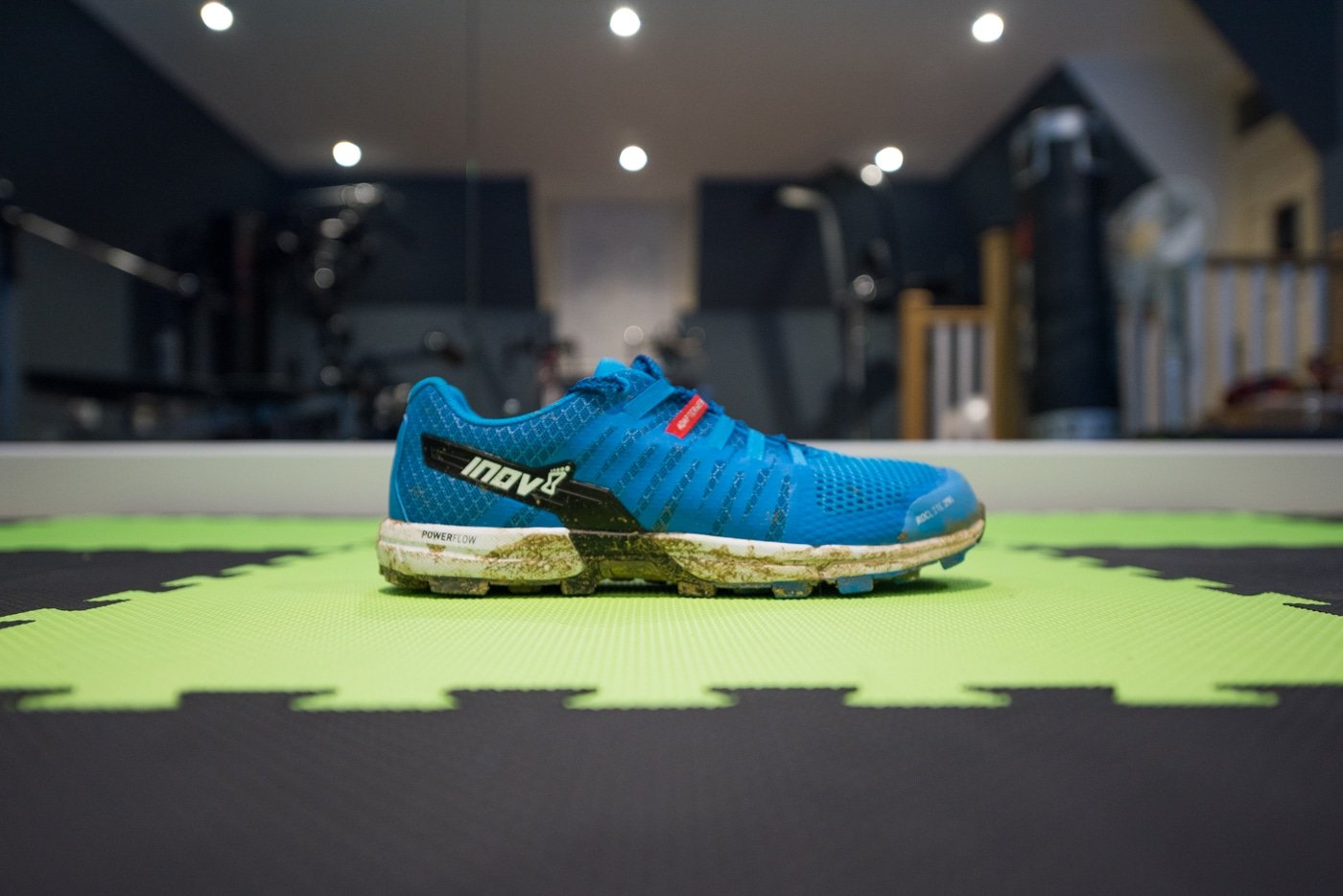 I found the grip and support whilst running over the more gnarly terrain to be extremely good. The outsole is touted to be the most versatile on the market and features Inov-8's own Tri-C rubber compound and multi-directional claw-shaped cleats, each with a wide contact area, providing an unrivalled grip over unpredictable terrain and the quick release of debris.
With all that said, I think its quite clear that I really enjoyed running in the Inov-8 Roclite 290s. I can't wait to put more miles in with them. I will also be trying them out in various races during the Spring, so stay tuned to find out how they fair in race situations.
Specs
| | |
| --- | --- |
| Fit | Standard |
| Drop | 4mm |
| Footbed | 6mm |
| Lug Depth | 6mm |
| Midsole | POWER FLOW |
| Midsole Stack | Heel 17.5mm / Forefoot 13.5mm |
| Shank | 2nd Gen Metashank |
| Sole Compound | TRI-C STICKY |
| Product Weight | 290g / 10.15oz |
Here are some images of the women's Inov-8 Roclite 290s
EDIT: 09/05/2017
A couple of days ago I chose to race in these shoes at the White Star Running Ox Half Marathon. It was a trail race with roughly 500m of ascent and very mixed terrain.
I had such a great experience with these shoes that I will now be using them as my first choice shoe for trail races. They were very comfortable throughout the race with just the right amount of cushioning and responsiveness to run fast. I was running for 1hr 50min of 'close to maximal' effort. I came in 11th and had such a fun day of running.
Try them out for yourself, I'm very confident you will enjoy them too!
---
Thank you
Thank you to Inov-8 for sending over the shoes for review.
The Inov-8 Brand
Founded in 2003, Inov-8 is one of the World's leading all-terrain footwear, apparel and equipment brands.
Operating in over 60 countries, Inov-8 pride themselves in designing high quality, innovative products in both the running and performance training sectors. Their origins and footprints remain firmly etched into the muddy British fells but over the years they have optimized their products to meet the needs of the many terrains they have travelled.
If you fancy learning more about their products, be sure to browse their online store.
If you have any questions about the shoes or anything relating to them then please leave a comment below and I will reply as soon as possible. Happy Trails!!