Running the Transgrancanaria Marathon
There comes a point in life where you feel the need to push yourself and to find out what you're really made of.
ADVERTISEMENT
This would be my second attempt at a trail Marathon after the nutrition fail of the CTS Dorset Marathon earlier in the year. That race left me feeling disappointed and determined; It was the determination that took over though. The strong desire to conquer my next attempt at a trail marathon. I admit that I probably bit off more than I could chew with the CTS Dorset Marathon; a trail marathon in the UK, listed as "Extreme", due to the elevation gain of 1800m and the gnarly terrain. But that race is now in the passed and remembered as a very important learning point in my running experience.
I learned many things during the race, one of them was how beautiful Gran Canaria was. I had no idea until I ran across half of it!
A few days after the race I returned to some of the amazing viewpoints with my camera. If it had not been for the race I would have never known these places existed, so for that I am very grateful. Here are some of those photographs.
Profile
Transgrancanaria Marathon Route
Terrain
The terrain at Transgrancanaria was a real eye opener for me. Up until this point, the most gnarly I had experienced was probably during the CTS Dorset Marathon, which was nothing compared to this. The most tricky for me was probably the huge scree descent that seems to go on forever! Just a moment before making the descent I got struck down with awful cramp in my calves, thank goodness for my Mountain King Trailblazer running poles! I would have seriously struggled and probably really hurt myself if I didn't have them to support me going down there. It also included: soft forest trails, scree, loose rocks, single mountain track, sand beaches and some road sections.
Check Point Nutrition
There were 3 checkpoints in total. All well stocked and managed by very friendly and helpful people! Bananas are my top choice for slow release energy. They kept me going strong! The checkpoints had really motivating music playing loudly which echoed across the valleys. There's nothing like hearing the checkpoints to spur you on when you're feeling down and depleted! Nutrition and shelter is on the horizon, as long as you hear music! 🙂
| | | | |
| --- | --- | --- | --- |
| CHECKPOINTS | KM | HEIGHT | CLOSING TIME |
| Tunte | 12,5 | 887 m. | 13:30 h. |
| Ayagaures | 24,6 | 310 m. | 17:30 h. |
| Parque Sur | 38,4 | 28 m. | 21:00 h. |
| Finish line | 42 | 15 m. | 22:30 h. |
 Race Village
The day before the race, we visited the race village(convention hall) to register for the Marathon. There was such a buzz with so many excited people. We were even lucky enough to see Anton Krupicka and Joe Grant & Nuria Picas (Team Buff!!) whilst we waited in the registration line. 🙂 There were lots of nutrition, food and clothing stalls and even representatives from other international races who were there to promote their courses to all the competitors. 
My Transgrancanaria race in images
This race really challenged me in ways I didn't know possible. I'm still relatively new to endurance trail racing, and this was my first Trail Marathon. Hitting climbs like these really taught me a valuable lesson. Don't head out too fast, trail marathons have hills and terrain to consider!
The mist in the photo below is actually what the Spanish call "Calima", or desert sand kicked up into the atmosphere.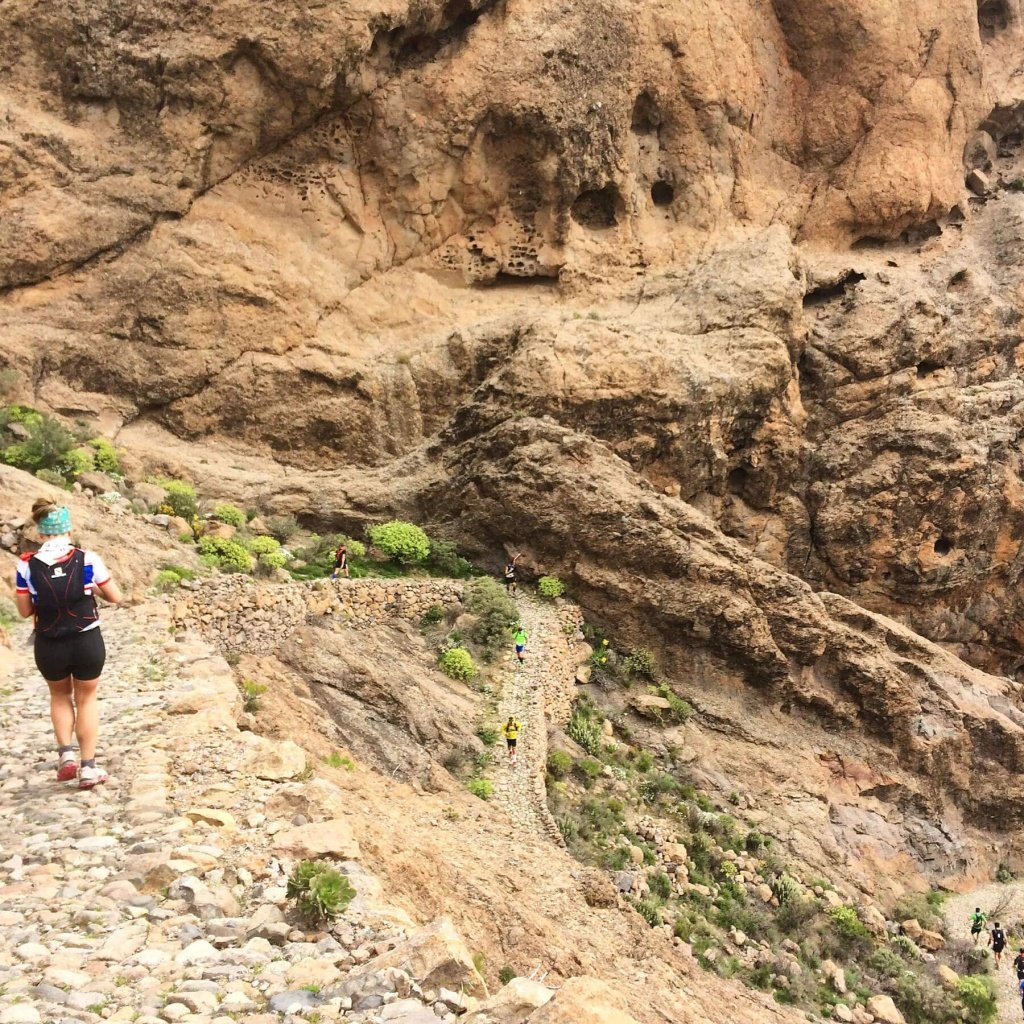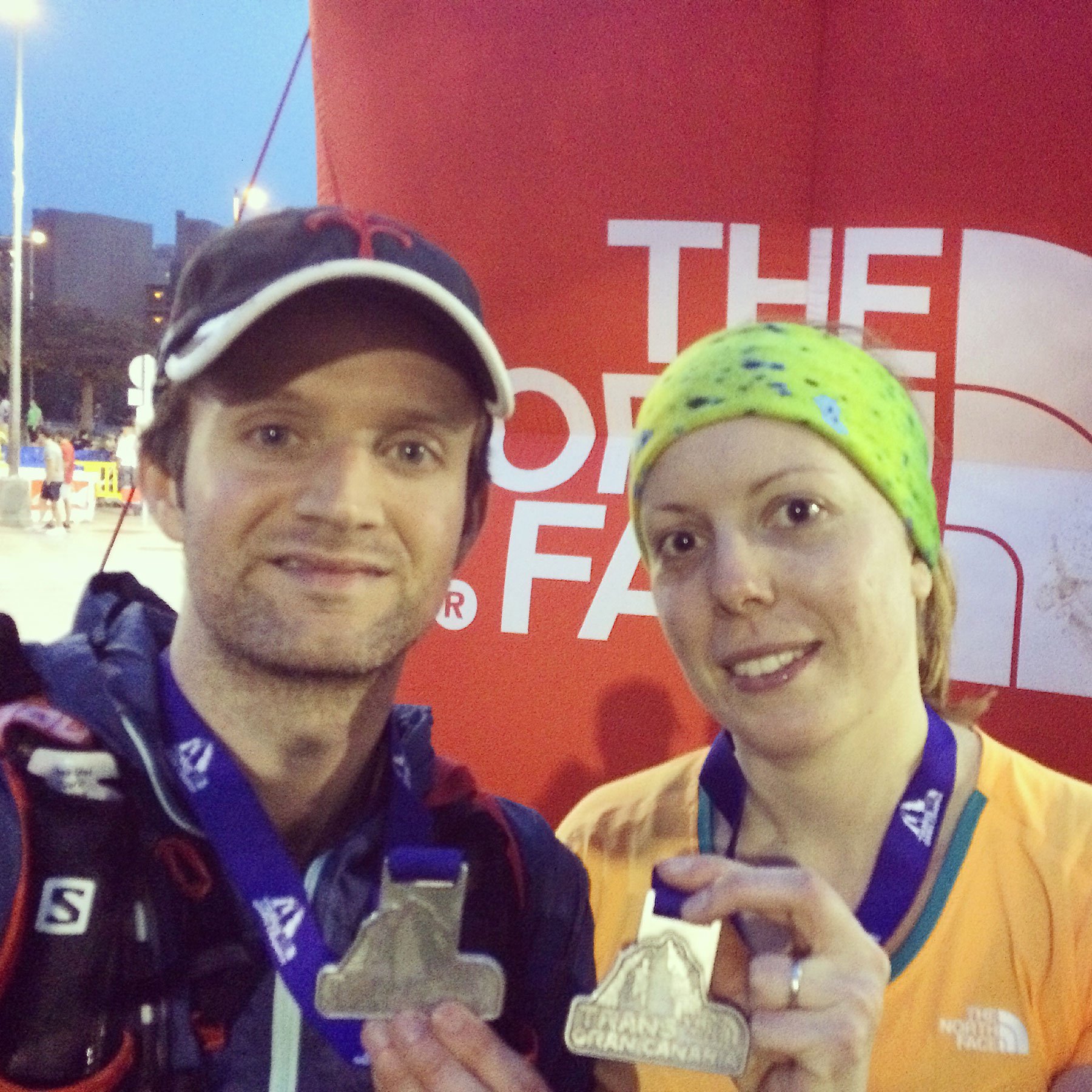 In the end I finished the course in a time of 7hr 37min and ended up in 455/750 position. I couldn't be happier with that from my first Trail Marathon (and a hard one at that!)!
Congratulations to everyone who ran the any of the Transgrancanaria races! That terrain and heat made them all very challenging in their own way. I hope you all enjoyed yourselves as much as I did!
Race Analysis:
Position – (Finish = 455/750)

Distance – 47km

Elevation Gain – 950m

Total Descent – 2500m

Time – 7:37:47

Average Pace – 9:45/km
Trail Bag
Nutrition
High5 Gels – These were great throughout the race. But as with most race nutrition, got a little too sweet towards the end and I began craving more savoury solid food.
Water
Zero Electrolyte tablets – These dissolve in water and are great to have as an addition to a pure water bottle. They help to avoid any cramping from muscle fatigue and low salt levels.
Clif Bars – A tad dry so you will need to wash them down with some water.
A BIG thank you to the organisers and volunteers of the Transgrancanaria for doing such a great job of making its guests feel so welcome and safe!