I successfully completed my second trail marathon last weekend, Trail Marathon Wales!
ADVERTISEMENT
At the end of May Ali and I managed to get a place in this year's Trail Marathon Wales (by taking someone else's place, arranged via the organisers). Very exciting… even if it meant we had less than a month to prepare to run another trail marathon, as the race was on 20 June.
Trail Marathon Wales Venue
Trail Marathon Wales (TMW) takes place in the Coed y Brenin Forest Park in Snowdonia National Park, and starts/finishes at the forest park's visitor centre off the A470 near Dolgellau (Postcode: LL40 2HZ). This was about a 4 hour drive up from Bath, mostly along the A470, and as the race was on Saturday morning, we took the Friday afternoon off and drove up to stay overnight on the Friday night.
The visitor centre includes a shop and information centre, café and mountain bike shop, although we were most excited about Run Coed y Brenin, a dedicated trail running centre which includes a demo centre (where you can trial/rent Salomon trail running shoes), a Salomon shop and four way-marked forest running trails – as well as running events including TMW and, also, recently, a day with pro Anna Frost. I was gutted to have missed the Anna Frost day – I would definitely have travelled there to participate (not to mention to meet such an inspirational trail runner as Anna), but had already committed to other plans that weekend. Hopefully there will be another one next year…
Night before the event
Arriving mid-afternoon after a scenic drive up to Snowdonia, we had the opportunity to check out the visitor centre, start area and registration… and of course browse the Salomon shop. The event is sponsored by Salomon (amongst others) and a team from Salomon's marketing department were also there manning a trailer selling kit and ex-demo shoes. Some of these shoes had clearly only been worn once, if at all, and they were being sold for half price. Ali was delighted to pick up a pair of Sense Ultras (white and red top-spec trail shoes) for half price (£70 rather than £140).
A welcome party was put on at the visitor centre by the organisers from 6pm. This is a great idea, especially for people like us who had travelled up for the race! For £10 you get a pasta dinner, a Q&A session with race director Matt and special guest runners, a screening of trail running short films and a goody bag.
The route
The marathon route was two separate loops out from the visitor centre, both c.21k long. The first loop was also the half marathon route.
The first loop was predominantly rolling forest trails, including exciting singletrack descents. It also included a long climb at about 19k, affectionately termed 'the sting in the tail'. The second half was more straightforward – mainly uphill in the first 10k, then mainly descending (thankfully!) for the last 10k or so to the finish. Total climbing was about 1100m, of which over 600m was in the first half of the course.
My race
My objective was to finish the course as, with this being only my second marathon, finishing would be an achievement in itself. I had in my mind that I should be able to finish in 5h30, as I can do a similarly hilly half marathon trail distance in 2h30 comfortably, but then you never know how being out twice as long and on different terrain etc will affect you – especially when you've only done the distance (or anywhere near) once before.
The only race I have done that I can compare this to in terms of distance / effort level is Transgrancanaria (TGC) marathon. The main difference is that TMW is 99% runnable, whereas there were sections of TGC that I could not have (and probably would not have wanted to) run even if I had had the energy.
This was an important distinction as it meant that my strategy for getting through the race was to run everything I could, as long as my HR was below a certain threshold. When it exceeded this level, which was only going to happen when I was climbing moderate or steeper gradients, then I would need to walk until it came back down to my 'steady' level. This meant that I was minimising the time I spent at a 'high' heart rate, and therefore delaying fatigue and hopefully preventing a burn-out / bonk. If my HR was below the threshold level, and I found myself walking, I had strong words with myself (in my head) and resumed my steady running pace.
The second part of my strategy revolved around nutrition – I know how rubbish you feel when you don't get it right (my CTS Dorset marathon attempt in December is a good case in point). Nutrition strategy was as follows:
One gel every hour (half a gel every half-hour)
Sip on High 5 zero and water alternately (I carry two bottles)
Grab a couple of banana segments around halfway
I gambled on trying some new gel brands on this race. Mainly because I hadn't had time to re-order the High-5 gels I have used in the past. I tried SIS and Torq. Both worked for me, which is good to know for future reference (although the Torq Apple Crumble flavour was far too sweet for my liking).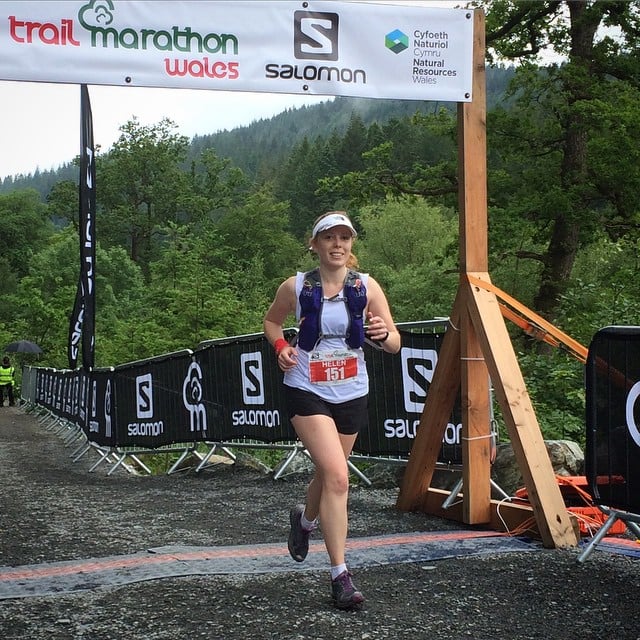 I was pleased with how I paced the race, and my time overall, which was exactly what I had hoped for – 5h30. I paced it pretty evenly, and overtook quite a few people in the last 10k, mainly those I had been leapfrogging with throughout the rest of the race and I suppose were slowing down in the second half. I tend to be quicker on the downhills anyway (need to learn to hike uphill faster!) so given that last quarter was mainly downhill, it was in my favour. I got to about 4h45 with less than 8km to go and knew getting 5h30 was possible, so I turned up the pressure to keep moving as fast as I could until the finish line, and made it just in time!
Result
5h30 (half 2h41)
273rd/ 344
61st woman / 93
Kit
Another gamble – I wore nearly-new trail shoes for race day! I recently bought some North Face Cardiac trail shoes, which are good all-rounders, and opted to wear them on the day as my Asics have passed their prime – I wore them on my last training run and they felt like they had no shock absorption left. I'd only worn the Cardiacs a couple of times, but thankfully the gamble paid off. The shoes performed well, although I have an achy foot, probably from having them laced too tight and possibly also because I rolled my ankle once on the run. I can't tell if it is a sprain or something to do with the shoes but it is making me hobble around in this week after the race. Hopefully I'll be able to walk/run well enough by Sunday to still race in the Cheddar Gorge half – we shall see.
It was warm-ish (c.17 degrees c) but drizzly fuzzy rain. I wore a new Lululemon outfit, trail shorts and a vest, plus my usual Ultimate Direction pack and North Face visor, to keep the rain out of my face. I also took my Salomon S-lab lightweight jacket, but with that type of rain, everything gets so wet anyway that there wasn't much point in wearing the jacket. Although my Lulu vest was white, the fabric layers are thicker in the middle panels, meaning that it did not go see-through when wet, which was definitely a good thing.
Moisturiser helped keep the midges away to some extent… although two days later I was still itching all over, so perhaps insect repellent would be a good idea for next time. Also I received a top tip from elite runner Mary-Grace Spalton, who finished the marathon in third place this year and won it in 2013) – remember to get all the midges out of your eyes after finishing! It sounds gross but you don't even realise they're in there, until the next day when they can make your eyes puffy.
Goodies
At registration we received a bag including a green cotton Trail Marathon Wales 2015 T-shirt (non-technical), jazzy blue Salomon trainer-liner socks, and a TMW water bottle, plus a Torq gel, intended to be carried with you on the race. We registered the evening before the race, when we attended the welcome party.
The welcome party goody back included more of those nice socks and another gel. All these little things added up to quite a lot of useful kit, included in the £35 entry and £10 welcome dinner prices.
At the finish you are presented with a unique TMW coaster – a bit different to a medal, and more useful. Ours now live in our lounge:
Summary
This race sets the standard for others in the UK. Excellent, professional organisation, well thought-out routes, aid stations and goody bag, fab location and interesting, varied route. Timing was chip-timing (so many trail races aren't), with a text message within a couple of minutes of finishing to confirm your result – all for £35: fantastic value, and to top it all off, I got the time I wanted, without any injury – result!
Thanks for reading!
We love to hear from you, so if you have any comments or questions about the race, then please leave them in the comments section below!
If you like this post, why not check out some of our other posts and subscribe by going to trailandkale.com/signup to receive future post updates via email (no spam – ever).