The Concept
Salomon wants to give people the opportunity to move away from the pavement and jump into nature to learn more about trail running and find local trails. What's even greater is the chance to experience these beautifully scenic 10km trail routes at sunset!
ADVERTISEMENT
In a society where speed and stress have taken over, people take less and less time to play and connect with nature. Whilst running on the road is great exercise, it's time to stop pounding the pavements on the same old route, it's time to explore nature, it's time to play. Trail running gives you the space to breathe fresh air, the opportunity to tune out the world and tune into your run; whilst you navigate tree roots, hop over obstacles and choose your own path.
Location
The Salomon Sunset Series event in Bristol was held in the majestic Ashton Court Estate, a country park and mansion with 850 acres of woodland and grassland to explore. You'll even find large numbers of deer roaming the grounds and grazing. Ashton Court is a particularly special place for me as it's where I do most of my lunch runs during my work week in Bristol. It's also where my city trail running began due to its convenient placement within Bristol City, and challenging hills within.
Event Organisation and Race Village
As always, Matt Ward from Salomon put on a brilliant event here. I love how he brings in local food eateries to help spice up event villages and offer food options for everyone.
There were various trail running workshop events before the race start.  These seemed to go down really well with lots of first-time trail runners getting involved and taking the opportunity to ask Matt as well as Helen and myself, questions relating to trail running; Including technique, gear and nutrition.
If you're looking at trying out a new pair of trail shoes, or just want to see what cool new gear Salomon has, then there's a pop-up shop which is a lot of fun to look around. There are experts on hand to give you advice on how each bit of kit was designed and why it will be a valuable asset to your running wardrobe. You can also borrow a pair to try out if you want to wear them for the race!
And something else we particularly enjoyed and are noticing more and more with in the trail running community was the Yoga workshops that were held throughout the event. We believe yoga compliments trail running extremely well. Both activities promote calmness and strength in balance. They were clearly meant to be practised together 🙂 *
*Soon we will publish a post containing a guide for trail runners who want to get into yoga, but are not sure where to start, written by a well-known yoga teacher… watch this space
The Race
The race began at 8pm, just as the sun was beginning to set. And what an awesome way to start a race! We headed straight for the forest trails where we were met with about a 100m climb up to the top of Ashton Court. I have to admit I started a bit too fast and ended up suffer running the rest of the race, haha. That's what I love about mixing up race distances though, It really teaches you how important it is to know your body and how it will react to variations in effort levels. When I'm training for ultras, my high-intensity cardio seems to vanish, probably due to not throwing in enough speed sessions.
After reaching the top of the course we got to see the sunset again, which is truly beautiful over Bristol. This was followed by the fun of running various types of downhill trails and off-road terrain back down to the race start and the first 5km loop done. We knew what we were in for for the second loop but things, of course, got more challenging, on tiring legs and with the light levels are dropping. You have to watch out for the tree roots on those forest trails! 🙂 The lower light levels and tricky terrain brought in an extra dynamic which was both fun and challenging. That for me is what trail running is all about!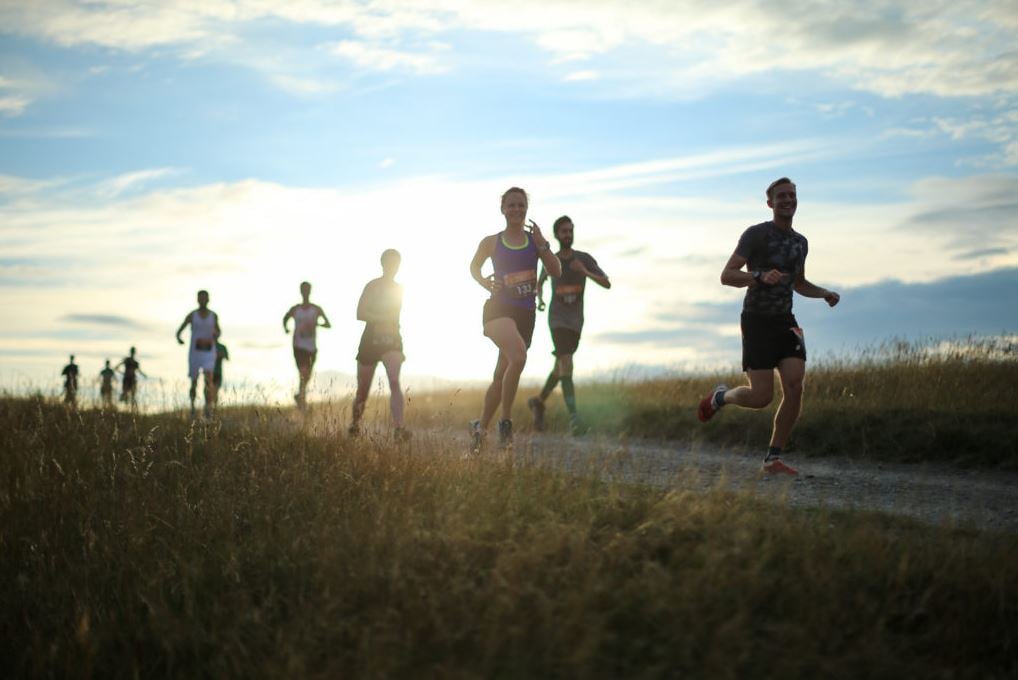 For the Statistics Lovers
Race finish
Crossing the line was rewarded with a unique wooden drink coaster, a Clif Bar and bottle of water. The water was particularly welcomed due to the humid conditions that day (you only have to look at our faces in that picture above to see that, lol). Trail Marathon Wales in Snowdonia (another race organised by Matt and sponsored by Salomon) offer similar finish line goodies. Those coasters are so much more useful than a medal!
In summary…
This event was so much fun. It had a low-key vibe where everyone feels welcome, but with plenty going on for everyone. It's a perfect opportunity for new runners to experience the joy of running on the trails and I would recommend that for anyone looking to get into trail running (or already loving it) you take the opportunity to go to one of these events in the future, especially if this is held again in the beautiful Bristol Ashton Court.