This was it, the race I'd been waiting to run all year: Matterhorn Ultraks, a trail race around Zermatt, in the beautiful Swiss Alps. Ultraks has three course distances, a 46k, a 30k and a 16k. Having originally signed up for the 48k, I decided a few months ago that I would prefer to run the middle distance. Still, at 30k with c.2000m of climbing and descent, this was not going to be a walk in the park!
Overview – Matterhorn Ultraks
The race appealed to us as we love the 'sky running' distances of between 20-50k, and this one has a nice logical route, starting and finishing from the centre of Zermatt, a pristine Swiss mountain town, surrounded by peaks, including the Matterhorn, which is the most photographed mountain in the World – and with good reason.
We also found the proportion of climbing/descent appealing. Tough, but not crazy-tough, like some other European mountain races.
The race is run at a fair altitude, which makes it harder than running at sea level – I can definitely feel the effects when above 2,000m. Zermatt sits at 1,600m above sea level, and most of the race takes place between 1,600 and 2,500m.
Matterhorn Ultraks race profile
The Matterhorn Ultraks 30k (which was actually 31.5k long) involves two 600m virtually non-stop climbs, with a steep descent about halfway, and the last c.12k take you down a c.1000m descent, back into Zermatt to finish. I'd definitely advise you to save your quads for that long descent at the end!
Pre-race nerves
After seeing Alastair off at the start line of the 46k at 7.30am, I wandered back to our hotel, a 5 minute walk away, to get changed into my race kit ready to return for my (rather pleasant) 8.45am start.
It's normal to get some pre-race nerves, but this time around I felt really nervous. I put it down to starting the race alone, and this being the first race for a couple of months where I have started feeling really good – i.e. uninjured – so I felt a lot of pressure to make it count. Having not trained much, particularly for hills, over the past couple of months, I wasn't the most prepared, so I had a word with myself and told myself to chill out on the climbs and not stress out when I get passed by other runners – which was inevitable, as I'm not a particularly fast climber at the best of times!
Poles, or no poles?
I decided not to carry my poles for the race, unlike c.80% of the other runners. I decided not to take them on the basis that it was 30k, not a longer race, and I've done other longer races with similar ascent/descents, without poles and managed fine. On balance, I think this was the right decision, but I did find myself wishing for them on some of the long climbs.
Race report
Despite being less than a marathon, at 30k, the race felt epic! The scenery was stunning, the trails were great to run on, the climbs were tough, and the descents put a massive smile on my face – some were technical and required great concentration, others were perfectly runnable, and I could let loose and completely immerse myself in the amazing feeling you get when you are running freely downhill.
I was grateful for the weather being mild, in the low 20s, and overcast. Rain was forecast, which was a shame, but given how hot it can get there on a sunny day, I welcomed the cloud, even if it meant the top of the Matterhorn was obscured from view for most of the day.
Start to Sunnega…
The first climb starts shortly after leaving Zermatt and is about 600m uphill over c.6km. I was about halfway back in the c.600 person race pack, and gradually got overtaken on this climb, ending up at 563rd by the time I reached the checkpoint at the top, Sunnega. The altitude and lack of training made it tough, but I could have probably achieved better rhythm (and therefore pace) if I had had poles at that point. Still, having my hands free is always useful when batting other people's stray poles away from my eyes / legs / path, which I had to do a few times on that climb.
The nice thing about having few, longer climbs, rather than running a more undulating course, is that you can tick them off as big milestones when they're done. So on reaching Sunnega, I knew I only had one other really long climb to do.
Sunnega to Riffelalp
From Sunnega, while the 46k runners would have turned off to climb the Gornergrat mountain (up to 3,100m!), the 30k required a traverse across to Riffelalp, which was run on perfect alpine trails, with some climbing and descent.
At the checkpoint in Riffelalp, the 30k and 46k courses re-merged, and I thought to myself how grateful I was that I hadn't committed to the longer course – I couldn't imagine doing that climb to Gornergrat and back, and still having so far to run afterwards! I thought I might see Alastair in the next section, as he would have started 1h15 before me, and is a quicker runner – so it was feasible that he would not be far from me at that point.
Riffelalp to Furi
The section from Riffelalp down to Furi included some steep, technical descent, over large rocks and uneven boulders – made even more difficult by the rain, which had started about 20 minutes before I got there, and meant the rocks were now slippery in places. I scrambled down as carefully and quickly as I could – always cautious, and not wanting my race to end due to a fall in this difficult section.
About halfway down, I heard my name – Alastair was just behind me! It gave me such a boost to see him, and know he was doing well, still feeling strong and fresh, despite the massive climbs he'd already completed that day. We said goodbye as he passed me, and I continued my cautious scramble, feeling pleased that I wasn't getting passed by many people, which meant I must be getting better at descending.
I reached Furi, at the bottom, after about 3 hours, which was exactly where I expected to be, and on track for a finish of between 5h30-6 hours.
Furi to Schwarzsee
Furi up to Schwarzsee was the second big climb of my race. The 600m climb took me just over 1h20, and I was passed by many people, running both the 30k and 46k. Definitely need to work on my climbing for next time! I told myself to keep stepping, even if they were tiny baby steps, and eventually I would get up there. After about 400m of climbing, it started to get very exposed and cold, as the rain got heavier and we emerged from the tree-line.
Schwarzsee to the finish
The feeling on reaching the top of Schwarzsee was fantastic! I knew there weren't any more big climbs, and I had just over 11km to run downhill to the finish. I grabbed some more water and a piece of banana from the aid station and ran on. Fighting off a stitch, I flew down the ski slope that was the next section of the course, keen to get off the top of the cold mountain, and get some warmth into my cold legs.
I passed quite a few people on the long descent, many of whom had passed me on the Schwarzsee climb. I loved this runnable section, turning off the ski slope, onto single track, down across a river and over a long, wobbly suspension footbridge. There was a cheeky little climb about 5k from the finish – it must have only been 20 metres at the most, but it felt like a mountain to me. I stepped up it, and continued my run to the finish, as fast as I could sustain, with my heart in my mouth as I felt the swell of fatigue and the effects of the altitude. I promised myself I would run everything I could, and kept up the effort all the way back to Zermatt.
The feeling coming back into town was amazing! Zermatt was full of tourists and race supporters alike, all stopping to cheer in each runner as they ran back through the main street to the finish line. The finish line was still lined and buzzing with supporters cheering when I arrived, which I loved, particularly because on other races, the crowds have often died down by the time I get to the finish.
Finish line
I loved the distance and the level of challenge it provided, without taking too much out of me or requiring significant recovery time. I was also pleased to finish in my target time range, with a final time of 5h51 and 511th. I would definitely return to Zermatt to run it again, having done more hill training I know that a sub 5h30 time and a better position will be possible for me.
On finishing, I was given a nice Matterhorn Ultraks medal, a finishers T-shirt (a fitted Scott technical tee) and directed to an aid station stocked with drinks, fruit and cake. After a quick drink, I looked up Alastair's progress and could see he was expected at his last checkpoint, at 38k, any minute. I was wet and cold from all the rain, and fortunately there was just enough time to get back to the hotel, shower and change, and return in time to see him finish! A perfect end to a perfect race.
RELATED: Matterhorn Ultraks 46K – Skyrunning in the Swiss Alps
Here's a little video of Alastair finishing the 46k race:

Race kit
We've shared an in-depth video of the kit we carried with us on the race – check it out on this post: What to carry on Matterhorn Ultraks (and other) trail/mountain races
Here's it all laid out, together with the clothes I wore (NB after I took this I switched the shorts out for a different pair).
Race organisation and goodies
The race organisation was impeccable. The information given out beforehand, on the course, check-in procedures and logistics, was comprehensive and well thought through. The signage both during the race, and at the race village, was clear and easy to follow – I never once suspected I'd gone off course during the race – and the extras that we were given were good value.
Race entry included a post-race pasta meal and drink, and we were given a race bib-belt (which I didn't use, opting for safety pins), race-branded Compressport socks and a race-specific wrist sweatband, plus a map with information on each of the courses, for runners and spectators, showing etas for runners at each checkpoint, to make it easier for people to follow the race.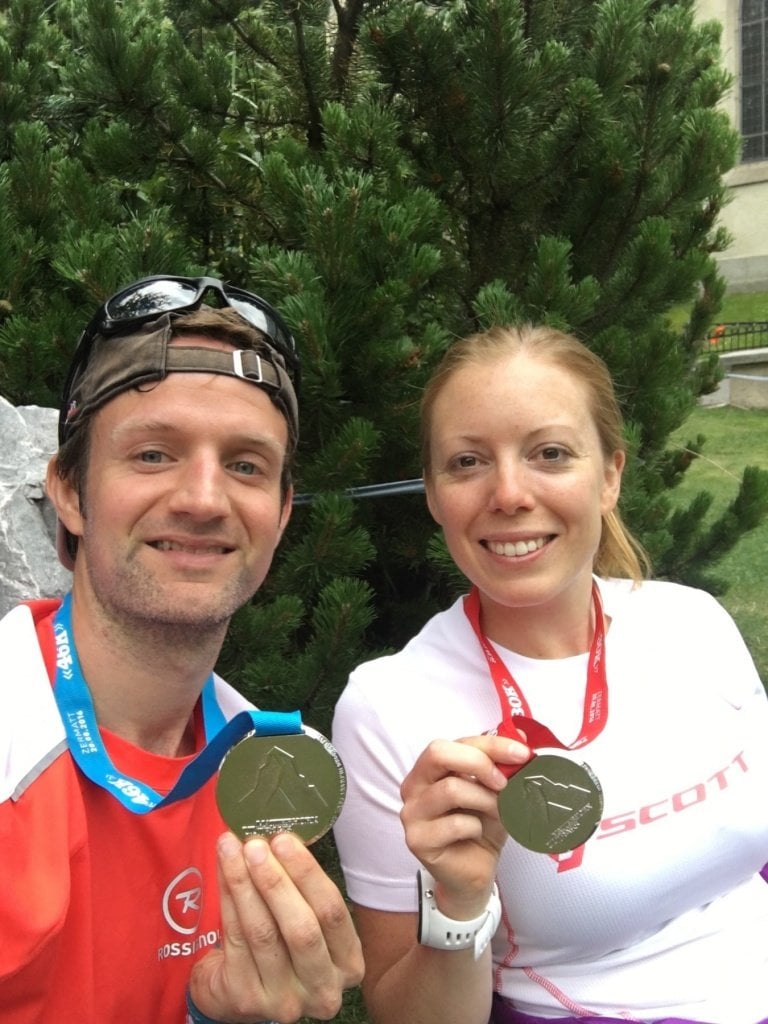 Matterhorn Ultraks 30k – race stats
Position: 511/600 finishers. 165/213 female finishers
Distance: 31.5k
Elevation gain / loss: c.2000m / 2000m
Finish time: 5h51
Thanks for reading!
We love to hear from you, so if you have any comments or questions (or just really liked this post ;-)) please leave them in the comments section below…