I've wanted to visit the Lake District for some time now, especially as the trail / fell running scene is so big there! To further my excitement about running around the beautiful National Park, Salomon Running recently visited with their all-star team line-up for their "Advanced Week" event. This is where their athletes test the latest products and feed back with their own advice for improvements. Some of the pictures and videos emerging from the week were amazing to look at. I could hardly believe that I would be running in some of those places very soon!
ADVERTISEMENT
Completing this Ultra race was a very important running milestone for me. And finishing it feeling strong has now given me the confidence to race faster in future Marathon and Ultra distance events. This was the race to finally bring myself into the Ultra running scene. And I feel so proud to have finally made it! 🙂
Profile / Route / Terrain / CP Nutrition
Profile
Route
Terrain
The terrain was probably the toughest I've had to tackle in a race, even more so than the Transgrancanaria Marathon in 2015. It included: river crossings (shallow water about 20cm deep), bogs, scree, loose rocks, fells, single track, soft forest trails, pebbled beaches and some road sections(towards the end).
Check Point Nutrition
There were 5 check points in total. All well stocked and managed by very friendly and helpful people! Bananas are my top choice for slow release energy. They kept me going strong!
CP1 Rosthwaite Institute: Water, Electrolyte Drinks from Team Nutrition, Tea & Coffee, Biscuits, Crisps and Bananas
CP2 Honister Slate Mines: Water, Electrolyte Drinks from Team Nutrition, Nak'd/Trek Bars, and Flapjacks
CP3 Crummock Water: Water, Electrolyte Drinks from Team Nutrition, Salted Nuts, Jelly Babiesand variety of sandwiches
CP4 Rowling End: Water, Electrolyte Drinks from Team Nutrition, Cola, Biscuits, Crisps, Sliced Oranges and Nak'd/Trek Bars
CP5 Hawes End: Water, Electrolyte Drinks from Team Nutrition, Flapjacks, Jelly Babies and Salted Nuts
Race Village
Wow! Just Wow! It doesn't get much better than this for a race village. Set up in Keswick, overlooking Lake Derwentwater, completely surrounded by steep hills, It's just Beautiful! There was also a uniquely happy and wholesome vibe in the area. Most likely due to there being so many other race events going on that weekend for sports including trailrunning, kayaking, swimming, triathlon, SUP and even road bike sportifs.
There were plenty of Loos available for use that never seemed to have much of a queue. A bag drop area, massage tent with capacity for 5 lucky people at a time, plenty of food & drink stalls, climbing walls, bike ramps and shopping tents. Plenty to do even if you're not taking part in an event. There was also ample time and plenty of space for a comfortable warm up session before the race briefing, which was held at 5:50. The briefing was very concise and as soon as it was over, the start whistle went.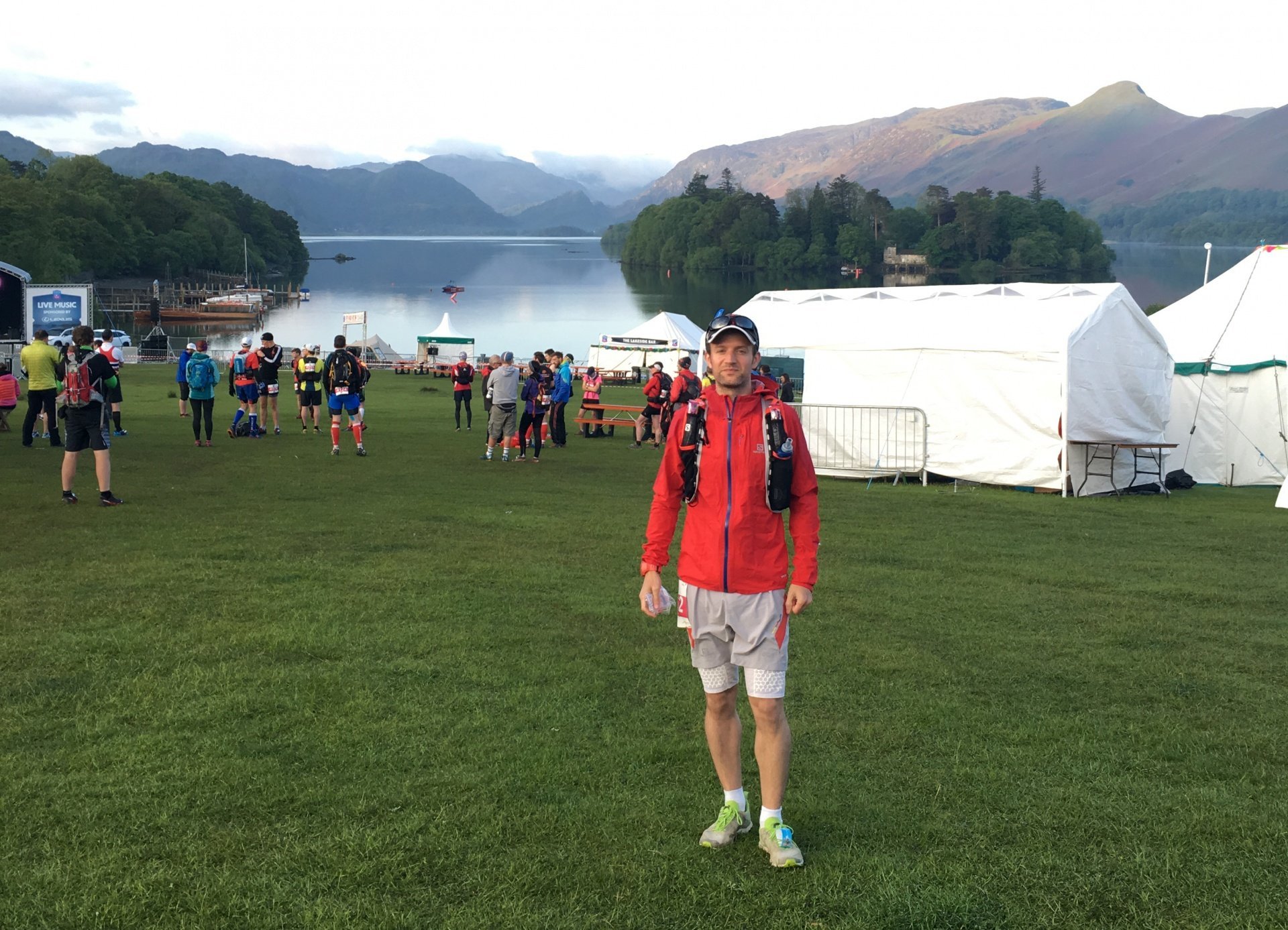 The Race from my perspective.
The week prior to the race I had been deliberating which shoes to wear for the event. My Salomon 'S-Lab Sense 3 HG' or my On-Running 'Cloudracers'? Yes yes, I know! Why on earth would I even consider using a 100% road shoe (On Cloudracers) for a trail run like this, with so much gnarly terrain!?
The short story is that recently I had been having some arch pain in my right foot when running in my Salomon Sense HG shoes, and nothing but good feelings whilst running in the On's. I've since attributed this whole debacle to the leg muscles in my affected leg being overly tight, and hence making my arch higher in the corresponding foot. This coupled with running in the very minimal and flat shoe of the Salomon Sense was a pain cocktail. The Cloudracers are flat and minimal too, but on the plus side have enough arch support that worked for the current state of my tight leg. I believe there to be another factor in the arch pain though, and this is that the cushioning on the Salomon Sense shoes tend to wear down in a non-linear fashion. One day they may be fine but the next they may have a very negative effect on your running anatomy due to the lack of support/cushioning. The trick I've realised, is catching this "wear point" in time and then ditching the shoes for new ones before impact injury sets in. I've since done this. Disappointing as I've only done 600 km in those shoes. Lets see how the new ones fair in comparison!
In the end I decided to run in the comfortable On Cloudracers and take my chances on the treacherous terrain. The shoes gave my feet comfort throughout the whole 54 km but as expected, I had zero confidence in the grip and stability during the rocky sections and steep descents. I have to say they drained very well too when running through rivers and bogs 🙂
This was my first Ultra Marathon, So I decided to start the race at a sensible pace in order to finish strong. This is always a big motivator for me going in to my next race. I'm pretty new to long distance running but would like to be much more of a competitor, so I'm fully prepared to gain experience sensibly and slowly; learn how my body and mind reacts to this new "Ultra" sensation and build upon it with speed.
Throughout the race I felt surprisingly good! I was relatively slow on the technical down hills, due to the shoe choice but generally catching and overtaking people on the up hills and flats. It was enough for me to steadily improve my position as the race progressed.
There were so many stand-out moments during the race; I'll recount as many as I can to help you shape your own picture of the race.
I recall getting 7 km into the race and having to stop for a minute. I'd reached a river crossing with no functioning bridge. Is this right? Should I actually be running across this river? To be truthful, I was more concerned about getting my feet completely wet this early on in the race, as I didn't know what may happen nearly 50 km's later. I saw a little red route marker flag on the other side so this had to be the right way to go!? I double checked that the bridge was indeed, out of use, and quickly made the plunge into the water. COLD, yet surprisingly refreshing! Towards the end of the race, I found myself heading for more large bodies of water for that very reason. The cold water was the perfect refreshment and really soothed my tired and overheating feet!
A couple of the checkpoints seemed a little too far apart, and I ended up draining my water bottle too soon (most notably CP1 to CP2). But then there were some which seemed a bit too close to each other, that's never a bad thing though! The final water station was very welcomed even though there was only about 6km left to the finish. It helped me stay fresh and keep my speed up to the finish line.
I remember there being lots of cute lambs all along the course who seemed all too happy to watch runners fly through the fields they called home. Their cute little bleating sounds brought a smile to my face every time!
Meeting lovely people became pretty common place. I was lucky enough to meet someone towards the end of the race with a similar pace. I'd like to think I helped him finish fast as much as he helped me. Its always easier mentally when you have someone running beside you! So thank you Scottish guy in the orange t shirt!
Being forced into a 100m sprint coming into the finishing straight was fun. I heard the crowd shouting, "quick there are two guys sprinting behind you". I didn't believe them at first and passed it off as a joke. Until I saw them just a few meters behind me. After running for nearly 7 hours, I wasn't about to get pipped to the finish line now! So I put on my fast daps and started sprinting at a pace of 4min/km and held them off all the way to the finish. After grabbing my medal and taking a minute to not be sick, my Scottish friend reappeared to kindly let me know that the two guys I had raced were actually in the shorter 10k race. What a tit, but at least it made for a hilarious finish line picture!! My face says it all! 😀
In the end I finished the course in a time of 6hr 50min and ended up in 63rd position out of around 220 runners. I couldn't be happier with that from my first Ultra Marathon!
The race finishes with a medal, all be it a small one considering the effort made to secure it! I admit I'm also a little disappointed that there is no mention of 50km on it. You're then offered some electrolyte drinks and water, and a t shirt (which again could have had 50k written on it at least).
Im so proud of myself for finishing strong in this race, I havnt really felt that way in any of the marathons previous to this. So that must be a good sign of improvement in my endurance!
Congratulations to everyone who ran the 50km race, I hope you all enjoyed yourselves as much as I did!
This was the race to finally bring myself into the Ultra running scene. And I feel so proud to have finally made it!
Race Analysis:
Position – (Finish = 63rd)
Distance – 54km
Elevation Gain – 1800m
Time – 6:50:53
Average Pace – 7:37 min/km
Trail Bag
Nutrition
Salts – Saltstick caps – If you suffer from leg cramping due to sweating, I highly recommend these capsules!
Water
Clif Shot Bloks – my new favourite and non sticky race nutrition.
Clif Bars – A bit dry so you will need to wash them down with some water.
I have dropped electrolyte drinks from my nutrition since using Salt capsules which allow me to regulate water intake separately from electrolytes. So far so good!
A BIG Thank You to the Festival Organisers and Volunteers of The Keswick Mountain Festival for making the weekend run so smoothly.