Interview with Hailey Van Dyk (@haileyvandyk)
---
---
When and why did you start running?
I started running back in 2012 after connecting with a friend from high school. We had never been friends in high school but I was inspired by her photos on facebook and decided to ask her to take me for a run. We met at a local path near our house and ran together and became instant friends. She is now my business partner at Run Like a Girl… so you could definitely say it was meant to be! Shortly after starting running, I ran my first half marathon.
Describe your ideal race.
ADVERTISEMENT
Steep, lots and lots and LOTS of climbing, technical uphill terrain, sunny and warm temperatures but not too hot. Somewhere in the mountains, and 30-50km. I am sure a race like this exists although I am not thinking of one in particular! I do well on steep, technical terrain. I like to think I move well in the mountains… as my husband always says when we are racing together: the gnarlier it gets, the faster we get.
What's your favorite trail race to date, and why?
My favorite race I have ever done was Transalpine last September. It is an epically beautiful and brutally challenging race. 7 days, 255km and 16,000m of climbing. I have never done a race beyond 50km in one day yet, but I have done 2 stage races. There is something about the challenge of getting up each day and forcing yourself to run through the accumulated soreness. I also really love getting to go to sleep each night so that you don't miss any of the sights by running through the night.
Transalpine was everything I love, and more. It is a partner race so I was able to run it with my husband which was an amazing experience for us. The scenery is also beyond beautiful… like take your breath away, holy crap I can't believe I am running here beautiful. The amazing trails and stunning vistas were a phenomenal way to keep me distracted from how much it hurt!
There is something about the challenge of getting up each day and forcing yourself to run through the accumulated soreness.
We love what you, Courtney and Dayna do at Runlikeagirl.ca, your retreats look amazing. Which one is your favorite and why?
COSTA RICA!!!! Oh man, this retreat is my heart and my soul. The first time I ever went to Chakra Lodge with my husband I immediately felt at home. We dreamt up this retreat together based on all the activities that we loved the most about the lodge. I think what we are offering there is so unique and so special that it is really hard to find something else quite like it. Our lives are so complicated, busy and loud… so being given the opportunity to disconnect from it all is a really rare experience. It is amazing to watch people transition… the bus ride to the lodge everyone is sending their last minute text messages or status updates.. and then almost instantly as soon as we arrive, everyone just let's go.
It is interesting how fast we sync back up with nature… with the sounds, with the rise and fall of the sun, with the sights and smells. I think we have a perfect balance of wellness and adventure… you will work with organic essential oils and give yourself a mini facial and rappel down a bad-ass waterfall in the same day. It is so special to share what I love the most, in one of the most special places I have ever been with others. We have seen peoples lives change in incredible ways.. and that is the greatest gift ever. I am so passionate about this project. I really hope it comes through when I write and talk about it!
[It certainly does! Sounds right up our alley! -Alastair]
We would love to visit the RLAG team in Canada one day and get a tour of your favourite trails. There will be one man though, me! (I hope thatís allowed!? haha)
Men are TOTALLY allowed!! We hope that we don't come across as a no-boys-allowed club! We have had men come on our retreats and have participated in our races! We want to get it out that we are for everyone!! That to Run Like a Girl really just means to run like yourself.. who ever you are, no matter how far or fast, just what makes you happy. We have 4 guys joining our Peru trips and 2 coming to our Costa Rica trail running retreat.
It is interesting how fast we sync back up with nature… with the sounds, with the rise and fall of the sun, with the sights and smells. I think we have a perfect balance of wellness and adventure…
What has been your biggest running / adventure challenge to date?
There have been many… but I would say my biggest adventure challenge to date was a 7 day 575km expedition race in South Africa. I was supposed to just be going with my husband who was racing and volunteering as a medic staff (I am an ER nurse in my real life!). A few months before the race, a team had their female member drop out (in expedition racing your team is 4 and you must have one female) and I took a chance and joined the team. First off, I had only ever met my team on Skype a few times when I toed the start line with them. We were able to do a team-building exercise the day before the race started and spent a few hours in our hotel room getting our gear ready. Luckily we are all instant friends because the race was the most intense thing I have ever done.
In expedition racing, it is multi-disciplinary.. the race started with an ocean kayak… on the Indian ocean. The next 7 days were filled with kayaking, mountain biking, trekking, rappelling and canyoneering, all while navigating between checkpoints and transition zones. You are out there all day and all night, finding places to sleep for 2 or so hours before getting back at it. It is about survival, staying positive and keeping going.
It was incredible… I saw things I would have never otherwise seen, I pushed myself to my limits and then completely beyond, I met amazing people, slept under the stars, walked through African villages and truly felt like I was on an epic adventure.
This is actually to date the only race I have never finished. 150km from the finish, during the last leg of the final mountain bike leg, I had to drop out. I had been vomiting and having diarrhoea for 2 days and it finally had zapped all my strength and energy. I had tried my hardest to keep going since we were on the final night of the race. My stubbornness did not prevail and I ended up on IV rehydration. This is not what I think of though when I remember this race.. it was all the other adventures I got to cram into one week of just perpetual movement.
[Wow! That sounds absolutely amazing Hailey (apart from thevomiting and having diarrhoea of course! lol) We would love to try an adventure race like that one day!]
Tell us about your greatest running fail (we've all had – or will have – them at some point!)
This is a tough one because I don't really think I have had an epic fail… I have gone out too hard and too fast at the start of a race only to end up having to slow way down and struggling through the end.
I guess my biggest fail was when I ran the Knee Knacker 50k last summer. It was my A race and my goal was to podium. I trained so specifically for this race and did more hill repeats than I care to remember. I had an extremely strong first half of the race and final quarter of the race.. but somewhere in the middle, I had one of the most epic nutritional bonks ever. I did not eat enough calories in the first half of the race and it caught up to me in the second half with nausea and vomiting. I fell from 2nd place to 6th place in no time. Finally, at the 35km mark, I was able to combat my nausea and fight back, but the podium was gone. It was a good lesson for me in remembering to fuel properly and pace myself better.
What is your approach to training? Do you follow a particular training plan?
Last year I did train with a coach for Transalpine. Since it was such a huge undertaking, I really wanted to train smart and efficiently. I enjoyed the structure of a training plan and was challenged by workouts I probably wouldn't have done other wise. From hill repeats to speed workouts, to heart rate training, I learned a lot about training efficiently and recovering properly.
This season, after feeling a little burnt out from racing, I decided to just wing it. I have been doing a lot of other sports other than running and have really enjoyed the freedom of just training however I want. I am a trail runner but I also rock climb, cycle, mountain bike, and mountaineer.
What advice would you give to a new trail runner?
Let go of the idea of time and pace, especially if you are transitioning from road to trail. Pace is not important for most races because every trail race is so different with more or less climbing, technical trails, and other elements. Just let your mind be at ease and just run.
What is your favourite bit of running kit?
This sounds like a very English phrase! I'd have to say my Salomon S-lab pack. I always refer to it as my turtle shell. It is impressive how much gear, snacks, and fluids you can fit in one of those, and it fits really well. It is a must have for me for anything longer than 10km.
[We agree, these Salomon race vests are amazingly comfortable over long distances]
Pace is not important for most races because every trail race is so different with more or less climbing, technical trails, and other elements. Just let your mind be at ease and just run.
What challenges / races / adventures are you planning for the coming year?
The rest of the year is a lot of guiding retreats for Run Like a Girl. We have two groups we are taking hiking on the Inca Trail in Peru and then I will be guiding 3 Costa Rica Adventure and Wellness retreats including our second trail running one!! I am planning to re-race the Coastal Challenge in February.. it was my first stage back in 2014 and was an incredible experience. I am looking forward to running the race next year in a country that I live half the year in. That is kind of all I have planned so far… but I am always up for an awesome adventure!
What's your favourite running/adventure book?
I love mountaineering books… Touching the Void, Into Thin Air, Eiger Dreams… I just love reading books about other peoples adventures… even ones that doní't go well! It just puts everything into perspective and it is nice to read real accounts instead of just seeing the perfect side of everything on social media.
As far as music… I am a HUGE Led Zeppelin fan… anything really by them can get me through a rough patch… them and the Chemical Brothers. Two polar opposite bands I know, but I am kind of strange like that. I actually prefer running to slower music, I feel I get over whelmed when the beat is too fast or too much. When my body is moving fast and my breathing is hard, I like to listen to slower, down tempo music to balance everything.
Finally, what do you get up to in life when you're not running or adventuring?
I am an ER Nurse by trade and work in an extremely busy ER outside of Vancouver. I also am happily married living in Squamish BC with our little rescue dog, Cotopaxi, from Ecuador!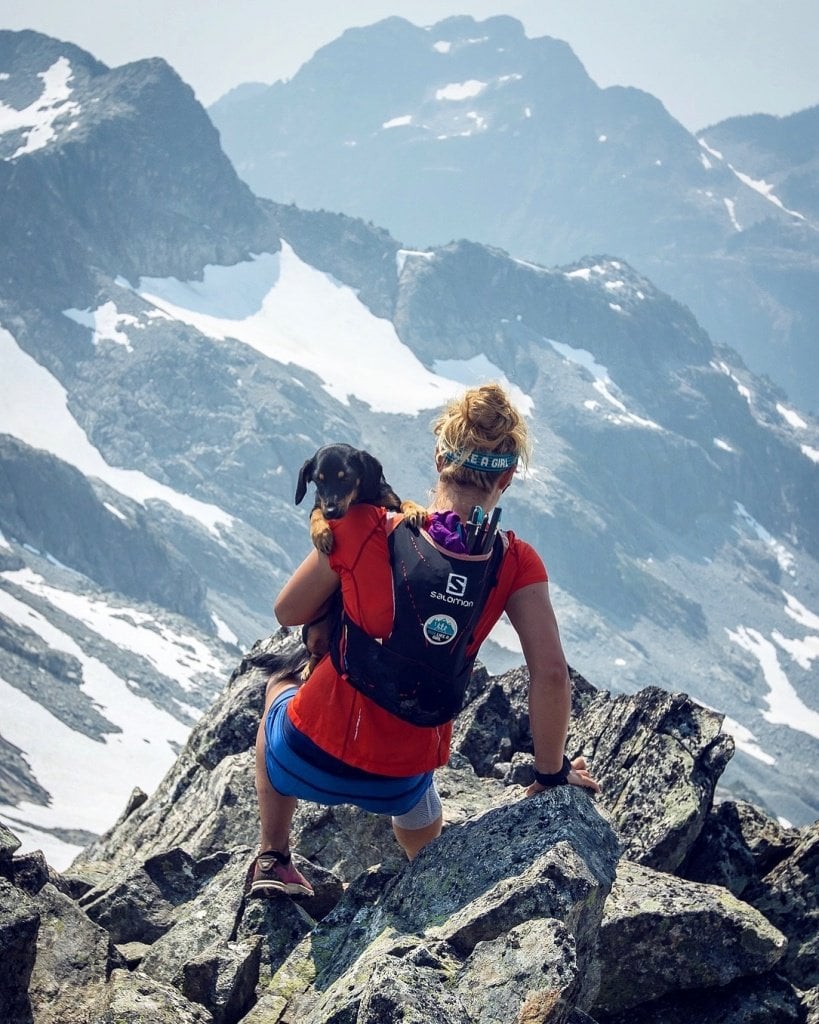 ---
 Social media links:
---
Thank you, Hailey, for giving us an insight into a true adventurers life. We love how you balance a full-time career whilst fitting in all those adventures with your husband. Helen and I are exactly the same! Good luck with all your future Costa Rica Tours and the Coastal Challenge next year, we've heard the heat especially makes that a real tough challenge!!
Happy Trails!