Runner Interview: Alastair Dixon – Co-Founder of Trail & Kale
---
Location: San Francisco, California
---
When and why did you start running?
Whilst growing up through school and college, I loved to run short distance sprint races of around 100-200m. For some unknown reason, when I started University, I stopped running altogether. Probably all those social events! I really regret that passive decision. In 2012 I picked it up again because I wanted an inexpensive way to get back in shape again. All I needed was a pair of trainers and the willingness to go out and train! I think it was the clear improvements I was making each week that got me hooked. I have quite a competitive mindset, so when I see results happen quickly, I jump at the opportunity to challenge myself further. The obvious benefits of stress relief and endorphin rushes after each run got me addicted. My first year back consisted of a lot of road running and my goals were to get as fast as I could over 5k and 10k distances. I picked up a lot of injuries in my first couple of years. Maybe this was because of trying to run fast every time, or my body taking too much too soon i'm not sure. Now I try to target beautiful trail races around the world of marathon and Ultra distance.
Describe your ideal race or adventure challenge
I really love the technical side of trail running, those sections that force you to slow down and concentrate. Because that's when you are truly "in the moment" and free from any other thoughts.
I also really enjoy ascending large peaks during races. There's a different sense of achievement when you reach the top of something epic like a mountain compared to running a certain distance. You are completely knackered at the top but the views are so rewarding that its always worth effort. Not to mention being able to fly down the other side on roller coaster trails. Best feeling ever! 🙂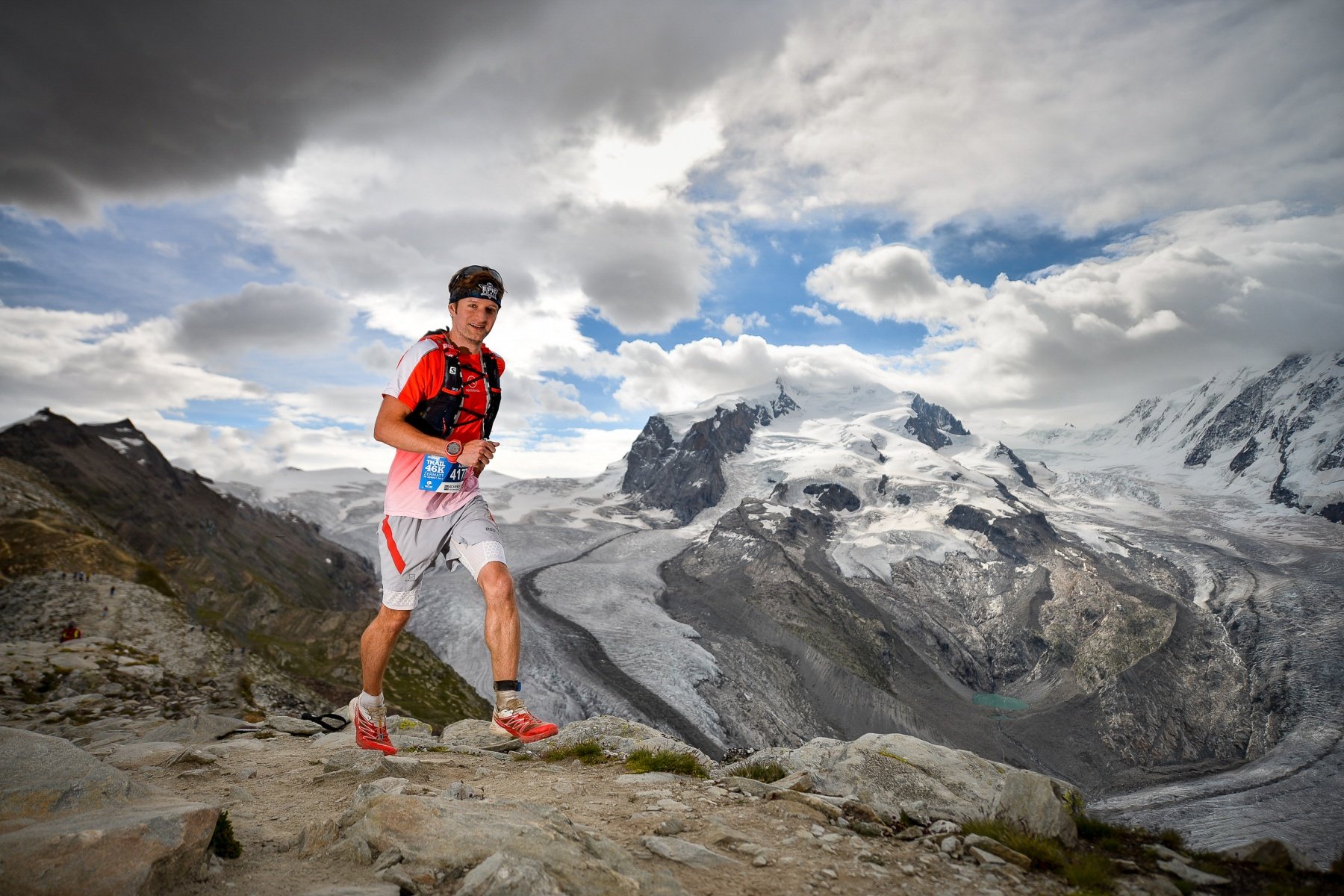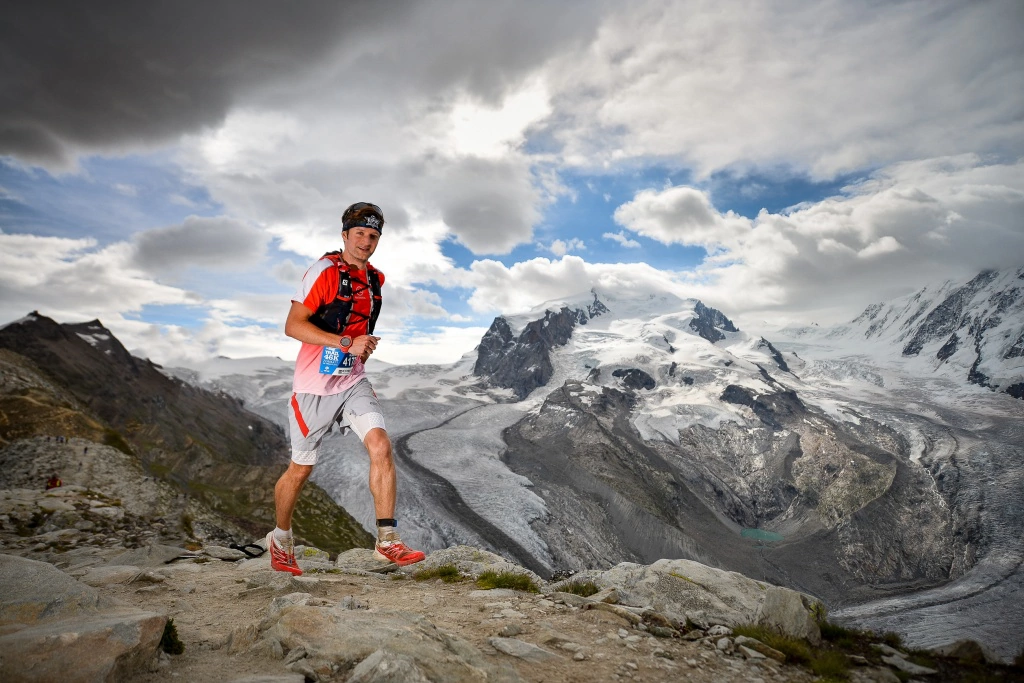 Tell us about your favourite trail
Probably The BUFF Epic Trail 21k race in Spain. It was my first true Skyrace and I absolutely loved it! I did a write up on this fantastic race HERE. The trail is effectively up and over a 1600m climb, and the terrain is super gnarly to say the least! 🙂
There's a different sense of achievement when you reach the top of something epic like a mountain compared to running a certain distance.
What has been your biggest running / adventure challenge to date?
That would have to be Matterhorn Ultraks 46k skyrace. It wasn't the furthest I had run in a race but unquestionably the most accumulated ascent in one sitting (nearly 4000m). There's a write up of that beautiful race HERE.
Tell us about your greatest running fail, we've all had – or will have – them at some point!
My first ever trail marathon. The race was CTS Dorset Marathon in 2014. It was my first marathon attempt and the most I had run in one go to that point was about 28km. I hadn't really discovered the benefits of good endurance nutrition and quite frankly I wasn't prepared for what was involved in such a race. I completely bonked at about 32km in, due to not having any decent nutrition with me. That was a disappointing day for me and the first trail race to really humble me. After that I told myself I would train much harder and learn more about race nutrition because I never wanted to DNF a race due to bad preparation ever again. Not finishing because of an injury is a different matter of course.
What advice would you give to a new trail runner?
My biggest training advice is to just have fun out on the trails. Listen to your body and train accordingly. If you really don't feel like you will get much out of an interval session because of a really hard day at work then just put in a steady run instead. Save the tough session for when you're feeling strong and you know you will get something back from it. As long as you're moving then its good training.
My biggest race advice for a new trail runner would be to start easy and finish hard. If you go anaerobic at the start of a trail race it can be very hard to steady your heart rate again due to the amount of scattered hill climbing and descending involved. It's something that really has to be learned either using a heart rate monitor or by really tuning into your body and what its trying to tell you. This is where experience comes in..
What is your favourite bit of running kit, and why?
My Salomon S-Lab EXO Twin skin shorts. I love the compression on the legs and there are so many pockets that cleverly expand outwards for nutrition. I feel I should also mention the Salomon S-Lab Sense HG shoes because I wear them all the time too. They are so light and the minimal drop allows you to run with very natural form. Here's a review of the Soft Ground version that I wrote.
My biggest training advice is to just have fun out on the trails. Listen to your body and train accordingly.
What challenges / races / adventures are you planning for the coming year?
My first race is CTS Pembrokeshire Ultra (56k) in April, followed by Cortina Trail (48k) in June. Its going to be a beautiful day running around the Dolomites mountain range in Italy. I will also enter more U.K. races and hope to get another International race in the diary for later in the summer. I still need to add a race tougher than Matterhorn Ultraks to really feel like I'm challenging myself … 🙂
Whats your favourite running/adventure book, and which songs keep you going when things get tough?
The book that really inspired me to be a stronger runner, and at the same time really enjoy running long distances though beautiful landscapes is Born to Run: The Hidden Tribe. I wasn't that surprised when Angelika told us the same in her Interview last week because the book is just so GOOD!
I don't tend to listen to music when I'm running. I like to listen to the sound of my feet and the sounds of the surrounding nature! 🙂 But there have been times when I've had to dig really deep and getting out my iPod Shuffle has really helped. CTS Gower Marathon from 2015 springs to mind, the weather was horrendous! I do however always enjoy listening to Run Boy Run before a race to get me pumped up.
I still need to add a race tougher than Matterhorn Ultraks to really feel like I'm challenging myself
Finally, What do you get up to when you're not running or adventuring?
I live with my wife Helen and our two siamese cats near Bath, United Kingdom. During the week I'm a CGI Lighting Supervisor for Aardman Animations in Bristol. You may know them from their big hits "Shaun The Sheep", "Wallace & Gromit", "Chicken Run" (Sequel coming!) and "The Pirates" to name a few! I work on anything from TV Commercials to Feature Films. It's a really fun job and I love seeing my creative work on TV and in the cinema.
My CGI Lighting Showreel:
Doing this work does unfortunately mean I have to spend a lot of time sitting down at my computer. Although, I'm lucky enough to work near Ashton Court (A Country park and mansion in Bristol with 850 acres of woodland and grassland) which has enough trails to keep me busy during my lunch runs.
When I'm not running, working or managing Trail & Kale, I'm usually taking photographs of landscapes and the adventures that we have. I would love it if you could check out my online portfolio, let me know what you think!?
and
please follow my photography journey 🙂
[instagram-feed type=user id="533375009″ disablemobile=true num=12 cols=6 showheader=false showbutton=true showfollow=true ]
---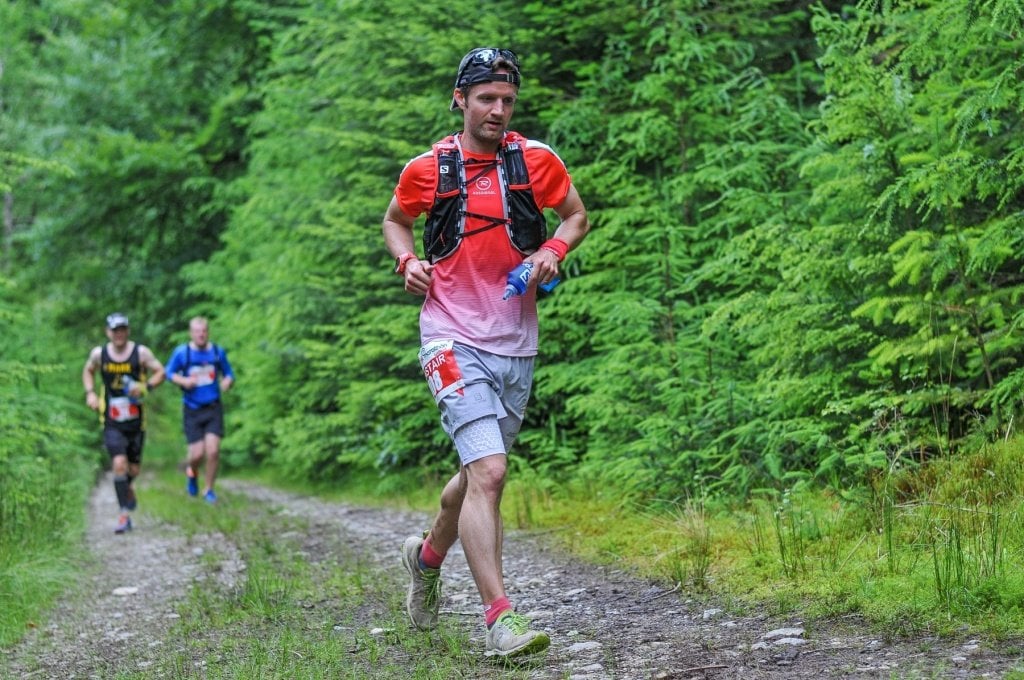 Thanks Alastair, happy trails!
---
Social media links:
---
---
Mentioned in this Interview and recommended by
Trail & Kale

: