An Interview with Emelie Forsberg from Måndalen, Norway. Emelie is a plant-based athlete who enjoys sustainable living with a healthy and holistic approach. Read on to discover more about this amazing mountain athlete.
What have you been up to so far in 2018?
In the winter time, I switch from being a trail runner to a ski mountaineer so I have been training and racing on skis. World cups, and Grand courses and some local Norwegian races too.
As an elite mountain athlete, currently for Salomon Running, you've tackled some of the World's toughest mountain races. Which would you say is the one you learned the most from, and what did you learn?
I think from every race we learn something, sometimes it is just more of an epiphany. In Diagonale des Fous ( 100 miler on La reunion) I learnt that I can run so much longer than I ever thought, and to feel really good doing it. It taught me what I always believed, that we were really born to run for long distances. And to do it in a healthy way!
Leading on from the previous question – which race was the most enjoyable or is the one that you remember the most?
I really enjoyed Mount marathon, an Alaskan legendary 5 km race up and down Mount Marathon. Super cool ambience, and it has different starts for men, women and kids. I also love some of the Italian races where the atmosphere tends to be truly amazing. But really, all races have their own charm, and I really enjoy all of them, as well as short 30 minutes to an ultra race.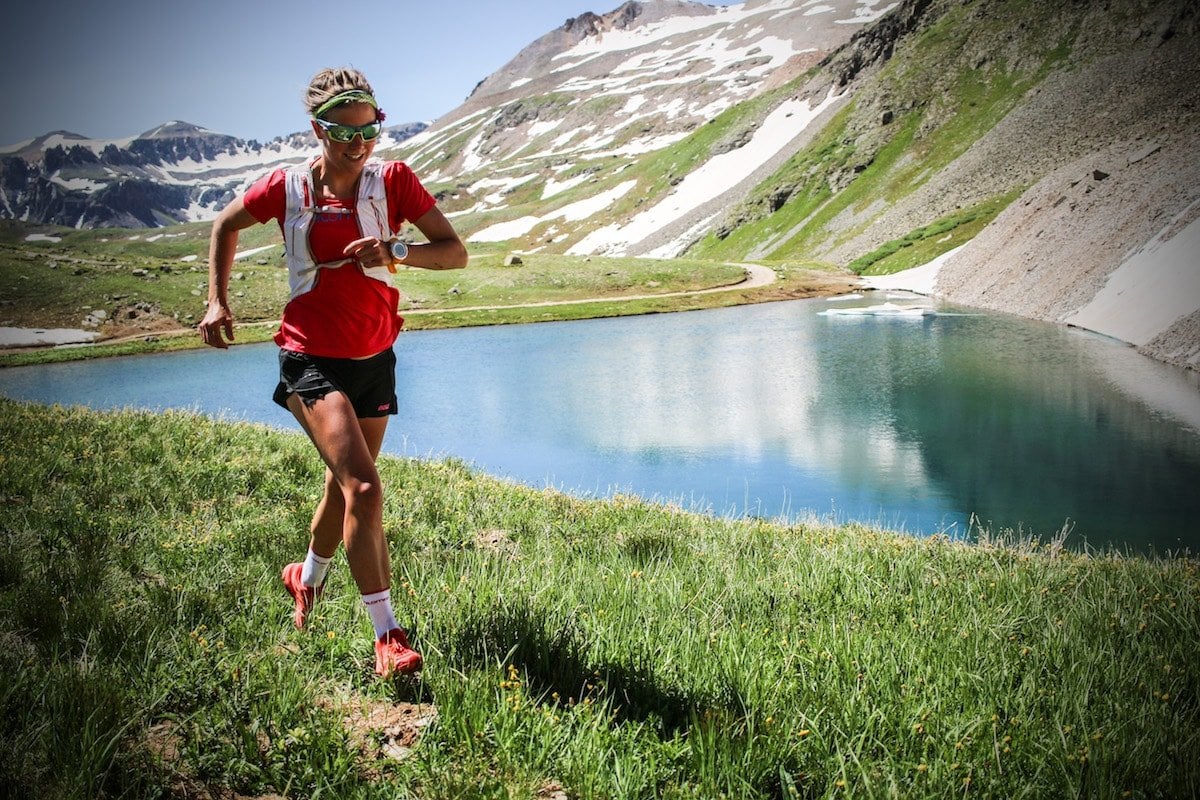 It taught me what I always believed, that we were really born to run for long distances.
What is your approach to training? Do you prefer to focus on ascent and decent, or distance?
My approach is always health and holistic first. From there I work towards my goal or goals for the season. I take it from where I am right now, and where I want to be in a few months. Depending on if I focus more on a ultra or short races, I plan my training. Winter time I do for sure more intervals as the world cup involves races lasting around 1.5-2 hours, while in the summertime, I run longer. For some years I have been focusing on becoming a stronger uphill runner, which I feel I have become. So now I need to try to keep that and also work on my flat and downhill running 🙂
You've chosen to live in Norway. From the photos you've shared, it looks like a beautiful part of the world. Apart from its beauty, what attracted you to Norway?
I've been living in Norway more or less, since leaving high school. I've been working and studying at university there too, and it is because Norway has incredible mountains, very close to villages or cities. In Sweden, the mountains are so remote. It's almost like Sweden but just another country… I feel at home there and it's only a drive to get home to my home village in Sweden.
We loved watching the video you and Kilian produced last year ('Challenging Ourselves') about acclimatising and attempting the ascent of Cho Oyu in Nepal. We love to take on mountain adventures as a couple too 🙂 What advice would you give to someone planning a challenge with their partner?
In all adventures or challenges, you need to know your partner and know your own limits. Trust and confidence are very important.
Will you be producing more videos and creative content this year? We'd love to hear about what you have planned.
I was really happy to set the women's record for the fastest ascent and descent of Teide (Tenerife, Canary Islands) and to show a little bit of me outside racing, as it is really more of mountains I love to run than racing all year around. So yes, it will be more of this!
RELATED: Running in Yosemite National Park – An Earth Day Treat
We (and many of our readers) were so inspired to see how you managed recovery from your knee injury in 2016, and you made a fantastic comeback winning at Kima that summer.
What advice would you give to another athlete dealing with the inevitable 'down days' during recovery?
I think it depends a lot if it's the first time being injured or not. For me, it was the first time, and it was very difficult to know if I was gonna be able to come back or not. Now I know it's possible to come back. Just give things time and you will be back too. Also, try to see the other things you can still do.
What were the biggest challenges in coming back to racing that year? How did you maintain (and recover) your fitness levels?
Haha, I did not maintain my strength or endurance at all. I did not cross train as I took the choice not to, as I did not cope with that in my mind. I just could not sit on a cycle or row or swim like everyone else is doing if they are injured. I was working in the garden, chopping wood and things like that. But I think it was good because when I was able to start running again, I was forced to not overdo it because I was not in shape. Gradually I became stronger as well as my knee.
RELATED: Being grateful for past running injuries
Our readers would love to hear about Tromso Skyrace, which you co-created. How would you describe it?
Oh, my it is the hardest race I've ever run..! It's very demanding, and not like any other sky race. You need to experience it for yourself! 🙂
[Here's a link if you fancy trying it out one year: Tromso Skyrace]
You recently completed a yoga instructor course. How has yoga helped you – with sports, as well as everyday life?
It makes me take time to feel how my body and mind is doing. I love starting the day with it. It gets my mind in a good state, and to lets me feel if my body is tired or not.
---
Let's talk about food! YAY!
Emelie working on her self-sustainable small farm
What do you eat to keep your energy levels up on long days out in the mountains?
I love dried fruits, nuts and seeds, cacao and coconut oil. Mixing some of these ingredients and a pinch of salt and It's ready to go!
RELATED: The Best Real Food for Trail Running
We enjoy reading your blog, you post a lot of philosophical questions that give us 'pause for thought'. Recently you wrote the post 'Vegan?'. What are your favourite plant-based meals/recipes?
I love bean/lentils patties with a big salad or roasted potatoes!
We know you love to bake! What is your current favourite baked snack and how would you bake it?
Right now it's vegan carrot cake with banana/vanilla frosting!
What challenges/races/adventures are you planning for the coming year?
Mountain races and projects are coming up at the beginning of the summer but right now I need some time for the transition from skiing to running.
Social media links:
Thank you!
Thank you, Emelie, for taking the time to answer our questions. We really enjoy following your adventures and racing in the Mountains. We also love what you are doing with your small farm in Norway, it's very inspiring. We too are trying to become more self sustainable!
Wishing you all the best for a 2018 full of fun, adventures and mountains 🙂
Happy Trails!
If you enjoyed this Interview with Emelie Forsberg, why not read these related articles