---
---
Firstly, congratulations on getting Gobi back home to Scotland safe and sound. I loved the book – what an adventure and emotional journey for you all!
Thanks – If you had told me this was all going to happen just over 12 months ago I would have thought you were crazy, it's been quite a whirlwind.
When and why did you start running?
I started running in 2013 after a drunken bet with a friend who could run a half marathon the quickest. I wouldn't say I love running like most runners but I enjoy pushing myself to compete to the best of my ability and I like the fact that there is no one else to blame but myself for the training, commitment, and end result.
It would be my wife Lucja who would introduce me to longer distances and multi stage races and my running really started from there.
[Note from T&K: We've also interviewed Lucja! Read her interview here: Lucja Leonard @RunningDutchie]
Describe your ideal race?
I grew up in Queensland, Australia where summer days averaged 40 degrees and my teenage years were spent playing cricket and hockey in hot dry environments.
The hotter, the drier, the tougher the conditions the more it brings the field back together and I find I am good at digging deep to push myself to get through the challenge.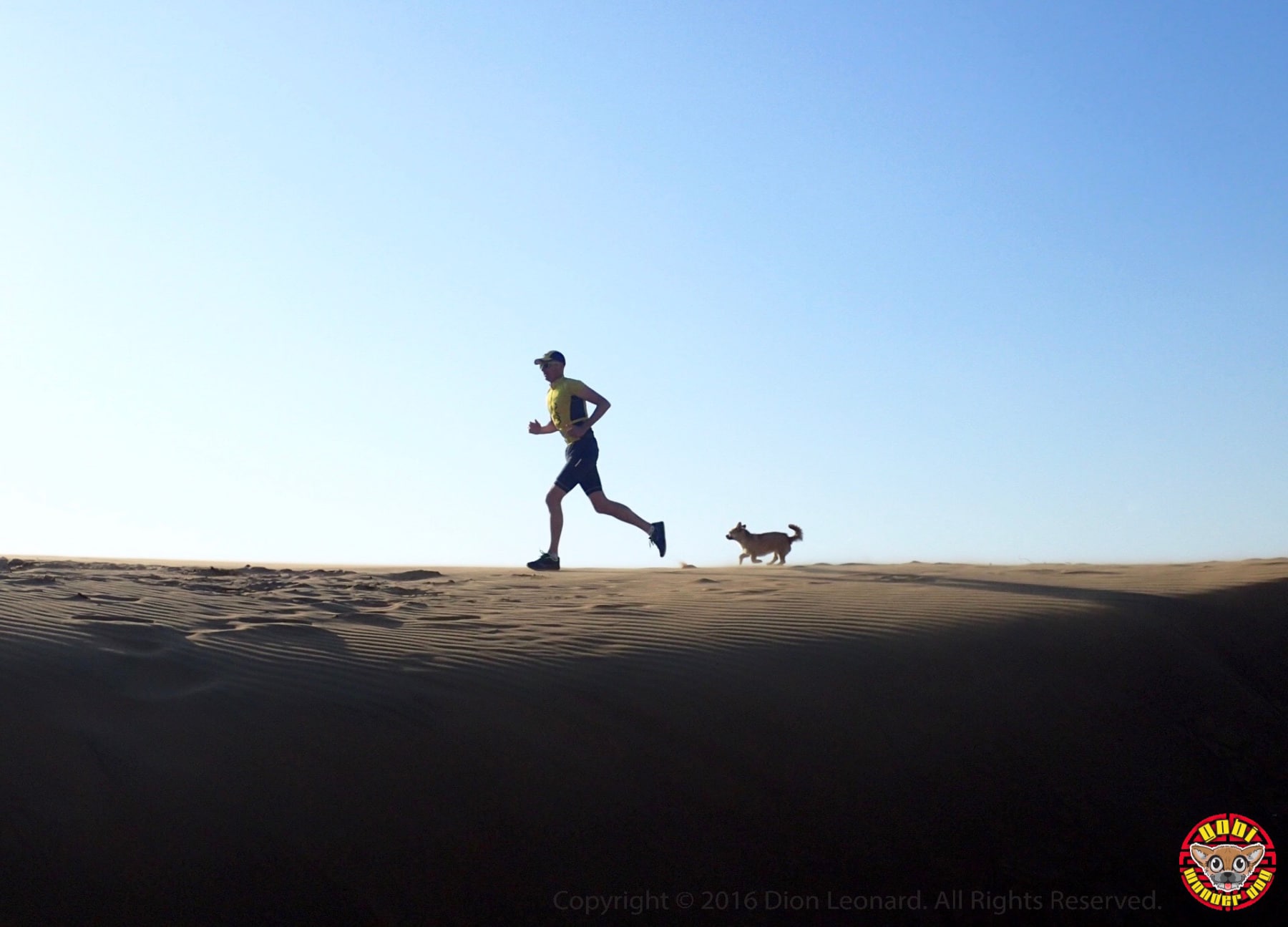 What has been your biggest running / adventure challenge to date?
I found my niche running multi stage races around the world – Morocco, South Africa, China and Cambodia to name a few. These races are typically 155 mile / 6 stage held over 7 days.
What makes multi stage racing even more difficult is they also require you to be self-sufficient, meaning you need to carry all of your food and kit to survive the week. Only limited water is supplied and a covered area to sleep at night. There are no showers and a week out in this survival mode pushes you beyond your limits.
Tell us about your greatest running fail (we've all had – or will have – them at some point!)
I actually never finished my first ultra race of 30 miles because I got bored and pulled out at the 26 mile mark because to complete the ultra you had to run past the finish line and do an extra loop. I just didn't have it in me, I was cold and not enjoying it at all.
I nearly never ran again but ended up going to my first 155 mile multi stage race across the Kalahari Desert a few months later and came 6th overall.
What is your approach to training? Do you follow a particular training plan?
As with everyone finding the time to train and train effectively is always a challenge. Living in Scotland we have amazing trails but the weather can be brutal which is another factor that hinders me. On average I run 60 miles a week and 3 months out from a race this will increase to 100 miles plus a week.
You mention in your book ('Finding Gobi') of having suffered with running injuries in the past. How have you adapted your training to reduce likelihood of getting injured in the future?
I was finishing races and getting results by just running training with no core work or specific exercises and it wasn't until I had a continual leg injury that a physio asked me what strength and conditioning I did. I went about finding a running/fitness coach and started working on this to correct it and now as I get older I realise how much important this aspect of my training has become.
RELATED: Finding Gobi Book Review
What advice would you give to a new trail runner?
Keep it fresh – Don't just concentrate on running. Ride a bike, Kayak, Do Yoga, Go to the gym, walk in the mountains… most of all don't be frightened to incorporate other fitness aspects into making you a better trail runner. Too many of us (me included) do junk miles because we believe we need to but
Too many of us (me included) do junk miles because we believe we need to but it's smarter not harder training that works.
What is your favourite bit of running kit?
The WAA ultra vest, it's a shirt that has pockets on front and back for gels/phone/water etc providing the ability to run without a bag. The shirt provides the comfort and light feeling whilst stilling carrying the essentials you need.
Readers training for hot-weather runs and races would love to hear about your home heat-chamber, can you tell us a bit about it?
Ha, Yes Scotland isn't known for its heat so it's impossible to acclimatise to desert heat living here so to ensure I arrive at a race ready to compete I decided to make my spare room into a heat chamber with a treadmill and warehouse style heaters that can make the room reach temperatures of over 40 degrees. I close the door, seal the windows and run for hours at a time whilst watching You Tube or listening to music.
My heating bill is astronomical before a race but I'm sure my neighbours love the heat coming through the ceiling during winter.
What challenges / races / adventures are you planning for the coming year?
Over the next few months I will be running the Kalahari Augrabies Extreme Marathon 250km desert race for the third time, and a new 250km desert race: Marathon Des Sables Peru. Next year I'm looking to continue running multi stage races and 100 mile events across the world, it's a great way to travel the world, meet new people and experience new cultures.
What compelled you to write your book, 'Finding Gobi'? How did you find the writing process?
Our incredible story was seen as one of the only positive heartwarming events of 2016 and as it went viral around the world throughout the rollercoaster journey we received so much support from people to make it happen that it felt right to share the complete story with everyone on the true events. There is so much more to the story than what's been in the press and you'll be shocked, surprised, laugh and cry at the full untold story in the book.
[Note from Helen @T&K: I certainly was – it's a great rollercoaster story]
We've heard your story is being made into a film. When will it go into production – and have your characters been cast yet?!
That's right, Hollywood rang and said 'We couldn't even write this, it's an amazing story' which was pretty cool to hear. If all things go to plan then production will start next year for a 2019 release date. I don't know who's going to play me but I know that Gobi will actually need 20 dogs to play her in the movie.
Hollywood rang and said 'We couldn't even write this, it's an amazing story'.
Finally, how has your approach to life (and running) changed since bringing Gobi home?
I had a volatile and abusive home life leaving home at the age of 14 and I used to use a lot of negative thoughts from that period of my life during my running to really drive me on. Finding Gobi was one of the hardest things I've ever done but her finding me was one of the best. Gobi coming into my life has changed both of our lives forever, it's erased some of those bad childhood memories and it has been an incredible experience.
Bring Gobi home – buy your copy of the book
Finding Gobi: A Little Dog with a Very Big Heart
---
Thank you, Dion for taking the time to be interviewed. We're so happy that you were able to bring your life-changing running buddy home, and I hope she also enjoys hanging out in the home-made heat chamber when you're training for the Kalahari and Peru!
Happy Trails!
---
Social media links:
Mentioned in this interview and recommended by Dion: WAA Ultra Top: WAA Ultra's Website