If you're already into cycling (in particular road cycling) then you'll have already heard of Velocio – a US-based cycling apparel brand headquartered in New Hampshire.
The company has been making premium men's and women's bib shorts, jerseys and other cycling apparel since 2014, starting first with a women's cycling collection – one of the first brands to start paving the way for gender parity in cycling.
Velocio's Gravel Collection is their dedicated range of men's and women's shirts, bibs, and shorts for trail biking – whether you're into gravel biking, mountain biking, or cross-country rides.
---
About Velocio's Gravel & Mountain Bike Apparel
Velocio's cycling apparel features unique designs, fabric and patterns – in both men's and women's styles, including gear made from recycled materials.
The Gravel Collection is a range of men's and women's biking jerseys, shorts and mesh bibs, jackets, and accessories including gloves and socks – all designed to wear when mountain biking or gravel biking.
Here are the core staples of the collection.
Ultralight Hooded Jacket ($229)
A year-round layer, the Trail Ultralight Hooded Jacket is stretch-woven for unrestricted movement, and fitted – yet still allows room for layering.
I've been wearing this jacket on our local mountain bike trails here in Northern California and have been highly impressed with the breathability and quality of the fabric.
It's windproof and water-resistant, and when you're not wearing it, it packs down small into its own pocket… or you can stuff it into your hydration pack and it takes up very little space and weighs next to nothing.
Great not just for mountain and gravel biking but also hiking and trail runs!
---
Trail Merino Tee ($109)
With a refined fit and the breathable, sweat-wicking, odor-resistant properties of Merino Wool, the Trail Merino Tee is ideal for layering on cold weather rides or wearing on its own in summer.
Although this Merino tee is designed for keeping you comfortable and cool while gravel or mountain biking, it's a super versatile top you can wear pretty much every day, whether you're riding, hiking, running or just going about your everyday business.
---
Trail Access Short ($189)
The Velocio Trail Access Shorts are mountain biking shorts with a generous cut to allow you to fit knee pads (if desired).
They come in men's and women's specific fits, which is refreshing. Alastair has the men's version (pictured here), and I have the women's version, which pull on with a wide, soft waistband.
These biking shorts are made from a durable, DWR-treated fabric that is 'stretch-woven' so it has some give and flex as you move around on the trails. I've been highly impressed with how durable this fabric is, yet it's still stretchy enough to be comfortable over hours of riding.
They also feature four zippered pockets for stashing small essentials.
---
Trail Mesh Bib Liner ($139)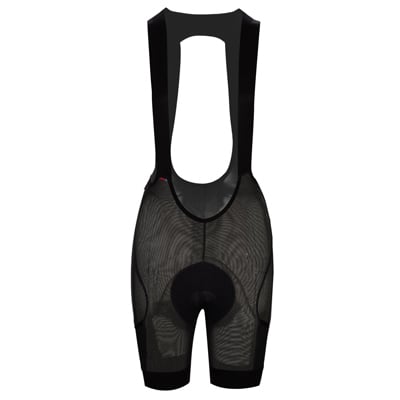 For added comfort, these Trail Mesh Bib Liners are great for all-day rides and designed to be worn underneath the Trail Short.
Plus, the women's version also features Velocio's 'FlyFree' design to allow for pee-breaks without removing your jersey or helmet.
---
Trail Anorak ($449)
For foul-weather rides, the fully waterproof Trail Anorak is a must-have to keep the rain, wind and sleet off your body so you can focus on the trail ahead.
This anorak has all the features you'd expect of a waterproof cycling jacket, including taped seams, and side underarm zips for added ventilation when needed.
---
Where to buy Velocio Cycling Gear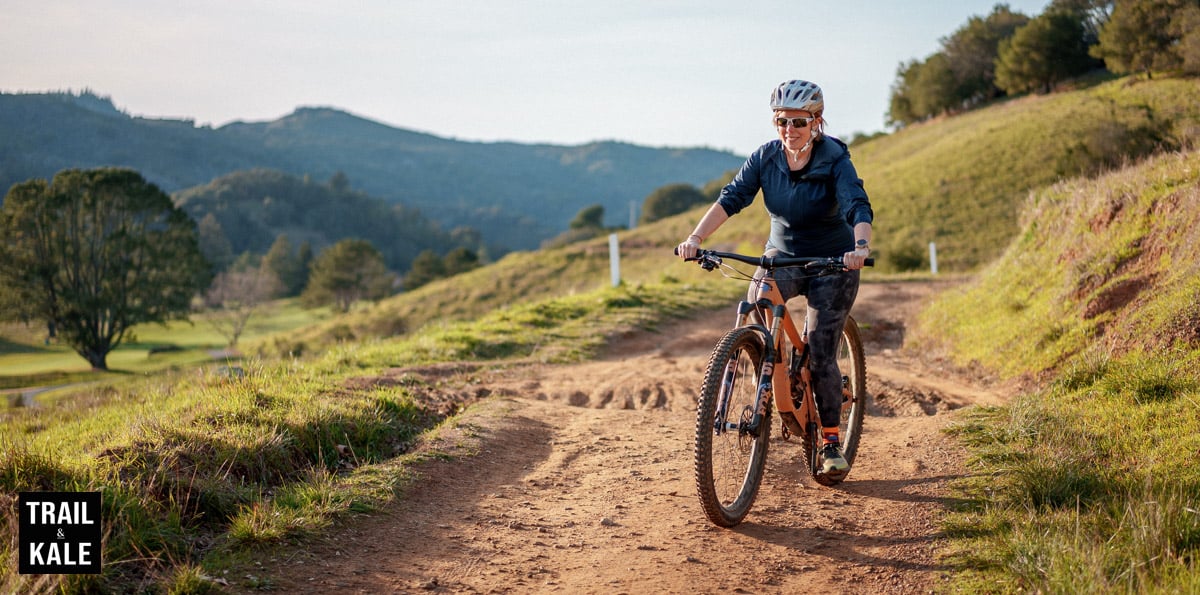 To learn more about their cycling apparel for cross-country trail, gravel, and mountain biking, including checking the size guides and current color options, visit Velocio's website.
When you order their products direct, you get free shipping on orders over $100 (which is, let's face it, easy to achieve!).
If you're concerned about buying fitted gear online – don't be…
Velocio gives you 30 days to try the products and ensure they meet your needs – including getting them dirty on trails, and washing them. If you're not happy with a product for any reason, you can return it for a refund (and they even pay for the return shipping).
To get a better idea of how the Velocio cycling apparel fits, have a look at our image galleries below; one for women's apparel and the other for men's.
As always, feel free to leave a comment with any questions you may have for me about Velocio clothing!
---
Image Gallery for Velocio's women's cycling apparel
---
Image Gallery for Velocio's men's cycling apparel (Trail Collection)