Introduction
UPDATED 26 SEPT 2018: In this post I share my thoughts on the Ultimate Direction Ultra Vesta 4.0, a women-specific running race vest for long days out on the trails.
ADVERTISEMENT
I liked my first race vest, the Ultimate Direction women's race vesta, however the big downside to that vest was that the bottle pockets were designed to hold small bottles of less than 500ml each, and the bottles it came with were hard plastic ones, rather than soft flasks.
This made it a less attractive option for long runs than others on the market, such as Salomon's popular Advanced Skin race vest.
Recently, however, Ultimate Direction has grown their product range and now offer a selection of race vests for men and women, complete with larger bottle pockets and soft flasks!
To see all the latest options and versions of the best running hydration packs for men and women (including the latest version of Ultimate Direction's Ultra Vesta, head over to our best running hydration packs buyer's guide.
First impressions of the 'Ultra Vesta'
I chose the Ultimate Direction Ultra Vesta 4.0 over other styles they offer as it is lightweight compared to other larger-volume race vests, offers secure, zipped storage, and two large bottle pockets. It also comes complete with two 500ml soft flasks.
Fit & design
Fit is one of the most important things for a race vest to have right, because if it is going to move around or rub you, then wearing it for hours on the trails is not going to be fun.
The vest comes in two sizes, XS/S, and M/L. I used the size guide on Ultimate Direction's website to select my size (XS/S).
The Ultimate Direction ultra vesta comes with an interesting 'cinching' mechanism, which you can adjust when on. This allows you to tighten the fit around your back. It also has two adjustable length clips on the front, which are on built-in rails which enable you to slide them up or down along the front of the vest, so you can have the front straps crossing your body in a comfortable place for you (i.e. above or below your boobs).
The combination of the adjustable front clips and back cinching mechanism allows you a lot of versatility in working out the most comfortable and secure fit, which may vary depending on what you're wearing and how full the pack is.
The only aspect of the fit I don't love is the fabric that runs along the back of my neck. You can see how high this goes from looking at the photo of the back of the vest, further down in this post. I feel the front pocket contents weigh the vest down so that the fabric weighs heavily on my neck. While it doesn't rub, it is something I don't find happens with my Salomon race vest, or my old Ultimate Direction Womens Ultra Vesta.

Soft flask water bottles
It's great that the vest comes with these bottles, as they are expensive if bought individually. While they fit in the front pockets, if full it can be a bit of a squeeze to fit them in. You do get better with practice (remember to squeeze out excess air before trying, it really helps).
If you haven't used soft flasks before, have a read of my previous post on why I always use soft flasks for running (compared to a water bladder or hard-sided bottles).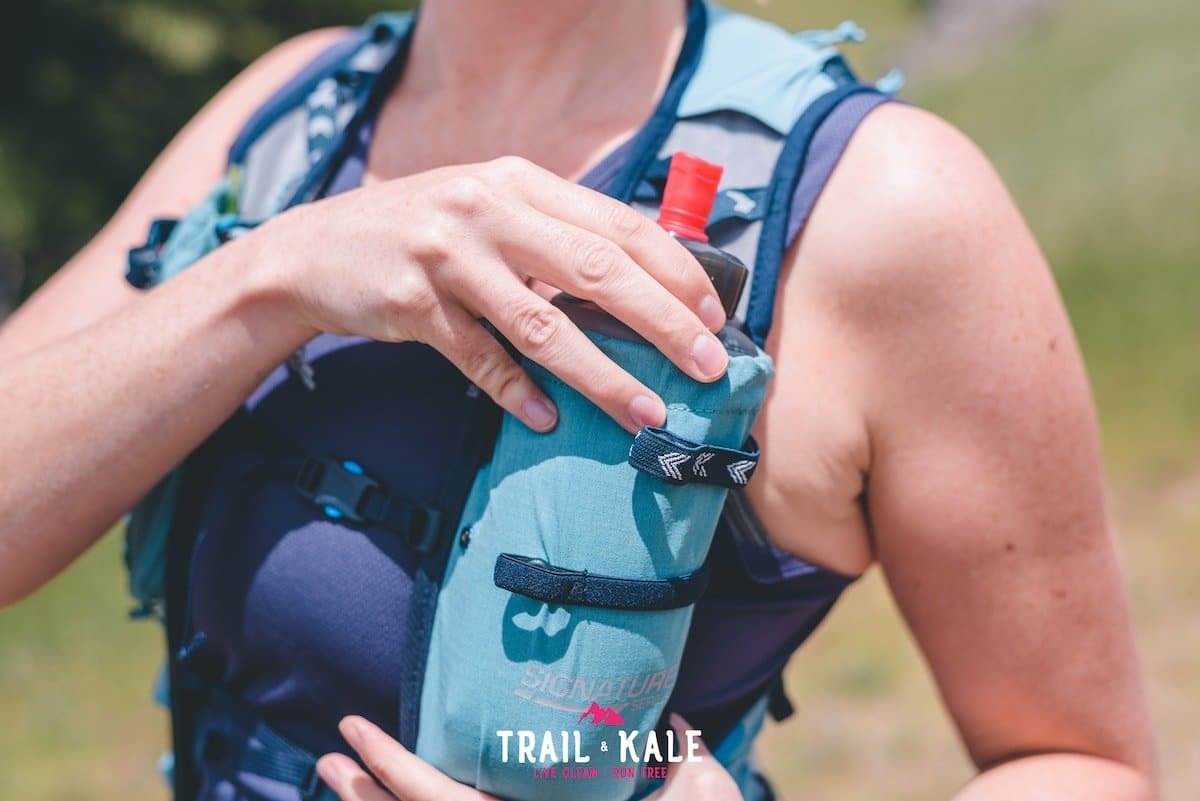 The Ultimate Direction Ultra Vesta 4.0 has several pockets:
Four at the front (two large for each of the bottles, and two small, with zips, used for snacks, tissues, salt caps, etc)
Generous storage in the back pockets, which include one main zipped pocket, two smaller ones and a stuff-pocket that you access from the top of the vest.
Cumulatively, the storage volume is quoted as 8.1 litres. This makes it slightly larger than the 5 litre comparative Salomon race vest mentioned earlier, and larger than my 4 litre 'old' Ultimate Direction race vesta.
Thank you, Ultimate Direction, for making a race vest with zips. I don't know why you would want pockets without zips, unless they're designed for quickly accessing water bottles!
One drawback to the pocket arrangement is that if I am carrying both water bottles up front, then I do not have space up front to fit my phone. If I have one bottle, then I use the other bottle-pocket for my phone (and snacks/tissues/whatever else I need handy). However if both bottle pockets are in use, then the phone has to go around the back – less ideal for whipping it out to snap awesome views or wildlife I encounter on the trails.
Bungee cord
As with other Ultimate Direction race vests, the back of the vest has a handy bungee cord attached. I only use this if the pockets are all fun, which would be on longer days out. The best use is for quick storage and removal of my waterproof jacket.
making it suitable for long days out, including trail marathons and ultramarathons (you need a good amount of space to store all that food and mandatory kit)
Carrying poles for trail running
For long mountain days and races, you may want to carry folding hiking or trail running poles.
My poles fold up into four small segments, which do not fit in the Salomon race vest in the style intended, so I got creative using bungee cords to get around that issue.
The Ultimate Direction ultra vesta has a much neater solution. The dark blue elastic straps around the bottle pockets unclip, and are used together with bungees on the side of the waist to store the folded poles diagonally from chest to waist. I used them with the race vest on the Broken Arrow Skyrace, and this solution worked perfectly! The poles were easy to store and remove, without taking the vest off, and did not get in the way of my arms or move while stored. Nice!
See also: How to trail run with poles
Conclusion – Ultimate Direction Ultra Vesta 4.0
This race vest has some great features and it looks great on. Big thumbs up for the adjustable fit, many zipped pockets and tidy pole-carrying solution. A few minuses for the tight bottle storage, lack of dedicated phone pocket and high neck fabric, but all-round, great for long days out on the trails.
For shorter trail excursions where you need less water and accessory storage, have a read of my thoughts on the Nathan Speedster 2l, which is designed for shorter runs, and comes in at a more pocket-friendly price point.
Ultimate Direction Ultra Vesta 4.0
Pros
Plenty of zipped pockets
Adjustable 'cinching' mechanism
Customisable fit around your bust
Great pole storage set-up
Nice colour options
Good value for money
Cons
A bit much fabric on the neck
Lacking phone pocket up front when using two bottles
Find the best price for Ultimate Direction Ultra Vesta 4.0
Last Amazon price update was: 7th December 2022 10:01 am
If you're based in the UK:
Also available on Amazon.co.uk – currently priced at £121