TRX training is a form of bodyweight suspension training used by trainers and fitness enthusiasts the world over.
ADVERTISEMENT
Don't miss TRX'S LABOR DAY SALE (ending September 6th), in which you can get a huge 20% off sitewide plus free shipping AND our followers can also take an additional 15% off their order using our code AFFILTRX15.
You've probably seen TRX straps and bands in gyms and if you've never used them, you may be wondering what this type of training is good for as well as whether its worth getting yourself a set to use at home.
I use TRX suspension training as a balance, strength, and core training workout to complement my trail running training and benefit me in doing other activities I enjoy, such as hiking, backpacking, and skiing.
The TRX Suspension Trainer is a true example of versatility that meets portability in a fitness product.
This TRX straps review covers the key features, pros, cons, and popular workout exercises you can do with TRX's most popular suspension training straps set, the TRX PRO4 System as well as how it compares to the more cost-conscious HOME2 System.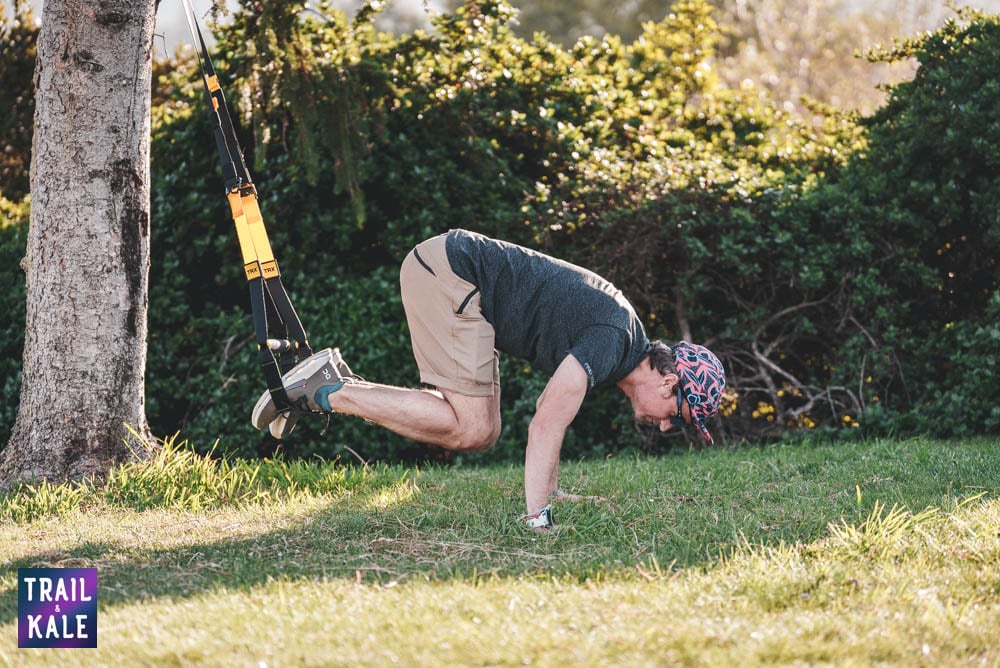 What is TRX (and what does TRX stand for) | TRX Straps Review
A TRX suspension trainer is a set of heavy-duty, yet lightweight straps, that can be attached to a fixed point 6ft from the ground and used for a diverse range of bodyweight and resistance workouts.
TRX stands for 'Total body Resistance eXercise'. Nope, I didn't guess that either!
Most know it as just 'TRX', the most well-known and popular brand in the suspension training market, founded by former US Navy SEAL, Randy Hetrick.
You can find TRX suspension trainers in high-end gym chains and boutiques, physical therapy studios, and boutique personal trainers' gyms. You may have seen one at yours and be curious about what it can do for you.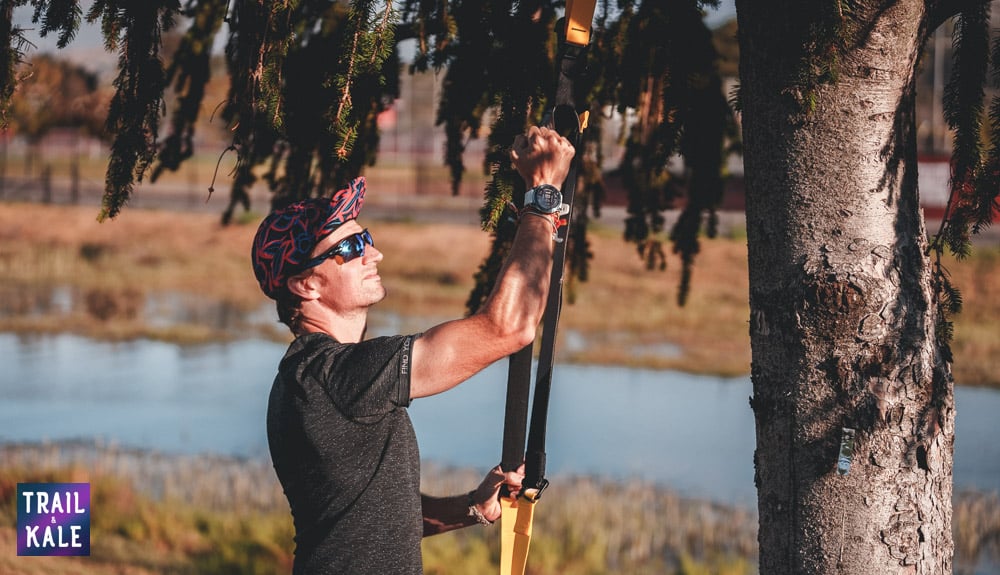 However, although they're fairly common in gyms, one of the most popular reasons why TRX straps are so popular is that they are a versatile item of home gym equipment that you can set up at the park, inside your home, garage, or backyard.
Other TRX products
As well as their flagship suspension trainers, TRX also sells other gym and home workout gear including resistance TRX bands and weights including medicine balls, kettlebells, and weighted vests.
You can see the full range on the TRX website.
The benefits of bodyweight suspension trainers
Like any good home workout equipment, bodyweight suspension trainers are popular because they're so versatile.
Versatility helps to ensure you'll give them a lot of use to justify the purchase in terms of fitness gains… and perhaps a little fun along the way.
Firstly, you can do an almost infinite range of exercises with this one piece of equipment.
In fact, it's pretty overwhelming choosing what exercises to do with them to create a workout routine – which is where the TRX Training Club app comes in (more on that later in this TRX straps review).
They're also versatile in that you can set up and use a TRX trainer virtually anywhere you have somewhere secure and strong you can attach it to.
Think… tree, fence, doorway (using the included 'door anchor), or a dedicated fixture point you can install on the ceiling or wall.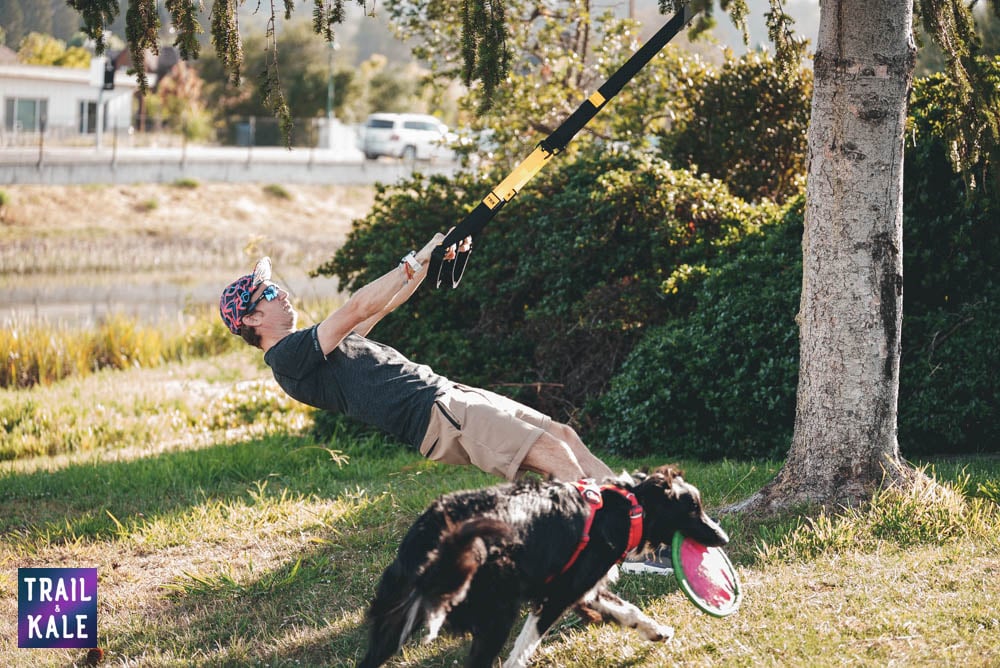 As you can see in this review, we like to use it in the park whilst taking our dog Kepler out for a frisbee session with one of his favorite flying discs.
We, unfortunately, don't have any appropriate trees for using the TRX suspension trainer in our backyard but at least this way we get to multitask and keep our dog fit while keeping ourselves fit.
Because they work by using your own bodyweight, you don't need any extra weights to get an effective workout in, so it's a pretty cost and space-effective option, assuming you have somewhere in your home, garage, or backyard to set it up in.
Finally, the TRX suspension training straps pack down small into the included mesh bag and weigh 2lb or less (depending on which version you buy).
This small size and low weight make them very portable and great for travel if you need a reliable workout when you're away from home.
How to use suspension training straps
As mentioned above, TRX straps are great for bodyweight resistance training.
When you use them, you're essentially working with and against gravity and using your body as the weight.
You can make the weight lighter or heavier by modifying the moves and changing the angle you workout from upright through to horizontal or even slightly inverted in the case of moves such as decline push-ups which you could do with your feet suspended.
The best workouts you can do with them also help you work on other fitness and conditioning aspects including flexibility, balance, and coordination.
Personally, I find TRX straps most beneficial for exercises designed to work on core or full-body strength, and balance / proprioception-focused stability exercises that benefit me as a trail runner.
These are a great workout option if you're looking to work on your core balance and stability and have at least a small amount of core strength already.
They may start out being quite challenging if you need to work on this area or if you struggle with balance, so bear this in mind when setting up and using the straps so you're not putting yourself at risk of losing balance!
How to set up TRX at home indoors
The easiest way to get started using the straps is to attach them to a sturdy doorway using the included door anchor, which you basically trap in the top of the doorway on the hinge side.
This is also a great option for working out away from home in places where you can't attach a permanent anchor, such as a hotel room.
That said, a permanent anchor, which you bolt to an appropriate wall or ceiling joist in your home or garage (or perhaps an outdoor covered pergola in the backyard) is the best option if you can do that where you live.
A wall anchor (which doesn't come with the straps) is available for purchase separately on their website – it's called the 'X-mount'.
Alternatively, you could use another heavy-duty mounting fixture to attach the strap – just make sure it's installed properly in a location where it can take your weight – there's guidance on their site on how to do that.
Using a TRX suspension trainer outside
Outside, any fixed, sturdy point around 6ft off the ground will work as an anchor point.
To attach the TRX to a sturdy post, tree trunk, or tree limb, for example, you can use the included suspension anchor strap which wraps around the tree and secures itself to provide an anchoring point for attaching the TRX straps themselves.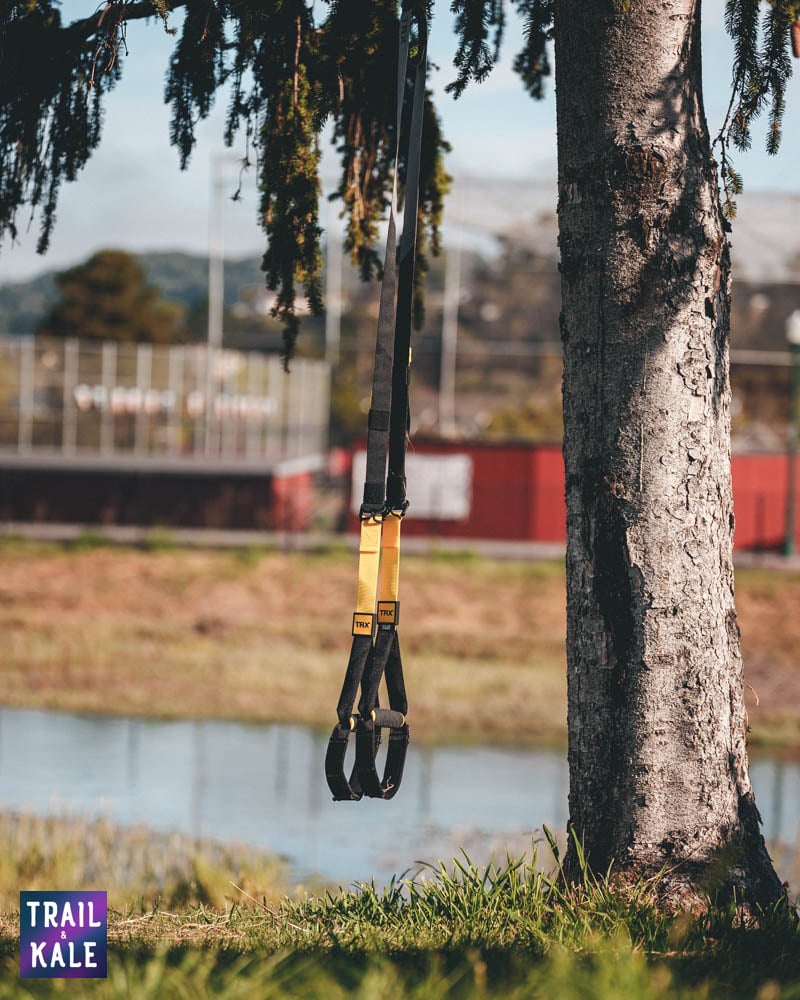 Tips for creating an enjoyable TRX home workout space
Find a space in your home that allows you plenty of space around the workout area so you're not near furniture or walls when lying fully perpendicular to the straps.
To be comfortable, I allow at least 6ft, if not 8ft plus so I don't feel closed in.
If you have a permanent space in your home, garage or outdoors where you can mount a TRX anchor to the ceiling or wall, then do it!
With a wall or ceiling anchor point, you can easily unclip the straps to keep them out of the way when they're not in use, and it gives you a reliable, consistent place to attach the straps so you don't need to keep adjusting the length.
If you're going to use it indoors or on try it on a hard surface (i.e. not grass) outside, it helps to have a good quality gym or yoga mat to give you a grippy, sweat-catching floorspace to have underneath you for traction on your hands and feet.
If you're outside, you may want to put something under the mat to prevent it from getting wet and/or muddy.
As with any home gym workout setup, it's also good to have a small space nearby where you can keep essentials such as a fast-drying sweat towel and water bottle to grab in between sets.
The best TRX exercise moves to try
Here are 4 of my favorite TRX exercises for core, balance and strength that work the full body:
TRX Atomic Push Up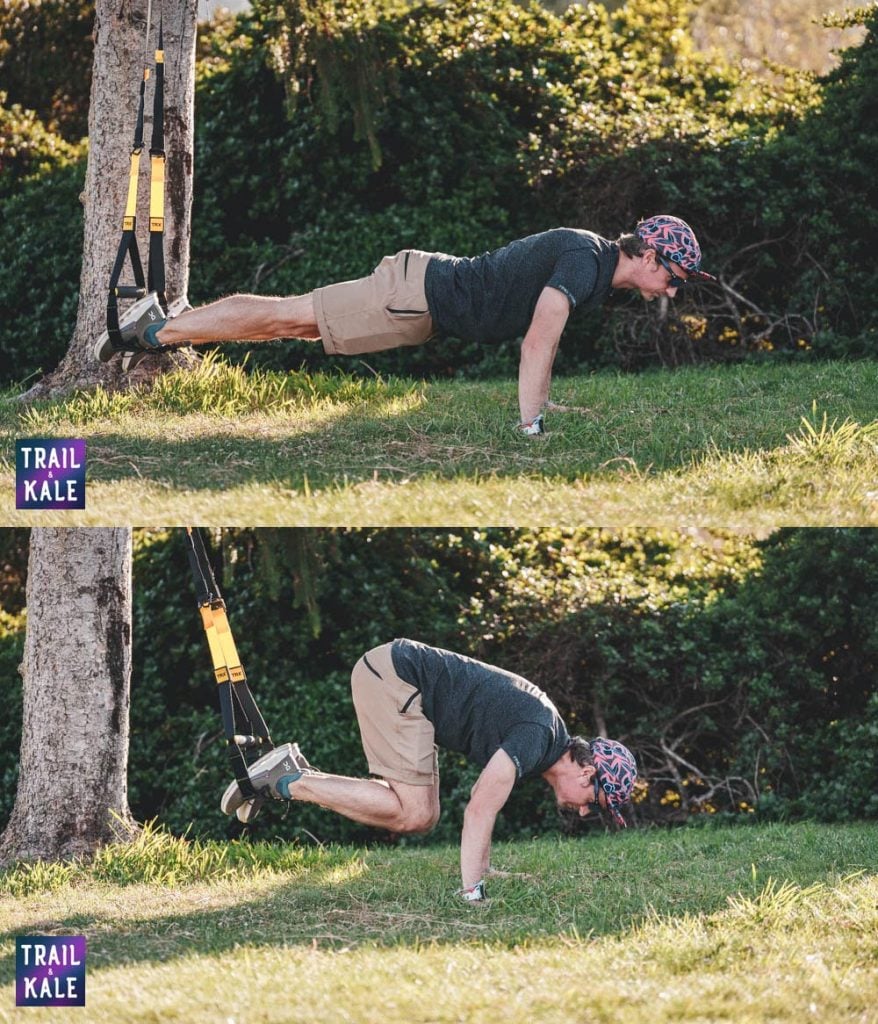 If I could only do one move with my TRX, it would be this one. This channels your inner beast mode to the core!
It's essentially a pushup and crunch while in the pushup position, all while your feet are suspended in the TRX straps. Here's an instructional video on the move (skip to 4 mins to see the full move in action).
Suspended Lunge
You can never do enough lunges as a runner, and with one foot suspended in the TRX, they're that much harder and more effective.
Low Row
You can modify the angle you stand at to make this move as easy or difficult as you like.
For more inspiration, a great place to check out a wider variety of moves that you can do with the TRX straps is the TRX Training YouTube channel.
V-Up
What is the TRX Training Club?
One of the differentiators for TRX compared to other home workout equipment is the very affordable (and entirely optional) TRX Training Club app subscription.
You can choose from two subscription options:
On-Demand – Access to 500+ on-demand workouts for $5.99/month
All Access – Access to the on-demand workouts plus live and replay classes for $19.99/month.
If you're new to TRX either is a great option to familiarize yourself with using the straps and the types of moves and workouts you can do with them, so you can build in that structure and focus to your home workout training.
When you buy a set of the straps you have the option to try out the app for a free trial so you can experience it and decide whether it's something you'd like to continue with after that first month.
TRX Home2 vs Pro4 suspension trainers
The TRX Home2 System ($199) includes a door anchor, suspension anchor and adjustable foot cradle and features soft foam handles.
The TRX Pro4 System ($249, the system we use, and the straps in the photos throughout this TRX review), which costs $50 more, includes the same accessories as the Home2 system, plus a strap extender, and comes with more durable rubber handle grips.
For longevity then the Pro4 system is probably worth stepping up to, especially if you tend to sweat a lot as the rubber grips feel more secure even when wet.
There's a handy comparison page for their suspension training strap range here on the TRX website: TRX Suspension Trainers Compared.
Where to buy TRX straps
The best place to shop for TRX fitness equipment is directly on their website so you can be confident you're getting the authentic product.
Don't miss TRX'S LABOR DAY SALE (ending September 6th), in which you can get a huge 20% off sitewide plus free shipping AND our followers can also take an additional 15% off their order using our code AFFILTRX15.
TRX also periodically offers special deals on bundles of gear including straps and bands, such as this TRX Full Body Workout Bundle (which saves you $30 on buying the Home2 System plus a set of resistance bands and water bottle).
So, it's definitely worth visiting their website to see what's currently available.
For more information and a full comparison of the different suspension trainer strap bundles, visit TRX's website:
TRX straps review summary
TRX Straps Review
PROS
Super portable and lightweight. This makes it a great way to stay fit while traveling. Also good if you don't have space at home for lots of gym equipment.
Very durable hardware that feels premium in it's materials
Very versatile in HOW and WHERE you can use it.
CONS
A little expensive but can you really put a price on gear that helps keep you strong and healthy? I'd say no you can't. With TRX's current 20% Off sale, now would be the time to invest in your fitness.
TRX Review Image Gallery