A few months ago, I learned about this brand called TruMedic, a company that produces a wide variety of relief products to help people relax, recover and perform at their highest potential.
Trumedic's recovery tool lineup had me curious to want to test one of their products to see if the company brings quality, as well as function to the game.
I was very excited to be offered the opportunity to test one of their most popular massage guns for this TruMedic massager review, the TruRelief IMPACT Therapy Device PRO, and ultimately gain a better understanding of the quality and effectiveness of this massage gun.
Fast forward to now, and my TruMedic Review of the TruRelief Impact Therapy Device Pro massage gun (a mouthful for sure!).
I have been using various massage gun brands for around 5 years now, and TENS (Transcutaneous Electrical Nerve Stimulation) & NMES (NeuroMuscular Electrical Stimulation) technology for over 8 years.
The device I use for TENS and NMES recovery and strength is the Compex Sport Elite 3.0 Muscle Stimulator & TENS Unit – a device that continues to impress me on all the different ways in which I can use it from building strength whilst watching tv shows in the evening, to recovering from Achilles tendonitis when I get flare-ups.
So, I have a very good understanding of how all these devices compare to one another, in terms of recovery effectiveness and speed at which active recovery happens.
If you're wondering whether you can just stick to one of those types of massage/recovery tools – the answer that some people may give you would be 'yes', 'no', and 'maybe' – helpful, right? No.
Each device is excellent for muscle recovery, injury prevention, and injury rehabilitation in its own specific way.
Personally, I recommend people use these devices in conjunction with one another, rather than just sticking to one, in order to get the full spectrum of smart and fast recovery – depending on why you plan to use them, of course.
There are so many massage guns on the market right now (some may say too many) – and this makes choosing one a surprisingly difficult thing to do.
Reducing overwhelm, making your gear buying decisions more informed & easier, and ultimately making your final purchasing decision a more validated, and joyful experience is one of the key missions we aim to fulfill here at Trail & Kale.
There's so much gear out there, and we love to test and review the gear that shows the most potential, and the rest.. well we don't bother reviewing the chaff as that's not worth our time, or your money.
This particular portable TruMedic massager or percussion massage gun is one of those products that feels expensive when you hold it and operate the device.
It was hard to tell from looking at the product page what the quality was going to be like, but after using it daily for the last few weeks, I know it's up there with the best.
Not just in terms of hardware materials, but the way in which the brushless motor runs so quietly, and the smooth speed ramp that occurs when you switch from one-speed setting to the next.
It has a real classy ergonomic grip and operates in a manner that just feels high-end. Some massage guns have a tendency to feel clunky, and the noise level can be unbearable to anyone else sharing the same space as you.
The TruRelief Impact Therapy Pro massager has 6-speed or frequency levels and comes with 5 different attachment heads to help target different areas of your body and muscle groups.
It also has an impressively quiet brushless motor, and a Lithium-ion battery that lasts a long time while using the device, and actually holds its charge even when not in use, unlike some competitor massage guns.
Another important accessory that it comes with it a hard shell carry case to protect it whilst you travel. It also comes with a charging cable and user manual.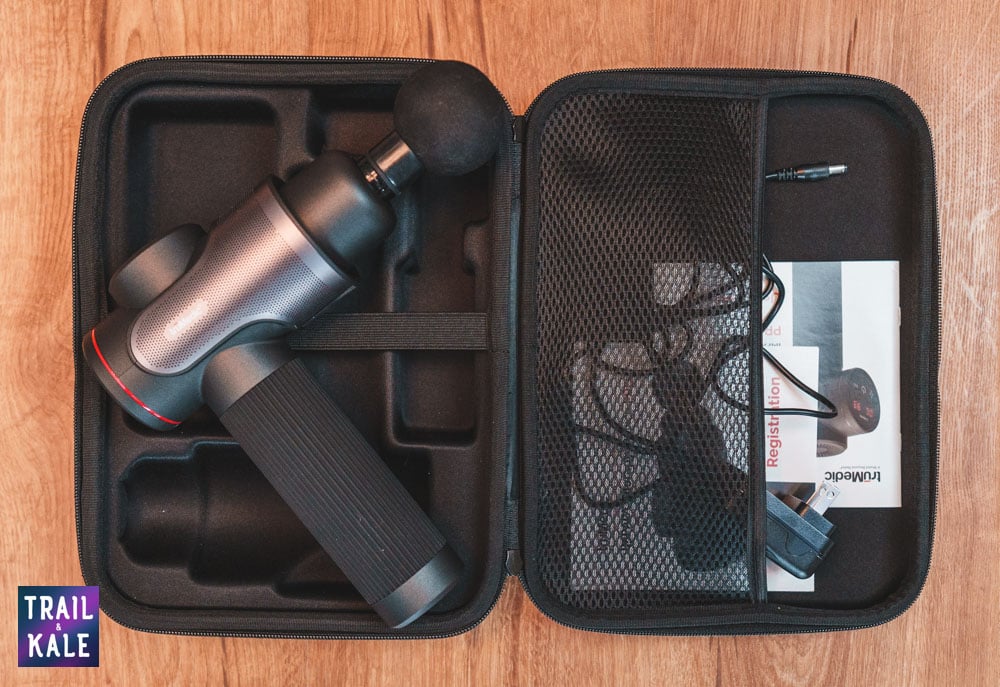 Keep reading to learn all about how the TruRelief Impact Pro massager helps to speed up recovery and of course my own personal experience using it.
What are the benefits of using a massage gun like this TruMedic Massager?
The TruMedic Massager uses a type of percussion massage which provides the ultimate deep tissue massage for sore, overworked, and under-loved muscles. It can also be used as part of a warm-up routine before running or more commonly as part of your post-run recovery routine.
How to use TruMedic Impact Therapy devices like this Pro version
The TruRelief Impact Therapy Device Pro is very easy to use, as it has no parts which require manual adjustment.
You simply push the massage head of your choice onto the device (I like to use the soft ball attachment most of the time), and select the speed by using the touch-sensitive screen at the back and you're good to go.
The real art in using this warmup and recovery tool is knowing where to massage, what percussion intensity to use in that area, which heads to put on it, and the direction of movement you should use for each muscle.
Is the TruMedic Impact Therapy Device Pro easy to use?
In short yes – there are adjustable parts to it (like the angle of the heads, for example) and only 3 buttons on the rear (pictured above) – one to turn the massager on and off, and two others to dial the speed up and down.
Although it does seem strange to me that the '+' is on the left and the '-' is on the right, not that it really affects usability at all.
There are 6 different percussion speed and intensity settings, each with their own benefits
You can choose from 6 different frequency settings to change the force and speed of your Impact Therapy session. I really like how the ergonomics of the handle and the smoothness and precision of the motor prevent any stress on your hands or wrists while using it.
I'm not a physiotherapist, so how do I know where to actually massage?
Don't panic, I have put together this useful chart of muscle groups which shows the muscle groups and body parts to target, where they exist, and which direction you should move this TruMedic massage gun in.
Remember that you can use this massager for warmup as well as recovery purposes. Images courtesy of Compex.com.
NOTE: REcommended use for massage guns is no more than 1 minute per specific location, and you shouldn't push too hard on your body. Keep moving over muscles and avoid bony areas, and stop using it immediately if you feel any pain or discomfort.
How heavy is the TruRelief Impact Therapy Pro Massager and is it comfortable to use?
The unit with the battery inserted weighs 33.7 oz. (955g) and the cylindrical, rubber grip/handle allows you to hold this kind of weight very comfortably due to its well-balanced design.
How noisy is the TruMedic TruRelief Impact Pro Massager?
This massage gun uses a brushless motor and is described as ultra quiet, and it really is very quiet compared to some of the other percussion devices I have used in the past.
Scientific sound intensity recordings put the noise level at 40-50 decibels depending on the speed setting you're using.
How long does the battery last?
The rechargeable battery should provide around 4-5 hours of use on one charge and there's a battery indicator on the screen at the rear, as you can see in the image above.
How much is the Trumedic Impact Therapy Pro massager and is it worth it?
The TruMedic Impact Therapy Pro massage gun is available for $299 at trumedic.com which I personally think is well priced for such a premium quality massage gun with all these features.
TruMedic massager Review
PROS
Lots of power with 6 speed and intensity settings
The package comes with 5 different massage heads (with pouch to store them), a hard carry case, and a charge cable
I really like the speed ramp as you adjust the speed levels, and how comfortable the device is to hold during a massage session.
Quietest massage gun I have ever tested to date.
Good value for money
CONS
ball massage head can pick up pet hair if that bothers you. It doesn't really bother me but worth pointing out.
TruMedic Massager Video Demonstration
Coming soon.
TruMedic Massager review gallery