We are constantly working on finding ways to improve our sustainable living practices in our day to day, and to be more thoughtful about the impact we have on our environment.
Generally, we have found that the most achievable way to do this is by trying our best to make conscious decisions about what we do and how we go about our lives – that includes what we buy, for ourselves and others – buying sustainable gifts is a definite step in the right direction.
By making small changes in these areas, we can lead a more sustainable lifestyle as our conscious decisions start to become subconscious habits.
This sustainable products gift guide is full of eco friendly gift ideas and is sponsored by REI, our favorite one-stop-shop for outdoor adventure gear!
Looking for a gift for nature lovers or outdoorsy people? Visit our Gifts for Outdoorsy people post for more gift ideas.
---
We love that REI is a co-operative and invests in the same causes that we care so much about, this is one of the reasons we became members ourselves.
An REI Co-op membership (only $20 for a lifetime) provides you with a member dividend of 10% back on what you spend, in spring each year, as well as access to exclusive member-only events and sales.
To learn more about REI's values, what they do and what makes them different, click HERE.
---
Sustainable Gifts: Here's a guide to choosing environmentally sustainable outdoor adventure gear
The most sustainable eco products are the ones that do not need replacing, resulting in you consuming less because you have good-quality gear that does a great job on your outdoor adventures for years and years.
Of course these products also have to adhere to having a low carbon footprint during the manufacturing process.
When looking at buying new outdoor adventure gear, whether for ourselves or as a gift for a fellow adventurer, nature lover, trail runner, camper, or hiker, we consider these 6 things:
1. Is the product durable and long-lasting
And therefore will not need replacing very often or ever? Because the best eco friendly gifts are the ones that do not need replacing, resulting in you consuming less because you have good-quality gear that does its job for years and years.
2. Is it reusable and can it be fixed
And/or modified to extend its life?
3. Is there a pre-owned version of a product
To turn it into a green gifts option? REI's trade-in program will take in your old, gently used gear and swap it for REI Gift Cards.
4. Is the product made from recycled materials?
Opting to buy recycled goods is a key ingredient of sustainable living.
5. Does the company actively work to operate in a sustainable carbon neutral manner
And support environmental causes? If so, they most likely sell Earth friendly gifts.
6. Do we (or our gift recipient) really need it
And will it get a lot of use and be loved and used/worn?
---
We've put together a list of awesome environmentally friendly, sustainable gifts for outdoor adventurers and nature lovers, from our favorite outdoor adventure store, REI.
These eco products are sustainable Christmas gifts because they meet one or more of our eco gifts criteria listed above.
Hopefully, this gift list gives you plenty of ideas for great environmentally friendly gifts.
---
Our spotlight gift that's as sustainable as it is practical.
1. A Gift Card
Gift Cards are easy to order online, and are a great last minute gift idea.
This is one of the best sustainable gifts to prevent waste and you won't have to guess what the most outdoorsy of friends and family would like to receive the most.
Send an REI Gift Card and let them purchase their gift of choice.
While surprise gifts can be wonderful to receive, if you buy a gift and it turns out to not be quite what the recipient had in mind, encourage them to say so and switch it out for an alternative, as REI has an excellent returns policy.
---
Sustainable Gifts for Outdoor Adventure Enthusiasts
Durable/long-lasting camping gear: Camping, like trail running, is intended to be a way to be close to nature in a low-impact manner (assuming you adhere to the 'leave no trace' principles), and quality camping gear can get expensive, so any outdoor and nature lover would love the gift of some high-quality camping gear for their next adventure.
We suggest sneakily trying to find out what kit they're missing and then buying a highly-rated gift to fill the gap in their adventure arsenal.
2. Leatherman Signal Colors Multi-Tool
The Leatherman Signal Colors multi-tool is a super durable tool, made in the USA, that will last for decades.
The bright colors of the Signal multi-tool will surely be enough to brighten up any adventure. It packs 19 useful tools into a compact, 4.5 in. size.
The Signal multi-tool helps you go further knowing that you have the means to get yourself out of many a tricky situation should the occasion ever occur.
---
3. Marmot Trestles Elite Eco 20 Sleeping Bag
Marmot Trestles Elite Eco 20 sleeping bags are great because they're made using 100% recycled materials, all synthetic rather than down, and can be used in three seasons – this sleeping bag also ranked very well in our Best Sleeping Bags Buyer's Guide.
Plus, you can zip two together for sharing with a snuggle-buddy and there are men's and women's-specific versions.
---
4. Patagonia Refugio 28L Pack
Patagonia's Refugio backpack comes in Men's 28l and Women's 26l versions and is a super-versatile backpack suitable for day hikes and overnight trips, as well as everyday use such as commuting, gym, and school.
We like that the Refugio is made using recycled materials, and like all Patagonia products, it is designed with quality in mind and with the intention of it lasting many years of hard use.
The Refugio is one of Patagonia's best-selling backpacks and it's easy to see why.
This pack would be an awesome gift, especially if it had some other smaller goodies tucked away inside for the recipient to discover.
---
5. Hydro Flask Wide Mouth Vacuum Bottle 32l
It's hard to describe the simple pleasure of owning and using a quality reusable water bottle like this Hydro Flask – but we think we did pretty well in our review.
On one level, you may think – 'but it's 'just' a water bottle', but it is more than that. Hydro Flask bottles are so well-made, insulated and leak-resistant, they can be taken on any adventure.
There are constantly new designs being released, including limited-editions and designs unique to REI customers. Our favorite size Hydro Flask bottle and one of the most popular is this 32 fl. oz.
---
Sustainable gifts for spending time under the night sky [For him or her]
Stargazing is a great family activity for the winter months. The nights start sooner, last longer and are much clearer during this time of year.
You really don't need much gear to make this micro-adventure happen either. Read our beginner's guide to stargazing for information on how to get started with your own mini-adventure.
Below are the few essential items to make being under the night sky as fun, comfortable, and informative as possible.
6. Rumpl NanoLoft Puffy Blanket
Read our Rumpl Puffy Blanket review to learn more about this great product.
The Rumpl NanoLoft Puffy Blanket is lightweight, very packable, and made with a recycled synthetic alternative to down that traps warmth inside small pockets of air to efficiently preserve heat, regardless of conditions
Just as great for camping under the stars with or on your sofa watching your favorite show. Our cats and dog Kepler love snuggling under our Rumpl (Not at the same time! :))
---
7. Nikon Prostaff 3S 8 x 42 Binoculars
If you're going to really look at the stars but aren't at the level of bringing a telescope with you, then a good pair of binoculars is a must!
These highly-rated Nikon Prostaff 3S 8 x 42 Binoculars are great because they feature a high-resolution, fog-proof and waterproof design.
They also have excellent light transmission, so they're perfect for stargazing and also all your other outdoor adventures – they're a popular choice for bird-watchers, for example.
These high-quality, durable binoculars will likely last a life-time, provided you treat them well.
---
8. Patagonia Nano Puff jacket
The Patagonia Nano Puff Jacket is super versatile and made from 75% recycled materials!
We love that Patagonia's values are centered around having a low impact and doing what they can to produce environmentally-friendly gear.
When it comes to their sustainable products, they are designed to be as simple and utilitarian as possible, with a focus on function, repairability, and, foremost, durability.
Patagonia recognizes that the most direct ways we can limit ecological impacts are with goods that last for generations or can be recycled so the materials in them remain in use -another reason why Patagonia gear makes for great gifts for environmentalists.
---
9. A Coffee Tumbler: YETI Rambler Tumbler with MagSlider Lid – 20 fl. oz.
Never buy coffee in a disposable single-use cup again, and enjoy this premium long-lasting coffee tumbler made with high-quality 18/8 stainless steel with a DuraCoat® finish.
Its double-wall vacuum insulation keeps your drinks hot or cold for hours.
---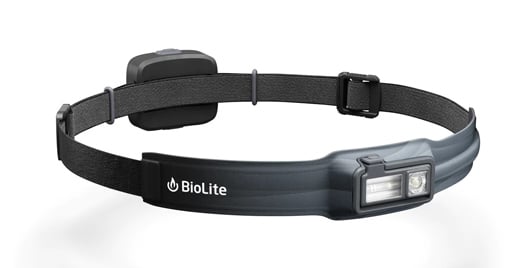 10 Rechargeable Headlamp: Biolite HeadLamp 425
To learn more, read my Biolite HeadLamp 425 review next.
The BioLite Headlamp 425 has a really slim fit construction with 9mm front profile and is hyper-lightweight at 2.75oz, providing a bounce-free fit and experience while running or hiking.
To get 15% OFF your BioLite order, best sure to use our exclusive code TRAILANDKALE15 at checkout.
This is the most comfortable headlamp I have ever used.
The Headlamp 425 is excellent value for money with a 4-hour battery life on the highest setting which uses two beams, wide and focused, firing out 425 lumens of light.
The BioLite Headlamp 425 has multiple light modes too including dimmable spot, flood, spot+flood, red night vision, strobe, and two red light modes at the rear.
Because each beam can be dimmed, you can actually run the headlamp for much longer than 4 hours but not at its brightest level.
It also uses a rechargeable battery that can be charged via USB-C for convenience.
FEATURED IN the Best Headlamps for Trail Running & Ultrarunning.
---
I hope you enjoyed reading this post and it gave you some eco friendly gift ideas for this holiday season. Thank you for reading and happy holidays from the team at Trail & Kale.