The 64oz Stanley Growler is a portable double-walled vacuum insulated growler bottle that's designed for transporting cold beer, and sharing it with friends (or yourself). In this Stanley Growler Review, I'm going to share my experiences using the Stanley 64oz Classic Outdoor Growler Gift Set, provide an overview of the key features, where to buy it, my review summary with pros and cons, and an overall score out of 10. Towards the bottom of this Stanley Growler review, I have also answered some frequently asked questions and left you with more photos of my Stanley 64oz growler gift set with the 4 stackable, color-coded stainless steel tumblers it comes with.
ADVERTISEMENT
The photos in this review were taken during one of our backyard camping adventures.
---
Stanley Growler Review: Table of Contents
---
A quick introduction to the Stanley brand
Stanley has a 100+ year history and was started by inventor William Stanley Jr. who forever changed the way hot drinks were consumed, in 1913 he fused vacuum insulation and the strength of steel in one portable bottle, inventing the all-steel vacuum bottle we know and love today. I bet you didn't know that, right!? I didn't until I researched the brand some more. In the century since, his vacuum bottle evolved from a concept to an icon and has become an essential part of workdays, road trips, and outdoor adventures around the world.
Stanley's commitment to sustainability
The most sustainable products are the kind that never need to be thrown away or replaced. That's why Stanley has been building durable and reusable bottles from steel, which is one of the most recyclable materials on the planet. This has enabled Stanley to reduce the need for disposable products. This all contributes to less junk in the world's ever-growing landfills.
By staying focused on Environmental Health and Safety throughout their supply chain, Stanley is committed to ethical manufacturing, reducing their corporate footprint, and living by a warranty that means replacing a single part instead of a whole product whenever possible. Stanley builds products to last a lifetime. That earns them a thumb's up from us!
---
64oz Stanley Growler Gift Set – Key Features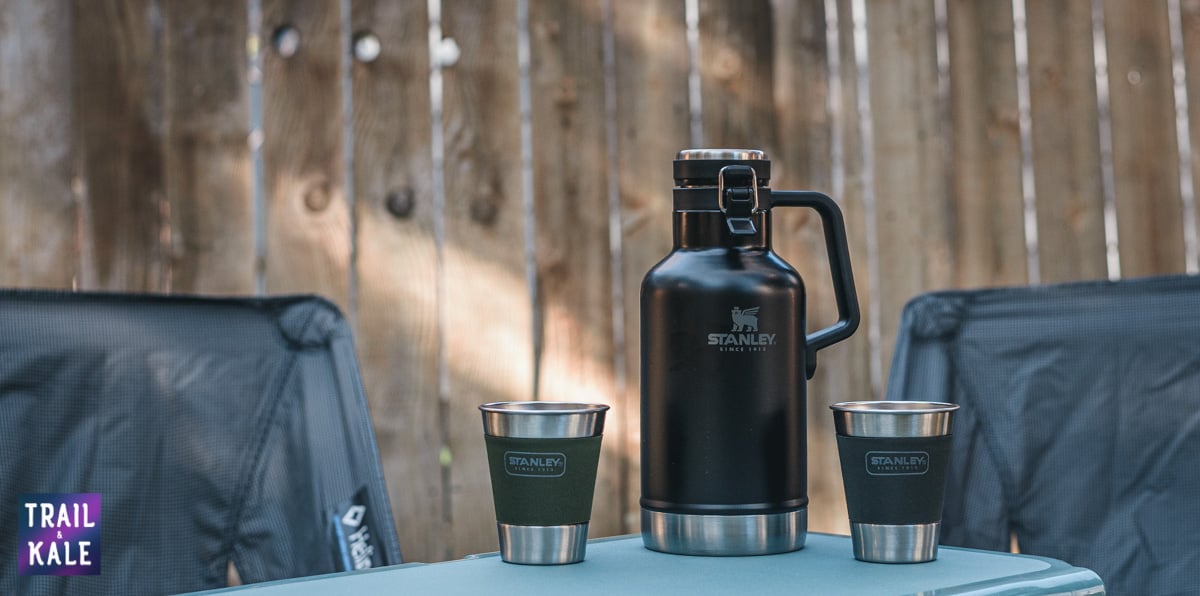 64oz Capacity
The 64oz growler is the perfect size for those who want to share beers with friends outdoors but still need the growler to be portable and not too heavy. The 64oz growler weighs 2.20oz when empty and stores a total of 4 US liquid pints, so a pint per person if you share your beer fairly :).
The four tumblers that come with this gift set each have a total capacity of 12oz when filled to the brim. So you'll all get a full tumbler of beer/water each, plus enough left for someone lucky to get a full refill, or for you all to have a small second helping each. The 64oz size seems to be the standard growler size at many breweries here in the USA, especially in Bend, Oregon, which makes it the perfect growler to take with you for sustainable refills.
The exact dimensions of the Growler are 6.48L x 4.92W x 11.57H in
Made with stainless steel
Everything about this growler screams high-quality construction. The main body has been made using 18/8 stainless steel and the growler is completely BPA-Free.
It comes with 4 stainless steel tumblers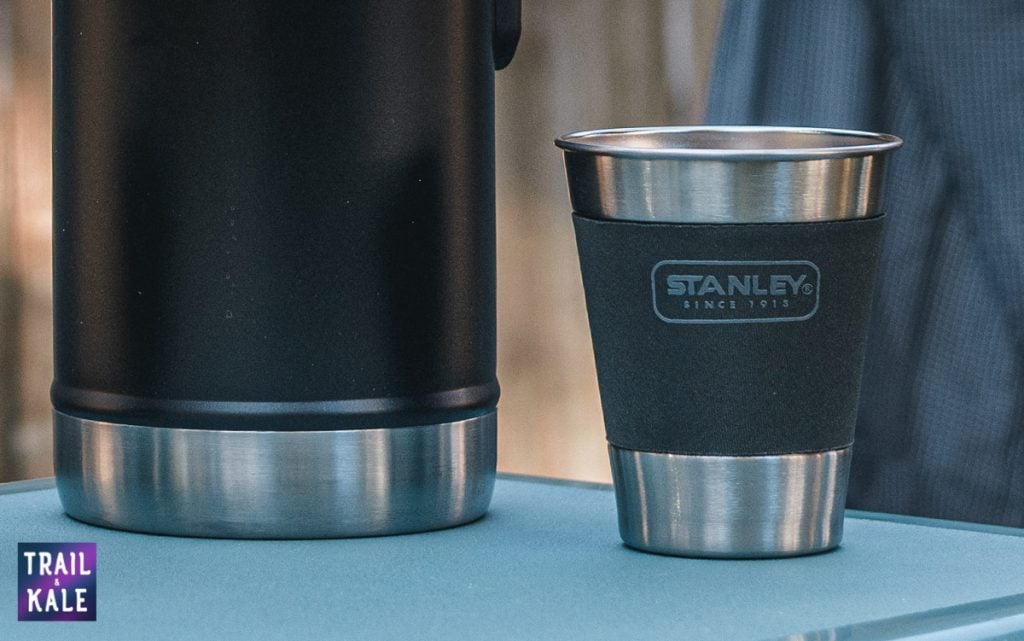 It comes with 4 color-coded 12oz stainless steel cups, to ensure your friend doesn't accidentally start drinking your beer once they've finished their own :).
Double-wall vacuum insulation
This, in my opinion, is the best feature of this growler. Being a double-wall insulated growler means your beer, or other cold drink of your choice, will remain cold for up to 24 hours. This is a game-changer for outdoorsy people who want to have a drink outside without having to head back indoors to get more drink from the fridge, or heaven forbid having no means to keep your supply of beer cold.
We were using ours for a recent stay at home backyard camping adventure. Man, I can't wait for the Coronavirus pandemic to be over so we can take this growler out to more wild places.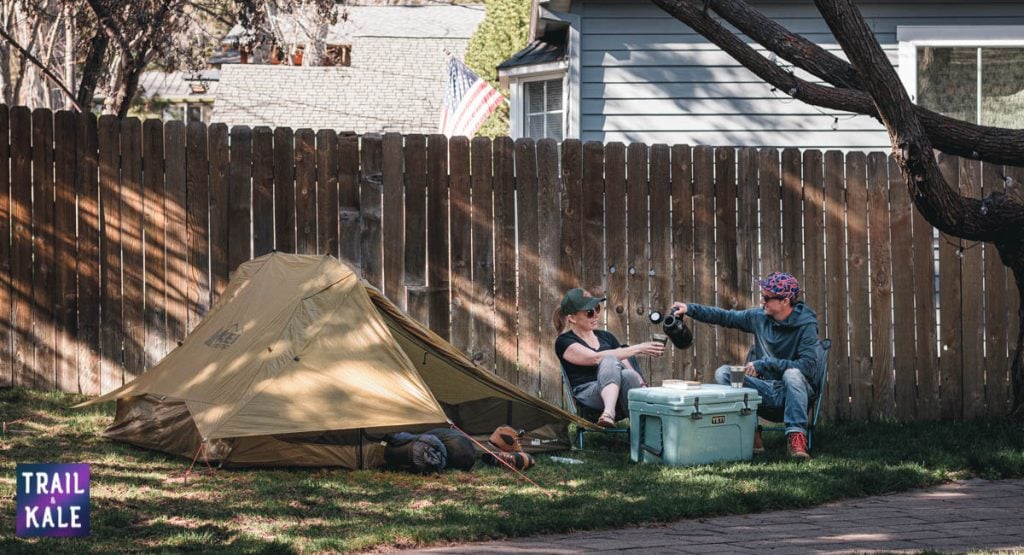 The double-wall vacuum insulation will also keep hot drinks hot for around 18 hours, so you can fill it up with coffee for early morning road trips, or hot chocolate for cozy evenings stargazing outdoors.
Leakproof clip seal and easy to grab carry handle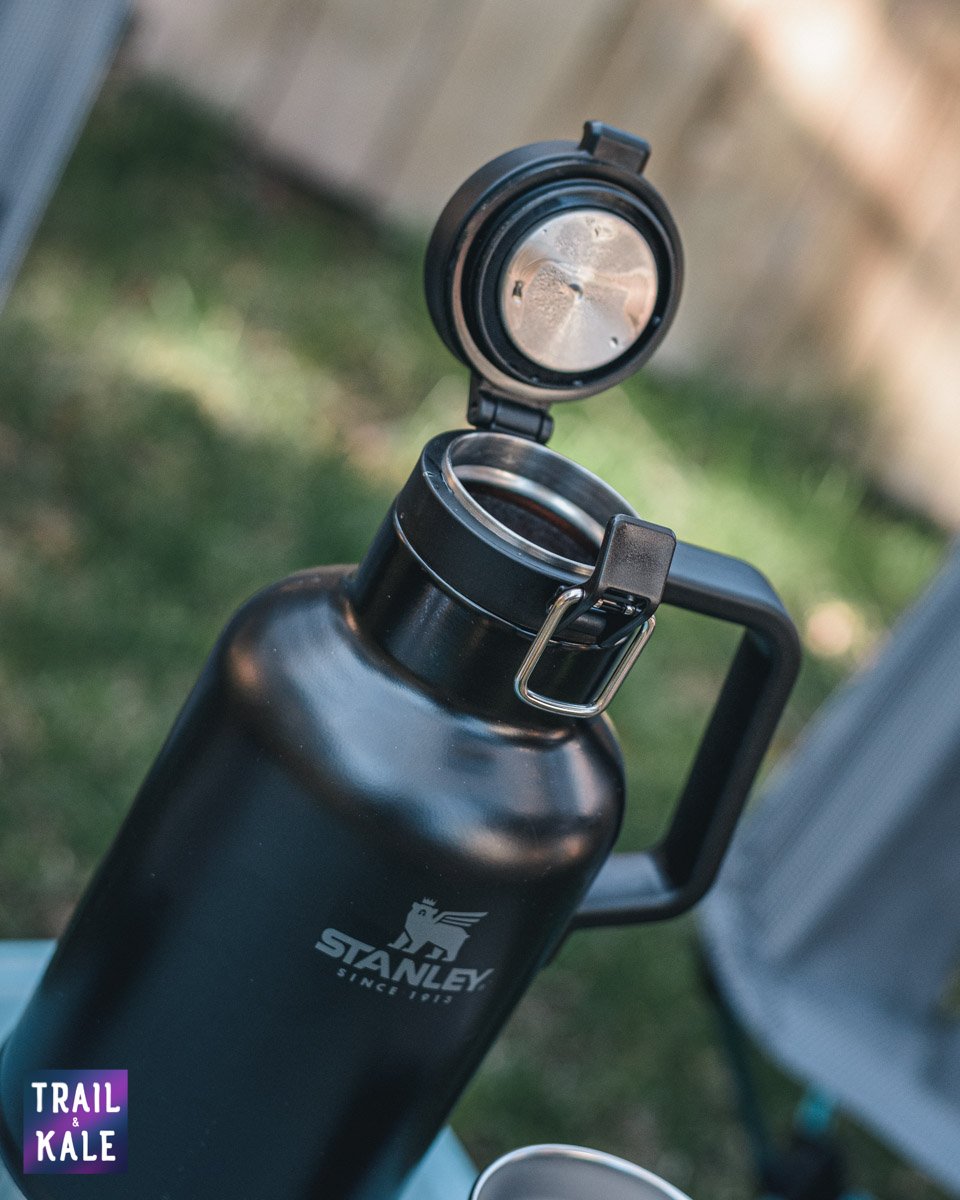 As you can see from the image above, the industrial-strength clip seal mechanism is very sturdy and keeps the growler leakproof while transporting it, while the steel-lined insulated lid helps keep your beer colder for longer. The carry handle is also nice and big for carrying the growler when it is full of beer/water.
Dishwasher safe
Rejoice, the growler is dishwasher safe, and it has a wide mouth which means the dishwasher will actually do a good job of cleaning it. Being able to clean the growler in the dishwasher is obviously a time saver but it also means you don't really need to buy a bottle brush to clean it out manually.
Lifetime Warranty
Stanley lives by the premise that their products do what they say they do or they'll replace them. Guaranteed.
---
Where to buy the Stanley Growler Gift Set
The Stanley Growler Gift Set is available at the Stanley online store (button below) for $80 RRP. The benefit of buying directly from the Stanley store is that you'll get a choice of two colors; Hammertone Green, or Matte-Black (the color we have).
The Stanley Growler can also be bought separately
If you're only interested in buying the Growler and not the tumblers too, you can purchase it from the stores below. Prices are tracked daily.
---
Stanley Growler Review Summary
Stanley Growler Gift Set
Performance & Usability
8.7
PROS
Very solid and durable construction
64oz - Great capacity for sharing beer with friends
Keeps beer cold for 24 hours or coffee hot for 18 hours
The color coded stainless steel tumblers are very useful
Very reasonably priced
CONS
Only 2 colors available. I'd love to see some brighter colors too (although I know Stanley keeps a muted, yet sophisticated lineup of colors)
---
FAQs
What type of stainless steel is used in the Stanley Growler and tumblers?
All Stanley items comply with Prop 65 and FDA requirements. Also, all contact surfaces are guaranteed to be safe and BPA-Free. The steel they use is 18/8, or grade 304, otherwise known as food-grade stainless steel. Like all Stanley products, the stainless steel items must pass rigorous health and safety tests before they are made available to the public.
Can I put the Stanley Growler in the freezer?
It is not recommend to put any Stanley products in the freezer. Liquids expand as they freeze and your item will not return to its original shape. This expansion can result in damage to your product that will affect its functionality, thermals and seals.
Where are Stanley products made?
Stanley is headquartered in Seattle, WA, though they have offices all over the world to service and support our customers. Their products are responsibly manufactured in China.
---
Stanley Growler Review (Video)
---
Stanley Growler Gift Set Photo Gallery