SaltStick Fastchews: An alternative to SaltStick Caps for Electrolyte intake while running
Introduction
After several weeks of testing SaltStick Fastchews as an alternative to SaltStick Caps for my shorter runs, I've come to a few conclusions that I'd like to share.
Firstly, what are they?
SaltStick Fastchews are "chew-able" electrolyte tablets that share a similar diameter to that of a US 1 cent coin. They have been designed so that you can fine-tuning your electrolyte intake to combat heat stress and cramping based on the requirements of your own body's requirements.
For example, If you're a small person, you wouldn't want to be taking on disproportionately more salts than you're body is losing during running. Similarly, if you're doing shorter runs or less intense activities then you may want to take on fewer electrolytes than an alternative product like the Salt Stick Caps capsules.
The reason I put chew-able in inverted commas is that they have more of a crumbly texture than chewy when bitten. With a few chomps, the Fastchews disintegrate into a sugary powder substance, ready to be taken in by your body.
RELATED: SaltStick Caps: Stop Leg Muscle Cramps While Running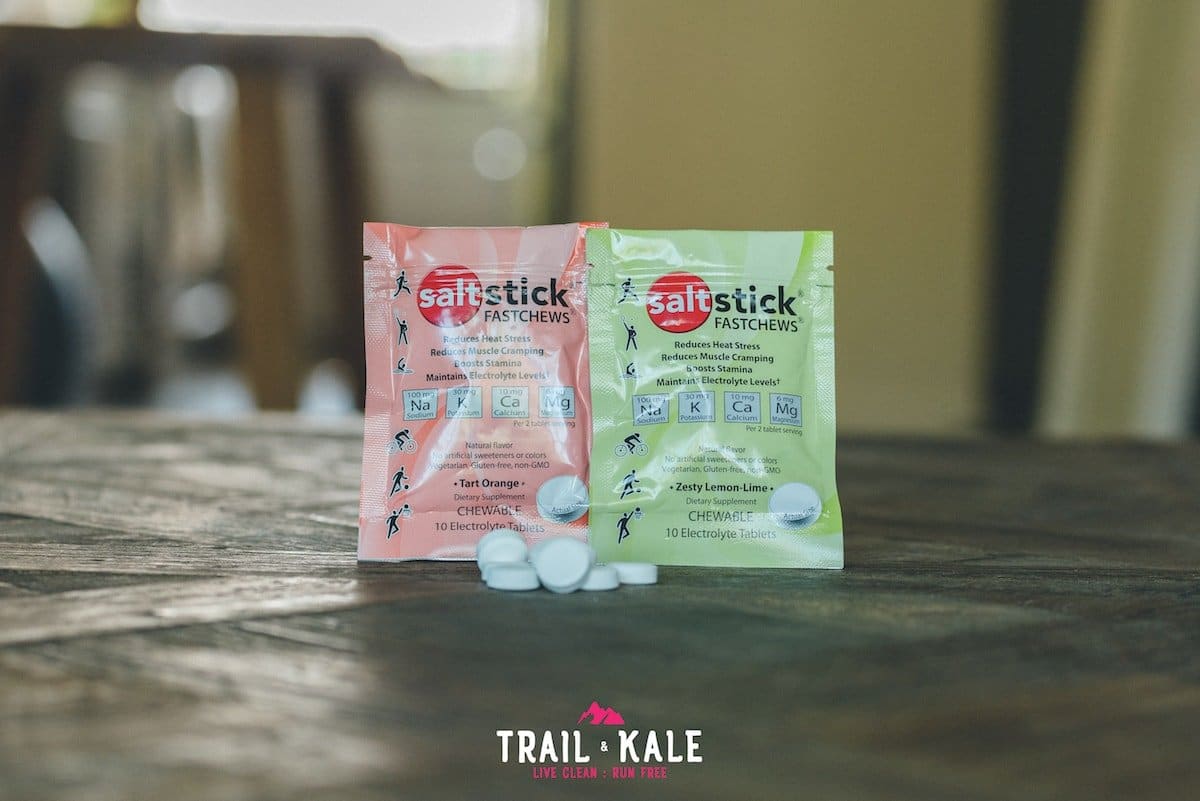 So, what type of exercise are Salt Stick Fastchews good for and how often should I take them?
For me, SaltStick Fastchews have been especially good for runs of up to around 3 hours. This is because after a time I get a bit sick of consuming sugary substances.
If you want to run longer durations then this is where SaltStick Caps take the advantage. Salt Stick states that one SaltStick Capsule is the equivalent to approximately 4 Fastchews. This means that you won't have to worry about taking them as often when you're spending long days out on the trails.
The Salt Stick Capsules are absorbed through the stomach rather than the mouth, so there is less chance of feeling sick due to sweet flavourings.
Here are Salt Stick's usage guidelines for SaltStick Fastchews
"As a general guideline, athletes should consume 2 tablets (1 serving) per 15-30 minutes during any land-based activity (bike/run) for the duration of the activity. In hot conditions, extreme humidity, or for larger athletes, a greater number of Fastchews may be needed to maintain safe electrolyte levels. The suggested maximum dose per day for adults is 50 tablets.
This represents 100% of standard sodium RDA (based on a 2000 calorie diet). Individuals may find they are limited to fewer tablets than the suggested maximum. It is strongly recommended to test your planned electrolyte protocol in training several times before race day."
How do Salt Stick Fastchews work and what's in them?
SaltStick Fastchews absorb through the tissue in the mouth within a few minutes. Very handy if you need fast-acting relief of muscle cramping brought on due to heat stress. As a comparison, SaltStick Caps appear to take around 5 minutes to kick in, a little longer but still pretty fast.
As stated on the Salt Stick website, the average athlete loses about 11oz (315mL) of sweat in 30-60 minutes of activity, which contains key electrolytes in a known quantity: sodium (220 mg); potassium (63 mg); magnesium (8 mg) and calcium (16 mg).
Salt Stick closely resembles the electrolyte profile lost in sweat: sodium, potassium, calcium and magnesium. This is why they work so well.
What do SaltStick Fastchews taste like?
I found both flavours to taste really nice but my favourite has to be the 'Lemon-Lime'. Both flavours have a sugary taste that is not at all sickly like some electrolyte drinks can be. This is probably due to the dosage being much smaller as the electrolytes are in a tablet form, rather than big gulps of fluid more frequently.
If you struggle with an upset stomach due to drinking too much sweet electrolyte drinks then SaltStick Fastchews will definitely be an option for you to try out. Everyone is different and finding what your body responds to best, takes time.
SaltStick Fastchews
Conclusion – Are SaltStick Fastchews worth it?
Saltstick Fastchews have been useful during my short intense workouts where I may not need as much electrolyte intake. Each sachet contains 10 tablets which cover me for these types of workouts too. In the UK, SaltStick Fastchews come in a tube rather than sachet.
The sugary taste in the mouth, where the electrolytes are absorbed also gives me an energy hit which I found helped me perform better during speed sessions. I like how they come in their own re-sealable sachet but unfortunately, it's a not a re-useable bag like the ones I use for SaltStick Caps.
You can buy a 12 pack of SaltStick Fastchew sachets for as little as $35 on Amazon or 6 tubes for £18 on Amazon if you're in the UK.
SaltStick Fastchews are also sold on Amazon as bottles that contain 60 Fastchews. If you buy them this way then you can purchase some cheap re-usable storage bags and take them with you the same way that I do when running with my SaltStick Caps.