Rumpl has launched a new version of their popular Nanoloft puffy blanket, the Rumpl Nanoloft Flame.
These travel-sized Rumpl blankets are similar to their other recycled insulated blankets, but with a difference: the Nanoloft Flame is made with proprietary fire-resistant fibers on the face side.
If you love sitting around a campfire, firepit, or simply your fireplace at home, but would like the added confidence of snuggling in a blanket that has fire-resistant properties, this blanket is for you.
Rumpl describes this blanket as a 'spark-ready companion'.
The fire-resistant fibers on the outer side are designed to repel those sparks that can pop off your campfire, firepit, or indoor wood-burning fireplace.
As well as being spark-repelling, the Rumpl Nanoloft Flame blankets are also designed to repel other elements: they're treated with DWR coating, which gives them stain and water-resistant properties.
This means that whether you're using your blanket in frosty or dusty conditions, or perhaps you're just prone to spilling your drinks or it gets dog paw prints on it, it's designed to withstand the moisture and dirt!
If the blanket does get dirty, it's machine-washable and you can either hang it out to dry or stick it in the tumble-dryer (on a low heat setting), so it's low-maintenance, too.
Similar to Rumpl's other Nanoloft blankets, the Nanoloft Flame's insulation is made with 100% post-consumer recycled fibers, which uses 12 plastic bottles for each blanket.
The insulation is puffy and lightweight (mimicking down), and works by trapping warm air in the air pockets created by the fibers.
To learn more about Rumpl's other blankets, including a comparison of the Original, Nanoloft and Down versions, read our Rumpl Blanket Review.
The Nanoloft Flame features Rumpl's 'cape clip' so you can wear it like a cape, hands-free, and comes in its own stuff-sack, which is also made from fire-resistant material.
The Rumpl Nanoloft Flame blanket packs down to 3.5 x 11 inches which is similar in size to Nalgene bottles and is very lightweight at only 1.1lb.
Because of this, the Nanoloft Flame makes a great travel blanket as it will easily fit in your backpack or duffel to take on the go.
When unpacked, this puffy camping blanket measures 38 x 52 inches, enough for one person.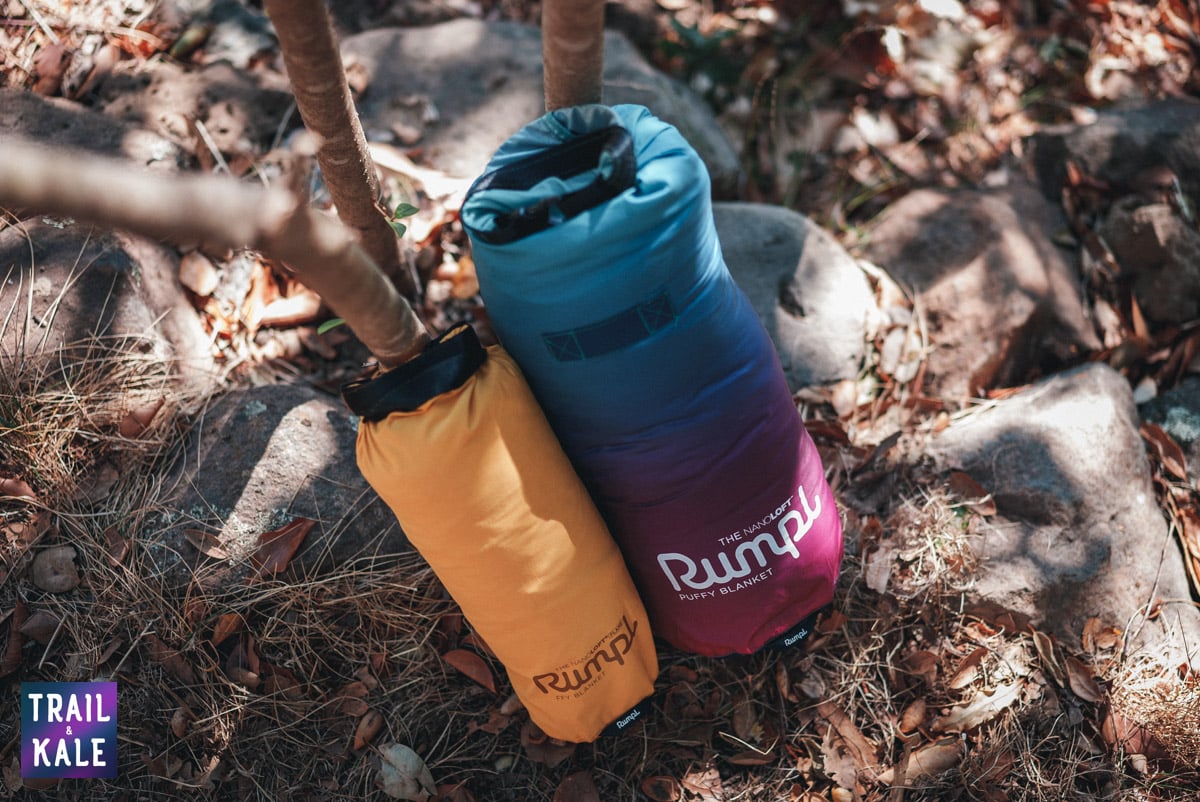 Where to Buy Rumpl Nanoloft Flame Blankets
These Nanoloft Flame puffy blankets cost $129 at Rumpl.com and are currently available in three bold colors: yellow (pictured), red and blue.
Nanoloft Flame Image Gallery