The Ultimate Direction women's Ultra Vesta running hydration pack was designed by Jenny Jurek, wife of famous ultra-runner Scott Jurek, and is demonstrated clearly by Jenny in the company's promotional video for the range (she has also designed a waist pack and handheld bottle packs).
There are not a huge amount of options out there as far as women-specific running vests go (or any trail-running kit, for that matter), although this does seem to have been getting better in the last year with new product launches.
To see all the latest options and versions of the best running hydration packs for men and women (including the latest version of Ultimate Direction's Ultra Vesta, head over to our best running hydration packs buyer's guide.
Being a relatively petite woman, I cannot normally comfortably wear unisex/men's kit. After researching my (limited) options, I narrowed the choice down to this one, the Nathan Vaporshape, or the Salomon S-Lab 5 litre pack.
They all looked quite similar but what swayed me towards the Ultimate Direction vest was the location of the pockets (on the front of the vest, rather than on the sides as per the Nathan vest, which some other reviewers said they knocked with their arms if the pockets were full) and also price – this vest was c.£25 less than the Nathan and Salomon alternatives.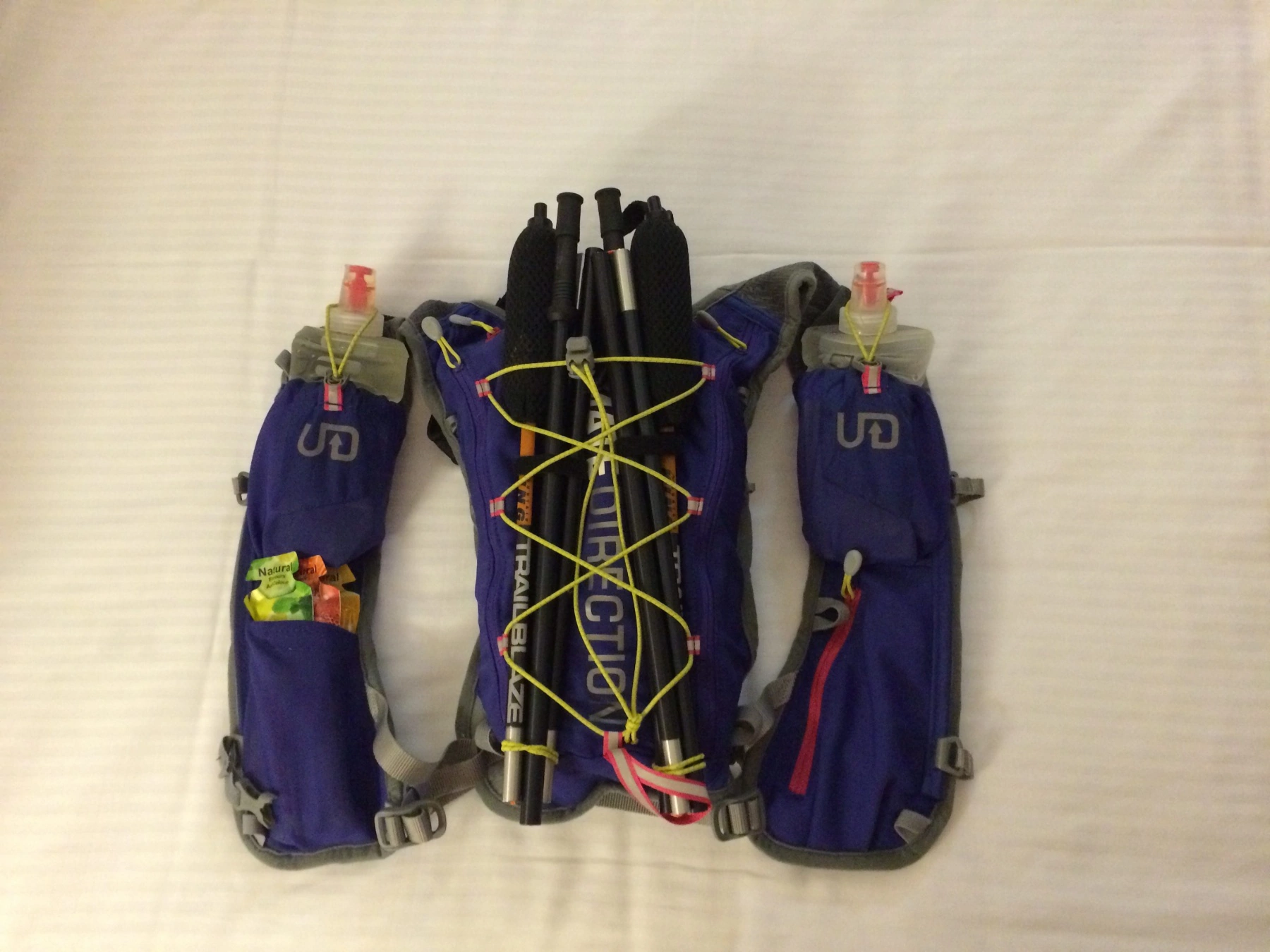 My requirements for a running pack were quite simple:
It needs to fit well and not chafe or move. I specifically wanted one that would fit my size and shape, ie not a mens' or unisex version
It needs to have plenty of pockets accessible while wearing the bag (ie on the front). I need to be able to get to food, water, tissues and my phone/camera while on the go
I wanted the option of using a water bladder and/or water bottles
It needs to carry other key items for long runs (such as spare clothing, a jacket and food) and hold the contents in place while I'm running
I want to be confident wearing this on a long (26+ mile) race in the future
Final requirement to top it all off – it needs to look good!
Wearing the Ultimate Direction Ultra Vesta
Having worn this Ultimate Direction vest on all my long runs, trail marathons and beyond, I've never once had a problem with chafing/jiggling, it fits so well. It's also been big enough to store everything I've needed to carry, including all mandatory kit that I've needed on races up to about 50k distance). I also think it passes the look test too, looking nice on. I've had lots of use out of it and it's not showing wear, despite being through the wash many times and getting covered in food and mud etc on the trails.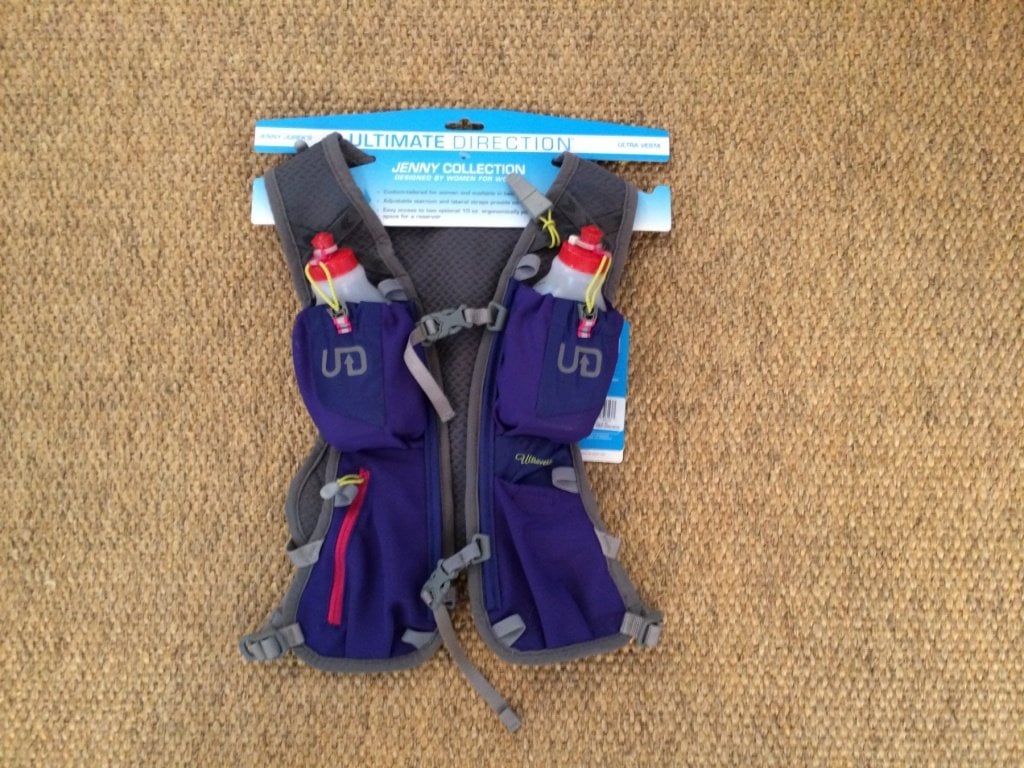 The race vest is easily adjustable across the front and also side-straps and despite having it pretty full with a water bladder, food and a jacket, it did not feel like I was wearing a rucksack.
Race vest pockets and storage
The four front pockets are versatile (two are designed for use with water bottles, supplied). I've tried using a water bladder and keepingthe top pockets for filling with food and gels, with the bottom two used for my phone and money/key, but normally I use it with one or two bottles up top, and keep food in the bottom left pocket. I keep my phone, ipod and money in the zip up pocket on the right.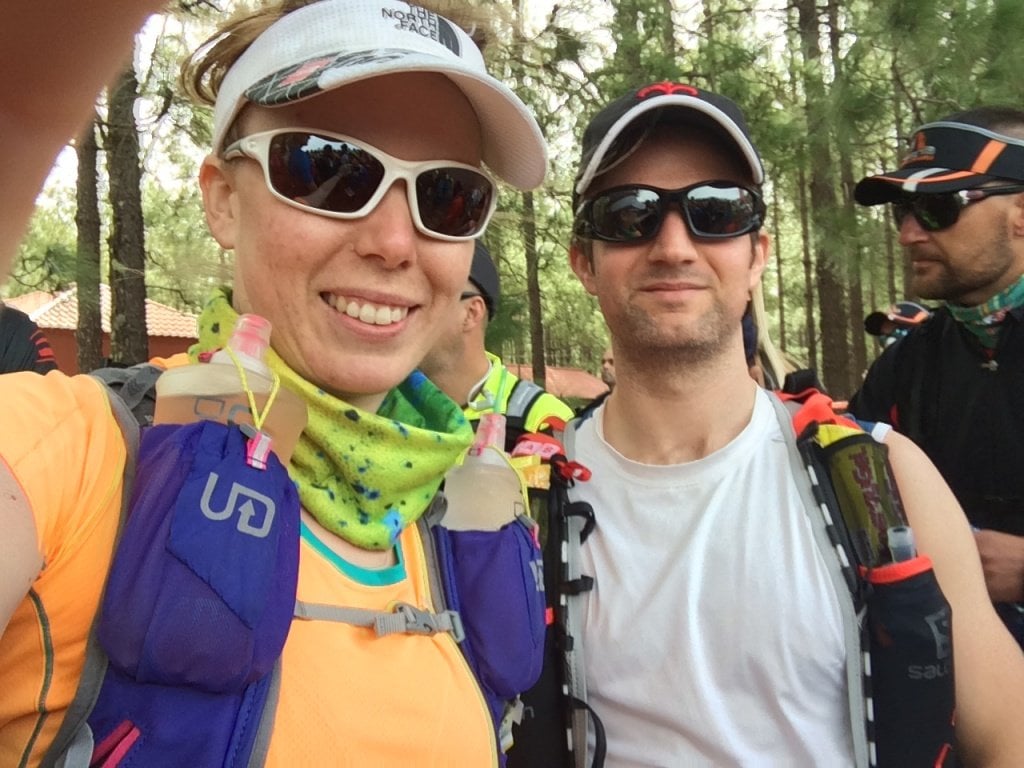 I appreciated the water bottles being included, although did have a problem with one of the lids leaking. This was quickly replaced (by Wiggle, who I bought the vest from), and the replacement has been perfect. I find the nozzles on the bottles uncomfortable to drink from as they are made of hard plastic. I prefer to run using soft flasks, which are great to drink from and do not slosh around, however as the bottle pockets are quite small, the soft flasks I have bought from Ultimate Direction do not fit very well until they are partially empty. I've got around this by tucking the nozzles under the elastic loops on the shoulder straps, but it's a compromise rather than a great solution. I understand UD are bringing out a new version which will resolve this issue, which is great news (but not for me with my older version).
There is enough room in the pack to fit a spare mid-layer, sunglasses and cap, and spare food/gels, plus a bungee cord on the outside for attaching a waterproof for easy-access. I also like that there is a bungee inside the pack for securing contents and making sure they don't jiggle around.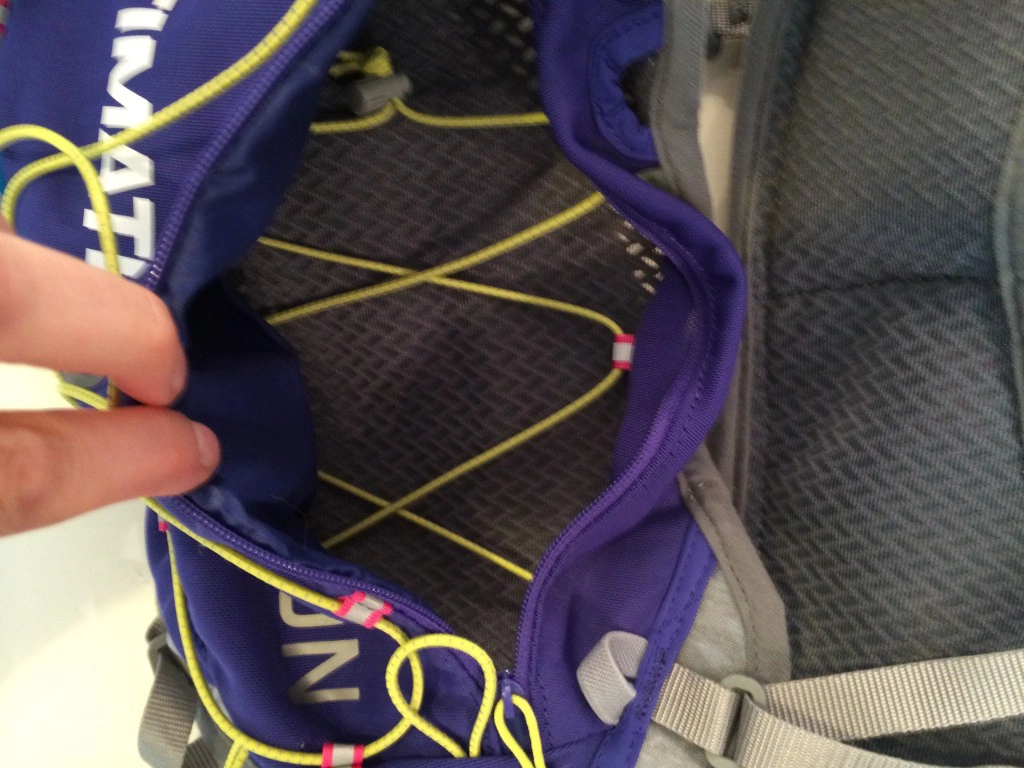 I love the look of it – as a whole, it has been well designed, in tasteful colours and nice attention to detail – even down the spare hair bobble and an insert with an inspirational/motivational quote. Mine was from Anthony Krupicka, which was quite fitting seeing as I had watched the excellent film 'Unbreakable', about the 2010 Western States 100 trail race and featuring Anthony, the day before the pack arrived!