I am VERY particular when it comes to shoes. Especially running shoes, as I suffered with such bad gait-related blisters in my first year of running – which were worsened by wearing shoes which did not fit absolutely perfectly.
Up until recently I ran predominantly on pavement wearing my excellent pair of On Cloudsurfers. For off-road runs I have then worn my equally excellent Salomon Speedcross 3s. I love them both, however neither were ideal for the terrain I now regularly run on near my new home, which is a mixture of country lanes, fields and stony bridleways.
While Ons actually perform well on trails (my husband wears an old pair for trail runs) mine are still relatively new and I am keeping them exclusively for road runs.
The Salomon Speedcross 3s on the other hand are excellent trail shoes, but I find they are much better suited to soft, muddy and wet conditions, and are uncomfortable when on flat surfaces (ie country lanes), which would probably also quickly wear down the soft rubber lugs of the shoes.
I needed something in-between, which is comfortable on hard surfaces, can handle stony off-road routes, and still works well in mud/fields – all on the same run.
The Asics Gel Trainer 3s fill the gap perfectly, and have become my go-to shoe for my local lane and trail runs.
I have had the shoes several months, during which time I have given them a proper trial, wearing them on loads of trail and country lane runs, including the brutal Cheddar Gorge half marathon race I completed a couple of weeks ago. I am now training for at least a 'long' half marathon (25k) around Bath, if not the full trail marathon distance later in July, if my ITB behaves. I will be wearing these shoes for my training runs and on the big day as I know they will be able to handle the mix of terrains comfortably.
The fit is true to size (for me, a UK size 5.5). The shoes feel like a 'normal' trainer, not minimal like the Ons, and not really snug like the Salomons.
The lacing took a little while to get used to. While the shoes have a standard lacing system, I found that I had to try several different lacing techniques and tensions to get them done up tightly enough but without causing too much pressure on the top of my foot. Interestingly I read a male reviewer's blog and his feedback on the lacing was the same, so I think this is something Asics should look at for future editions. I have settled on (a) not using the lace garage (and so having more padding on the top of my foot between my foot and the lace knot) and (b) using the lacing technique as shown in the picture below. Essentially, I create a loop on each side of the shoe, using the same lace going through two eyelets, then thread the other lace across into the loop, then tie the two together in a normal bow.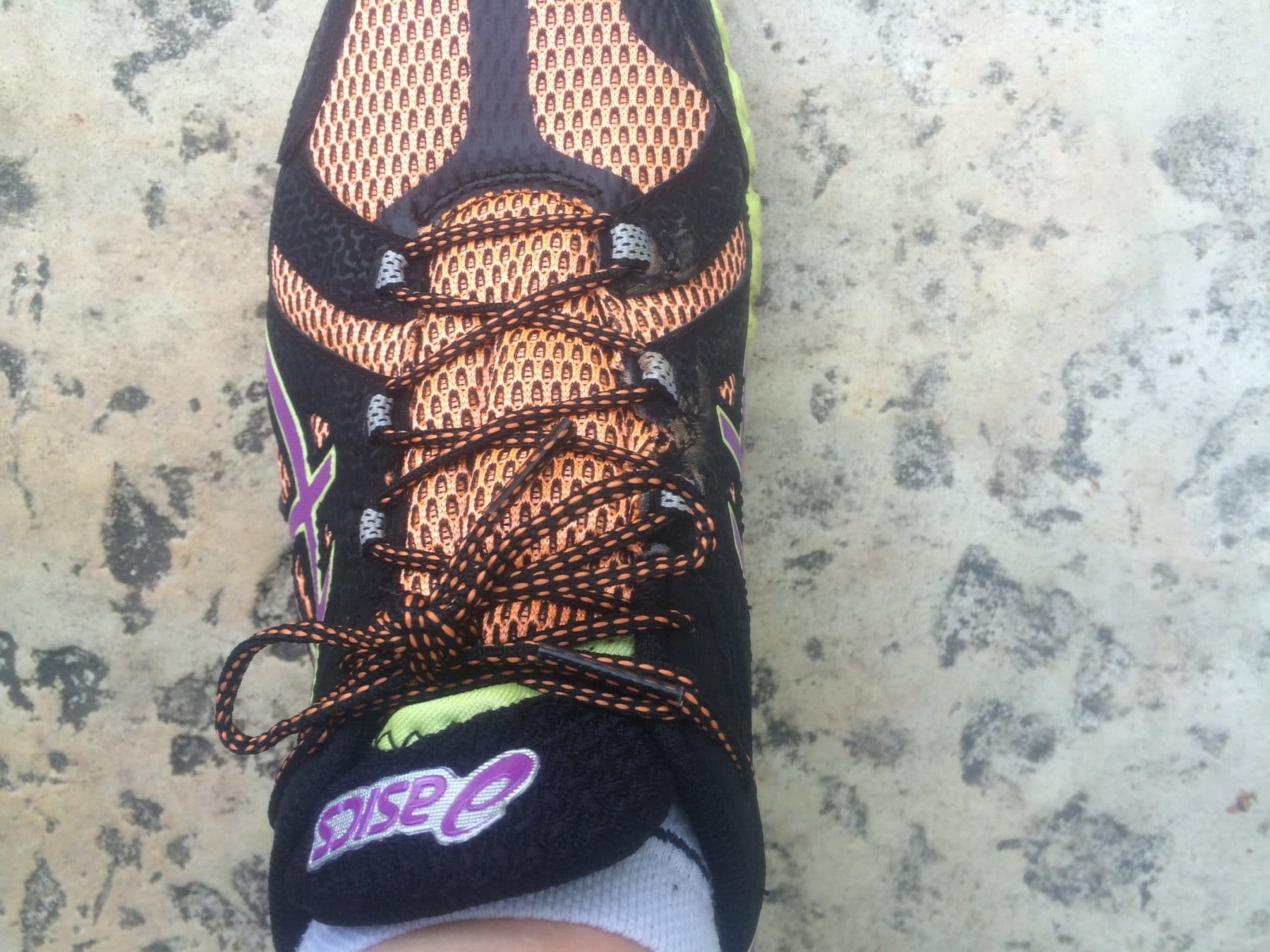 I wear thicker socks with these shoes than with the tighter Salomons – Balega's padded running socks do the trick, they add more padding on the bottom of my foot and stop it sliding around on technical/uneven surfaces.
The shoes are surprisingly light, and relatively low-profile, which I prefer in general and particularly when on trails. They also manage wet conditions well – I ran up an ankle-deep watery lane in them and they dried just fine the next day (I take the insoles out and then leave them and the shoes somewhere warm to dry out). I am doing my second Tough Mudder in August and am seriously considering wearing these – that's how good they have been for me, both in the wet and dry.
So, in summary, I am a fan of these shoes and would highly recommend them to anyone looking for an all-round running shoe with an off-road focus.
Asics provided me with these shoes to try out while marathon training. This has not influenced the content of this review or my opinions… but I am grateful to have these trainers to help get me through the training!
Update: March 2015
I wore these shoes for Transgrancanaria Marathon 2015 and they rocked! Not a single blister over more than 8h40 of running in the heat. Still a big fan.